Whenever I would tell people that I was visiting Prince Edward Island (PEI), their response would always reference "Anne of Green Gables." Indeed the 1909 book by Lucy Maud Montgomery about a redheaded girl is so widely read across the world that in PEI, shops are devoted to her.
It's easy to picture her roaming the hills and pastures of the small island - the houses are still quaint and so picture perfect that I resist the urge to knock on doors so that I can peer inside to see what life is like. Sand dunes and an ever present coast make up the rest of the scenery.
The island's capital of Charlottetown is more urban but still retains a small town atmosphere. Local artisans sell in boutiques and restaurants and theatres playing the Anne of Green Gables musical all year round lure in tourists.
It is one of the most popular destinations for the Japanese as the book has an interesting history in Japan. As it was written during the war, book sales were slow in North America so the publisher shipped off excess copies to Japan so that students could learn English. As a result, several generations of Japanese grew up with Anne as a heroine and pay a pilgrimage to PE to visit the place where the fictional story was set.
The most common way to reach PEI is by ferry and with a short ferry ride in mind, we take our oat cakes and find a seat on the enormous ferry. We arrive and take in the pretty island before exploring Charlottetown by foot.
In the middle of town I swing open the door of a shop decorated with Anne's face. A woman stands dipping chips in chocolate. PEI's Cow Chips made fresh in the Anne of Green Gables store are so very addictive. The salted potato chips are enrobed in a milk chocolate coating and then packaged up. One of PEI's main exports is potatoes and they grow about 25% of Canada's potatoes. The chocolate chips are a popular gift along with Anne's Caramels, a chocolate truffle filled with a thick, chewy caramel coating and covered in milk chocolate.
Just a few doors down is Terra Rouge Bistro Marche which houses a treasure trove of goodies to buy for the self caterer or just plain glutton (the latter would be me). The front of the store stocks organic local produce, PEI pasture raised beef, ice creams, stocks and meats but going a bit further into the store reveals some local cheeses and their own in house made charcuterie.
On the walls is the tempting menu which Lisa and I pore and drool over like prisoners denied food for weeks. There are ingredients like roasted bone marrow, crispy pork torchon with sauce gribiche and pickled cherries, aged cheddar mac and cheese, house cured salmon and maple glazed duck breast.
There isn't any PEI wine on the menu here, it tends to be on the sweet side we are told. The cheeses however are a mix of imported and local and we ask for a charcuterie and cheese platter with just local cheeses.
Charcuterie and cheese platter $23
What comes out is a fantastic platter brimming with wonderful cured meats, cheeses and accompaniments. There's a house made aged ricotta salata rolled in leek ash, a Cow's brand aged cheddar and an Avonleigh clothbound cheddar. There's also a little round of Bouq Émissaire, a Quebecoise raw goat's milk cheese which is like a goat brie.
On the charcuterie front there is a house made mortadella made with pistachios, an orange and walnut sausage which is my favourite, a German Thüringer sausage, smoked duck breast prosciutto, nduja with three kinds of paprika, spalla made from pork shoulder and soft, sweet pork rillettes.
To accompany this there are shaved candy beetroots, pickled watermelon rind, candied hazelnuts, blueberries and a house made sorbet made with olive oil and lemon zest. Freshly baked bread comes four to a plate.
Belle River Crab roll $16
Underneath the salad is a crab sandwich I promise! There's a generous amount of filling in the local crab sandwich although we both felt that this needed more seasoning. The menu mentioned a yuzu and sriracha mayonnaise which sounded delicious but we can't taste it. The green salad with canteloupe limonat is very fresh though and the bread is fantastic.
Pancetta salad, field greens, candy pecans, maple balsamic dressing, house ricotta, croutons $13CAD
The pancetta salad has delicately maple balsamic dressed fresh field greens, crunchy candied pecans, small dabs of house ricotta and those fabulously good olive oil crostini. The salad is light, fresh and delicious and the perfect choice for a light lunch.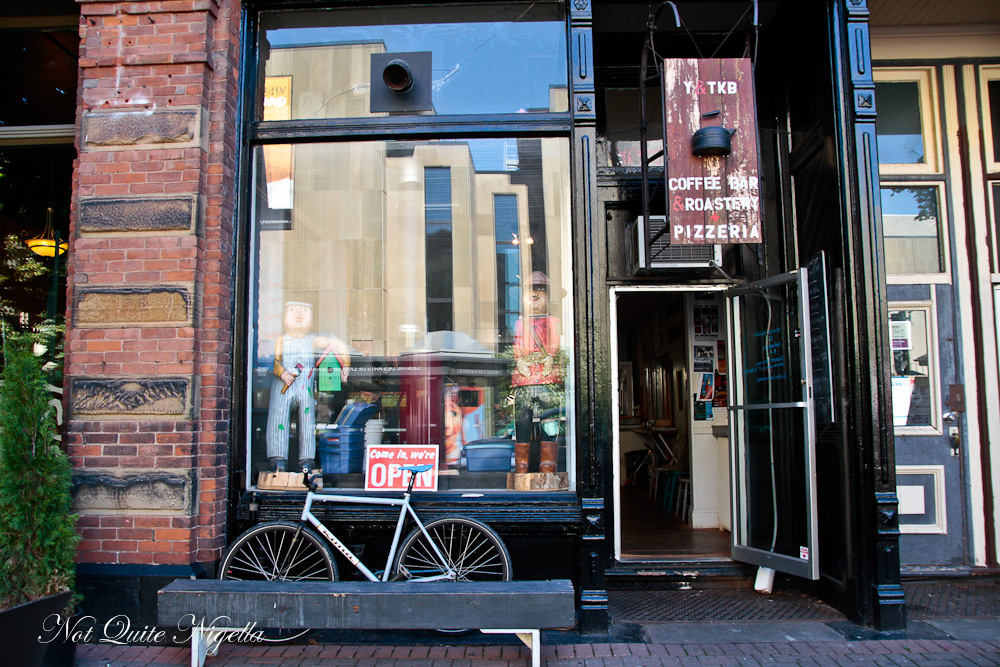 Proving that hipsters are indeed a force in PEI, Young Folk and The Kettle Black with locations on both Water and Richmond streets is a cool for school but friendly place that serves what is said to be Charlottetown's best coffee. The Richmond Street branch is where they roast the coffee and serve pizzas and is staffed with young male baristas.
Four streets parallel down towards the waterfront at Young Folk and Kettle Black's Water Street branch are the female baristas. The coffee and tea offerings are the same but here the Acadian chef makes sandwiches, salads and what they claim to be the best lobster roll in town.
I've had plenty of lobster rolls by now and I have to say that the best one is probably one that you make yourself because they are so different and they are down to personal taste. There is drip coffee and tea as well as home made sweet treats. Upstairs is a cute artisan gallery with whimsical dioramas and gifts.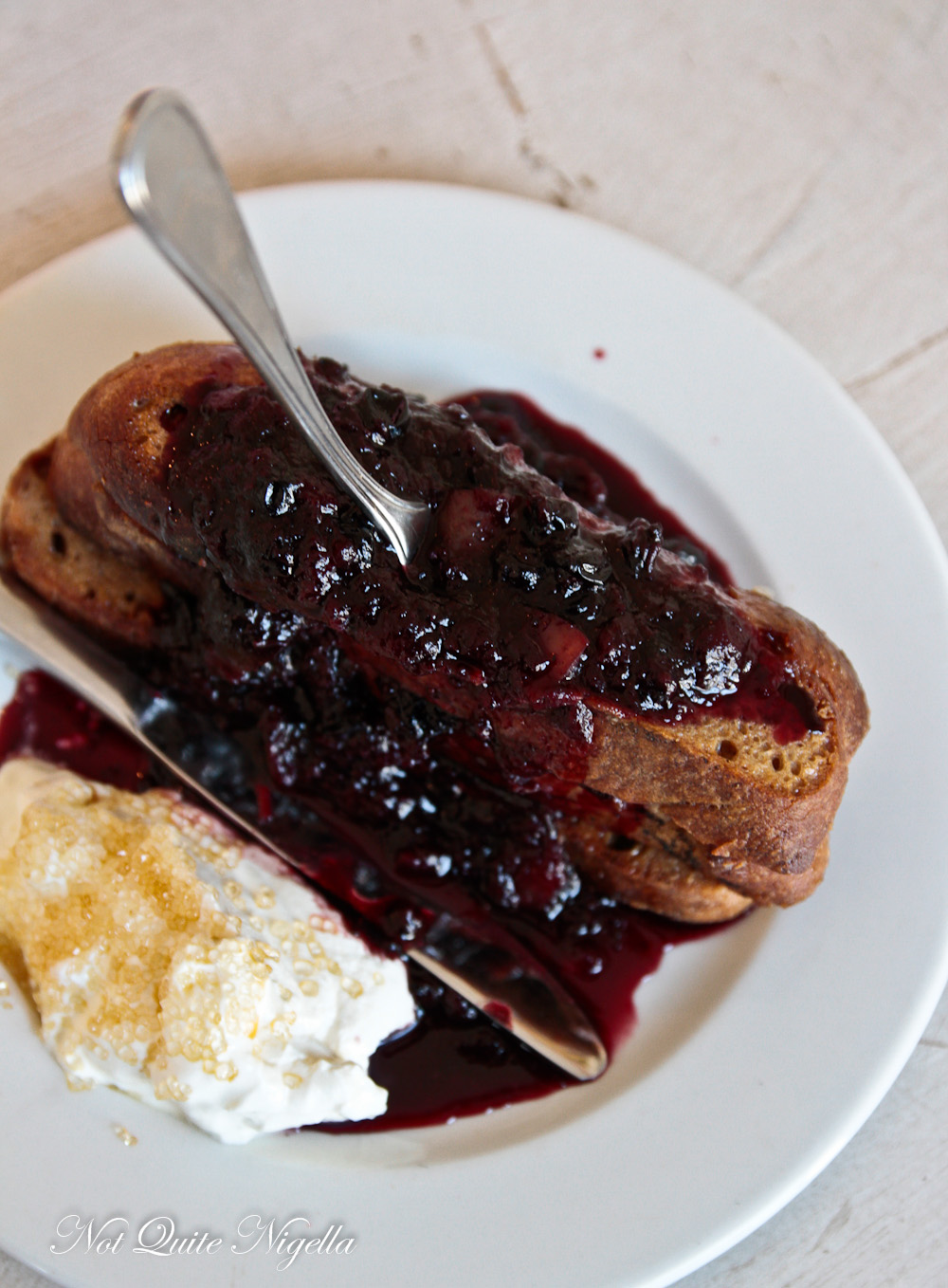 Acadian Toast $10CAD
One day for breakfast Lisa andI try the Acadian toast which is an interpretation of Acadian food. There are four slices of bread covered with a generous amount of "fruit sauce" which is a berry compote which has an unusual vinegary tang right at the very end. It is served with a sour cream topped with raw sugar.
Planning your next trip? Ensure you have the right coverage with HeyMondo travel insurance that includes COVID-19 protection. Plus, if you use our link, you'll receive 5% off the price. Find the best deals on flights from all airlines in various currencies with SkyScanner and set up alerts to get notified when prices drop. For reliable transportation options, look no further than 12Go Asia, offering train, bus, ferry, and flight transfers worldwide. Book your transportation now and enjoy a stress-free journey.
When you purchase through these links I will get a small commission at no cost to you. Thank you for supporting me! :)
Breakfast sandwich $10CAD
I was more smitten with the breakfast sandwich, a neat roll filled with a lardon dotted fried egg, green onion, tomato, onion, pork and sour cream. The potato fries are a little dry, some sour cream would be great to have with them but the sandwich is very good.
All eateries are set up within a grid pattern in a four or five block radius. Nearby on an adjacent street is a cluster of restaurants including Gahan Pub & Brewery. There is an on site brewery that hand crafts about eight ales. One of the ales is put into their Brown Bag fish and chips.
The atmosphere is warm and welcoming with exposed brick walls and small alcoves for couples or small groups to hide as well as traditional seating. The menu is made up of a tempting selection of local food.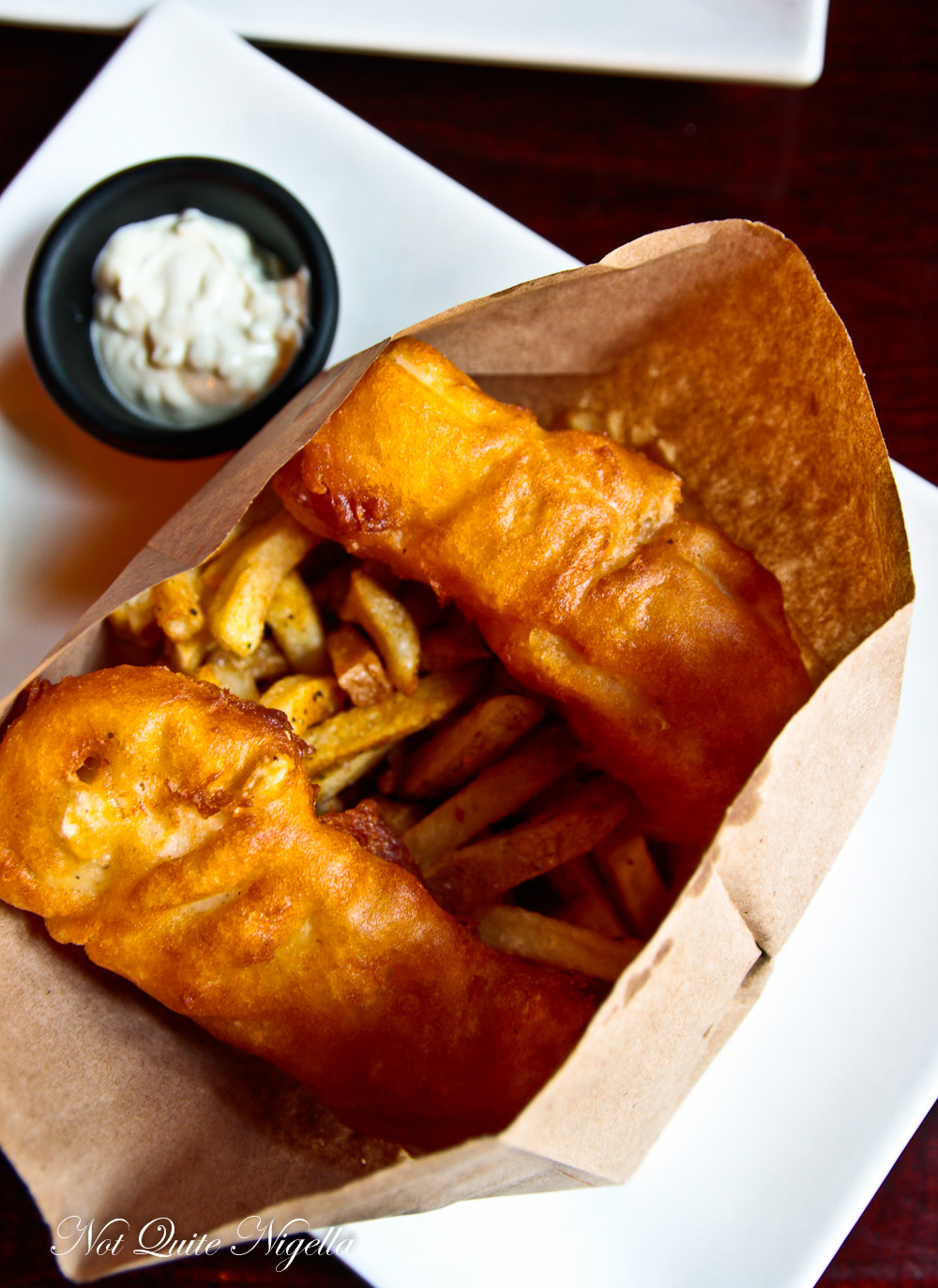 Brown Bag Fish and Chips $11.99CAD
At Gahan they use the John A. Honey wheat ale in the batter for the haddock fillets which gives the batter a wonderful flavour while the fish fillet inside remains juicy and moist. The chips are no afterthought - made using PEI potatoes they're wonderfully seasoned with plenty of black pepper and dried garlic and are utterly moreish. The fish comes with a creamy tartare sauce.
PEI potato fish cakes $9.99CAD
There are three soft fish cakes per serve and they were lightly breaded in breadcrumbs. Soft to the touch and full of texture with little bits of PEI potato, green onion, cod and haddock and served with a horseradish and cucumber sauce they were good but to be honest I really only had eyes for the fish and chips.
Proving that you can never keep a food enthusiast down we cross the road to Daniel Brenan Brickhouse. Named after an Irish born importer that lived on PEI in the early 1800s, it is housed in one of the many brick buildings that he built during his time. It's an upmarket restaurant with an chef at the open kitchen.
Lobster duo $15
Lisa and I decided to share a duo plate which allowed us to try their chowder and their lobster poutine (yes, four years after my Montreal visit and I'm still obsessed with poutine!). The chowder is very creamy with a basil and brie cheese base which gives it a slightly different flavour from others.
There's plenty of fish and mussels in the soup too and it's served thick, chunky style with plenty of seafood in it. The lobster poutine is really more like lobster nachos made with potato fries than the traditional gravy of poutine. It's a touch salty and there's tomato, onion, cheese and a bit of lobster on the poutine.
A few streets away is Cow's ice creamery, the go to destination for most visitors. The ice cream is legendary, frequently topping best ice cream polls and articles.
It's hard to choose so we try a few flavours like the most popular "Wowie Cowie" to Gooey Mooey before I settle on PEI Apple Crisp. I'm not even a huge ice cream eater but I have to admit that this is incredibly good ice cream with just the right amount of swirls, chunks and flavour to keep interest and before I know it, almost the entire cone is gone. Oops.
Cow's also makes the Avonleigh Clothbound cheddar and smoked cheddar not to mention a range of irreverent, humorous t shirts which make good gifts. Because when you've eaten so much the only other choice is to shop!
So tell me Dear Reader, have you ever read the Anne of Green Gables books? And are you a fan of poutine too?
NQN travelled to Canada as a guest of the Canadian Tourism Commission, Destination Halifax and Nova Scotia Tourism Agency. All food in this post was independently paid for.
Terra Rouge Bistro Marche
72 Queen Street, Charlottetown, Prince Edward Island, Canada
Tel: +1 902-892-4032
Young Folk and Kettle Black
98 Water Street, Charlottetown, Prince Edward Island C1A 6A1, Canada
Tel: +1 (902) 370-3101
Gahan's Pub
126 Sydney Street, Charlottetown, Prince Edward Island C1A 1G4, Canada
Tel: +1 902-626-2337
http://www.gahan.ca/
Daniel Brenan's Brickhouse
125 Sydney St, Charlottetown, Prince Edward Island, Canada (Formerly Off Broadway Restaurant)
Tel: +1 902 566-4620
http://danielbrenanbrickhouse.com/
Cow's Ice Creamery
397 Capital Dr, Charlottetown, Prince Edward Island, Canada
Tel: +1 902 628 6314
http://www.cows.ca/