Dear Reader, today shall we ponder the sex life of a lobster together? I know, you may not have thought much about this creature beyond supper, but let me introduce you to some interesting facts about the lobster. When lobsters have sex, the male and female don't even look at each other. After they mate, the female often sheds her shell and then stays in the male's den where he offers her safe harbour while her shell hardens. After three weeks, she is then ejected from the den.
But in case you feel sorry for the female lobster, life is not so easy for the male lobster. Size doesn't just matter in the lobster world, it is everything and the female chooses her mate based on size alone. The best that a smaller male lobster can hope for is that there are plenty of female lobsters so that he will eventually be selected.
I'm not sure which is tougher, the human sex life or the lobster's...
These are all facts that we learn as we wait for our lobsters to cook at Hall's Harbour Lobster Pound, in Nova Scotia, Canada. It's a rustic waterfront restaurant where patrons pick the lobsters that they want from the tank and they cook them ready to eat.
In the late 1800s and early 1900s lobsters were so plentiful that great numbers would wash up on the beach. They were so numerous that farmers used to plough them under the dirt and use them for fertiliser. Prisons used to feed inmates with lobster and lobster sandwich was a common schoolyard lunch for the poor (while oddly, bologna was the wealthy schoolkid's lunch).
Now they're considered a luxury item but this is not necessarily the case in Nova Scotia or here at Hall's where a medium sized lobster just under a kilo with side, bread and melted butter will set you back just $20CAD/$21AUD.
The wider tail on a female lobster on the right
The lunch process starts with picking a lobster. Do you go for the lobster that is the most active or do you go for female lobster as there is a high chance that they will have roe in them?
And to that end, how do you tell a female lobster from a male? The tail on a female lobster is thicker to accommodate the 20,000 to 100,000 eggs the size of pin heads whereas with the male lobster the two top "swimerettes" are sharp, hard and pointy.
And did you know that you can have left and right handed lobsters? There are two types of claws, the pincer and the crusher claw. The crusher is the larger, dominant one and if it is on the right hand side, the lobster is right handed. They crusher claw is powerful and guide Lowell demonstrates this using some empty mussel shells. They crush at a rate of 2500 lbs per square inch.
Lobsters can actually travel well but only if they're kept at the right temperature. Alive, they can only last for one hour in hot temperatures until they start to froth at the mouth. Keeping them at 8-10°C is ideal but for travel, they keep them at 2-3°C which renders them dormant so that they don't need air or water.
Albino lobster - rare occurring one in every 7 million lobsters
Lobsters under a certain size must be thrown back and these are usually under seven years of age. Female lobsters laying eggs must also be put back and if they are carrying lots of eggs they are marked with a "V notch" to designate that they are good breeders.
Measuring a lobster for size
Female lobsters with only one claw (or "culls") are also put back in the water as they are good for breeding but won't fetch much on the market because of their missing claw.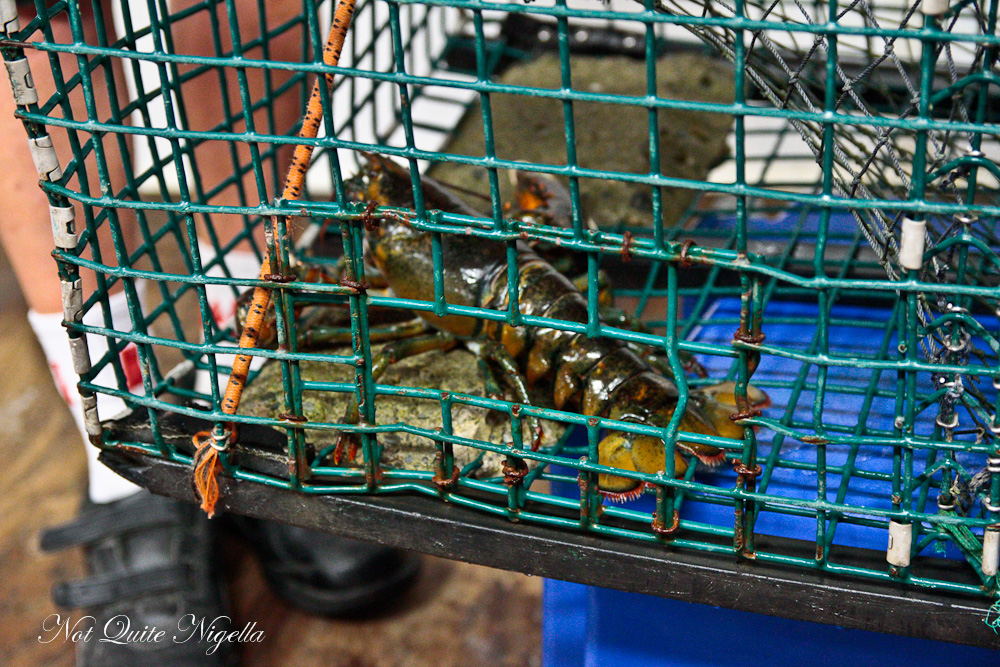 Lowell shows us a wire trap where the lobster is lured in by bait, usually herring or another piece of fish. There's a small hole in which smaller lobsters can get out and if a lobster trap is lost for any reason, the wrought iron rings will rot off after six months so the lobsters can swim free again.
Planning your next trip? Ensure you have the right coverage with HeyMondo travel insurance that includes COVID-19 protection. Plus, if you use our link, you'll receive 5% off the price. Find the best deals on flights from all airlines in various currencies with SkyScanner and set up alerts to get notified when prices drop. For reliable transportation options, look no further than 12Go Asia, offering train, bus, ferry, and flight transfers worldwide. Book your transportation now and enjoy a stress-free journey.
When you purchase through these links I will get a small commission at no cost to you. Thank you for supporting me! :)
A lobster party trick
To buy a license for 300 traps costs $300,000 and each trap typically holds up to 20 lobsters. Or it can hold none and that is the risk for the lobster fisherman.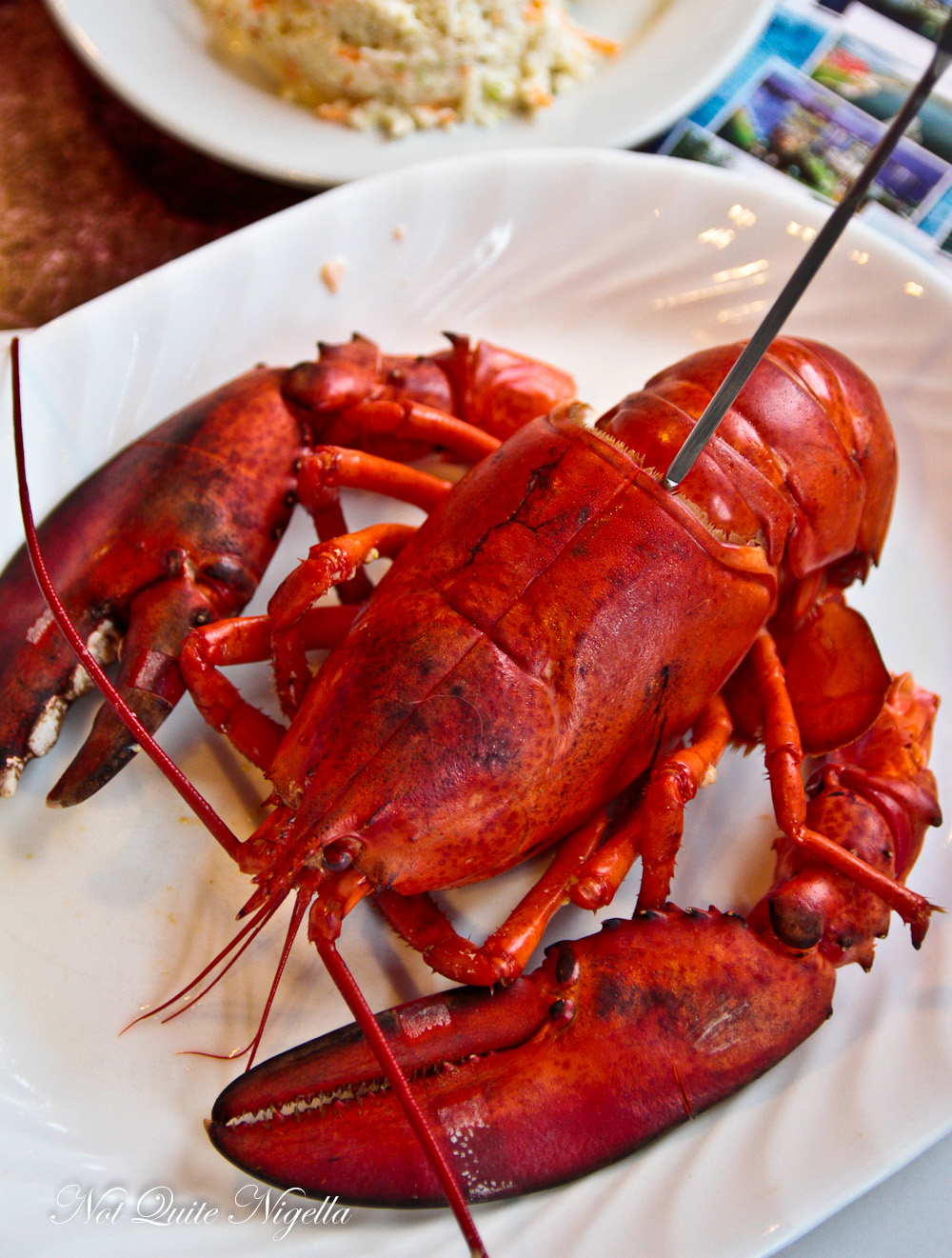 So what are the lobsters like? They are freshly boiled in water right from the Bay of Fundy which sits outside our steamy window. There's the ever present drizzle of rain giving it a distinctly fisherman's village feel and the breeze is chilly. They set down our sides and lobsters with pick jutting out. A sheet details how to eat a lobster.
First you remove the claws and the main manoeuvre is to twist the tail away from the main body and remove the tail meat in one neat section. They have cracked the claws for us and removing the rest of the meat is easy. It comes with melted butter, a side of coleslaw (although there were other sides available), a bread roll and some butter.
The lobster is rich and succulent and before we know it, we've eaten our fill of lobster. It's unbelievably good value and the restaurant is quite busy considering the lunchtime mid week visit.
Deep fried clams and fries $15.95
There are plenty of other offerings on the menu. The deep fried clams have a light flour dusting on them and are crunchy and fresh and served with French fries and tartare sauce.
Lobster mac and cheese $15.95
The lobster mac and cheese features macaroni noodles, chunks of lobster and a rich cheese sauce.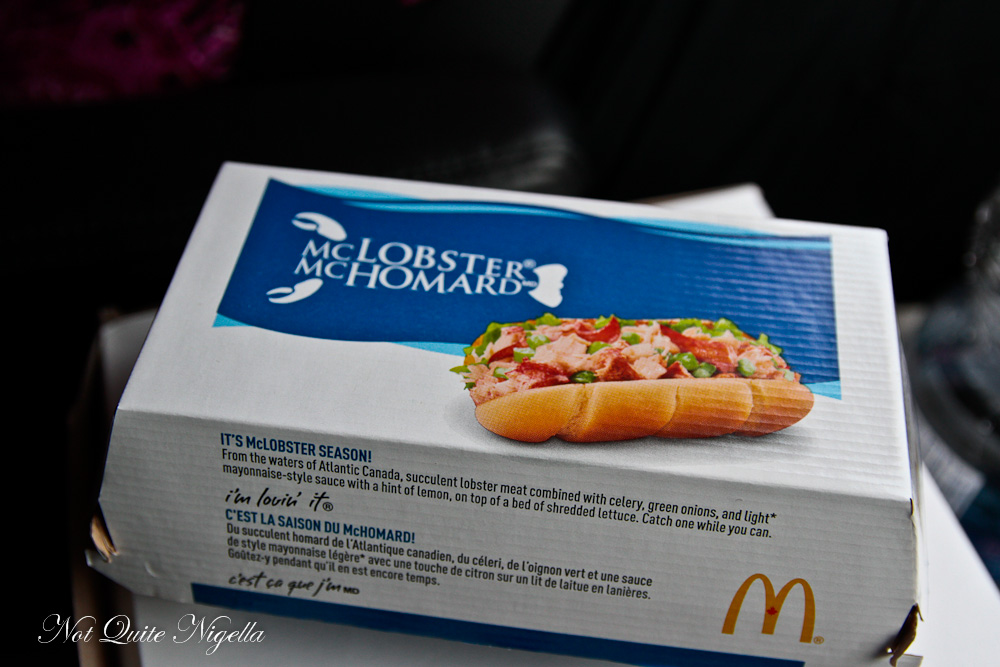 McLobster $8.17
And even McDonalds gets into the act with the McLobster,a lobster roll based on the Nova Scotia's famous lobster roll. Are you as curious as I am to see what it's like? Let's take a peek inside the box...
Yup, there's the McDonalds bit...where the item looks nothing remotely like the picture. There are three clumps of celery and lobster on a bed of lettuce. I guess you get what you pay for but even at $8.17 it's not a cheap item.
So tell me Dear Reader, had you ever pondered the sex life of a lobster? And would you have been curious enough to try a McLobster?
NQN travelled to Canada as a guest of the Canadian Tourism Commission, Destination Halifax and Nova Scotia Tourism Agency.
Hall's Harbour Lobster Pound
1157 W Halls Harbour Rd, Halls Harbour, NS B0P 1J0, Canada
Phone:+1 902-679-5299