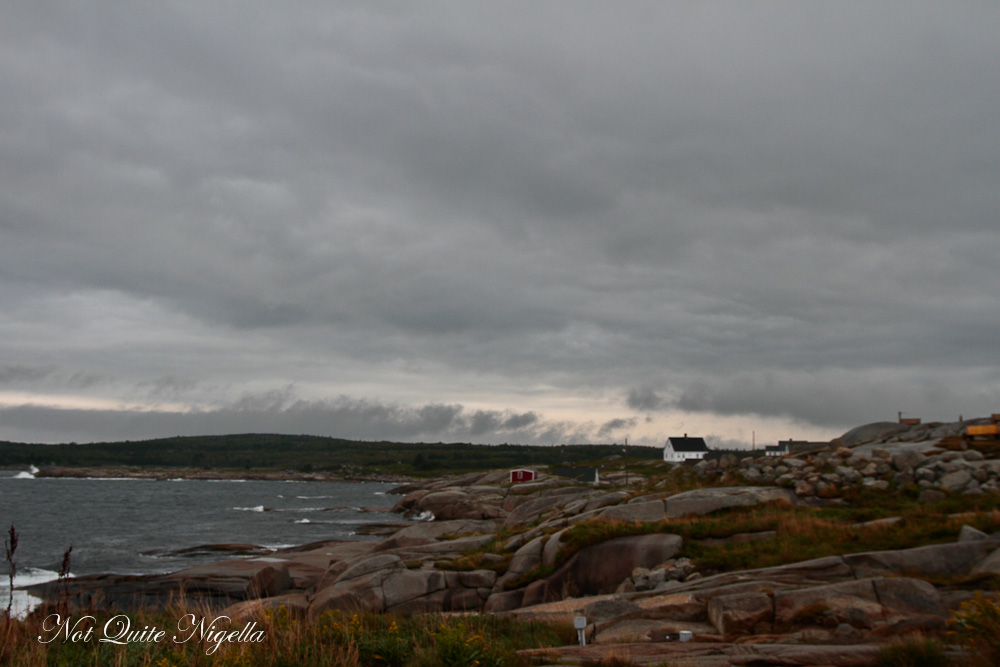 Dear Reader, if given the choice between a logical story and a romantic one, which would you choose? It's a question we ask ourselves as we take the 45 minute drive from Halifax to Peggy's Cove, one of Nova Scotia's most photographed sites where a lone red topped lighthouse sits. I ask who Peggy was and am furnished with two answers.
The logical version says that it sits on St Margaret's Bay and Peggy is the derivative name for Margaret, hence the name Peggy's Cove.
The romantic version tells us that a woman named Peggy was rescued from the ocean by local fishermen. She fell in love with one of her rescuers and came to live here. One day he failed to return home and despondent and unable to live without him, Peggy simply walked into the sea to her death.
As sad as it sounds, I think I prefer the second version.
Peggy's Cove is located in a small rural fishing village with a population of just sixty people. It is said to represent a quintessential Nova Scotian fishing village. From November to May the village is active with lobster fishing.
Other times, the small shops selling local artisan products and trinkets keep the small town busy while tourist buses pull in, people clamour across the rocks and collect their prize winning shot in front of the lighthouse.
It's a beautifully picturesque village full of photo opportunities. There are tangles of lobster cages-the original wooden ones sit near to the newer wire ones, the latter preferred because they are lighter. It retains a rustic appearance with fish sheds and houses coloured in different shades-this is closely protected by the Peggy's Cove Commission Act because of its status as a preservation area.
Artist William DeGarthe carved a visual of Peggy into a granite wall where he envisions her as an angelic figure protecting the fishermen of the area. It seems that everyone prefers the romantic version of the story.
We pull out of Peggy's Cove and take a drive to Mahone Bay. On the way a tiny deer darts across the road in front of the car. We make a stop at the Acadia Maple Shop where we stock up on local maple syrup, maple butter, home made fudge and other goodies. Travelling along the Lighthouse Road is smooth and after about an hour we reach Mahone Bay just in time for lunch.
It's a pretty town full of antique stores, boutiques and a quilting store. Our lunch is at Mateus on one of the town's main roads. Inside the restaurant is more formal although the weather is beautiful and warm so we take a seat on the more casual deck.
Nova 7 wine
The Nova 7 is a local wine and it's an excellent drop and rapidly becomes the favourite wine of the group. Slightly blush pink it has a light carbonation to it and is easily drinkable.
Seafood chowder $7CAD
I start with a cup of the chowder. I'm rapidly learning that items like lobster roll and seafood chowder vary widely. With chowder, some are creamy and thick, others milky and thinner. This is a thinner version with a milky texture which is light and filled with fish and mussels and chunks of potato and carrot.
Lobster Roll $18CAD
The lobster roll comes out as finely chopped lobster with onion, capsicum and seafood sauce on a fresh brioche bun. The lobster from Corkum's Island was fresh but a little obscured by the onion which was dominant.
Mussels $9CAD
There was a choice with the mussels. We could have them with either a Thai red curry, white wine or clamato tomato sauce. We choose the white wine and it comes out as a generous serve of small black tender local mussels from Indian Point with lots of bread to dunk it in.
Ice cream $8CAD
I don't usually order ice cream but the sun was out and I couldn't resist the house made blueberry and maple syrup ice cream. It's fantastic, creamy in texture and very moreish.
Cheesecake $8CAD
The cheesecake was a light cheesecake with a graham cracker crust and a generous serve of blueberries on top.
Creme Brulee $8CAD
Prettily presented, the creme brulee had a crunchy toffee layer revealing a soft, silky custard underneath.
We wander around the town and pop into jewellery stores and a fabulous grocery store called JoAnn's Market where we try one of the famous oat cakes. Nova Scotia is known for kitchen parties where people get together in a kitchen and someone starts playing the fiddle or a spoon.
After the music, a lunch of oat cakes and tea is served. Oat cakes, like the chowder and lobster rolls come in myriad shapes and sizes. The ones here are thick and large and come plain or half dipped in chocolate. They're thick and not particularly sweet, a somewhat distant cousin of a digestive biscuit.
One of my favourite stops was at The Biscuit Eater where I ordered my favourite tea called a London Fog which is one of those items that you can only really find in Canada (ironically not in London, England). It's an Earl Grey tea with vanilla and lots of milk with a foam head. Here they make a fantastic one with vanilla syrup.
But of course you can't stop by The Biscuit Eater without trying their biscuits. And by biscuit I mean scone, specifically a buttermilk one. They offer to heat it for us which they do in the oven and it comes out very warm to the touch and we eagerly dig in. There is a crumbly crust and inside is a meltingly good texture. I would have eaten the whole thing and then ordered another if I hadn't just had lunch.
It's another ten minutes until we reach the historical town of Lunenburg. With a population of 2,300 it is just an hour from Halifax but we've travelled by the scenic route. Lunenburg is a UNESCO World Heritage Site and contains some of the prettiest buildings and examples of architecture. We are on a Lunenburg Walking Tour with seventh generation local Shelah Allen.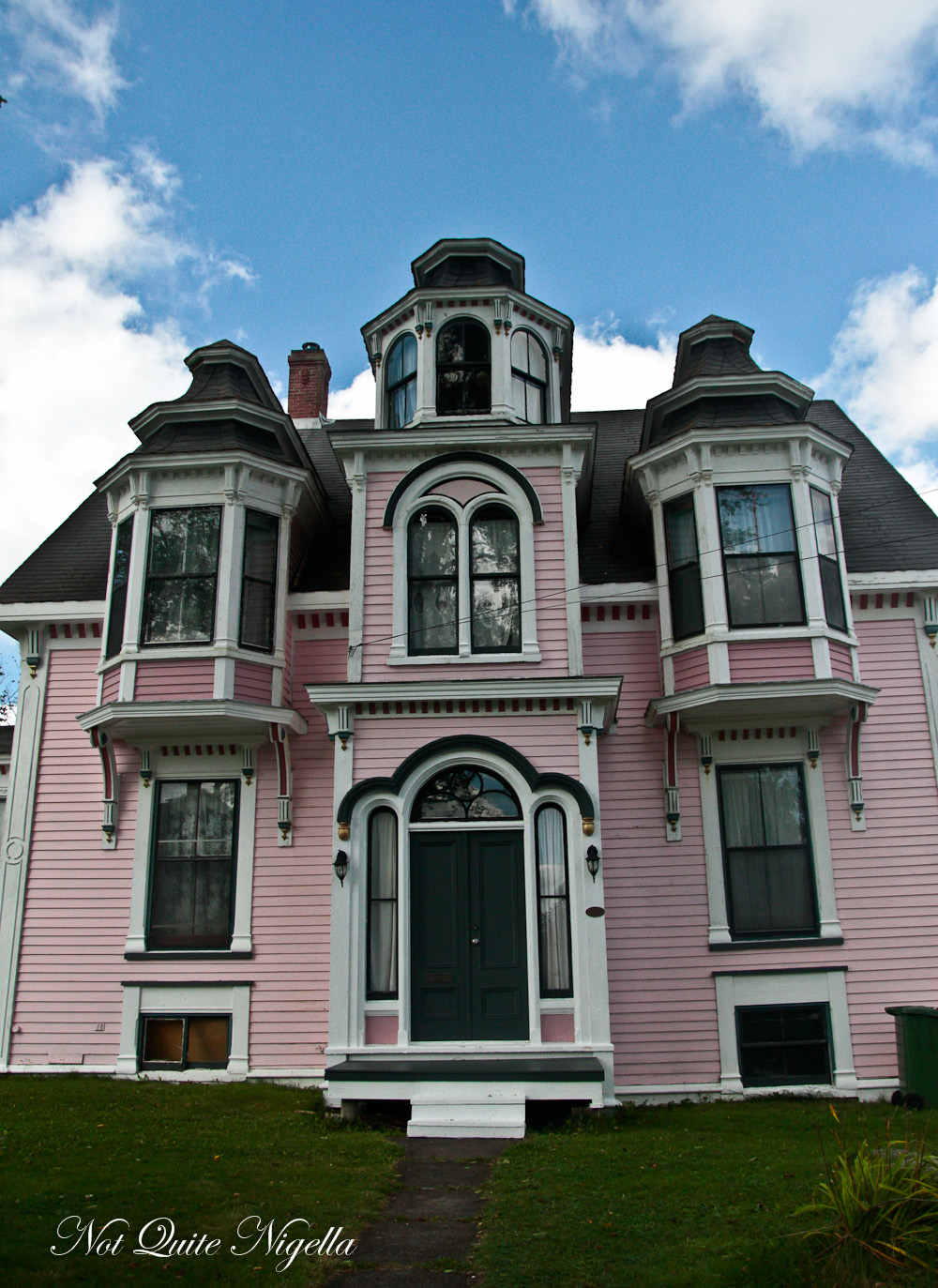 Lunenburg has notoriously steep hills but the tour is all downhill and we start at the Lunenburg Academy which was the site of a former school designed by Solomon Morash. Across from this is another Morash house, a gorgeous pink house dubbed the "Wedding Cake House" because of the look.
The widow's watch at the top of the house
In the top of the house is what is called a "Widow's Watch" room where fishermen's wives used to look out to see the ships coming back into port. If there was a black flag, that meant bad news, a white one meant no casualties. Being seafaring people, they were incredibly superstitious and the front and back of the house are identical to dissuade a visit from the devil.
St John's Anglican church was the site of a Halloween fire which almost completely destroyed the church leaving just the pews and a few areas intact. An enormous fundraising effort raised $4 million of the $6.8 million needed to restore it and it was done so faithfully to its former glory. The stars at the back of the church were traced back to the star alignment on December 24th, 1 BC.
A very interesting architectural detail is what is known as the "Lunenburg Bump." This is where there is an area on the top front of a house usually above the entrance way that juts out further towards the street with windows. These were built for nosy neighbours who wanted to keep track of their neighbours comings and goings!
Lunenburg's history and glorious buildings can be traced back to their history as salt cod fishers. Lunenburg was originally established by the Foreign Protestants that were promised riches and land by the British who were unable to settle the land. When they reached here they found that the land was not ideal for farming so they adapted and turned to fishing.
It was a seafarer John Cabot who in 1497 wrote back to Lunenburg about the plentiful salt cod just near Newfoundland where the gulf stream and the cold nutrient rich Atlantic waters mixed to create currents. The relatively shallow area meant that he nutrients created photosynthesis or food for the fish and they thrived.
The Newfoundlands concentrated on the immediate fishing area while Lunenburg became the world's second largest fishing port at one time with fishermen going out to sea for 2-3 months at a time. It was a dangerous job where schooners would take out a dozen dory boats at a time and two fishermen would sit in each boat filling it with fish until they were waist deep, the heavy catch weighing about 2250 pounds.
An example of a dory boat
Once the fog rolled in, the only way they had to make it back to the schooner was by the fog horn and many men perished this way. On the waterfront next to Adams & Knickle there is a statue in their honour with over 770 men listed and 170 ships in total.
Next to this is the Fisheries Museum of the Atlantic where visitors can learn how to shuck a scallop. A live scallop is fished out of the tank, perhaps smacking its shell together in protest at being disturbed.
Captain Alex takes the knife, a converted regular kitchen knife with a curve and runs it along the top of the scallop as close to the shell as possible so that you don't leave behind any of the scallop meat.
You lift off the edge which is actually the eyes of the scallop and eat the scallop fresh and raw. It has a sweet flavour and tender texture eaten like this.
Lunenburg's most photographed area, dubbed the "Unesco Fresco"
One of the more unique converted building is the Ironworks Distillery which is as the name suggests, a converted Ironworks factory. Some of the original fittings still remain as well as the original floor pockmarked with character from the site's previous incarnation.
Here Pierre Guevremont and Lynne MacKay create a range of Ironworks liqueurs and spirits including an apple vodka made from apples in the nearby Annapolis Valley. The vodka has more flavour and is more dimensional than a regular potato or grain based vodka.
Demand from locals created their rum range of three and waiting lists run long for their creations. Prohibition has a long history on Nova Scotia and rum and Coke or a "Dark and Stormy" (yep these really are seafaring people) is a popular drink.
There are three types of rum in their range, a clear rum which comes straight from the white American bourbon and Hungarian oak barrels; an amber rum which has caramel added and my favourite the dark rum with caramel, molasses and spices. This has a distinct coffee aftertaste and smells like Christmas cake.
Apart from rum and vodka, they also make a popular range of liqueurs. The best seller is the blueberry vodka, which is the sweetest of the range-it's immensely drinkable but for tart flavour lovers there is rhubarb and cranberry. Those looking for a more local buy there is also Saskatoon berry liqueur.
It's a quick check in to our hotel, the Lunenburg Arms hotel right in the middle of town. It's a boutique hotel set on two floors and my room #309 is sizeable with a spacious main room, king sized bed, lounge, side chair, cupboard with television, writing desk and fridge.
All of the hardwood furniture is custom made and each room is decorated slightly differently. Because it is on the third floor and not the fourth or highest, the view isn't great but I'd rather space over view especially since we're just here for a few hours.
The bathroom is also spacious with a bathtub shower and a good range of amenities including a vanity kit, shampoo, conditioner, body lotion, soap, shoe shine mitt, facial soap and a shower cap. Everything is clean and I particularly like the room size and boutiquey atmosphere of this hotel.
It's a quick shower and I head downstairs for the short walk to go to dinner at Fleur de Sel restaurant, one of the best restaurants in town judging by local reaction to our dinner tonight. The award winning chef Martin Ruiz has a few French dishes on his menu from his time spent in Lyon. The restaurant is housed in a pretty yellow building and wind chimes tinkle as you enter the door downstairs and make your way up to the bar and main dining room.
It's a very romantic restaurant and there are plenty of couples around us. The menu looks tempting and when we ask Pam the local what she's had here she tells us "Pretty much everything." We then ask her what's good and she gives us the same reply of "Pretty much everything!"
After we decide, they bring out the amuse bouche platter. There's a fantastically good chicken liver pate, all smooth, well balanced goodness. There is chicken hearts with breadcrumbs, parmesan and herbs which are tender and delicious little forkfuls. Last is the Nova Scotia cold water salmon and green bean on toast which is a refreshing mouthful.
Oysters on the half shell (6) watermelon rind & shallot mignonette, horseradish, in house cocktail sauce, citrus $18CAD
I couldn't resist the oysters and there are three kinds in the half dozen. It is beautifully presented in a wooden box on a bed of seaweed. It comes with a chilli sauce and a watermelon relish but all I need for these is a bit of lemon juice. Each oyster is different, there's one I don't particularly go for because of the texture but the Corkum's Island oyster is excellent with a briney hit.
Smoked salmon crème fraiche, homemade turnip green sauerkraut, capers, pickled radish, fennel & rye crisps $16CAD
The salmon is smoked in house and it is luscious in texture and fresh. A lot of smoked salmon is frozen and I find that this affects the texture but this is creamy and toothsome. It's served with a pickle mix of turnip green sauerkraut, capers and pickled radish which was a bit too pickly for me, I preferred the salmon on its own as the pickles were very acidic.
Lobster Market price $30CAD
When you put the words butter poached and lobster together then all bets are off. The butter poached lobster was wonderfully tender and buttery soft. They split the tail and serve it in the shell while they remove the claw meat and place it alongside a citrus dill potato salad. There's also a piece of bok choy, some house made lobster takoyaki balls sitting on lobster roe mayonnaise. This was a sublime dish from beginning to end the lobster being the star with its tender texture and sweet flavour.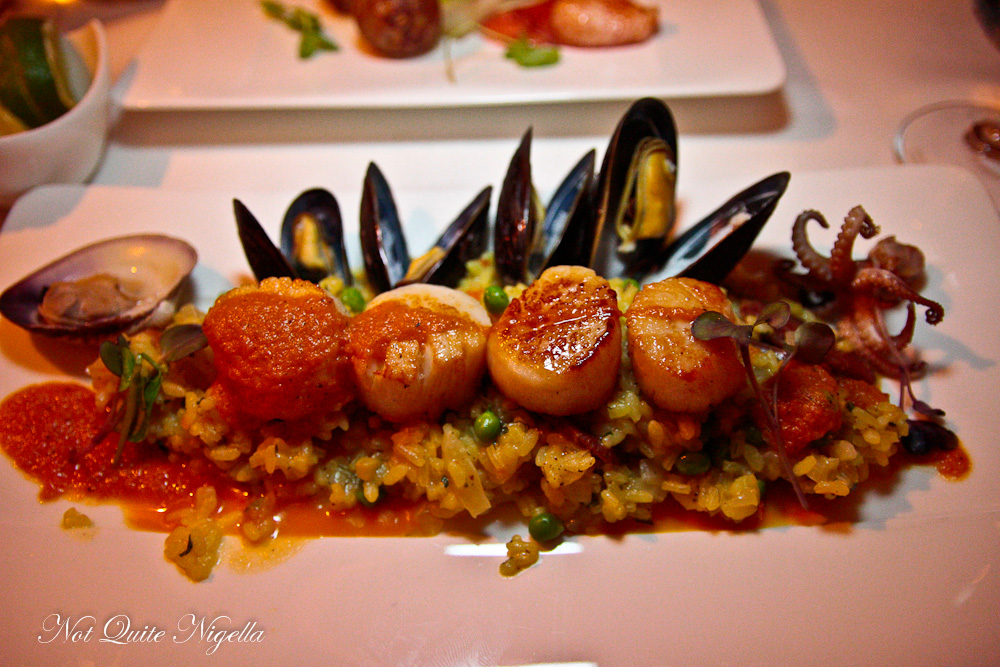 Bomba Rice $29CAD
Just outside on the waterfront is a big sign for Adams & Knickle scallops and here their scallops are seared alongside mussels, a little neck clam and house made chorizo sausage. This is all on a bed of Valencian paella rice with peas, fennel, saffron, red pepper emulsion and basil oil. It's like a version of paella and as the chef is of Spanish heritage, it's a fitting dish.
Panna Cotta $12CAD
As much as I loved the mains, I wasn't quite as smitten with the desserts. The local berry and sour cream panna cotta wasn't on the tart side and needed a smidgen more sweetness. It came with a cherry ice cream that was a bit icey.
Chocolate Cake $12CAD
The flourless chocolate cake came as a small square of crunchy edged light chocolate cake. It was paired with a walnut praline toffee piece, homemade caramel ice cream which was studded with ground nuts and, white chocolate whipped cream.
Strawberry Soup
The strawberry soup is a fresh sweet soup made with pureed strawberries as well as small strawberry pieces. It is served with a whipped cream and a vanilla shortbread.
All around us couples are whispering while the wind chimes dance and tinkle in the background. I think they too would prefer the romantic version of the tale of Peggy's Cove.
So tell me Dear Reader, which version of Peggy's Cove do you prefer? And would want a Lunenburg bump on your house so that you could see what your neighbours were up to?
NQN travelled to Canada as a guest of the Canadian Tourism Commission, Destination Halifax and Nova Scotia Tourism Agency.
Peggy's Cove
Eastern shore of St. Margarets Bay, Halifax, Canada
Mateus
533 Main St, Mahone Bay, NS B0J 1T0, Canada Phone:+1 902-531-3711
Fisheries Museum of the Atlantic
68 Bluenose Dr, Lunenburg, NS B0J 2C0, Canada Phone:+1 902-634-4794
Ironworks
2 Kempt St, Lunenburg, NS B0J 2C0, Canada Phone:+1 902-640-2424
Lunenburg Arms Hotel
94 Pelham St, Lunenburg, NS Tel: +1 (902) 640-4040
Fleur De Sel
53 Montague St, Lunenburg, NS B0J 2C0, Canada Phone:+1 902-640-2121