Sometimes trying to abate the effects of eating for a living becomes a studious activity in itself. When I am away I try and find my way to the gym at least every second day. It may involve staring at equipment with a perplexed expression or doing something approximating a workout. Sometimes you come across a hotel that doesn't have a gym or one that you don't want to work in. Refurbishments at Pictou Lodge where I am staying mean that the gym is "coming soon." Instead I go back to my room and try and improvise a workout before we leave for a food tour and cooking experience with Alain Bosse otherwise known as "The Kilted Chef."
Although originally from France, Alain has been in Nova Scotia for 25 years and is one of Atlantic Canada's culinary ambassadors as well as a consultant chef to many restaurants. Alain also holds market tours and cooking tours where participants get to shop at the markets and go back to his home to cook.
Each person will learn how to make up to a dozen dishes but as we're focused on lobster and only have about 4-5 hours, our class is a condensed version. Usually the classes run from 9:30-8pm and include lunch and dinner with wine, 2 Grohmann knives (8" chef knife and a paring knife), aprons and tours of several facilities for $300 per person or $500 per couple.
We hop into the car for our first stop: The Pig Shop which as the name suggests, sells a range of pork products from fresh cuts, sausages and bacon as well as chicken and beef products and other Nova Scotian specialties. It is a family owned company with two locations. The pork here is a mix of free range and non free range.
Alain shows us bacon and hams being smoked - the bacon here is double smoked and is first hot smoked and then cold smoked. Our last stop is the sausage room where we get to try any sausage that we like there. I particularly like the maple sausage, curry sausage and hot pepperoni and the spicy sticks of of dried pork sausage.
Our next stop is the local farmer's market which is a compact market with local produce at very reasonable prices. Among the fruit, vegetables and preserves are crafts and the vendors change regularly.
He shows us some stems of local garlic and stops at a sheepskin stall-where they sell lamb and use the sheepskin to make a variety of items from shoe innersoles to hot water bottles.
We then stop by Mrs MacGregor's Tea Room on Water Street in the main part of town. Here Helen Buchan is pulling out fresh batches of her oat cakes. We've tried all sorts of oat cakes and I must say that my favourite are the thin, crisp ones. Hers are just that and they're fantastically warm to the touch.
But of course, what she might be even more famous than Scottish oat cakes are Scottish shortbread. Helen makes it using her mother's recipe-her mother being the Mrs MacGregor after whom the shop is named.
They come in a variety of flavours including Scottish (aka the original), oatmeal, ginger, lemon and poppyseed and Skor, the latter which is sold out. We pick up some bags for dessert. The ingredients list is exactly the same as you would make at home without any additives or preservatives.
Warning: following are images are of an inactive abbatoir and may distress some readers
Our next stop is an interesting one as it is the local abattoir. Here they make mostly hamburger meat but also tenderloin. They process 10-12 cows a week - about half of the cows are from their local farm while the others are from market. They are grass fed during the summer and grain fed during winter.
Across the road is the cow corn field where they grow corn to feed the dairy cows nearby. During Autumn and Winter the field is barren so they take the stomach and other parts of the cow that they can't process and set up an eagle sanctuary where bald eagles feast on the meat that would otherwise be discarded.
The factory employs six people in the packing and cutting area and three people in the kill area. The owner Harold Ferguson believes in rehabilitation and all three employees in the kill area are ex convicts. The six people in the cutting area are all retired original butchers from grocery stores.
He shows us the room where the cows are slaughtered. There are no live cows here at the moment but you can see imagine how everything happens from when a cow walks into the pen to where they are shocked and hooked.
He then shows us to the room where the carcasses are aged at a lower temperature. They are kept here for 2-3 days where the meat from every animal is sent to test for disease. The blood drains and it is also here that they store other parts like the tongue, kidney and liver. After they've passed the tests, they bring the carcasses into the second fridge to age for another 15-18 days.
Our second last stop is Lakerman's fruit and vegetables which is where we pick our corn fresh from the orchard. It is what they call "peaches and cream" corn where there are mottled yellow and white kernels. Alain also picks out a range of potatoes, onions, green capsicum and tomatoes for our lobster and corn chowder.
It's one last stop before we head back to his house and that's to North Nova Seafood and Logan's Fish store where we pick ten live lobsters from the tank. They're all small ones at about 1 pound or 500grams each. Along with these, we take two packets of frozen rock crab meat. Alain explains that usually snow crab is used for crab cakes but he prefers to use rock crab as the meat is finer in texture.
We reach Alain's home which he shares with his partner Johanne who is busy setting up our lunch, a platter of cold cuts from The Pig Shop. It's served with Dutch cheeses, olives and mustards and two loaves of excellent bread, a marble bread and a multigrain loaf.
Before we start, Alain shows us how to cook the lobster. Firstly, we have a pot of boiling salted water ready. He adds 1 cup of sea salt to a gallon of water.
Planning your next trip? Ensure you have the right coverage with HeyMondo travel insurance that includes COVID-19 protection. Plus, if you use our link, you'll receive 5% off the price. Find the best deals on flights from all airlines in various currencies with SkyScanner and set up alerts to get notified when prices drop. For reliable transportation options, look no further than 12Go Asia, offering train, bus, ferry, and flight transfers worldwide. Book your transportation now and enjoy a stress-free journey.
When you purchase through these links I will get a small commission at no cost to you. Thank you for supporting me! :)
You need to remove the rubber bands from the lobster and to do this without risking a crushed finger is by criss crossing the claws over each other. You remove the bands and lower the lobster into the water. For lobsters this size, cooking them for 12 minutes is ideal, once the water starts boiling again after adding the lobsters.
After they are cooked, you take them out and place them in an ice bath so that they stop cooking immediately.
But there's no time to waste as we're making crab cakes, bacon candy, chowder and a lobster roll today. We set to work cutting and chopping ingredients for the seafood and corn chowder. Alain doesn't use flour to thicken his chowder and instead uses pureed potatoes to do the job.
The double smoked bacon from the Pig Shop is then cut into medium sized pieces and fried. Once browned on all sides, we add maple syrup and cook this until it is caramelised and sticky.
Lisa, Anna and I finish chopping the vegetables for the chowder so we get started on making the crab cakes. It's Jong's task to mix together the crab cake mixture which is made up of crab meat, breadcrumbs, egg, diced peppers, onion, dill, mayonnaise and salt and pepper.
These are then shaped and then rolled in dried breadcrumbs and then fried and topped with mayonnaise and dill.
We gather round so that Alain can show us how to deal with the lobsters to get as much meat out as possible. They're barely warm now which makes them easy to break up and we manage to remove quite a lot of the meat.
Although we know how to tell a male from a female lobster from this post, Alain gives us one additional way. If the centre of the upturned tail has small "thorns" then it is a male lobster, female lobsters only have a tiny ridge otherwise their eggs would burst.
This is how lobsters mate!
The chowder is straight forward and simply involves frying off the bacon with shallots and celery and then adding the rest of the vegetables along with some water, potato puree, cream, brie and basil.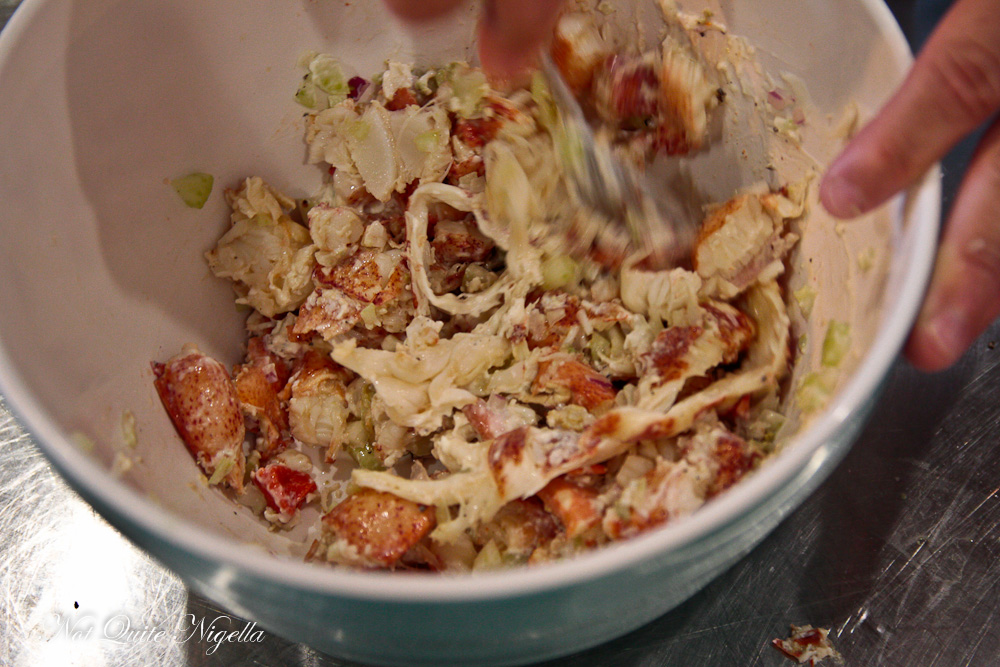 But we come to the part that I've been looking forward to most-the lobster roll! The key part to this is the roll itself. Lobster rolls are usually made using soft, supermarket hot dog rolls that are joined together in lots of six so that you get soft sides on each roll.
The rolls are buttered and then browned on the frypan until golden crisp. We then fill them with spinach and chunky lobster meat mixed with diced celery, mayonnaise and salt and pepper. The texture of the lobster against the lightly crispy and buttery outer and soft inside is delicious and I find myself wanting another straight away!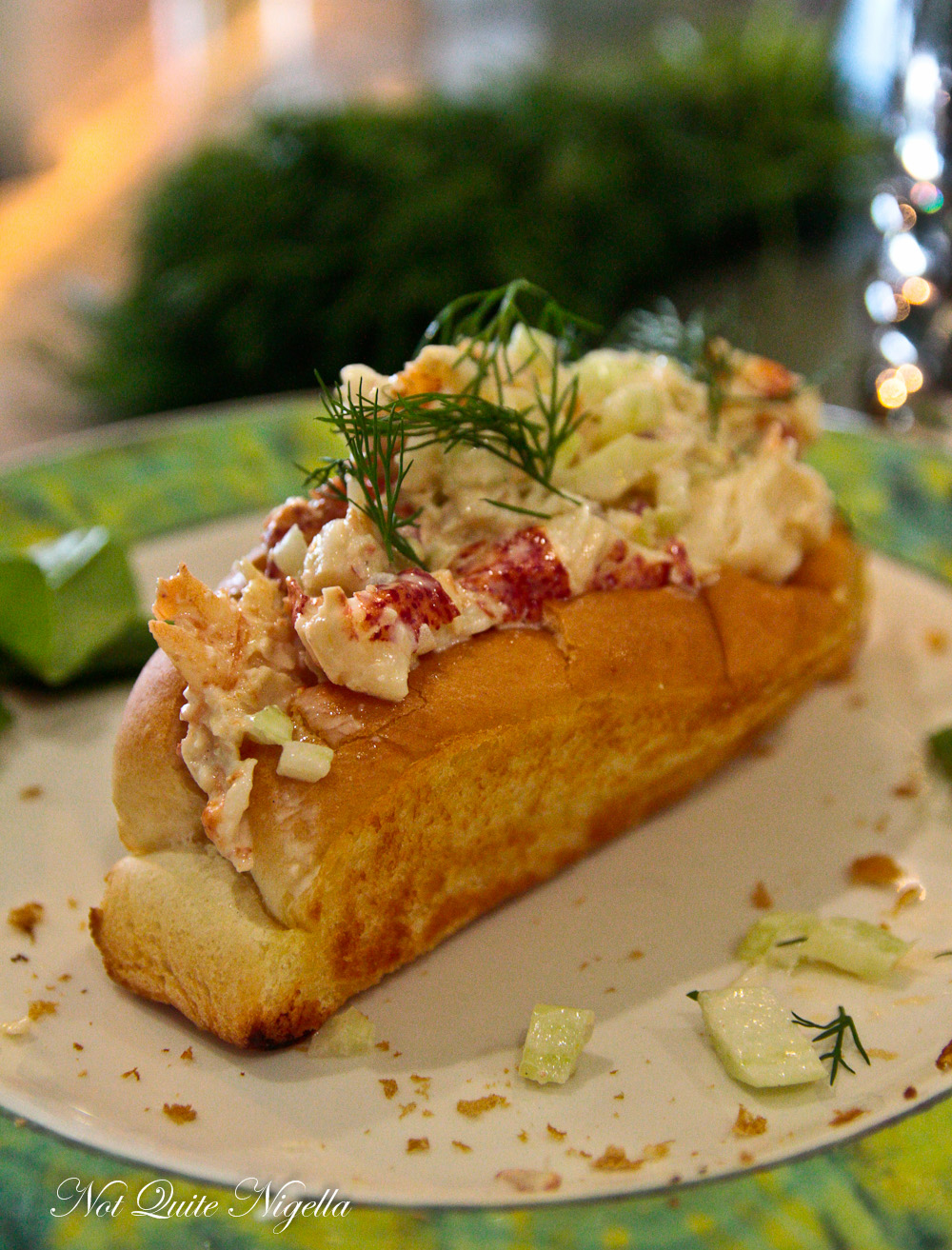 We take our food out to the deck outside and then Alain offers to show us his bees. They're dubbed "The Misfits" as they were a swarm of bees that built a home within the walls of his sister in law's home. She owns 300 hives and couldn't risk introducing these bees to hers in case they were diseased. He smokes the bees and then Anna dons a suit to get close to them.
The rest of us without suits are a little terrified of bees as they're a fairly aggressive breed known to sting easily so we stand behind the glass to observe.
We taste the honey inside, all of the honey is bottled, labelled and numbered and is given to charity and is a mixture of clover, alfalfa sprout and blueberry honey.
So tell me Dear Reader, do you try and maintain a level of fitness when you're on holiday? And have you ever visited an abattoir?
NQN travelled to Canada as a guest of the Canadian Tourism Commission, Destination Halifax and Nova Scotia Tourism Agency.
The Kilted Chef
www.kiltedchef.ca/