"These people are SCARY mummy!!!"
"I want MORE candy!"
"OMG Imagine if there were year 8 boys around? I would die!"
"I'm collecting tins of food..."
All around me is activity this Hallowe'en evening. A mother calms down her anxious boy. He's distressed because scary looking people keep knocking on the door asking for candy. In the background is the sound of excited kids on candy. There are pirates, tiny supermen, gangsters, fairies, skeletons and goblins. It's Hallowe'en on Renwick Street in Sydney's Drummoyne where many of the houses are decorated with spooky decorations and trick or treating is welcome.
We arrive with Mia and Ruby and their friends Hannah and Fin. At 4:20pm they are part of a handful of children in the street but by 4:30pm the street is teeming with eager little monsters reaching out excited little fingers for a piece of candy.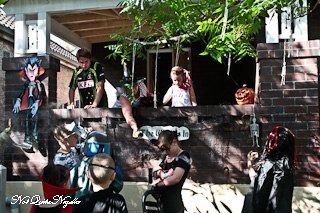 Mia is lugging a shopping trolley. No Dear Reader, she isn't very optimistic about getting an enormous haul of candy but this thoughtful ten year old has decided that instead of collecting lollies, she will collect cans for the Exodus foundation which assists struggling families. She has rehearsed her earnest speech and after an hour, her trolley is loaded with plenty of tins of food.
After watching all of this trick or treating, I wanted to have a piece of candy for myself. Belinda asks Ruby to share a piece of candy with me. "Here's one I didn't lick!" says Ruby holding up a licorice allsort. It did kind of taste licked but I still ate it anyway ;)
Alas Belinda and I have to leave the candy collectors because we are off to another Hallowe'en experience, a ghost tour preceded by dinner at Manly's Q Station. Oh I didn't mention how I was dressed did I? I decided to paint my face Día de Muertos style which was surprisingly easy - all you really need is some black eyeliner, white face paint and a coloured eyeshadow and voila, you'll fit right into the ghost tour!
The drive from Drummoyne to Manly is long and full of stop start traffic given the peak hour time and just over an hour later we arrive. And I must admit that I found it fun when people would do a double take when they saw me driving. We take a shuttle bus down to the restaurant and bar area which is adjacent to where the tour starts. The ghost tour starts at 8pm and Belinda and I arrive at the Boilerhouse restaurant at 6:30pm for our reservation with Mr NQN, Viggo and Louise.
The open kitchen is downstairs with all of the seating upstairs. We don't have a lot of time to spare so we order quickly while the restaurant is relatively quiet and our food comes out straight away.
The cauliflower soup is a definite favourite at the table. Thick and creamy, you could almost eat it with a fork and it's wonderfully rich in flavour and texture. It comes with two small fingers of toasted cheese with a nutty sweet gruyere cheese. These could have been larger for the generous serve of soup. It's just the thing to fortify oneself for a night of ghostly hijinks.
I love fresh sardines and these are fried until crispy with a sweet and sour sauce to them which is a nice pairing. It's hard to distinguish which bits are sardine versus the toasted brioche until cutting into it but it's an enjoyable dish.
This was a good dish albeit milder flavoured than I expected, particularly after the sardines and soup. The short ribs are quite small and it sits on a bed of mashed potato. It's a safe dish although the others had more flavour and were more generously portioned. We are all good sharers so we passed plates around so that we could try everything.
This was another favourite at the table. The rings of squid were so tender and went well with the lime honey on the side. The peanut relish was a bit hard to eat with the squid as it was hard to pick up the little pieces with the fork and knife.
I only had a little of the coffee and vanilla cured kingfish although the two flavours weren't particularly strong. However the clean flavour and simple but tasty herb salad were satisfying.
There's a bit of a delay with the mains as the restaurant fills and we notice that we're not going to be able to have dessert as it is 7:36pm and the tour starts at 8pm. Our mains arrive and our scotch fillet is unfortunately completely overcooked. Ordinarily, we would have sent it back but we just didn't have time. The two pink cubes on top were beetroot butter which were actually quite interesting but alas because of the steak's dry texture, we all moved onto the other mains.
This dish was perhaps the favourite of the mains. It was a simple but light ricotta gnocchi with seasonal peas, asparagus and broad beans. Everything in this was fresh with a good balance of flavours.
This was a very generously portioned main with char grilled spatchcock, a romesco sauce with halved kipfler potatoes and brussel sprouts. The spatchcock was juicy and succulent and the vegetables moreish.
*Ras el hanout lamb backstrap, chickpea clusters, pomegranate, black garlic $38.00 *
You could smell the spices as soon as this was sat down in front of you. The lamb backstrap is quite cooked through and there are chickpea clusters which are not so much clusters as chickpeas with batter. There are pomegranate seeds and black garlic. While the dish was hearty as all the mains are, we preferred the entrees over the entrees.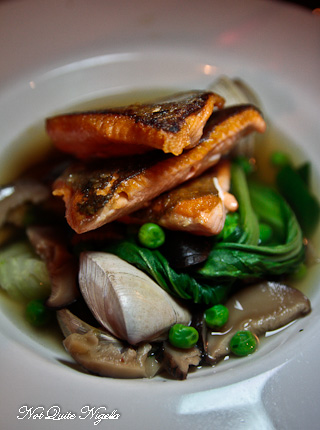 This was one of those lighter dishes and perfect if you wanted to eat healthily. It was a fillet of rainbow trout sitting in some sweet, light dashi fish stock. Amongst this were wild mushrooms, peas, Asian greens and vongole clams.
It's just 7:55pm when we ask for the bill so we scramble down the stairs to pay and make the tour. Ghost tours at Q station are $49 per person and our group looks disconcertingly large. Indeed there are about four tours going on this evening because the demand for is so high at Halloween.
Our guide Marilyn starts us on the pier where she gives us a history into the quarantine station and explains the various areas to us including the accommodation, hospital and showers. There were first, second and third class areas within each.
Four of us grab lanterns to light our path up the hills. Unfortunately, given the large group and the extremely noisy conference pumping out music and loud cheering, any sort of spooky atmosphere is lost. Marilyn does her best and keeps the tour informative and she shows us where bodies have been buried and the more haunted areas of the enormous area.
The gravedigger's cottage and the showers are perhaps the spookiest and Marilyn takes an EMF (electromagnetic field) reader with her to see if the spirits respond. Green lights are neutral but if the lights flicker orange or red, then it is said that the spirit is making their presence felt. There's a little flickering at the Gravedigger's cottage from the gravedigger Sam who inebriated with his stash of free rum, fell to his death down the sheer cliff face outside. In the morgue, the sleazy spirit of Mr Slimey apparently likes to feel up guests, hence his name.
The scariest moment is saved for the last stop: the shower block. The stalls seem to go on forever and it looks foreboding. There were peepholes so that attendants could look through at people to ensure that they showered properly. The water was laced with carbolic acid which would strip the skin of its top layer but it was supposed to get rid of any infections. There were screams aplenty here as we would round the corners and we'd end up scaring each other.
So tell me Dear Reader, did you do anything for Halloween this year? And have you ever seen or felt a ghost? Would you believe a spirit was there if an EMF reader showed a presence?
QStation
North Head Scenic Drive, Manly NSW 2095
Lunch from 11:00am - 3.00pm Friday, Saturday and Sunday
Dinner - 7 Days from 6pm
http://www.qstation.com.au/
Tel: +61 (02) 9466 1500
Ghost tours are $49 per person