A new wine bar on Belgrave Street in Manly, Good Hope is owned by Michelle and Daniel Collett. The wine menu has 127 wine varieties with 24 wines on offer by the glass and a food menu that spans snacks to steak. The wine list focuses on boutique wineries to allow people to try wines that they wouldn't normally be able to buy in large retail stores.
You know I'm a bit obsessed by names so I had to ask about the meaning of Good Hope. Michelle explains that they named it Good Hope Manly because, "When we were looking into the Australian wine history the first vine cuttings came to Australia on the first fleet in 1788 from the Cape of Good Hope and planted on the foreshores of Sydney."
It's a Wednesday night, not usually the busiest night in Manly and still Good Hope has a range of customers from a book club to groups of friends. We are seated next to a wall of wine which is not a bad spot at all to sit. Faced with pages of wine by the glass I need a bit of guidance on what to order. That's not a problem - they recommend a couple of wines and offer to give me a taste of each so that I can decide which one I want. Service is friendly and accommodating.
They focus on small to medium sized vineyards at Good Hope. "We try to not stock any wines that can be found in the larger liquor chain stores...support the little guy and showcase what customers may have not tried, seen or heard of before," says Michelle.
What starts off as just being wine and a quick snack before dinner turns into four dishes. The chef here is Chowdhury "Mo" Baizid who has worked at Fish Face, Lock, Stock & Barrel and Powder Keg. The most popular dish is the sweet potato fried chicken. The sweet potato element is from the sweet potato flour rather than the vegetable itself. It's served as boneless pieces with a "secret sauce" like a smoked paprika aioli and curried, pickled red onions that give it a nice lift. The chicken is light and tender and the onions give it a piquancy.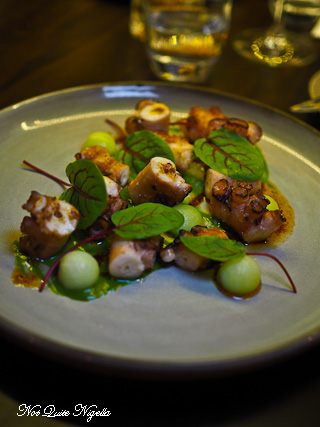 The braised octopus comes out cut into pieces with cubes of honeydew melon, parsley puree and chilli oil. The octopus works really well with the melon and it's a well balanced dish. The presentation of the dishes is very nice and a cut above many wine bars that tend to serve more casual food.
The Hanger steak is served pre-sliced with a house mustard that has a strong anchovy flavour with rosemary smoked shiitake mushrooms and shiitake mushroom powder. I really like the smoked mushrooms and they go well with the steak. The butter is quite strong and salty in anchovy which helps season the steak but it does give the steak a fishy flavour. The only issue is that the steak is a bit on the cold side. Food does take a while to arrive and each comes one at a time so you are best off sharing plates.
Desserts sound tempting and we normally go for one but we have dinner coming up and you know that feeling that you're already almost getting full from your first dinner? Yep that was us!
So tell me Dear Reader, how often do you go out for a glass of wine and a snack before dinner? Or do you prefer to make the wine and snacks your dinner?
This meal was independently paid for.
Good Hope Manly
1/10 Belgrave St, Manly NSW 2095
Phone: (02) 9977 0194
www.goodhopemanly.com.au/
Tuesday to Thursday 4pm–12am
Saturday 2pm–12am
Sunday 2pm –10pm
Monday Closed