Love pastry? Does a flaky croissant send you into raptures? The newly opened Rollers in Manly offers up croissants with a twist-sushi croissant anyone?
Rollers is a partnership between James Sideris from Butter Boy Bakes and Bo Hinzack from Showbox Coffee Roasters. Open for just a few weeks it has amassed quite a following with a steady queue forming outside the small pastry shop in Rialto Lane just near Manly Beach waterfront.
It's a chilly but sunny Sunday morning when I head to Rollers. I'm not a naturally early riser but it was Manly based friends Louise and Viggo who did the hard yards and arrived early to get the bulk of the haul. When Louise made her trip here at 8am there was plenty of choice of pastries. But when I get there at 11:30am it is very busy and the eat in area only has one table free and everyone is huddling from the strong wind and biting into flaky croissants.
There are also only five pastries and one cookie available. The pies that one website wrote about and photographed have not actually ever made it on the menu so my lustful dreams of a hot pie are dashed.
The collection looks to be inspired by the San Francisco based bakehouse Mr Holmes from the glossy Instagram friendly take away box to the sushi croissant which was made popular by Mr Holmes and was dubbed the "Crossushi".
I take the haul back to Louise and Viggo's house where they are sitting (not literally) on a box of $61 worth of pastry which we combine with my box of $21 worth of pastry and one very good coffee. Did I mention that pastry sampling isn't cheap?
We start with the savoury options-the plain croissant is buttery and delicious with a neat honeycomb pattern. Even Madame Butterfly (Viggo's mum) compliments the lack of buttery grease and the lightness.
We then try onto one of my favourite savoury items, the garlic bread croissant. It's a simple idea with garlic, rosemary, thyme and gruyere cheese. We can't see the gruyere but we can taste the cheese. This would be amazingly good warmed up.
Then it's onto Louise's favourite the ham, cheese topped with a cornichon and pickled cocktail onion. The toppings give the croissant some balance and make it less rich which is nice.
The tomato and herb is also good the tomato makes it more moist. However I really liked the garlic bread one the best.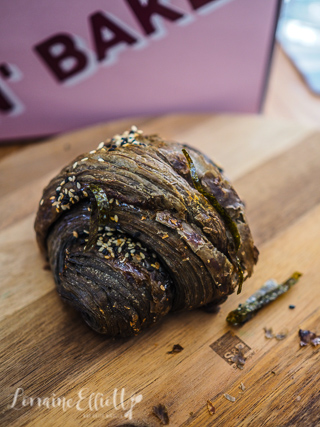 Then there's the sushi croissant which while very inspired is a bit different from the Mr Holmes version. Mr Holmes'"crossushi" is a regular croissant served with nori wrapped salmon and pickled ginger that comes with a sachet of soy sauce.
Here the Rollers one is a charcoal croissant with nori on top, black sesame, wasabi, pickled ginger and salmon. Louise remarks that when she tried it previously it had a more even slice of salmon and was prettier looking inside. It's not bad at all but I'm not a fan of wasabi so I don't really gravitate towards this. The pickled ginger and salmon are good though.
I know I'm strange but I find pain au chocolate always a bit disappointing but here it isn't. It's filled with two sticks of dark chocolate and it's fantastic. Again all of these would be better warmed up especially that chocolate filling and if we were at our place I would have warmed them all.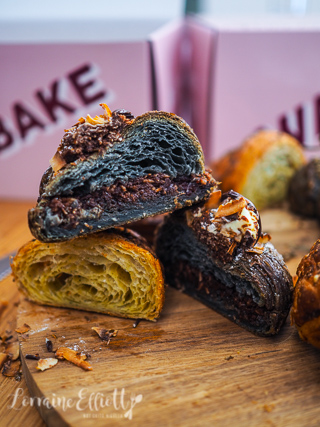 The black forest is filled with a nutty cherry filling and is Viggo's favourite. It isn't so much black forest flavoured but I do like the textures of the filling against the flaky pastry.
The cashew strawberry is fine but perhaps not my favourite because the pastry is more like a cake crossed with a croissant and I think I was in the buttery layered croissant zone. Also I think it's pricey for a pastry with regular ingredients.
The apple and rhubarb with vanilla custard is similar although more like a traditional croissant and is like a classic custard and apple Danish. I prefer this one over the strawberry.
Then comes my favourite sweet item - the monkey bread. Slightly warm and oh so chocolatey and buttery with a hint of banana it's just the warm hug I needed from the cold.
The bounty cookie is a giant cookie which is crisp and coconutty. There are streaks of chocolate in it too but it doesn't so much taste like a Bounty, it just tastes like a good cookie.
Shaking off the crumbs, even Madame Butterfly (Viggo's mother) who usually doesn't like eating out is pleased and Mr NQN who isn't a pastry fan at all (I know, how on earth did we ever get married?) is a massive fan and scoops up all the extra bits. And given the amount of pastries, there's nothing left but flakey croissant crumbs which Mochi happily vacuums up.
So tell me Dear Reader, are you a fan of croissants? Which pastry appealed to you the most? Would you choose a sushi croissant?
All items were independently paid for.
Rollers Bakehouse
19 Rialto Ln, Manly NSW 2095
Open 7 days 7am–3pm