This restaurant is now closed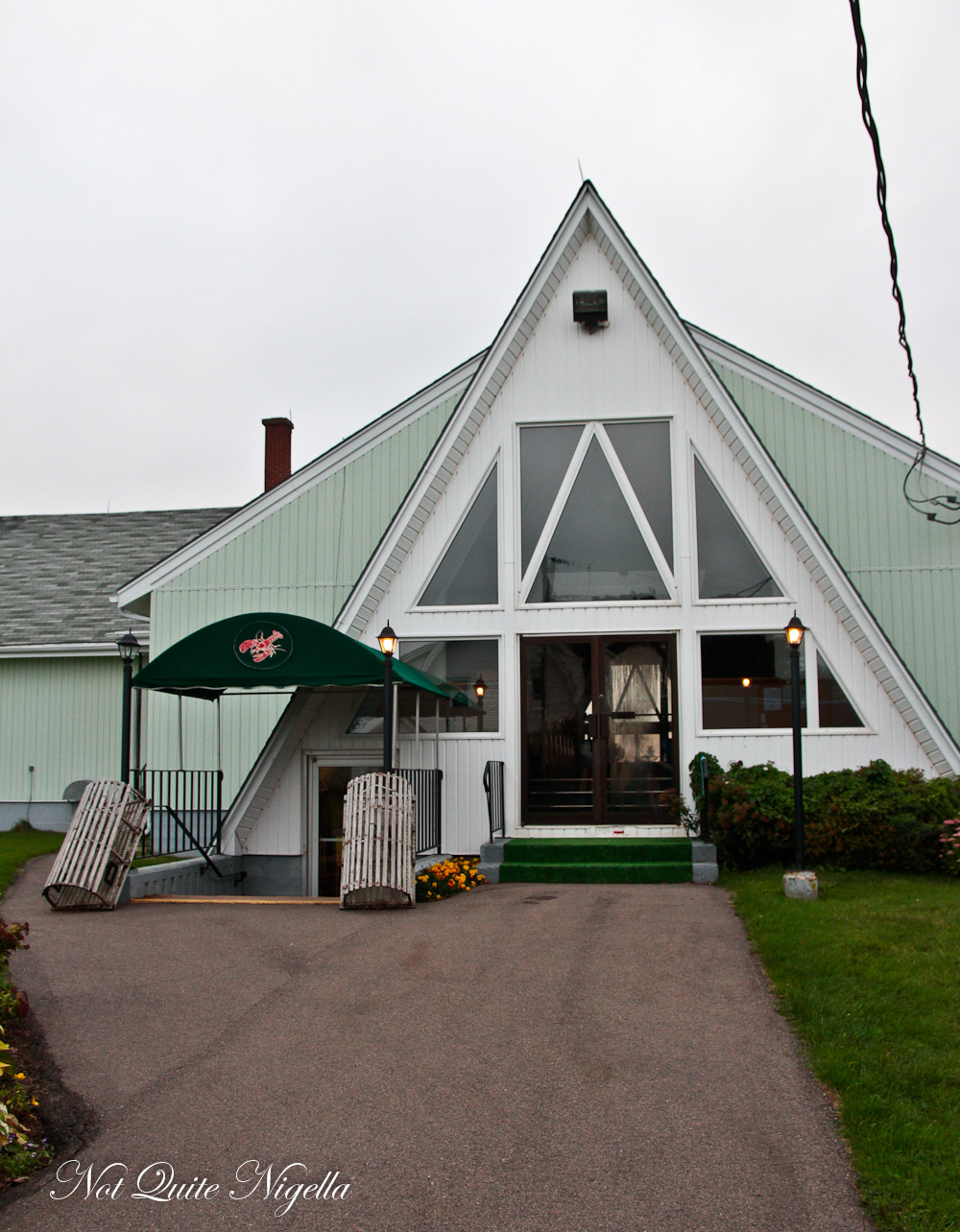 Dear Reader, it's time for a confession of sorts. My time in the church started off shaky and crumbled quickly. My parents tried to enrol us in Sunday School and my sister and I proclaimed it "boring" and for some reason they agreed with us and we didn't really step into a church again unless it was for a funeral or a wedding.
But one evening I find myself in a car being driven by Johnny Oliver -musician and restaurant manager. I am being driven to church on Prince Edward Island. Not for a wedding or a funeral but for one of the island's most interesting traditions: the church lobster supper.
Recommended to me by my friend, Canadian native, the fabulous Eva, I sought to have my own PEI experience that was traditional and unique to the region. The church supper is exactly that. It was a tradition that started with St Ann's Church in 1964. When the church was built, Pastor Denis Gallant decided to hold church lobster suppers to help pay off the mortgage and to provide work for the local community. These were held one night a week - in 1964, a lobster dinner was $1.50CAD.
Once the $35,000 mortgage was paid off, the tradition continued and it has run as a non profit entity ever since. Once the bills are paid, any extra monies are given to charities. The island's hospital received cheques for $10,000 as did other beneficiaries. Nowadays, the church suppers operate from 4pm-8pm six days a week only during the summer season only. The four month stint from June to September raises enough money for the whole year and most importantly enough to get through the winter months.
So what kind of food is served at a church supper? Lobster is caught on the south side of PEI and North shore during the church supper season and lobsters are delivered fresh daily. Local mussels are delivered every second day and along with this, they also serve New York Striploin AAA grade. As a former chef Johnny won't compromise on the food and customers appear to appreciate that.
The price for a four course meal with lobster is $35CAD per person and for that you get an entree of soup, a bowl of Island Blue mussels and the entree (i.e. a main meal) of your choice and dessert. Some of the dessert recipes have been used since the church suppers started.
About half an hour later we reach the church. There is a large coach pulled up in the car park. St Ann's attracts many tourists - word of mouth means that people travel from far and wide to visit. The suppers are held in the church basement and Johnny employs 30-35 staff to cook, wait and bus the plates of food. There are now two rooms that hold people although originally there was just one room adjoining the enormous kitchen. They excavated the rest to make the additional room as demand was so high.
During the heyday of the 80's and 90's when there were only three lobster supper restaurants, the restaurant was packed with people the space fitting 200 patrons. Now that most restaurants in Charlottetown serve lobster, people sate their curiosity for PEI lobster in Charlottetown without making the trip out to the lobster supper places.
Nowadays Monday nights are the busiest night of the week as most other restaurants are closed. And despite the fact that they could make a small fortune if they opened on Sundays, the church board have decreed that they will not open on that day.
I look around and there's wood panelling on the walls and it's simple but clean and comfortable. A small stage sits in the middle of the room where on Thursday and Friday there is live music. There is a full bar on offer but I'm sipping water tonight with my meal. All you need to do as a diner is to choose the main that you want and dessert and the rest is brought to you. Service is thoughtful and courteous.
First course: chowder
The placemats are newspaper printed stories. I choose the chowder for my soup - there's also a beef noodle soup that day. The chowder comes with a sprinkling of parsley on top and a cracker to crumble into it to give it texture. The chowder is warming and delicious and has that comforting quality. They also set down some moreish sweet bread rolls and butter-the rolls are the only thing that aren't made in house.
Planning your next trip? Ensure you have the right coverage with HeyMondo travel insurance that includes COVID-19 protection. Plus, if you use our link, you'll receive 5% off the price. Find the best deals on flights from all airlines in various currencies with SkyScanner and set up alerts to get notified when prices drop. For reliable transportation options, look no further than 12Go Asia, offering train, bus, ferry, and flight transfers worldwide. Book your transportation now and enjoy a stress-free journey.
When you purchase through these links I will get a small commission at no cost to you. Thank you for supporting me! :)
Steamed Island Blue mussels
You would not believe the secret ingredient in these mussels. When Johnny tells me I have to ask him to repeat it because I think I'm hearing things. There is the usual white wine and garlic but the magic ingredient is...Sprite lemonade! It was his idea to make the mussels fresher in taste and I must say that it works wonders. The mussels are amazingly tender and delicious and you cannot tell in any way that there is Sprite in it.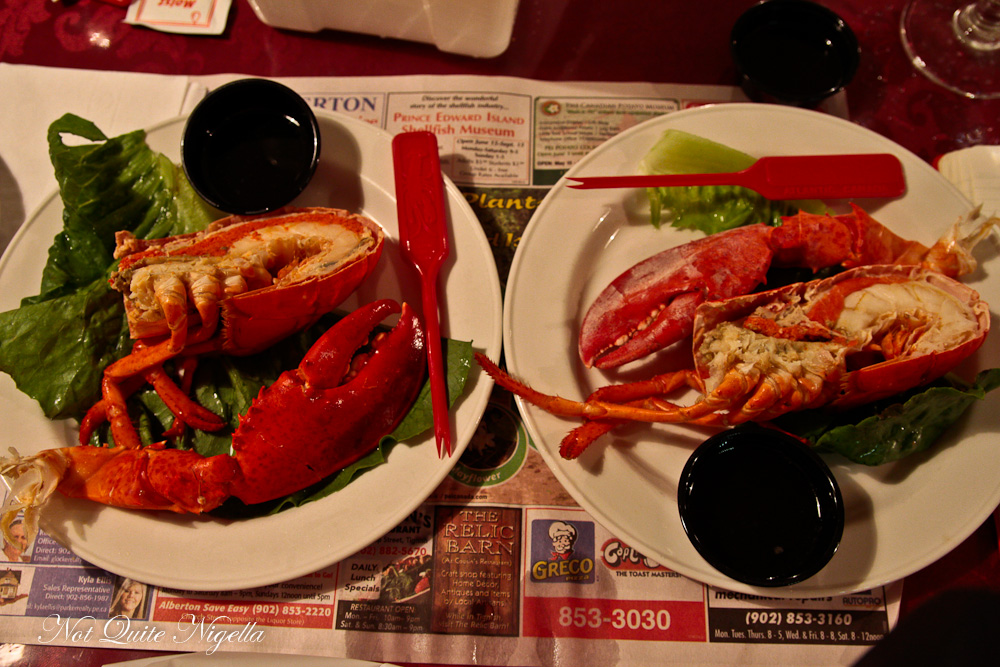 Lobster, half hot and half cold
"As soon as we see people walking through the door, we start cooking the lobsters" Johnny drawls. They cook them ten at one time for the hot lobsters which the tourists like. Locals prefer cold lobster which they cook at around 3-3.30pm every afternoon and chill. I have a female lobster with roe and the one on the left is cold and the one on the right is hot, both served simply with a combination of melted butter and margarine. The lobster is tender and each quite different although it is hard to pick a favourite.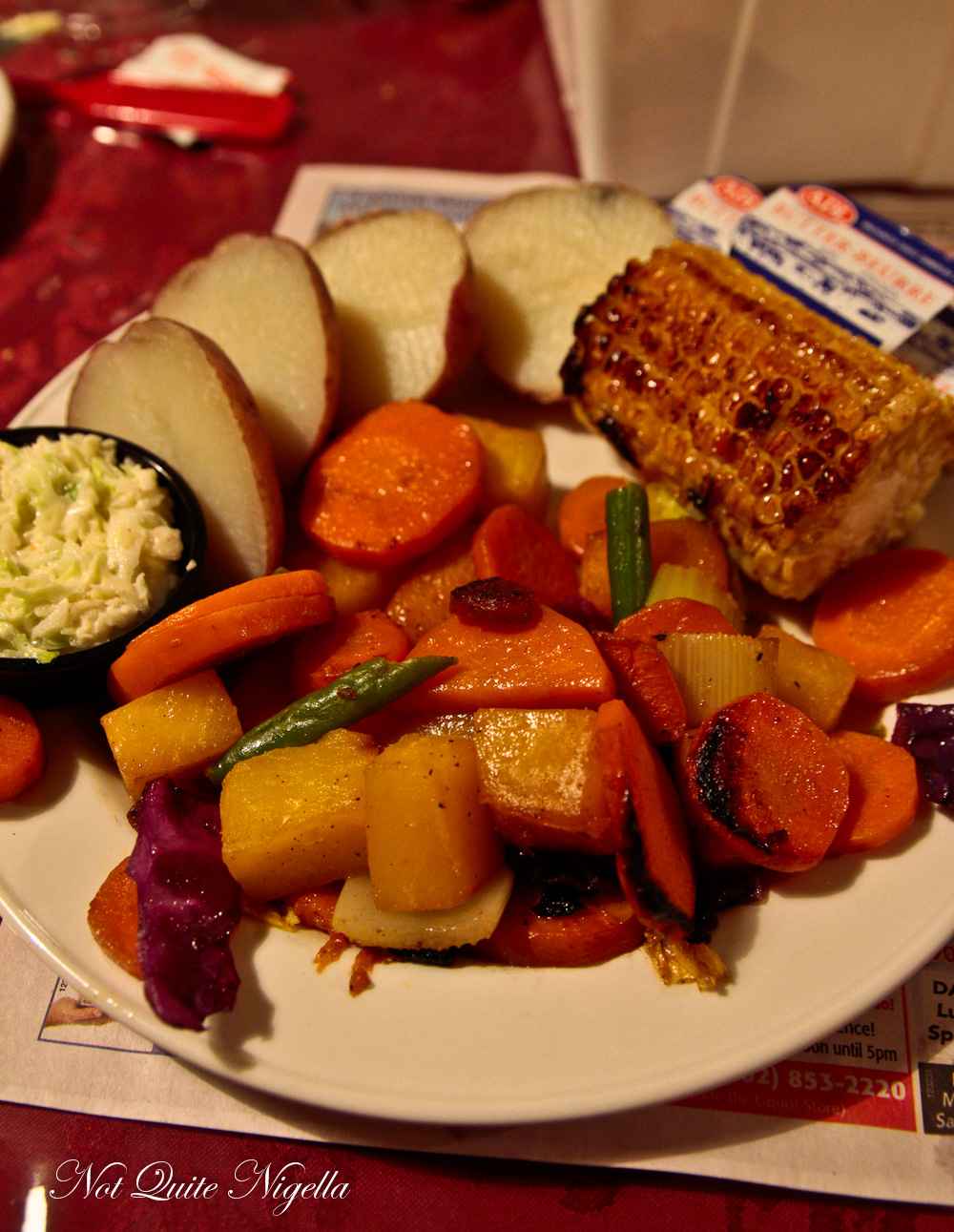 Vegetable selection
The vegetables come on a separate plate and I'm starting to see why people love church suppers so much. They're full of generous portions of wholesome food. The vegetables are all local ones picked up at the market and are first steamed and then pan fried. There are "red" potatoes that are also steamed and freshly cooked juicy corn. There's also a little pot of coleslaw to complete it.
Just for research purposes, Johnny has them make up a plate of the other seafood options to try. There are toothsome prawns on a skewer, scallops and my favourite: superbly moist and succulent haddock fillets with a spiced lemon pepper seasoning.
Strawberry and rhubarb crisp
There was only one dessert choice for me although there were six desserts on offer that evening all made fresh that day. I only had eyes for the strawberry rhubarb crisp because that was one recipe that they have been using since the beginning. It is served hot with a scoop of vanilla ice cream. The fruit filling is good - not overly sweet but lightly sweetened and thickened with the melted ice cream. The crisp topping is oatmeal and brown sugar and butter based with appealingly large chunks to scoop up along with the fruit and ice cream.
The drive back into town is set to the soundtrack of Johnny's country rock CD and for someone that wished for an authentic PEI experience, I got what I wished for in spades.
My next stop in Canada? I visit British Columbia during winter!
So tell me Dear Reader, do you eat lobster? And do you prefer it chilled or served hot? And would you travel half an hour for dinner or do you prefer somewhere closeby?
St Ann's Lobster Suppers
This restaurant is now closed
104 St Patricks Rd, Hunter River, PE C0A 1N0, Canada
Phone:(902) 621-0635
Open Monday to Saturday 4pm-8pm