Every now and then I get the chance to be interviewed by a journalist. They may be from a magazine, newspaper, radio or online publication and the conversation is always generally around food. As we're about to start summer, one of the more recent questions was about food trends. Predicting food trends is always slightly nerve wracking because they record your prediction or opinion and a part of you always wonders if it is going to come true. But I figure that I can just do a best guess and at the very least tell them about what the food trends are happening in my kitchen at least.
When I mentioned a few trends to the journalist she mentioned that others were in agreement but then I started talking about salads and vegetables and apparently I was a bit on my own with that. But for our household at least, we are currently going crazy for salads and vegetables.
We're rediscovering how fabulous some vegetables can be (Brussels sprouts, cabbage) and we're spoilt with a fabulous spring bounty from broad beans, asparagus and rainbow chard. When the weather is warm we're putting them in salads and when it turns a bit chilly, I pop them in dishes and eat them like they're going out of fashion. The wonderful bonus is that they are great for you and before you know it, you'll be at your pre-winter weight.
I recently did a story on Arthur Street Kitchen's Hetty McKinnon who hand delivers all of her salads on bike. She was kind enough to give me a copy of her wonderful cookbook "Community" which is filled with luscious salad recipes. A couple of days later I had one of her salads delivered and as soon as I opened up the cauliflower and spiced lentil salad I was smitten with the flavours and aromas. I remembered her saying that you do need to work a bit harder to put flavour into vegetables and I think that is true.
The recipe below makes an enormous salad but it's great the day after. It's perfect for a communal share meal-we actually brought part of this to a picnic and ate the rest on a warm spring evening. The lentils give the salad body so that you don't feel as though you need to eat more afterwards and the caramelised cauliflower gives it goodness and flavour.
So tell me Dear Reader, what do you think are the upcoming trends? And what are you loving in the kitchen at the moment?
DID YOU MAKE THIS RECIPE? Share your creations by tagging @notquitenigella on Instagram with the hashtag #notquitenigella
Cauliflower & Spiced Lentil Salad
Adapted from Community by Hetty McKinnon
2 medium (about 2kg/4lb) cauliflower cut into bite sized florets
4-5 tablespoons olive oil
250g/0.5lb Persian red lentils or Puy lentils
1 tablespoon ground cumin
1 tablespoon ground coriander
2 brown onions, finely diced
2 cloves garlic, finely chopped
400g/14/13ozs low fat natural yogurt
1 cup baby spinach leaves
1 cup coriander leaves, finely chopped
1 cup mint leaves, finely chopped
juice of 1 lemon
salt and pepper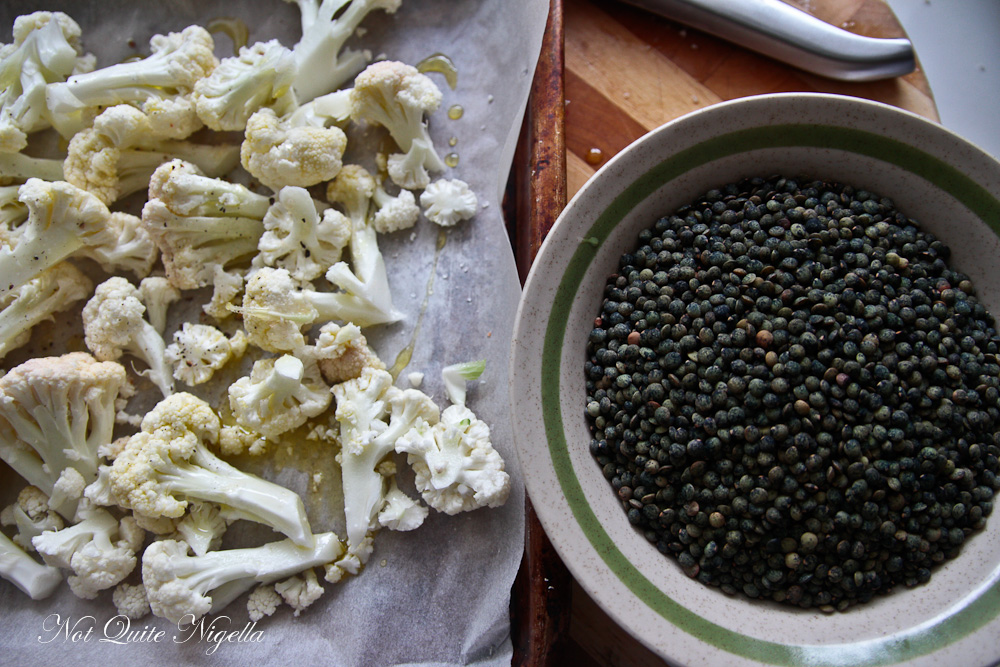 Step 1 - Heat oven to 200C/400F. Place the cauliflower on two baking trays and drizzle with oil and season with salt and pepper. Roast the cauliflower until golden and starting to crisp up at the edges-I took mine a bit further (unintentionally!).
Step 2 - Meanwhile, cook lentils in a large pot of boiling water (red and puy lentils don't need any pre-soaking) for about 20 minutes or until just cooked. Drain and rinse.
Step 3- In a dry frypan, heat the cumin and coriander until fragrant. Add some olive oil and saute the onion until golden and then add the garlic and cook for another couple of minutes. Add the spiced onion mix to the lentils while they are still warm.
Step 4 - Cool the lentil mix and cauliflower. Once cool, add the yogurt, baby spinach, coriander, mint, lemon juice and salt and pepper and add a drizzle of olive oil to help it come together. Toss gently to distribute.