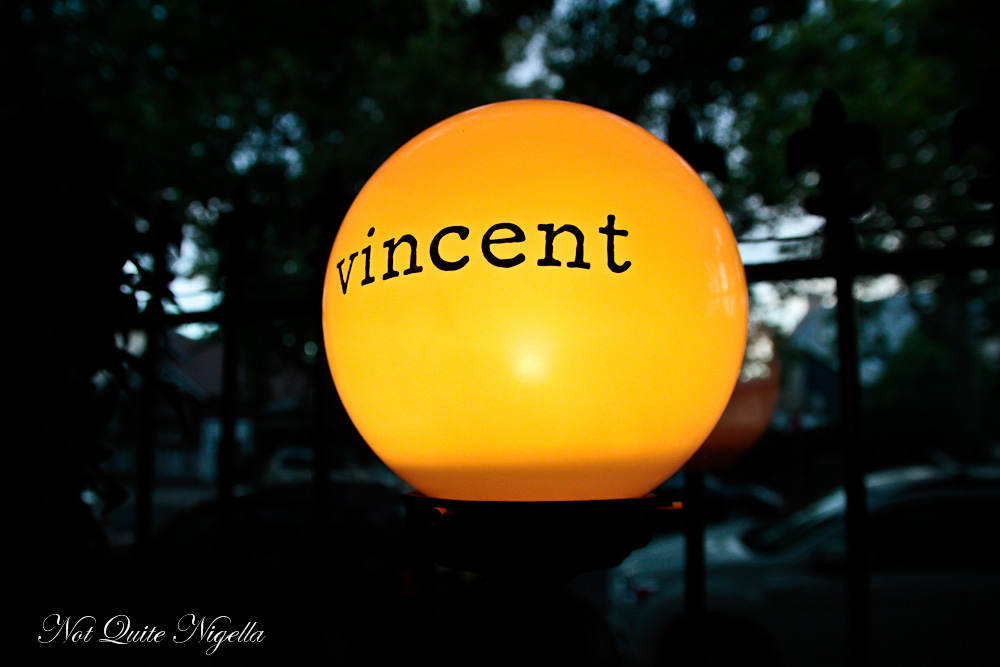 The saying goes that as one door closes, another one opens. The same can be true in the restaurant world and the evening that we happen to be dining at restaurant Vincent, just one street away, the owners of Vincent: Traci Trinder, James Hird and Todd Garratt are simultaneously farewelling Buzo, their much loved Italian restaurant of twelve years.
Vincent, so named because "Vin" means wine and "Cent" means hundred is an ode to their strong wine list. James explains that their aim over one season is to feature one hundred wines in a dynamically changing wine list and to match low alcohol and high acid wines to the food. The restaurant sits on the side of the Hughenden Hotel in a space where the hotel guests previously took breakfast. To enter you walk through the hotel lobby and turn right, past the bar and to the covered patio area. Street lights cast a light glow.
It's busy having been open for about five weeks already. This evening I'm dining with Belinda, Teri and Ceri while Mr NQN rests at home for a big bike race the next day. We all notice that the marble topped tables are close together and rather small in size which is curious because our waitress tells us that plates are meant for sharing. I'm also finding it hard to find a place to put my bag apart from on the floor.
The menu looks very tempting and we have a difficult time trying to decide on what to order especially since we see several desserts that we want to try. They explain that the starters will come out as they are ready and the mains will come out at the same time. The restaurant is a departure from the Parisian concept of bistro. James explains that they wanted to create an atmosphere which was provincial French but "felt that it had been there for a long time" and whilst the menu isn't classic French, the technique is.
Bread and butter $3 and olives $6
The bread is a chewy, crusty number as befitting a French bistro. It is served with a soft, salted house churned butter while the olives housed in their own little pot are plentiful and full of flavour.
Celeriac Salad $17
Many of the starters are vegetarian or feature lots of vegetables and we decided on the celeriac salad with cavalo nero or Tuscan kale, house made chevre and hazelnuts. It is freshness personified and Teri in particular likes this.
*Comté custard $19 *
Comté is one of my favourite cheeses and when I saw it on the menu in a custard form, I gravitated towards it immediately. It's silky and light as air with a foamy onion soubise sauce and long batons of chive.
Braised lettuce polonaise $19
Curiosity made us order the braised lettuce "polonaise" which comprises of cured egg yolk, gooey eggs, soft hearts of lettuce and crunchy parmesan breadcrumbs. The textures are varied in this dish with the softness of the egg and lettuce against the golden shards of crumb.
Venison tartare $21
Another favourite dish was the venison and boudin noir tartare which has a luscious, creamy texture and was served with baby capers on crisp triangles. These were topped with thinly sliced radish and shavings of cured egg yolk showering the dish with bright yellow snow.
Baked potato $5 each
I've only had food baked in hay a couple of times so we were all curious to try the potato. These baked potatoes are baked in hay and have a distinct smokey flavour to them from the smoked eel butter. It's a comforting dish delivering carbs and satiety.
Poulet au vin jaune $29
There's a bit of confusion as one of the waitstaff (who seems very new) replaces the plates upon request but doesn't replace the cutlery until we specifically ask for that to be replaced too. The mains come out and the chicken with vin jaune (a yellow wine from the Jura region in France made from the sauvignon grape) and sherry is cooked in an oven bag which renders the chicken succulent. The flavour is quite mild though although the texture is moist. It comes with a fondant potato and a mix of mushrooms.
Steamed hapuku, smoked oysters, kohlrabi and purslane $35
The steamed hapuku is lusciously textured and dotted with tiny smoked oysters and topped with shredded kohlrabi and purslane. It's one of the lighter dishes but the accompaniments allow to fish's flavour to shine.
Steak frites $34
Out came a burner on which to keep the cooked steak warm. The steak comes already cut into portions and it is cooked just as ordered. The steak is succulent and the flavoured butter or "Beurre Vincent" lends it flavour and lusciousness but leaving the steak on the heated metal plate causes any pieces left to cook further than what you might want.
Spätzle $21
The spätzle, usually something that you think of as Germanic, is a sticky, luscious full flavoured dish with braised oxtail, tendon and roast carrot with little nuggets of spätzle pasta. There are lumps of soft, fatty tendon that melt and help the dish caramelise appealingly.
Chocolate salted caramel tart $14
Dessert time! The salted caramel tart is an exercise in richness and the salted caramel is strong against the chocolate. There's a buttermilk milk on top as well as a milk wafer which is sweet and tooth sticking. And because it is quite dark at Vincent, it's only when we see it under the light that we notice how pretty the dish is.
Vacherin Glacee $14
Whilst Teri liked the chocolate tart, the rest of us gals were fans of the vacherin. Not only was it strikingly pretty but the flavours were a balance of sweet, creamy and tangy with rhubarb sorbet, raspberries, marc de champagne and creamy vanilla ice cream as well as paper thin meringue.
Caramelised wafer, white peach, rose and verjus $15
Another favourite was the white peach, rose, creme patisserie and verjus layered between a buttery paper thin caramelised wafer. It's another fresh dessert given an edge of indulgence from the rich, sweet thin pastry layers.
Fromage du jour $16
When we ordered the cheese, we thought that it would be one of the homemade cheeses. It isn't but it's a wedge of Comté with a comprehensive amount of crackers and bread. James explains that after two years of research and experimentation, they've arrived at a formula that replicates raw milk cheese. However they need to use very fresh milk milked that day and with the recent bushfires, their supply was halted momentarily. "The cheese will be a seasonal thing with seasonal patches" he says and there will be times when it won't be available.
Maple pot au Creme $11
The pot au creme is like a creme brulee custard without the caramelised top. Instead there's aromatic maple syrup giving the silky smooth custard additional flavour. There are caramelised brioche toasts on the side although these aren't quite as compelling as the custard.
Cheese cabinet
By now it's close to 10pm and the tables near us have cleared which gives us a bit more space. By the time we leave, Buzo will have served up its final main to its final guest on its final night.
So tell me Dear Reader, with dessert, do you usually order cheese or something sweet? And do you usually choose chocolate or fruit desserts?
Vincent
14 Queen Street, Woollahra, NSW
Tel: +61 (02) 8039 1500
Open: Lunch Thursday-Sunday, Dinner Tuesday-Sunday