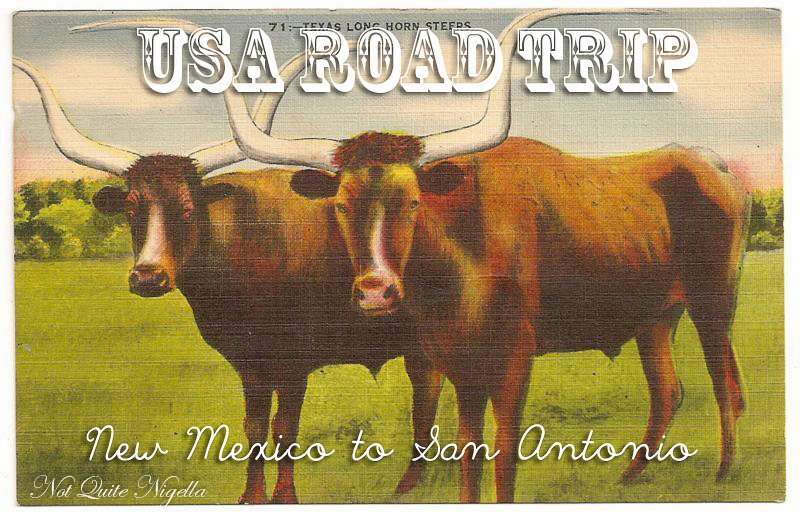 It was day five of our road trip across America and I had already been away for nineteen days. I turned to Belinda and said:
"I know exactly how a snake feels after it has eaten a wombat." I hadn't been hungry in weeks and I was sure that there was a protuberance from my belly that resembled a half digested mammal.
"So what's for breakfast?" I asked gaily changing the subject. We had set off early for the long stretch of drive from Las Cruces to San Antonio - about eight and a half hours not including breaks. We pass a sign that says "You are now leaving New Mexico the land of enchantment" (oh how I love that nickname, why can't more official slogans reference magic?). This sign is replaced by one that says "Welcome to Texas, drive friendly the Texas way." "Black Velvet" by Alannah Myles plays on the speakers which seems entirely fitting given the change in location.
I almost rubbed my sleepy eyes when I saw this car-it looked just like Walter White's Aztek!
Our first stop is at Sierra Blanca which basically has a gas station, a state prison and a cemetery and a few homes. There are plenty of "Yes ma'ams" and the man at the gas station kindly passes over a few napkins for the chips that we purchase.
We pass what looks like a space needle that looks like the set of a movie out in the desert. After hitting peak hour, we stop at the border crossing. All drivers are asked if the occupants are American citizens and we answer in the negative and hand over our passports. The border with Mexico is just on the right.
The terrain turns surprisingly green and we stop two hours later in the town of Fort Stockton at Mi Casita. By now it is raining heavily and our image of Texas as a hot state is completely dashed.
Mi Casita has both authentic Mexican and Tex Mex food and is busy this Thursday lunchtime. We take a seat and they bring out some fiery hot salsa and crispy warm corn chips.
The heat is addictive as are the chips and I found myself forgetting how much we had ordered. And to show that everything is bigger in Texas, the cups come out and they're enormous.
Abby's special $9.95USD
I had read somewhere that people said that the food was expensive. I'm not sure what they mean because all of the mains were about $9.95USD. The servings are also large and with Abby's special you can choose three out of the entrees on offer. We decide on a guadalupe, chalupa and flauta because we're not very familiar with them. This combination plate is one of my favourites because of the crisp textures and fresh salad.
I like the flauta which is a rolled up tortilla filled with seasoned chicken breast and deep fried. The chalupa is a round deep fried corn tortilla which is crispy and served flat. It it stopped with melted cheddar cheese, pico de gallo, beans, guacamole and sour cream. The last item is a guadalupe which is a corn tortilla shaped into a crispy cup and filled with mince beef, guacamole, sour cream, lettuce, cheese and tomato.
Smothered Burrito $8.95USD
The smothered burrito is a flour tortilla (you can choose between flour or corn) filled with guacamole, cheese and minced beef. It is then smothered in either mild red or spicy green chilli sauce (we choose the latter because of New Mexico's proximity) and served with sour cream, lettuce and Mexican rice. The flour tortilla is incredibly soft in texture and so fresh and the guacamole stuffed inside is new to us, we've usually had it served cold alongside the hot meal.
Asado plate $9.95USD
There were two "spicy plates" on the menu and we chose the pork dish as it sounded like more a traditional Mexican dish than Tex Mex. It comes out as tender pork pieces in a red tomato based chilli based sauce which is rich with vinegar and spices. It's served with rice, refried beans and two hot flour tortillas.
There's no dessert on the menu (although there is a whole low - carb section ;) ) and that's probably a good thing because we are determined to get to San Antonio before midnight.
Unfortunately the rain is stronger than ever and about an hour is added to our trip as poor Belinda struggles to find the lane markings.
A little red Corvette
Two hours before San Antonio we stop at another petrol station at Sonora where I spy some packets of chips that look interesting-chicken and waffle potato chips and Sriracha potato chips. I purchase two to take home to Australia with me because to be honest I cannot face eating another chip.
"I'm craving apples" I say to Belinda. "And I don't even really like apples."
"I hate apples, I like them in apple pie though. But with lots of crust" she says.
"I think the valet at the Contessa hotel is going to wonder why there are so many packets of chips on the back seat" I muse aloud. The car resembles a snack aisle of food with random items picked up from grocery stores and gas stations, our curiosity piqued by their novelty.
Around 6:30pm we arrive in San Antonio. Our place for the next two nights is the luxurious Hotel Contessa in prime position on the scenic Riverwalk. The all suite hotel has over 265 suites and they're sizeable at between 500- 550 square feet or up to 51 square metres.
Planning your next trip? Ensure you have the right coverage with HeyMondo travel insurance that includes COVID-19 protection. Plus, if you use our link, you'll receive 5% off the price. Find the best deals on flights from all airlines in various currencies with SkyScanner and set up alerts to get notified when prices drop. For reliable transportation options, look no further than 12Go Asia, offering train, bus, ferry, and flight transfers worldwide. Book your transportation now and enjoy a stress-free journey.
When you purchase through these links I will get a small commission at no cost to you. Thank you for supporting me! :)
We're in the larger executive suites and they're beautifully styled with exposed brick, colourful, comfortable chairs and sofa (a sofa bed if you need it) and a large 37 inch flatscreen television.
The mini bar has very well priced and interesting snacks (a soda water is reasonable at $2.50USD). I check a few items out before I take a peek into the spacious bathroom.
The amenities are by Tarocco Baronessa Cali in a refreshing Sicilian Red Orange scent. There is body wash, shampoo, conditioner, body lotion, soap, vanity kit and shower cap. Towels are plentiful and the bathroom is well lit with a shaving/makeup mirror.
The writing desk is huge and there's a 32 inch television next to it. There are two double beds, I prefer a king to stretch out but I must admit one of my favourite things and often a big consideration when I book a hotel is free wifi. Here is it fast, free and doesn't require a password!
Despite my earlier protestations about feeling like salad for dinner, we call in at The Big Bib, a Texan barbecue restaurant. Located next to Ken's beauty shop and barber you can smell the telltale smoke from the aged oak and mesquite. Now barbecue is big in the South and each state has their own version. Here in Texas at The Big Bib it is all about the rub as well as the larger than life Texan personalities that go along with it.
Formerly a catering only business, in 2010 they opened up as a restaurant on the corner of Lanark Drive and the Austin Highway. It's not fancy and Belinda remarks that it's like the Texan version of your favourite family friendly low key Sydney Asian eatery. There are rolls of paper towels to use as your "bib", help yourself cutlery and serve yourself drinks. When I called to make a reservation I'm told that they don't take them but she says "We'll make room for ya'll!"
As we walk in the door we feel welcome. Contemplating food, we peer upwards at the sign that reads "You deserve the eat this good!" and the saying is repeated on the mural along with "We salute our military." There's no mistaking that we're in Texas now.
The menu features an extensive range of meats from baby back ribs, brisket, jalapeno pork sausage and chicken. We ask for the 2-3 person sampler pack. The lovely woman behind the counter asks if we've tried sweet potato casserole before and we admit that we haven't so she gives us a sample of that and the potato bake.
They're both so good that we order them as our two sides as well as medium sized order of potato salad and a small order of chilli beans. "Where ya'll from?" she asks and adds "I just love your accent!" whereas I'm smitten with their Texan drawl.
They hand us two enormous cups ("We don't want ya'll to get thirsty!") and we can choose between grape and tropical punch Kool aid or carbonated drinks. Curious about Kool Aid (yes I know that it's cordial but we don't get it in grape flavour in Australia) we try that and it's a very sweet cordial mix.
Bib sampler mix $29.99USD
The Bib sampler mix is a mix of pretty much everything except for pulled pork as they tell us that it won't be ready for another 40 minutes or so. No matter as we have the pork rib tip which I've heard is the best item along with the beef brisket. Another staff member stops past and recommends that we try the brisket with the bib sauce or honey mustard and the "tangy gold" mustard with everything else. The sweet tangy gold is perfect and my favourite along with the hot and spicy.
The beef brisket is tender and needs no knife to cut it. The turkey is beautifully smoked and moist but the favourite is undoubtedly the pork rib tip or riblets that are the part that is sometimes thrown out. There is some soft bone and the meat inside is juicy and gelatinous in the centre while crispy and caramelised on the outside. The only meat that I wasn't particularly smitten with was the chicken. I didn't particularly like the spices on it and I was too preoccupied with the rib tips.
"These just came out of the oven, they wanted you to try these" the friendly staff member who had advised us on the sauces says and he sets down a plate of two pork ribs, piping hot. The ribs are thick and juicy and supremely smokey. As are the pieces of sliced mildly spicy jalapeno pork sausage.
Oh and those sides? I'll admit to a major obsession with side dishes. The sweet potato casserole is all soft, caramelised pieces of sweet potato - like a crumble but without the crumbs if that makes sense it's that sweet. It's moreish though as is the potato bake with soft baked potato and onion and the cooling, flavour packed potato salad.
The meal also comes with some wheat or white bread, six pieces no less and of course we have no room to fit them in given how big the meal is.
*Peach cobbler *
Dessert here at the Big Bib is just one item tonight and it just happens to be the item that everyone raves about. The peach cobbler. I must admit that when I first visited America I thought that they used fresh peaches but all the peach cobblers and crisps that I've tried have used tinned peaches. These are too but there's something about the gingery nutmeg laced buttery soft top and the way that it intermingles with the fruit that makes it so moreish, so much so that you don't even need icecream.
Just a spoon and the promise of working out the next day.
So tell me Dear Reader, is weight gain ever a worry or consideration when you go away? And what is the longest you have ever driven during a road trip? Did you stop every two hours for a break?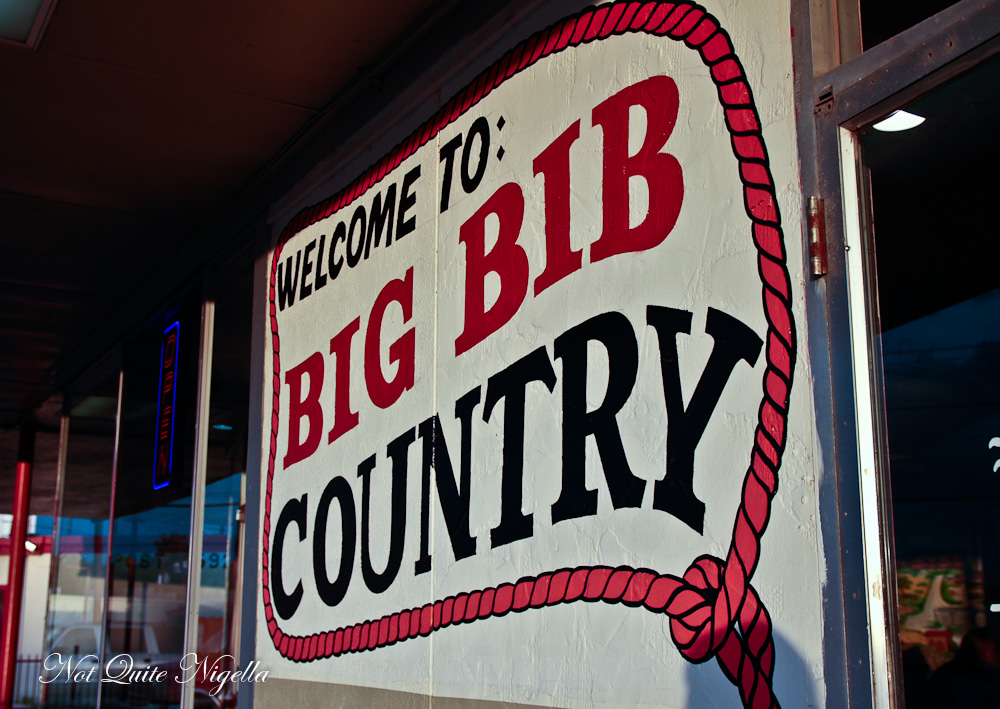 NQN stayed at the Hotel Contessa as the guest of the hotel. All meals were independently paid for in this post.
Mi Casita
405 E Dickinson Blvd, Fort Stockton, TX 79735, United States
Phone:+1 432-336-5368
Saturday, Sunday, Monday Closed
Tuesday - Friday 11:00 am – 2:00 pm, 5:00–9:00 pm
www.micasita.biz/
Hotel Contessa
306 W Market St, San Antonio, TX 78205, United States
Phone:+1 210-229-9222
www.thehotelcontessa.com/ ‎
The Big Bib
104 Lanark Dr, San Antonio, TX 78218, United States
Phone:+1 210-654-8400
Sunday 12:00–6:00 pm Monday Closed Tuesday to Saturday 11:00 am – 8:00 pm