What qualities do you look for in a road trip companion? I'd hazard a guess that a compatible personality and common interests may play a part. But may I suggest that someone that doesn't flinch when you suggest throwing a pizza on a roof might be someone suitable?
Part of the impetus for our cross American road trip was my complete obsession with the television show Breaking Bad. Every week I look forward to a new episode and I became enthralled with the writing, cinematography and performances. One of the features was the unique Albuquerque landscape featured so prevalently in the show.
So why couldn't we just make Albuquerque one of our stops on the road trip? Why not indeed!
Much of Breaking Bad was shot in Albuquerque and there are plenty of sources all over the internet that detail the addresses of the locations and homes. But to get our bearings, we start off with a tour of Albuquerque by the ABQ trolley company.
They also do Breaking Bad tours but these are sold out for months ahead and they don't seem to be in a hurry to schedule in any more. Their regular city tour incorporates some Breaking Bad stops. They are also called Jesse and Mike (both Breaking Bad characters). There are only two tours a day and both are very full carrying about 50 people in the stucco decorated trolley.
The tour goes through several types of neighbourhoods starting with an affluent neighbourhood - Breaking Bad fans might recognise this as Jesse Pinkman's house at 322 16th street, SW Albuquerque. Houses in this area fetch over $1million USD and considering the average house price in Albuquerque is $179,000USD, it is certainly an expensive suburb.
This is Ted Beneke's house-where he had that accident-sorry is that a spoiler? Okay a warning, there are some early season spoilers in this
They explain that because New Mexico has so many different types of neighbourhoods, it's often used as a filming location. This is given extra impetus because of the state's 25% tax rebate. Each episode of Breaking Bad cost $2.7 million US dollars and $1 million USD from each episode was put back into the state through monies spent and people employed.
The Dog house
We drive through East Downtown where we learn some interesting facts about the Parq Hotel where we're staying. It used to be a railroad hospital, psychiatric hospital and a T.B. hospital. And now it's a hotel where we are staying! It's said to be the best hotel in town but we found the rooms quite peculiar and missing what are normal features like a writing desk and chair and a mini bar.
Before Route 66, this area was known as TB Avenue. People travelled here to get rid of TB and at one point 25% of people living here had TB. The mild winter, low humidity and sunshine that meant that TB couldn't flourish.
Nob Hill, where Bryan Cranston bought his home (which is also the condo where Walter White lived when Skyler first threw him out) is full of bungalows in Puelo Revival style. People are friendly all over Albuquerque and every time we pass a crowd, people wave. Some people are more unusual than others. At one stop a woman weaves over to us, she could have been an extra in Breaking Bad and we all breathe a sigh of relief when she stops short of getting on the trolley.
We pass through Barelas, a working class neighbourhood and the Hispanic centre of Albuquerque. The abandoned railyards although looking quite desolate, are used for building enormous sets including ones for Breaking Bad.
One of my favourite stops was the infamous Crossroads hotel where prostitute Wendy entertained Jesse Pinkman. Incidentally, it is diagonally across the road from our hotel and we contemplated staying there for about a second ;)
The tour is over and it's time for Belinda and I to go off exploring on our own. Belinda and I had read that the woman that owns the Crossroads Motel was less than fond of Breaking Bad fans coming in and gawking and then leaving without paying so we decide to offer to pay the tariff in order to take a peek at the hotel room by ourselves.
We walk into the reception area and inquire about the room rate. She asks for how many people and I answer one person. "It's $38.55 for one person but that's just one person" she says eyeing up Belinda suspiciously.
I figure we should probably fess up so we tell her that we are Breaking Bad fans and that we'd love to stay in the room that they filmed the episodes in and pay for it. She tells us that the guest in the room, #211 has just checked out and that it hasn't been clean so she can't let us have the room.
She queries us about the show clearly perplexed at the show's appeal. At least 20 people a day stop by and taking photos but "It's a show that glorifies drugs-why do you like it?" We explain that it's well written and acted and she concedes that her son is an enormous fan. Given the drug related scenes that were shot at the motel, she's still reluctant to embrace it.
"I just had someone call me and say 'Can I speak to Wendy?'" she says outraged. "It's just a movie! It's just a movie!" she says repeatedly.
And as if on cue her son Guy enters and she explains to him that we've come from Australia to do a Breaking Bad tour. "Cool!" he says and he is keen to talk about the show. They point out the couch on which the actress that played Wendy (Julia Minesci who works at a nearby casino) sat and had her teeth painted over to look like an addict. There is a display selling tinned chilli, luncheon meat and beans for guests to buy.
He's more than willing to show us the doorway although his mum won't let us in the room. He explains that room 211 and 212 are popular because they are adjoining rooms that allowed the crew to store their equipment in one room while filming in another. The movie "Sunshine Cleaning" was also shot in those rooms.
The crew of Breaking Bad also brought in a lot of their own furniture and even his mother said that they were very pleasant to work with. Guy points out the place where they put the vending machine which was a set item.
He mentions that the cast were very friendly. Both Bryan Cranston and Aaron Paul bought houses here in Albuquerque. Unfortunately for Aaron Paul, his place was broken into twice.
Guy has to go back to work so we bid him goodbye and head to our next stop: Twisters aka El Pollos Hermanos. Unlike Crossroads Motel, the store embraces the link with Breaking Bad. Incidentally, it isn't a chicken fast food place but a Mexican fast food establishment.
There are several locations but the one at Isleta Drive is where filming took place. You can take a seat at the table where Walt first met Gus (the one on the right). It's completely empty today and we look at the menu and order something.
A sign at the front door tells us that they now sell milk and confusingly, a sign for El Pollos Hermanos induces a fried chicken craving but alas there is none here.
I wish I could say that I liked the food but we didn't. The chips were underdone and pale and the chilli sauce and burrito was not a good example of each.
Every location seems to be about 14 minutes drive away from each other and it would be completely remiss to not visit the White house. Shooting on the series has completely wrapped so there's no sign of Walter, Skyler or Walt Junior here today. Located at Piermont Drive NE Albuquerque we recognise it as soon as we drive up Orlando street to Piermont Drive seeing the familiar view.
"There's no way you could throw a pizza on that roof" we both observe standing in front of Walt and Skyer's house. The roof is very smooth and we are not sure how close we can get to it without disturbing the peace.
A neighbour (not Carol) has already clocked us as Breaking Bad fans as several hundred make the pilgrimage every month to see the house. Apparently the woman who owns the house is very friendly but we are reluctant to knock on the door. We retreat back to the car after a while.
Our car is in desperate need of a debugging and it's good timing as the Octopus Car Wash is nearby. We stop by the location of Walt and Skyler's business.
There's a Breaking Bad shirt and the Candy Lady Blue Sky rock candy for sale alongside some Hello Kitty trinkets. The checkout counter is differently laid out to that on the show where it is closer to the door. There are plenty of framed, signed posters on the walls.
Three other people there are also Breaking Bad fans, two from out of state who have made the pilgrimage. One is a local who desperately wants to talk about the latest episode which we have yet to watch. About 10 minutes later, our car is ready-they didn't do a bad job-apart from the massive smudge on the driver's side!
Taco Sal, across the road from Octopus Car Wash
One of my favourite characters is Saul Goodman and his law offices are located at 9800 Montgomery Blvd NE, Albuquerque. There's no trace of the blow up Statue of Liberty. Now it is a dance hall and saloon.
About 12 minute's drive from here is Hank and Marie's house. Closer to the mountains, the neighbourhood is full of stunning houses. It's a neighbourhood I can easily imagine living in and we figure that Hank must be doing well at the DEA and Marie as an X ray technician to afford living there. The house on Cumbre Del Sur Court Northeast, Albuquerque looks exactly like it does on the show. We can almost picture a small toy car buzzing at our heels.
One of the funniest and most excruciating scenes is a recent episode in Season 5 where Walt, Skyler, Marie and Hank try and have a discussion about the future at Garduno's. Their waiter repeatedly comes back to their table and his last offer is for a guacamole. "You gotta try our guacamole, we make it for you right at the table." They never did get the guacamole...
So around 7pm, we decided that we were done with the location scouting and would make our way to dinner at Garduno's - to have the guacamole at the table of course.
It's an enormous restaurant with a front bar area. The whole restaurant is brightly and attractively themed and is incredibly busy this Tuesday night. Our waitress asks to see our IDs which is Belinda's highlight of the trip. "God bless you" she says to the woman.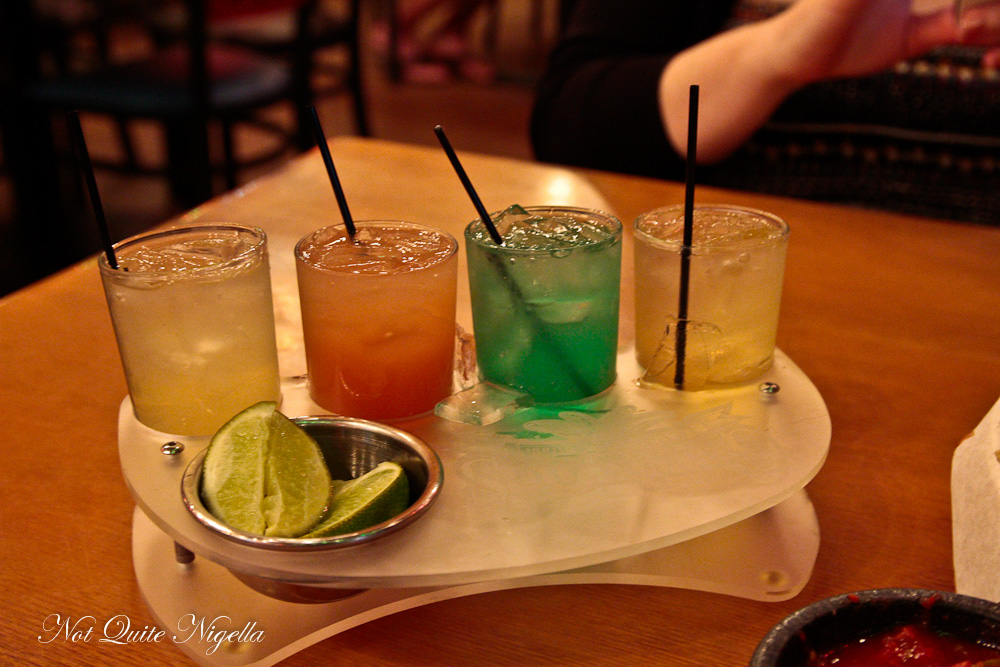 Margarita flight $7.95USD
The guacamole has become a popular menu item because of the show. The table where the four sat is occupied when we arrive but we sit at the table next to it. We order a margarita flight which changes daily. Today's is a house margarita, blood orange, blue acapulco and silver corn margarita.
Our waitress brings a trestle and tray to our table and starts preparing the guacamole. She explains the process to us and the ingredients and checks for allergies. The ingredients include Hass avocados, pimentos, tomato, onion and garlic. "The garlic is very important" she says and she starts pressing the garlic in oil and then adds in the rest of the ingredients. It takes about five minutes at the table. She tells us that on Friday nights, there is one person dedicated to making the guacamole.
Guacamole tableside $8.95USD (okay it doesn't look great like that)
And how does the guacamole taste? It's actually very tasty and completely moreish. Despite the fact that we have dinner at another location, we manage to polish off quite a bit of this enormous bowl. The manager stops by and our waitress tells him that we've come from Australia and he asks if we can come back another day to sit at the table. Sadly, we are off early the next day but it was nice of him to offer.
Our final destination on our home made Breaking Bad tour was one that didn't exactly feature on Breaking Bad but was one of the star Bryan Cranston's favourite places to eat, El Pinto. He claims that it exemplifies New Mexican cuisine.
It's quite a bit further away but that doesn't seem to matter to patrons as the car park is full this evening. Patrons take a number and wait for the number to be called - much like yum cha although the enormous size means that there are several tables free.
Our waitress is very friendly and dissuades us from ordering an extra salad because the servings are enormous. They also tell us that they have their own salsa factory on location that makes the salsa in a mild or medium heat.
Red chilli ribs half rack $19.49USD
The most famous dish here are the red chilli pork ribs. In fact the whole time I was in Albuquerque they were all I was thinking of. They're smothered in dried red chillies and cooked until so moist, tender and spicy. We chose a side of rice and beans and a salad with ranch dressing and it's a meal that could easily feed a hungry beast-or just two gals, your choice :)
Half serve nachos $7.49USD
The Wall Street Journal called these the best nachos in America in 2006. It's safe to assume given the size that we barely made a dent in these nachos. It was a half serve and I can't imagine how large a full serve would be. It's made up of yellow and blue corn tostadas topped and double stacked with cheddar and monterey jack cheese, pinto beans, guacamole, sour cream, green chile, and fresh jalapeños and shredded lettuce.
Completely full, we go back to our room with blue ice crystals, chilli fudge and finally get a chance to watch the Breaking Bad episode. It's the perfect end to a Breaking Bad day...
So tell me Dear Reader, are you a Breaking Bad fan? If you could be in any show, what would it be?
ABQ Trolley Tour
http://www.abqtrolley.com/
Want to do your own Breaking Bad Tour? These addresses are all easily found on the internet but here's a quick guide. Some places have multiple locations and the ones below are the locations where shooting took place.
Jesse Pinkman's House
322 16th Street SW, Albuquerque, New Mexico 8710
Ted Beneke's House
Visited during the ABQ trolley tour
The Dog House
1216 Central Ave SW, Albuquerque, NM 87102
Crossroads Motel
1001 Central Ave NE Albuquerque, NM 87106, United States +1 505-242-2757
Twisters (El Pollos Hermanos)
4257 Isleta Blvd SW, Albuquerque, NM 87105, United States Phone:+1 505-877-2727
White Residence
3828 Piermont Drive NE Albuquerque
Octopus Car Wash
9516 Snow Heights Circle NE, Albuquerque, NM 87112
Taco Sal
9621 Menaul Blvd NE, Albuquerque, NM 87112
Saul Goodman's Office
9800 Montgomery Blvd NE, Albuquerque, NM 87111
Schrader Residence
4901 Cumbre Del Sur Ct NE, Albuquerque, NM 87111
Garduno's
2100 Louisiana Blvd NE, Albuquerque +1 505-880-0055
El Pinto
10500 4th St NW, Albuquerque, NM 87114, United States Phone:+1 505-898-1771