It was a snippet of a conversation overheard as part of a long sentence. Someone had mentioned, "The town with the best barbecue in Texas." Instinctively I leaned in, my eyes widened and my ears pricked up. According to Texan Legislature, the small town of Lockhart is the barbecue capital of Texas. With a population of just under 13,000 people there are four well known major barbecue restaurants that vigorously compete for the title of best barbecue in Texas. And this would end up being one of my favourite days of our whole road trip.
A few people have asked me how Mr NQN feels about me doing this trip with Belinda. While he is very adorable and agreeable, his hippy upbringing means that he just doesn't like meat as much as I do and often finds foods in countries like France and America too rich for him - he is of course the man that eats raw potatoes and sweet potatoes for a snack.
Still, I wasn't sure if Belinda wanted to change our plans at the very last minute to include a stop in Lockhart. I gingerly asked her what her thoughts were on adding a barbecue taste-off to our already food crammed schedule. "OMG that sounds great!" she answered straight away. Fortuitously, Lockhart is one hour away from San Antonio and just half an hour from Austin. It was definitely in the stars to visit Lockhart.
All four restaurants sit within blocks of each other and are technically within walking distance but in the hot Texas sun, you start to see why people drive everywhere. The smell of barbecue and wood smoke is in the air though. Three of the four are open seven days a week while one Kreutz's closes on Sundays.
Black's Barbecue
Our first port of call is Black's where we get a close up view on what a Texan barbecue restaurant is like. Black's has been open since 1932 and is the longest continuously running family barbecue business in Lockhart.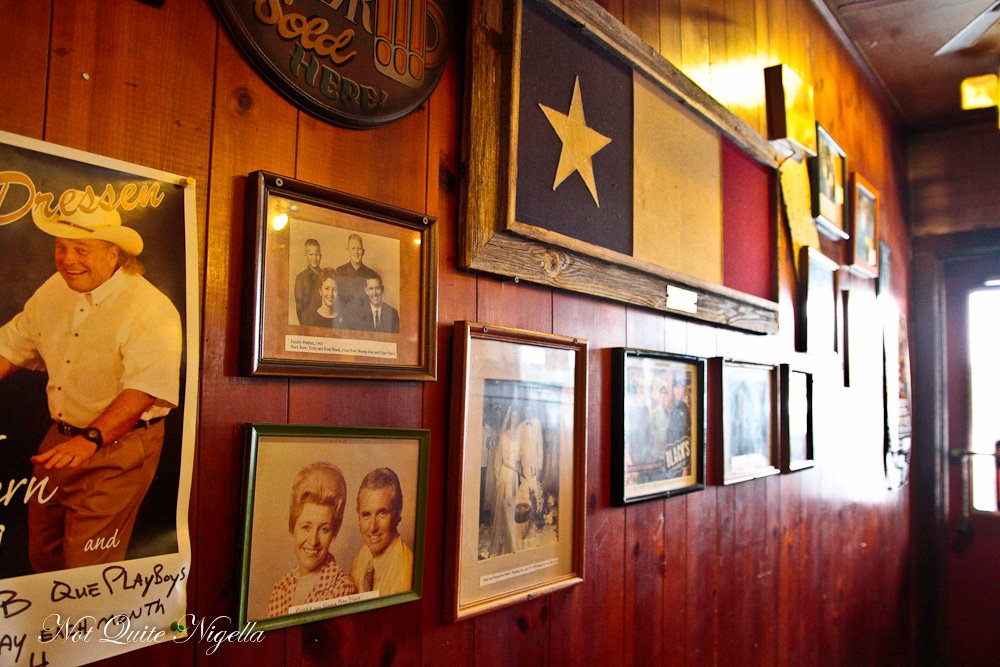 We walk in and the first thing we see is a queue. Photos of Edgar and Norma Jean Black line the walls. Edgar Black Sr. established Black's while presiding as judge in Caldwell County and then Edgar Black Jnr. and his wife Norma Jean and now four generations of the Black family have worked at Black's barbecue. Black's Barbecue was selected by President Lyndon B. Johnson to represent Texas barbecue at a Smithsonian Institute function.
Queuing is perfectly normal when you have good barbecue and it usually moves at a good pace. First up you choose an eat in or takeaway plate and then some sides from the range of hot and cold sides. We choose some creamed corn and sweet potato as well as potato salad and coleslaw.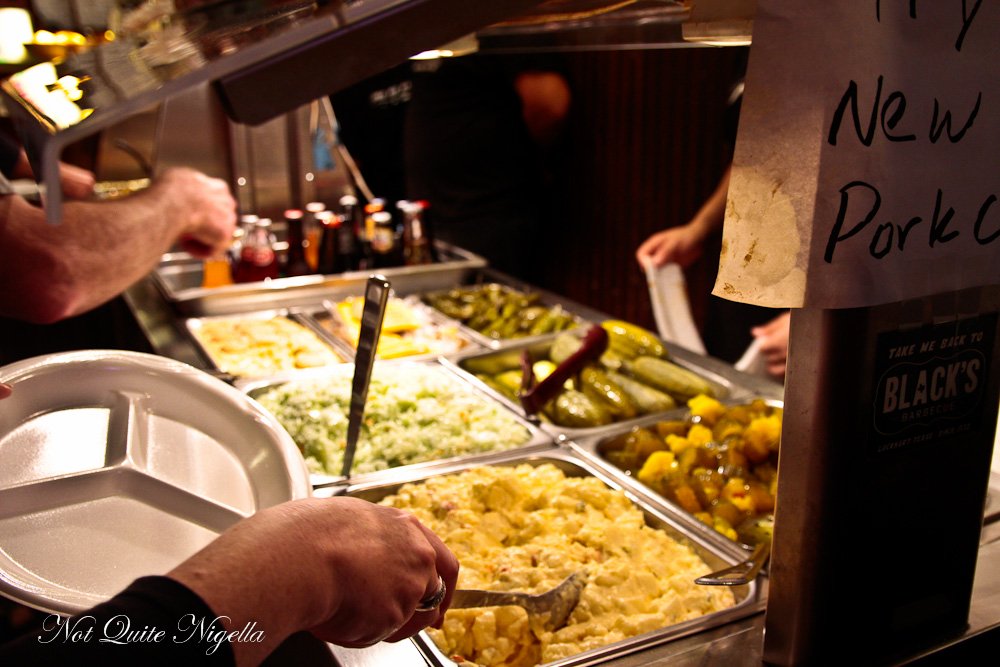 We then make our way round to the barbecue station. "Hey little lady, what can I get for you?" the man asks and we ask for a few slices of brisket, some pork ribs and some sausage. "Would you like your brisket lean or moist?" he asks and I answer moist. "Good. No use sacrificing all that flavour!" he says. Everything is sliced to order and you can order as little or as much as you'd like.
They lay everything down on brown paper and weigh it and slide our tray over to us. We grab some cutlery, napkins and condiments and take a seat at a booth. The walls are lined with deer heads and black and white photos of high school football teams.
Beef brisket $6.23USD, garlic sausage $2.29USD and baby back ribs $5.32USD
The beef brisket is wonderfully tender and a fork is all you need for this (or hands). The garlic sausage is good although I kept wishing that we'd ordered the jalapeno for the spice and the baby back ribs are good but I prefer a sweeter barbecue sauce on my ribs. The deep smokiness is apparent immediately and Black's claim to have started the trend of exclusively using the brisket cut of beef.
Creamed corn and sweet potatoes $1.49USD each, pickles complimentary
The four sides cost us $1.49 each and the creamed corn and sweet potatoes are tooth achingly sweet. I don't think we could eat more than a mouthful.
Coleslaw and potato salad $1.49USD each and jalapeno cornbread $3.50USD
The cornbread is all damp, delicious and moist goodness with a real spicy kick to it. The coleslaw and potato salad are more palatable than the extremely sweet creamed corn and sweet potatoes but they too are on the sweet side.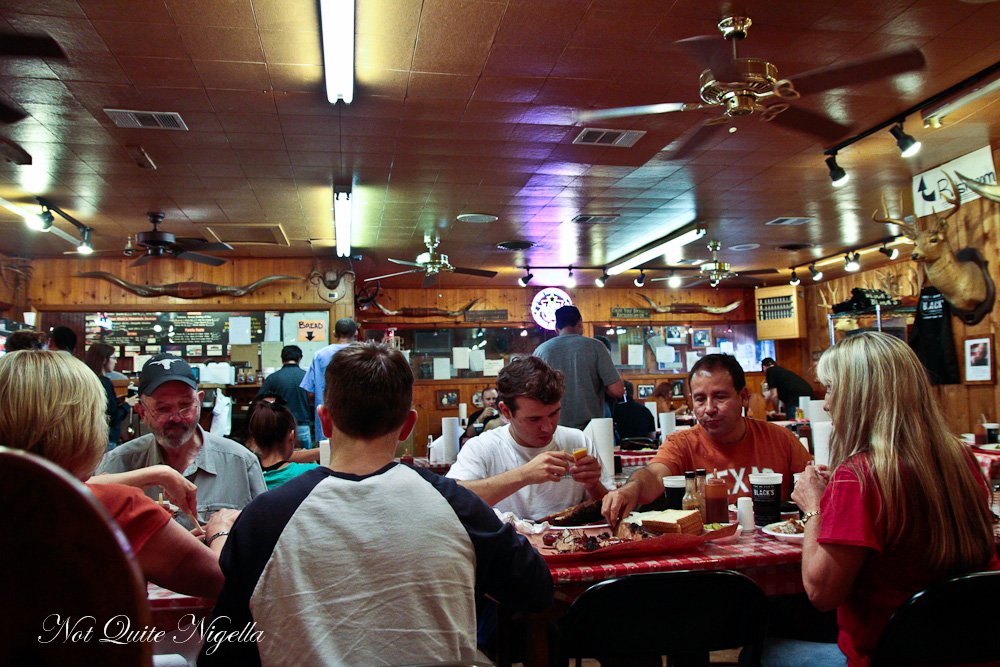 Chisholm Trail Barbecue
Two streets parallel away is Chisholm Trail barbecue, one of the newer establishments in Lockhart. They also have a busy drive thru operation that sees cars lined up outside. We park in a back parking lot where a pick up lays opened with logs of wood for smoking the meat piled in the back.
There's also a cafeteria style queue here too and we help ourselves to the sides before reaching the barbecue queue. There are loads of sides here along with nuggets and other fried foods. We watch as a man brings out a large amount of sausage rings.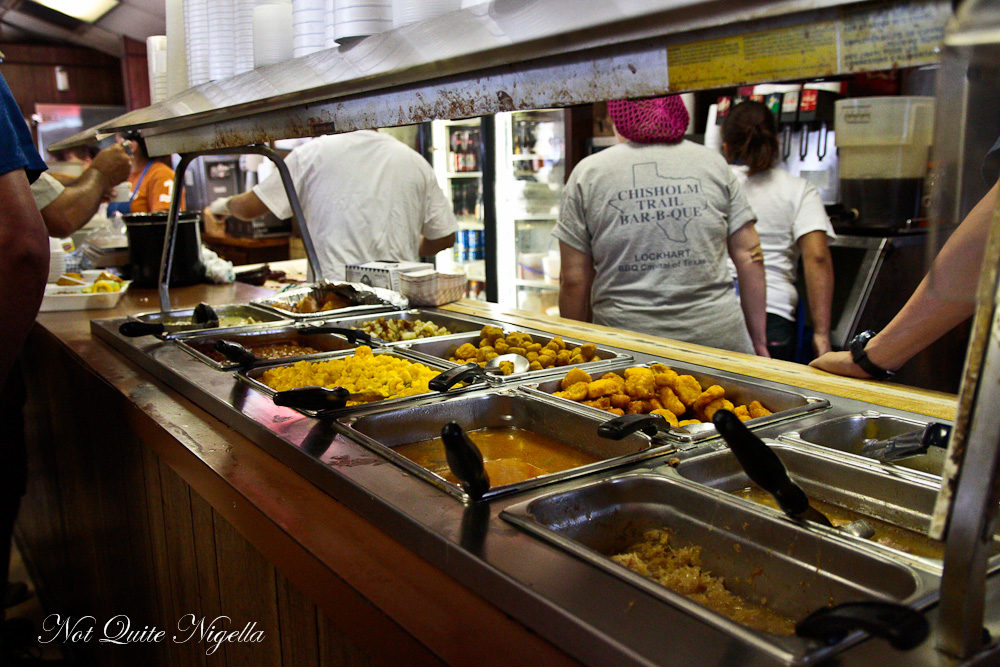 Right next to the counter are loaves of white bread and saltine crackers for people to make their own sandwiches. Prices are better here although with the brisket they don't ask us whether we want it fat or lean and we end up with lean. A shame.
Brisket $3.18USD, sides 90c each, ribs $5.00USD, sausage $2.70USD
Because the brisket is lean, I'm not as huge a fan of it. I like it moist and flavoursome and fall apart soft. The sausage is more moist than the one at Black's and the ribs are gigantic and chewy. In terms of the sides, we like the range of choices particularly with a pea salad and a broccoli salad. The potato salad is also sweet (we find that to be a theme) and the mac and cheese doesn't have a lot of flavour.
Kreuz's Market
Next is Kreuz's (pronounced "Krites") Market. Dining at Kreuz's has some rules:
No forks
No salesmen
No barbecue sauce
No kidding
Planning your next trip? Ensure you have the right coverage with HeyMondo travel insurance that includes COVID-19 protection. Plus, if you use our link, you'll receive 5% off the price. Find the best deals on flights from all airlines in various currencies with SkyScanner and set up alerts to get notified when prices drop. For reliable transportation options, look no further than 12Go Asia, offering train, bus, ferry, and flight transfers worldwide. Book your transportation now and enjoy a stress-free journey.
When you purchase through these links I will get a small commission at no cost to you. Thank you for supporting me! :)
You're directed to line up and not queue past a certain point . An apron clad worker beckons you forth and rips off three sheets of brown paper for your order. The routine is the same - order some meat to your liking and they'll weigh and price it. There's barely a hint of a smile here and they're totally serious. Vegetarians are urged to walk in one way while "Normal folks down the hall."
Originally a meat and grocery store in the 1900's, Charles Kreuz Sr. started to smoke meat as there wasn't as much refrigeration at that time. He used the lesser cuts of meat for the sausages and business was good for the barbecue market.
In 1948, an employee called Edgar Schmidt who had been working there since 1936 bought the market and from then on a series of Schmidts owned the business ending with the current owner Keith Schmidt.
The brown paper is wrapped up into a package with an open top and you order sides in the next room. We try some of their German sides.
Beef brisket $7.68USD, hot jalapeno sausage $2.35USD and pork chop $8.06USD
Prices are Kreuz's are higher but once you taste the beef brisket any concerns disappear. Belinda's points at the brisket. "It looks like a grizzly bear's ass," she says and the char grilled caramelised crunchiness does look like black fur.
They're serious about no forks and the meat just falls apart beautifully - this is amazingly soft brisket. The hot jalapeno and cheese sausage is also seasoned perfectly with a juicy texture and tiny dots of cheese while the enormous pork chop slices so tenderly with that same caramelised exterior.
Sauerkraut, German potatoes and mac and cheese $1.49USD each
Apparently they never used to serve sides here, only onion and pieces of cheese along with the bread and saltines. I can't say that I was smitten with the sides here. The meat yes, but the sides were left mostly untouched.
Smitty's Market
Out last stop is Smitty's Market on Commerce Street, also part of the Schmidt barbecue dynasty. The parking lot is busy this Saturday afternoon even quite late in the day at around 3pm. The first thing that greets us when we walk in is an enormous fire pit that makes the room blazing hot.
They're a bit serious here too and orders are taken without a smile but with efficiency. They wrap up the brown paper and we make our way into the dining room that resembles an American high school cafeteria. We order some sides and there are all sorts of pickles, crackers and bread as well.
Pork ribs and brisket $8.21USD, sausage $1.80USD
The brisket is pretty close to the wonderfully soft brisket at Kreutz's - not surprising since it is the same family. But I'm smitten by a surprise here-the pork ribs are so juicy and delicious with a sweet barbecue sauce. I forget what I said earlier about being full and polish off both of these. The sausage isn't bad too either but I only have eyes for the pork ribs.
Beans, potato salad and coleslaw 92c each
The side salads aren't bad and the potato salad and coleslaw are sweet as they all seem to be. The beans are nicely spiced and a welcome relief as they're not overly sweet like the rest of the sides.
"Where ya'll from?" an employee asks us from across the parking lot.
"Australia!" we answer back.
"Cool! Well welcome to Texas!!"
Best for brisket: Kreuz's Market
Friendliest: Black's Barbecue
Best price: Chisholm Trail
Best pork ribs: Smitty's Market
So tell me Dear Reader, would you enjoy eating barbecue like this? Would you try four places in one day? What's your favourite meat to barbecue?
All travel and meals in this post were independently paid for
Want to see the other road trip posts? Here they are!
Road Trip USA: Phoenix to Albuquerque
Road Trip USA - A Breaking Bad Pilgrimage to Albuquerque
Road Trip USA - Quirky Albuquerque, New Mexico
USA Road Trip: New Mexico to San Antonio, Texas
USA Road Trip: Spicy San Antonio, Texas!
Black's Barbecue
215 N Main St, Lockhart, TX 78644, United States
Phone:+1 512-398-2712
7 days 10am-8pm
www.blacksbbq.com/‎
Chisholm Trail Bar-B-Que
1323 S Colorado St, Lockhart, TX 78644, United States
Phone:+1 512-398-6027
7 days 8am-8pm www.chisholmtrailbbq.com/‎
Kreuz's Market
619 N Colorado St, Lockhart, TX 78644, United States
Phone:+1 512-398-2361
Monday-Saturday 10:30am-8pm
kreuzmarket.com/
Smitty's Market
208 S Commerce St, Lockhart, TX 78644, United States Phone:+1 512-398-9344 Monday - Friday 7 am - 6 pm Saturday 7 am - 6:30 pm Sunday 9 am - 6:30 pm www.smittysmarket.com/