Albuquerque is undoubtedly a quirky place. United States with a state question and the mere fact that it was food related piqued my interest beyond Breaking Bad. The question is "Red or green?" referring to chillies. Mixing the two colours is called "Christmas" and the green chilli industry is big in New Mexico.
The food in Albuquerque is a mixture of American Indian, Mexican, Spanish and Cowboy cuisines. The chilli served in New Mexico tends to be hot and when corn chips and salsa are brought to the table, the salsa is usually hot and spicy.
And in amongst the many Mexican restaurants, there are a range of other eateries like Model Pharmacy, an old fashioned soda fountain pharmacy. Walking into the milk bar is like stepping back in time and the pink stools and laminated benchtops hark back to an earlier era. The waitresses are friendly and welcoming and we take a seat at the bar for a quick drink.
The menu's left hand side features items like Reuben sandwiches and hot brisket on a French roll but we're looking for some soft liquid refreshment.
Root beer float $4.50USD
The root beer float is an effervescent drink with an enormous scoop of vanilla ice cream, cream and root beer. It's like an active volcano and continues spilling forth while we drink.
Blackberry phosphate $3.75USD and Egg cream $3.95USD
We are curious about the phosphate and they tell us that the pharmacist mixes the small vial of phosphate up for them. They then add it to soda and flavouring to create a fruity, sparkling water.
Admittedly my favourite along with the blackberry phosphate is the egg cream in a coconut flavour. Said to be a Depression era drink, it is made with soda, whole milk and flavouring and comes in a variety of flavours. The coconut is just about perfect in terms of creaminess and refreshment and I plan to make something similar at home.
Belinda and I are driving along one street when we spot this guy on his custom made bike. We stop at the light and he poses for a picture and he tells us to stop by the tattoo parlour where he works as a tattoo artist. I ask him if it is harder to ride than a regular bike.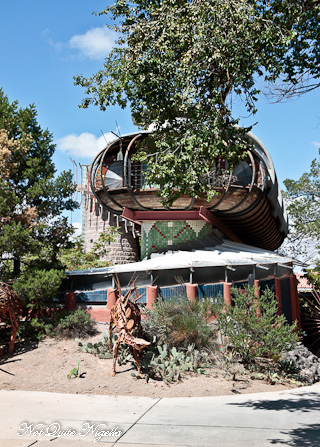 "Well no ... because I like to ride it HARD" he says raising his eyebrows and Belinda and I look at each other and burst into giggles. Did I mention that this town is full of characters? Including architect Bart Prince who designed this house in the shape of a spaceship. He doesn't like visitors but one visitor left him a bit stunned. William Shatner knocked on his door one day and greeted him with the words "Beam Me Up Scotty" in an effort to get a tour of the house. Naturally, he acquiesced.
A little closer in East Downtown is The Standard Diner. Housed in a historic service station, the decor is car themed as a nod to its previous life. It proudly displays a poster from Diners, Drive ins and Dives on which it has featured. The menu has a good range of American comfort foods and we quickly hone in on some favourites.
Chicken fried steak $15USD
The chicken fried steak is an enormous number. Smothered with a thick, smooth peppercorn-bacon gravy, smoked Gouda mashed potato and terrifically garlicky green beans and zucchini, we devour this as if we hadn't eaten in a long time.
Standard Mac and Cheese $15USD
The Standard Mac and Cheese is made up of cavatappi pasta in a Guinness, Tucumcari cheddar (a New Mexican mountain cheese) and Swiss sauce. The house smoked salmon comes as large, tender pieces in generous portions and the green Hatch chillies give it a pronounced spiciness. This is wonderful comfort food.
Desserts are cheesecakes, panna cotta and a pie does look tempting but the best way to refresh after a big meal is with Mexican ices.
At Paleteria Michoacana de Paquime the biggest decision is which ice to have. All of the flavours sound wonderful and the display seems to go on forever. The mostly Mexican patrons stop by in huge numbers.
The building is easy to spot too. With colourful mural artwork on the outside it's hard to drive past it without getting a fruit ice craving in the heat of an Albuquerque summer.
Paletas $1.65, $1.20 $2.25 each
We end up getting three ice blocks - one fruit salad one with pineapple and orange which is perfectly sweet with a fresh fruit flavour. The squarer milk and raspberry ice block is excellent too and I quite like the strawberry ice block coated in chocolate and nuts although I'm not hugely fond of the actual chocolate.
The next drink is a really interesting one. We were about to leave when I inquired about one item that had caught my eye. It's shaved tamarind ice with pineapple, syrup, chilli, lime and roasted coconut coated peanuts. Garnishing it is a thick candy Tama Roca tamarind straw with chilli powder on the outside that looks as explosive as dynamite.
Bombazo de Pina $3.75USD
In amongst the mix are tiny pieces of Skwinkles gummy candy and there's also a mango version of this drink. It is like a meal in itself and it is so delicious we wish we had more stomach room to eat it. The tamarind gives it a moreish sourness while the fruit gives it sweetness, the chilli heat and the peanuts texture. It is heaven on a hot day.
For dinner, the place to scratch a barbecue hankering is Mr Powdrell's barbecue. Pete Powdrell's face beams from a mural on the outside as well as on images inside the restaurant.
In the early 19th century Mr Powdrell's grandfather created a recipe for a tangy barbecue sauce and a low and slow smoking method over an open pit over hickory chips. In 1940 the recipe was passed onto Pete Powdrell who along with Catherine his partner and eleven children made it into one of the most popular barbecue houses.
Sweet tea and iced tea (with one refill)
The tea was perfectly sweet and quenches our thirst.
BBQ combo plate $20.50USD
The bbq combo plate gives us a little bit of everything from the tender beef, smoky pork sausage, chicken and pork ribs. The flavour is rich and the smokiness penetrates to the bone of the ribs and the tangy sauce makes this so hard to resist. There are two pieces of toast on the plate as well as our two vegetable choices of collard greens and okra.
The collard greens are slightly bitter and the okra is chopped into little pieces, battered and deep fried and served with a thick ranch sauce which is an unbeatable combination. We also ordered an extra side of potato salad and that was perfectly seasoned - we just wish that there was more of it!
Some of the family meal deals are great value with two pounds (one kilo) of barbecue paired with two quarts (about two litres) of side salads and four serves of toast for $54.95 which feeds 5-6 people.
The next day we get in the car and make our way on the I25. I see a sign that says "Reduce fat fast!"
I turn to Belinda and grimly say "We are in desperate need for that." We pass by ranches and a range of mountains from gentle rises, buttes, mesas and craggy ranges. A sandy coloured coyote waits to cross the road.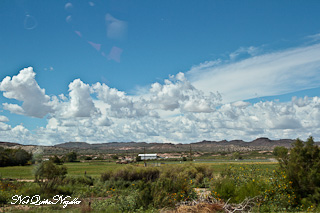 Our first stop after 2.5 hours is the small spa town of Truth or Consequences. The town was originally called Hot Springs but in 1950, Ralph Edwards, host of the radio show Truth or Consequences promised to air the quiz program from the town that renamed itself after the show.
Hot Springs were the first to do it and he visited the town as promised and then continued to visit for the following fifty years.
We're here at R&C Sumthins for an ice cream break. The R&C stands for the two owners Loretta (or Retta as she is known) and Christie. The "sumthins" part is because when they travelled and wanted to stop somewhere for a snack they wanted "something" but they weren't quite sure what.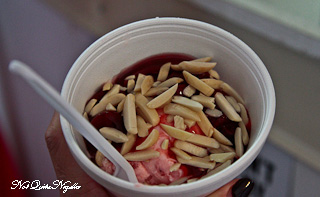 Strawberry cup $2.70USD
They're very friendly and they offer samples of ice cream. There's a big pot of chilli cooking and hot dogs on offer too. The peanut butter chocolate ice cream is tempting as is the butter pecan but I settle on a strawberry with strawberry topping and slivered almonds. It's a complete hark back to childhood and the topping is plentiful with halved strawberries.
Peanut butter ice cream $2.21USD
But before we leave, we add a pin to their world map which shows all of the overseas visitors. We're the first from Australia!
Our next stop is in the town of Hatch in New Mexico, about 45 minutes drive away. It's a town known for harvesting green chillies and holds an annual chilli festival attracting up to 30,000 people.
Belinda had been talking about a green chile burger for much of the trip and I felt so bad for her when we walk up to Sparky's restaurant and see that it is closed. Yep they are closed on Tuesdays and Wednesdays.
Disheartened, we make our way to our destination for the night, Las Cruces or City of Crosses, another 45 minutes away. The two places that we wanted to try in Las Cruces are also closed this Wednesday and trying to cheer Belinda up I find a place that serves green chilli hamburgers. Said to be the kind of place that you could only really come across if you were told that it was there, it seemed to fit the bill.
Burger Nook in a suburban area of Las Cruces alongside a Chinese restaurant and smoke shop. The service is quite slow although they are friendly and drinks are only given once the burger is ready which takes about 10-15 minutes.
They sell small burgers as well as large burgers-a small burger sets you back just 99c or you can buy 4 burgers for $3.69 which is a popular item. Green chile and cheese are optional. The chips are said to be hand cut every day.
Single great burger with green chile and cheese $4.49USD
The burger is a real old school burger, the kind that you used to get in takeaway stores rather than gourmet ones. It's a large, soft bun topped with a beef patty, crisp lettuce, onion, tomato, pickles, green chilli and mustard and a bottle of ketchup comes with it. It's a good burger but I must admit that I wanted more of that green chilli!
Retiring to our hotel, the Hotel Encanto de Las Cruces we get a good night's sleep before our next day where we head to Texas for our longest drive at eight and a half hours! See you soon Texas!
So tell me Dear Reader, do you prefer big, well trodden cities or the road less travelled? And if you get a craving for a food and can't get it, do you try and satisfy that craving for the same food elsewhere?
Model Pharmacy
3636 Monte Vista Blvd NE, Albuquerque, NM 87106, United States
Phone:+1 505-255-8686
Monday to Friday 9:30am-5:30pm
Saturday 10am-5pm
Sunday closed
modelpharmacy.com/‎
The Standard Diner
320 Central Ave SE, Albuquerque, NM 87102, United States
Phone:+1 505-243-1440
Sunday 10:30 am – 9:00 pm Monday to Thursday 11:00 am – 9:00 pm Friday to Saturday 11:00 am – 9:30 pm Saturday 11:00 am – 9:30 pm
Paleteria Michoacana de Paquime
6500 Zuni Rd SE, Albuquerque, NM 87108
Phone:+1 (505) 266-3408
Monday-Sunday 11 am - 9:30 pm
Mr Powdrell's BBQ
5209 4th St, Albuquerque, NM 87107 Phone:+1 (505)345-RIBS
R&C Sumthins
902 North Date Rd, Truth or Consequences, NM 87901
Phone:+1 575-894-1040
Burger Nook
1204 E Madrid Ave, Las Cruces, NM 88001, United States
Phone:+1 575-523-9806
Sunday & Monday Closed
Tuesday to Friday 10:00 am – 6:00 pm
Saturday 10:00 am – 5:00 pm
Hotel Encanto de Las Cruces
www.hotelencanto.com/