"I think I got too excited when I saw a fruit salad today" I turn to Belinda. We're over three quarters of the way through our American road trip across the South with three days left on the road and I've developed a crazy appetite for fruit salad and garden salad. It's not helped by the food that we've been eating. I've been trying to temper it with the three bite rule and regular gym workouts.
But then chicken happens...fried chicken to be specific.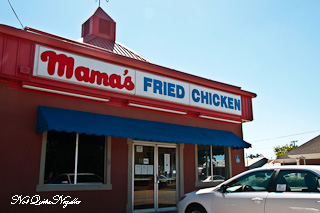 We have left New Orleans and are on our way to Shreveport before reaching our final destination of Dallas, Texas. We split the drive to Shreveport in two stopping in Opelousas for some fried chicken. "Op-el-ou-sas," I say aloud, the word rolling off my tongue with emphasis. We watch as the bugs hit our windscreen and I look to my right and watch as buzzards hover on the side of the road looking for their own lunch of roadkill.
We reach Mama's Fried Chicken around two and a half hours later. I had been thinking about fried chicken for the last hour. I can do fine with the three bite rule for other fried items like fried fish or seafood but chicken? Well that's another matter altogether.
Service is very friendly and helpful and we gawp at the endless combinations. There are specials on dark meat chicken but I prefer wings and Belinda the breast so we ask for those two cuts along with a couple of sides and a biscuit. It comes in brown paper bags taped shut with masking tape.
The chicken comes out freshly made and there's a rib rather than a breast and a wing. The chicken is well seasoned, fresh and crunchy. The fried okra is good although we should have perhaps ordered some ranch sauce to go with it. And the size? Well it's enormous.
The item that has me the most excited however is the biscuit. Biscuits in America are similar to scones in Australia but they are eaten differently. The biscuit here is stuff of legend and allow me to admit that it was utterly delightful and I found myself forgetting all three bite rules. Rules are of course meant to be broken and when they taste this good they definitely are. The biscuit was so light and the bottom had a coating of some sort of oil or lard that soaked in without making it greasy. The crumbly top broke apart and the whole thing was as light as air. I can still taste it in my memories over a year later.
Desserts were just $2 for a lemon meringue pie or a pecan pie but given how much I had broken the three bite rule and had a complete makeout session in public with a biscuit then I felt that I had to flee to the comfort of our hotel.
Don't you just love it when a hotel is unexpectedly good? And conversely how disappointing is it when you expect a hotel to be great but it isn't? Well thankfully it was the former for our hotel suites at The Remington. We had literally booked it two nights before and there were options for a regular or VIP package. We decided to go for the VIP package as that had internet included, a must for us.
My suite is the Cezanne suite on the ground floor and Belinda is in the one next door. Each suite at the hotel is decorated differently and this one is beautifully feminine painted in a gorgeous shade of green and white. There are bone china ornaments, beautiful decorating touches and the suite seems to go on forever ending in an open design bathroom with jacuzzi bath and a soft king sized bed and large closet. There are no windows though which gives it a slightly subterranean feel.
Belinda isn't quite as happy with her room which she calls "bordello red" and has a very narrow, very winding staircase up to the bedroom.
Remember Miranda from our earlier adventure? When she and her husband Ben found out that we were visiting Shreveport they asked if we wanted to go to his father Frank's restaurant Southfield Grill for dinner.
He has several generations of the same family working in the kitchen and Frank himself worked there back when the building was a car wash. A lot of buildings are retro fitted as it's cheaper to retro fit than rebuild a location.
"Ya'll can take a seat wherever you like" they say to us as we walk in. We take a seat near the kitchen and I'm immediately impressed by the range of sauces and seasonings on the table (I am a sauce freak!).
The menu is comprehensive and there's a range of $7.99 daily specials and we figure with prices like these for a main meal, sides and bread or a biscuit it's no wonder that people can eat out a lot here.
Yep I couldn't help it, I needed a salad. They had two other kinds, a fried chicken salad and a grilled chicken salad but I went with the regular side salad which came with a small plastic pot of ranch dressing. My greens eaten, I wait for the rest of the food.
As it is a Wednesday there are four choices of the main meal: pork tenderloin, country fried steak, meat loaf or fried pork chops. Miranda and Ben had recommended the meatloaf to us so we chose that. It comes with a red sauce which is like a spaghetti sauce or a gravy and I choose the former on the recommendation of the waitress. It's a sizeable loaf of meat with vegetables and a generous serve of red tomato pasta sauce on top. It's impossible to finish at this size and I'm imagine that few could finish everything. The sides were turnip greens, mac and cheese and sweetcorn. I particularly like mixing up the corn with the turnip greens and mac and cheese to get a sweet burst of flavour.
The country fried steak is a thick piece of steak breaded and deep fried in breadcrumbs. It can come either with a white sauce or a brown gravy and Belinda chooses a white sauce. It's flavoursome and still crunchy from the coating, even with the sauce on top. The sides are sweet-the yams in particular are like a sweet potato dessert with cinnamon and nutmeg while the beans are good with a lingering spice and the potato salad is good in that it is not too sweet which we've found them all to be on this trip.
"I forgot to ask you what kind of bread you liked so I brought you one of each," our lovely waitress says. I overhear her all night saying "Thank you baby" to people and attending to everyone and by now I find myself unwittingly imitating the Louisiana drawl. There is a plain white roll, a biscuit, a cornbread and a hot water biscuit which I have to say was a favourite. The hot water biscuit is round and flat and cooked in boiling water instead of being baked.
The roast beef po' boy is a bread roll filled with a thick slice of the softest beef inside it. There's also tomato and lettuce added to it and we both like that the bread is soft and not too thick. In fact we surprise ourselves by finishing most of this it's so good.
Dessert is their banana pudding in a very generous serving size. The Nilla wafers, sweet vanilla custard pudding are sweet against the slices of sweet banana.
The next morning we leave the cocoon of the hotel room and depart Shreveport after an all too brief stay to make our way back towards Texas. Around lunchtime, about one and a half hours into the drive we stop in the town of Tyler, Texas, population 96,900.
There are churches aplenty in this town - there's even a cowboy church! We're not here for church but rather the worshipping of barbecue at Stanley's Famous Pit BarBQ.
Stanley's is an institution here in Tyler and the business was opened in 1954 by JJ Stanley. Having been to Lockhart, Texas for the bbq bonanza we realised that each barbecue house does things differently.
Here at Stanley's they barbecue using mostly pecan and sometimes cherry wood. "Mammas Don't Let Your Babies Grow Up to Be Cowboys" plays in the background.
The staff at Stanley's are friendly, young hipsters and there are beards a plenty - on the men that is. There are two questions when you order the brisket: "lean or fat?" and "bark or no bark?". We go with a yes to both fat and bark which is the charred edge of the brisket. The sandwiches are given names like the brother in law (grilled hot link, cheese & chopped beef) and ex wife (pulled pork & sliced brisket).
The four meats that we choose are the brisket beef, pork ribs, sausage and pulled pork. Out of the four we adore the pulled pork resplendent in its simplicity unadorned without any sauce but with a sweetness that matches the meat so well. The baby back pork ribs get the same sweet treatment with a slight acidity to balance the sweetness. They fall off the bone.
The brisket, smoked for over 16 hours is good but takes a back seat to the pork ribs (the latter winning the award for best pork ribs three years in a row at the Texan Monthly BBQ Festival in Austin) and the sausage is also good but again we have eyes for the pork.
As for the sides, having just three is not a bad thing when they're done well which they are done exceptionally well here. At a lot of barbecue places that we've tried there has been heavy handed with the sugar but not here. The red skinned potato salad, dill flecked coleslaw and cowboy beans with pieces of bacon are all equally excellent representations of the sides.
Oh I almost forgot to mention the giant stuffed potato. Which would be remiss because it's like the enormous, colourful elephant in the room. Now I'm not sure where they're sourcing potatoes from but I'd say that it's from the land of the giants. The opened potato takes up the entire serving boat. It's topped with brisket, cheddar, bbq sauce, butter & sour cream and the entire concoction is addictive and colourful and I find myself dipping the fork back into the sweet, tangy bbq sauce seasoned soft beef and delivering mouthfuls of soft meat and potatoes to my mouth.
There is dessert for a mere $1.99, a peach cobbler. There's a lot of tinned peaches used in the peach cobblers that we've tried over the past few weeks and with the exception of The Big Bib in San Antonio, Texas I haven't really gone for the peach desserts because of this because of my aversion to tinned peaches (I was hoping that they used fresh). So perhaps this dessert isn't aimed at me and I should've ordered apple. Next time. But for now, our next stop is...Dallas!
The coolest (and cutest) kid on the block: Tyrone. Oh how I wanted to pinch his cheeks but you can't really do that to children you don't know...
So tell me Dear Reader, would you rather a pretty, windowless room or a two tier room with a spiral staircase? When you do road trips, do you stop every two hours?
All meals and travel in this post were independently paid for except for Southfield Grill.
Want to read the other road trip posts? Here they are!
Road Trip USA: Phoenix to Albuquerque
Road Trip USA - A Breaking Bad Pilgrimage to Albuquerque
Road Trip USA - Quirky Albuquerque, New Mexico
USA Road Trip: New Mexico to San Antonio, Texas
USA Road Trip: Spicy San Antonio, Texas!
Road Trip USA - A Pilgrimage To Lockhart, The BBQ Capital of Texas
Road trip USA - Hoedown in Houston
Road Trip USA - Turning Cajun in Lafayette, Louisiana
Road Trip USA: There's Nowhere Like New Orleans Part 1
Road Trip USA: There's Nowhere Like New Orleans Part 2
Mama's Fried Chicken
810 SE Evangeline Trwy, Lafayette, LA 70501, United States (337) 234-8453
The Remington Suite Hotel
220 Travis St, Shreveport, LA 71101, United States
Phone:+1 318-425-5000
www.remingtonsuite.com/
Southfield Grill
315 Southfield Rd, Shreveport, LA 71105, United States
+1 318-219-4148
7 days 6am-9pm
Stanley's Pit BarBQ
525 S Beckham Ave, Tyler, TX 75702, United States
Phone:+1 903-593-0311
Sunday Closed
Monday to Wednesday 7:00–10:00 am, 11:00 am – 9:00 pm
Thursday & Friday 7:00–10:00 am, 11:00 am – 12:00 am
Saturday 11:00 am – 9:00 pm