"I've got my haul!!" a lady says as she is exiting Old Tyme Grocery in Lafayette, New Orleans. She's happy and smiling and holding a brown paper bag of goodies-no doubt a shrimp po'boy or two and a packet of chips.
Belinda and I have made the 4.5 hour drive from Houston, Texas to Lafayette in New Orleans. As we edge closer to Louisiana, it became hard to distinguish scenically where Texas ends and Louisiana begins. Signs starting appearing for "Gator Junction", "Turtle Bayou" and "Fried Catfish" but we are still in Texas.
We are cruising along with Jace Evertt's "Bad Things" playing when ads for baby alligators and swamps start appearing. Then there are ads for boudin, crawfish and cracklin'. Names like Atchafalaya and Opelousas appear on road signs and we realise that we are now in Louisiana. The weather changes considerably and the heat has now metamorphosised into a thick, clinging humidity. We watch as steam rises and we feel as though we're walking through a bowl of gumbo.
"You won't get better Cajun food than here in Lafayette," the young man at Old Tyme tells us. "In New Orleans, it's Creole Cajun food but here it's Cajun, where Cajun food comes from," he adds. Lafayette is considered the gateway to Acadian or Cajun cuisine.
During the 1700s in Canada there were French Acadian farmers that were living in the maritime provinces of Nova Scotia, New Brunswick and Prince Edward Island. The British expelled the Acadians during a time called "The Great Expulsion" removing approximately 11,500 Acadians out of the region.
Many of them moved to Louisiana and became "Cajuns" an abbreviation of Acadians. The cuisine evolved in a rather interesting way - in Canada Acadian cuisine uses very little spices and is quite bland while in Louisiana it is quite the opposite because of the mixing with other influences including African, Caribbean, Spanish and Portuguese cuisine and the local spices and produce.
At Old Tyme, the menu is simple and the main attraction is a shrimp po'boy. Housed in a 100 year old building, Old Tyme has been going strong for just over 30 years. We order a half serve of the shrimp po' boy which is still sizeable to eat.
Shrimp po' boy $6.50 half serve (whole serve is $8.50)
It's good although I'll be honest, I don't think po' boys are really my sort of thing. I find them a bit too bready and I prefer a thinner bread for the oyster or shrimp filling which is rolled in a cornmeal breading and deep fried until crispy. Nevertheless, it's good with a sweet ketchup style sauce, sliced tomato and lettuce.
About ten minute's away is Prejeans which is a different sort of experience. While Old Tyme is a neighbourhood fix for po' boys, Prejean's is more touristy with a gift shop out the front. Inside is like the Disneyland Blue Bayou ride. There's even a webcam for people to wave back to their friends and family.
The menu is enormous and it makes things hard to decide. We had heard good things about the boudin balls so we order that along with a seafood platter that has just about everything on it. There is a choice of fried or grilled and when we ask which is better they answer "Definitely fried".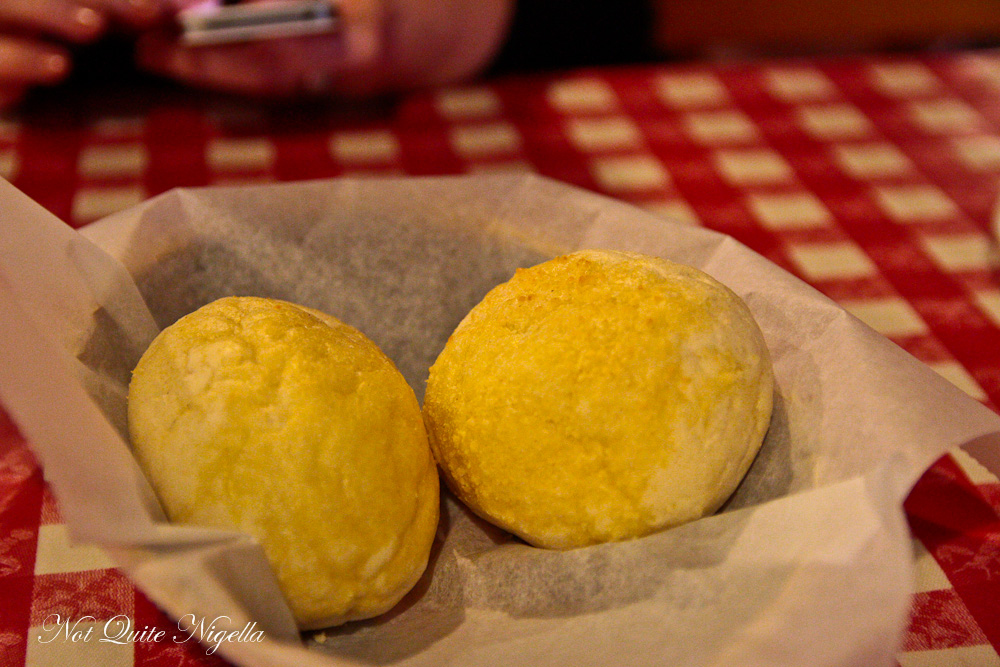 The local bread is a cornmeal topped white bread roll that isn't bad at all but I do have my stomach reserved for the seafood and boudin balls.
Boudin balls $9.95USD
Planning your next trip? Ensure you have the right coverage with HeyMondo travel insurance that includes COVID-19 protection. Plus, if you use our link, you'll receive 5% off the price. Find the best deals on flights from all airlines in various currencies with SkyScanner and set up alerts to get notified when prices drop. For reliable transportation options, look no further than 12Go Asia, offering train, bus, ferry, and flight transfers worldwide. Book your transportation now and enjoy a stress-free journey.
When you purchase through these links I will get a small commission at no cost to you. Thank you for supporting me! :)
Speaking of, what is a boudin ball? Boudin is sausage of course but a boudin ball in this case is a crab meat and rice filled ball coated with cornmeal and deep fried. It's served with a creamy sauce much like tinned cream of chicken soup. I prefer the crunchy, spicy balls with some extra Louisiana tabasco sauce for an extra hit of spice.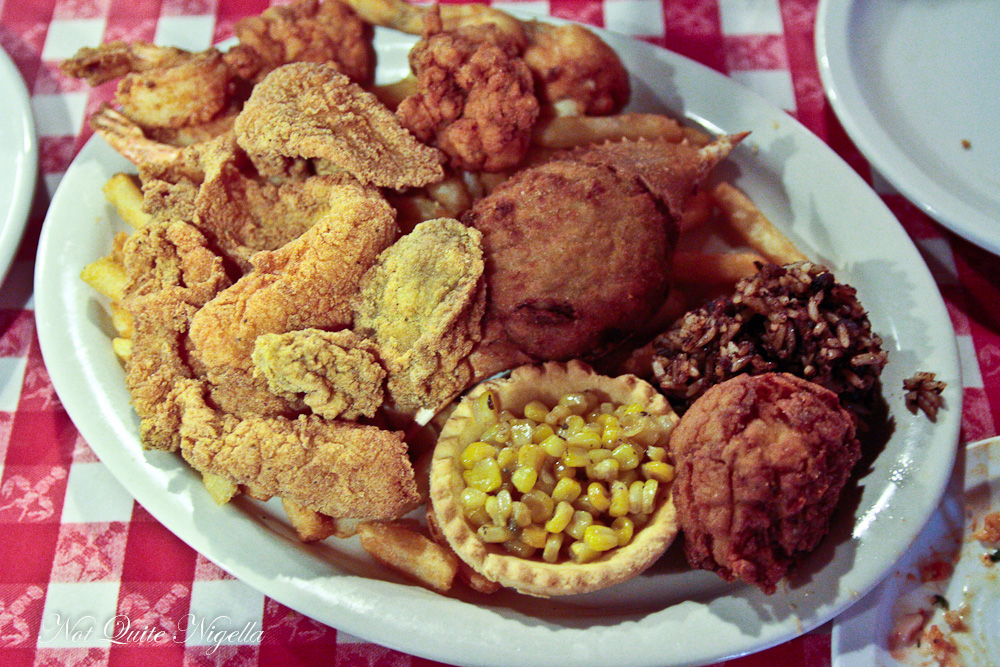 Prejean's Seafood Platter fried $22.95USD
The seafood platter is designed for at least two people with at least two of everything except for the frog leg of which there is only one (but it's a huge frog). There is cornmeal coated deep fried shrimp, oyster, catfish, alligator, stuffed shrimp and stuffed crab. They're all well cooked and the frog leg is particularly good as is the spicy alligator.
The two items that I particularly enjoy are the stuffed shrimp and stuffed crab because they have the most perfect mix of seasoning - kind of how I want a crab cake to taste but often does not. Accompanying this is Cajun fries that are like regular fries but super golden and crunchy and double fried and corn macque choux a super sweet corn dish that goes well with the fantastic dirty rice.
Needless to say, it only serves to whet our appetite to reach New Orleans.
So tell me Dear Reader, are you a fan of Po' Boys? And would you choose a grilled or fried seafood platter?
All meals in this post were independently paid for.
Want to see the other road trip posts? Here they are!
Road Trip USA: Phoenix to Albuquerque
Road Trip USA - A Breaking Bad Pilgrimage to Albuquerque
Road Trip USA - Quirky Albuquerque, New Mexico
USA Road Trip: New Mexico to San Antonio, Texas
USA Road Trip: Spicy San Antonio, Texas!
Road Trip USA - A Pilgrimage To Lockhart, The BBQ Capital of Texas
Road trip USA - Hoedown in Houston
Old Tyme Grocery
218 W St Mary Blvd, Lafayette, LA 70506, United States
Phone:+1 337-235-8165
Sunday Closed
Monday to Friday 8:00 am – 10:00 pm
Saturday 9:00 am – 7:00 pm
www.oldetymegrocery.com/
Prejean's
3480 NE Evangeline Thruway, Lafayette, LA 70507, United States
Phone:+1 337-896-3247 Sunday & Monday 7:00 am – 9:00 pm
Tuesday to Thursday 7:00 am – 9:30 pm
Friday & Saturday 7:00 am – 10:00 pm
www.prejeans.com/