Settle in for a long ride and put up your boots. This is a long one Dear Reader!
"I think our best strategy today is to employ the three bite rule" I said to Belinda. Years ago I had read that Dolly Parton lost a lot of weight by eating what she wanted but only three bite's worth.
"I wonder if I can eat a donut in three bites then" Belinda replied.
It would be a mammoth day of eating. We woke refreshed from an early night in, our stomachs soothed by the flavours of Texas barbecue, delicious sides and dessert. I punished myself with a severe session at the Hotel Contessa's gym before flexing my eating muscles to eat my way around San Antonio.
San Antonio is known for two things: being the birthplace of Tex Mex food and for its barbecue. We'd already had the barbecue the night before so today we are in for some Tex Mex cuisine. So what is Tex Mex cuisine? It was described by San Antonio native Eva as being a one dimensional version of Mexican food with simplified flavours, lacking the complexity and depth of traditional Mexican food. San Antonio is the perfect place to combine the two cuisines, after all it shares a border with Mexico and 60% of the population is Hispanic.
At The Original Donut Shop on Fredericksburg Road, the combination of the two is aptly demonstrated with their drive in donuts and tacos. On the right hand side is a drive through where the left hand side is for donuts and the right hand side is for both donuts and tacos. The service is genuinely warm and friendly and other patrons smile and make conversation.
We're meeting my friend Miranda from Hill Country Princess and her lovely husband Ben so we've taken a seat in the restaurant area. Because we are early we wander around and take a peek at the donuts on offer. We must look completely wide eyed and hungry because the friendly woman behind the counter offers us a donut hole to try.
Me, Miranda and Belinda
As it is a weekend, there are a few other items on offer including barbaco and menudo. Once Miranda and Ben arrive, we order some items from the menu that include the weekend specials and wait for our number to be called. Items are incredibly cheap. Miranda and Ben tell us all about the other areas of Texas in that distinct and easily picked up drawl and offer to take us shooting but alas we won't have time!
Menudo
The menudo is not just a pop group name, it is also the name of a tripe soup. It comes with a foil wrapped piece of lime and chopped white onion and a staff member shows us how to sprinkle these over with them and then brings us a little container of chopped green jalapenos too. The soup is rich in flavour and the tripe has that distinct texture to it. Another customer remarks his approval at our soup choice. Maybe we could pass for Texans ;)
Huevos Rancheroes
We asked for the eggs to be done over easy (to be honest when they reeled off the list of egg preparation options my head started to spin and I just said the last one). The two eggs have a soft, runny yolk and are served with refried beans, tortillas, sauce and fried potatoes.
Chorizo and egg taco $1.69USD, Barbacoa $2.29USD
The prices are truly astounding here and this chorizo and scrambled egg taco is one of the most popular items. Truth be told I couldn't actually taste much chorizo in this, it tasted mostly of scrambled egg which was good but it didn't have the garlicky hit I was expecting from the chorizo.
At first we weren't quite sure what the barbacoa was but at $2.29 it was worth a try. Barbacoa is slow cooked and steamed meat that's rich, soft, saucey and here it is served in a taco.
One dozen donuts $7.75USD
One our way out we buy a dozen donuts in a variety of flavours. "Would you like our best sellers?" the woman says reading my mind and we drive off with a dozen of the best babies in tow. The picks from the whole lot were the cinnamon crumb and the jam filled and lemon curd filled donuts although they were all good and fresh.
At the historic Pearl Brewery complex, La Gloria (meaning "heaven" but I just think of Gloria from Modern Family) chef Jeffrey Hernandez is a San Antonio local who was inspired to open up a Mexican restaurant by his numerous visits to Mexico. La Gloria has won awards for the concept and food and he is supposed to come and meet us to come and tell us all about Tex Mex cuisine.
Except, he has been held up at a photo shoot. Chefs! sigh
No matter, we are still at La Gloria which is gorgeously and lushly decorated with heaven sent imagery and colours. A day of the dead statue greets diners. The Pearl Brewery complex is where many of San Antonio's top restaurants seem to have set up shop.
The menu is two sided and at first we think that it's huge - possibly too huge but oddly one side has a complete description of the dishes while the other side displays the prices. The food is said to be more from the interior area of Mexico. Our waitress is a dead ringer for Penelope Cruz.
Tamarind and hibiscus flower agua frescas $3USD each
Pollo en Escabeche - Shredded chicken Tlayudas $8.50USD
The Mexican version of a pizza is a large crispy corn base smothered with black beans and topped with shredded chicken, slices of tomato and avocado. Although simple, it's like an almost healthy chicken sandwich, just opened up and I particularly like the crispy base.
Camarones Agua Chile - Shrimp in fire water $13USD
The shrimp in fire water is a shrimp ceviche, the seafood perfectly cooked and tender. The fire water is a bright green liquid that had slices of avocado and coriander. The chilli is hot and reminds me of wasabi or horseradish in its intensity and flavour.
Tacos Potosinos - Cheese with chile sauce (V) $7.50USD
The tacos potosinos is a vegetarian dish resembling rolled enchiladas. The rolled corn tortillas are filled with a chilli pasilla sauce. On top is a snowy sprinkling of queso cheese and green beans. Interestingly, even though they're corn tortillas they're much more pliable than most because they also contain flour which makes them a nice medium getting the flavour of the corn but the pliability and soft texture from the flour.
Panuchos Cochinita Pibil – Marinated pork $4.50USD
We share a single panuchos which is a double layer corn tortilla stuffed with black beans and generously topped with soft, marinated pulled pork and pickled onion slices.
Molcajetes Arrachera en adobo - Skirt steak in chile pasilla sauce $14.50USD
The molcajetes is a stew that is usually served in a volcanic stone container that is the Mexican version of a mortar and pestle. Johnny originally served them in these as they were good for keeping the heat and food would keep bubbling away as it sat on the table. Unfortunately he had to stop because the containers were porous and he was no longer permitted to use them so he improvised and created a metal version.
While the beef skirt stew isn't cooked in it, it's a great presentation with the large, soft chunks of meat bubbling away and meltingly soft. The flavour was rich with a chile pasilla sauce and the queso cheese melts to form long strings. It is served with warm corn tortillas.
Flan de Coco - Coconut flan $6USD
The idea of coconut flan is too difficult to resist so we order some to try. It's a little firm, we were hoping for it to be a bit wobblier but has a good coconut flavour with tiny pieces of shredded coconut in it.
There are plenty of other restaurants around the complex as well as shops. One store called Melissa Guerra is owned by its namesake, an eighth generation Texan woman. The store features an interesting range of both Latin American cooking implements, jewellery and serving ware alongside the usual kitchen items.
There's a lot of eating to do so we take the drive to Blanco Road in Midtown where the famous Chris Madrid's is located. Chris Madrid was a marketing major at the University of Texas and he decided to open up a burger and taco stand in January 1977. He has now passed away.
Planning your next trip? Ensure you have the right coverage with HeyMondo travel insurance that includes COVID-19 protection. Plus, if you use our link, you'll receive 5% off the price. Find the best deals on flights from all airlines in various currencies with SkyScanner and set up alerts to get notified when prices drop. For reliable transportation options, look no further than 12Go Asia, offering train, bus, ferry, and flight transfers worldwide. Book your transportation now and enjoy a stress-free journey.
When you purchase through these links I will get a small commission at no cost to you. Thank you for supporting me! :)
The burgers were an instant hit (while the tacos fell to the wayside) and now it is a down to earth bar and casual eating spot that regularly features in San Antonio's top 10 lists to eat at. It's not upmarket but it's comfortable and busy.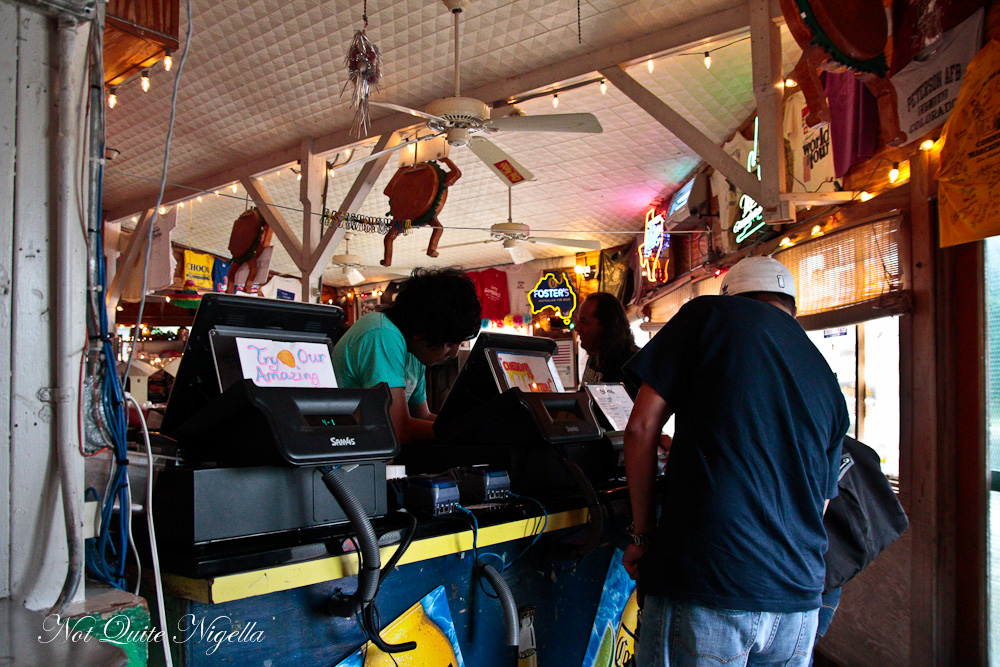 We follow the signs to order and there's a neat menu of burgers as well as chalupas. The burgers come in two sizes: "regular" or "macho" and we're curious to see how macho a burger can be, especially for two girls that have just had breakfast and lunch. We make our order and take the buzzer and take a seat at a colourful tiled table.
Around us people are eating plates of maraschino cherries, burgers and fries and dispensing ketchup from large containers (nine to be specific, clearly they're counting on a crowd).
They're never running out of ketchup here...
Tostada Burger Regular $5.95USD
The tostado burger is their specialty burger and is made up of homemade refried beans, corn chips, onions and creamy cheddar cheese on a beef patty. The key is the texture - the burger is given an other worldly crunch from the corn chips and toasted bun which is downy soft and glossy on the outside but perfectly toasted like a piece of toast on the inside. I completely forgot the three bite rule when it came to this burger. I think I spoke with a Texan accent after this...
Cheddar Cheezy Macho $7.25USD
I almost forgot to mention the cheddar cheese didn't I? When ordering there is a sign that says "Cheddar is better" and this burger is an enormous ode to cheeseburgers. I'm not sure if the photo shows how large it is but it as big as a baby's face (not that I think of baby's faces when I eat burgers...).
It's a similarly perfectly toasted bun filled with mustard, lettuce, tomatoes, onions, pickles and an enormous amount of cheddar cheese that oozes out from every side. Belinda loves this burger and it's good with all of the salad and pickles but it's similar to a McDonalds burger in flavour profile (although much fresher and better) and I prefer the tostado burger.
Fries $2.25USD
The fries at first look a little pale but they're actually perfectly cooked and tasting of fresh oil which perhaps explains the pale shade. They're made of skin-on potatoes and taste fresh and delicious.
We drive around looking at all of the neighbourhoods finding the buildings utterly fascinating. There's a mixture of beautiful houses abutted by ones that look like they could be condemned at any moment. There are signs for custom gun shops, an upcoming gun show and a poster of a comely gal saying "Girls need guns too".
For dinner we make our way over to South Alamo street, just a couple of minutes away from the Contessa Hotel in the Mission District, a historical area of San Antonio. Traffic lights sway on the wires as we wait for them to change and the clouds threaten to burst with rain - from all reports the torrential rain that we've experienced is unusual for Texas.
On the corner of St Mary's street and South Alamo near the Riverwalk, Rosario's does a roaring trade. They don't take reservations for parties under 10 and at 6:15pm when we ring to ask if 7pm is a good time to turn up they tell us that the wait will be at least half an hour and suggest that we arrive with haste which we do (although I could swear that there was about half a tostado burger still rolling around in my tummy).
Celebrities flock to Rosario's and it enjoys a roaring trade. Almost every table at Rosario's is taken that evening and we're glad that we snuck in so early because we watch as groups congregate around the bar and around the door waiting their turn for a table. From reading reviews the pink colour seems to alarm some diners but it looks perfectly fine to me and I like the retro tables and chairs. Afterwards, Miranda warned us that the location is near a less salubrious area. What you don't know won't hurt you perhaps?
The noise is another thing that others comment on and it's true, it's loud and seemingly quite proud of it. The restaurant is enormous with three large sections. We're sitting in the centre section while the section nearest to the bathrooms resembles a food court.
Salsa and chips
The chips are already on the table and the salsa immediately looks different from the others that we've been given. That's because each day they roast their tomatoes and jalapenos until black and then blend up the salsa. What results is a smoky, intensely flavoured salsa. There's plenty given with a dispenser of the dark blended condiment on each table.
Tuna margarita $7.25USD
The tuna margarita isn't the fish but it is made with silver tequila, prickly pear cactus juice and fresh lime served frozen. This is a popular drink and we can see it being ordered all around us. It is refreshing as prickly pear tends to be and slightly sour.
Fish tacos 2 for $6.95USD
When the waiter brings our tray of food to us he does a double take to check whether this is meant for us. Because of course we are guilty of over ordering constantly. His reaction is so funny that our original waiter comes over to assure him that it is ours and he mutters "Is it a last meal?" (I can only imagine what he'd say if he saw what we'd eaten already that day). The fish tacos are famous here and also one of the most popular tacos. The pan grilled tilapia fish is so soft and it is paired with chipotle mayonnaise, cabbage lime slaw, pickled red onion and avocado. It was perfectly balanced and it too tests the three bite rule.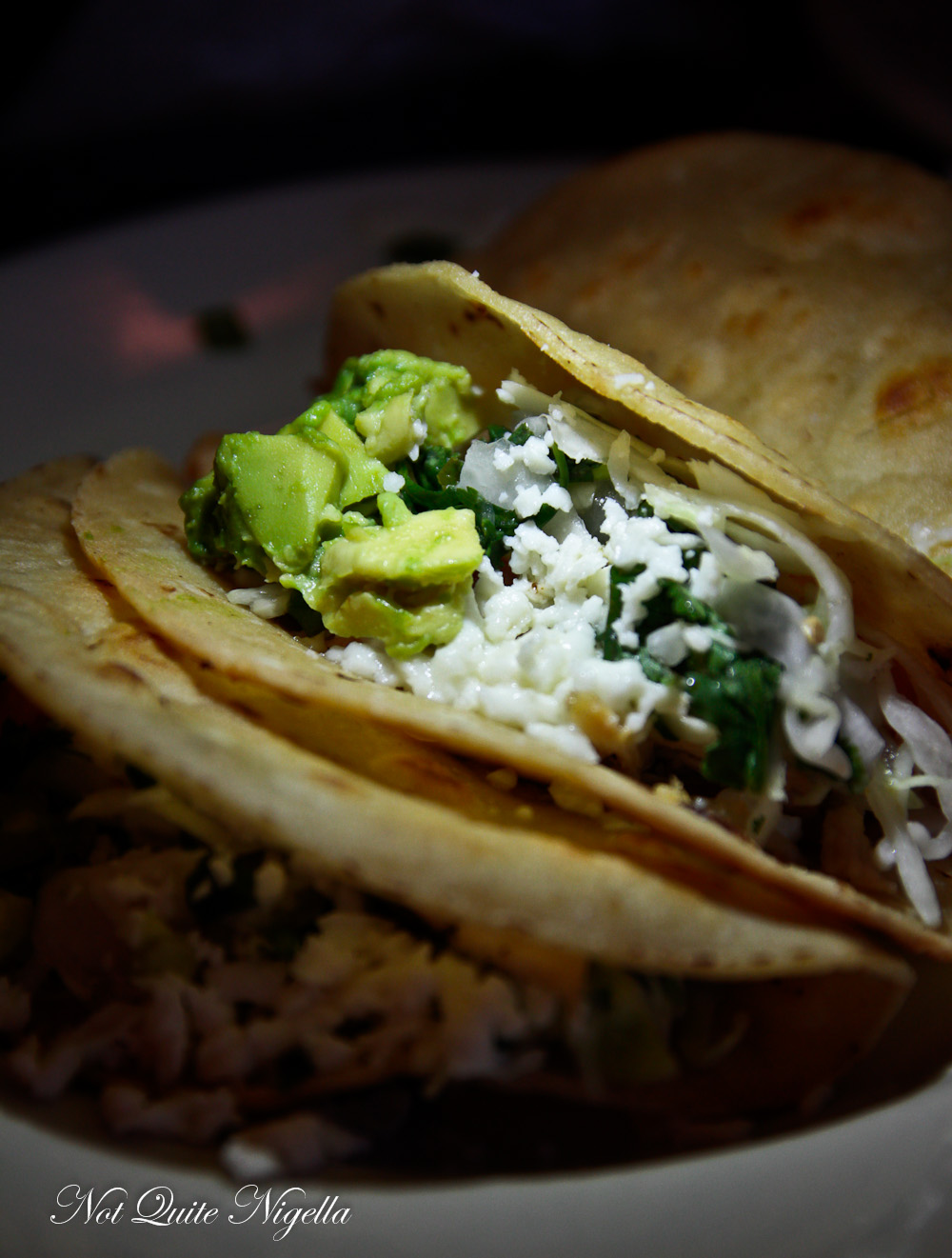 Griselda's tacos Callejeros $3 for $10.25USD
The regular tacos come with either chicken or beef but our waiter recommended the pulled pork version which isn't on the menu. These tortillas are different because the corn tortillas are grilled so that they have a firmer, chewier texture. They're filled with cabbage lime slaw, diced avocado, plenty of coriander and queso fresco and a modest amount of well seasoned pork.
Ensalada de Aguacate y lima $6.99USD
We now understand why Americans seem to love big salads. In a meat heavy diet a big salad is a welcome, fresh reprieve. The lime vinaigrette perfectly dresses this romaine and spinach leaf salad with avocado slices, queso fresco, sliced tomato, crumbled chicarrones (fried pork rinds) and diced jicamo which gives the salad a refreshing quality.
Poquito de todo $14.95USD
This is a serving for one person if you can believe it and the sizzling hot plate comes with two flour and two corn tortillas. There are two types of offal: grilled sweetbreads which sing with a depth of flavour and soft, puffy texture on a bed of diced vegetables. Then there are the tripas or tripe pieces which are crispy and sweet on top of sliced green capsicum. Lastly are the saucy chicharrones or deep fried pork rind guisados. The little pot to the side is charro beans and there's also a side of guacamole and pico de gallo. We both love everything on this plate, offal and all!
Sopapilla with rice pudding $4.25USD
Having already alarmed the waiter with our order, we surprise him again with an order for dessert. As soon as we sink our spoons in we are instantly smitten with the perfect combination of crunchy, sweet and comfort that comes with every spoonful. The sopapilla is similar to a flour tortilla, deep fried and puffy and sprinkled with cinnamon sugar. Inside the cup is the creamiest, most delectable arroz con leche or rice pudding with just the perfect level of sweetness. On top are rum soused raisins and the whole thing disappears with murmurs of contentment, the three bite rule quickly forgotten...
So tell me Dear Reader, do you think you could employ the three bite rule? And do you ever dine early in order to avoid waiting for a table?
Want to see the other road trip posts? Here they are!
Road Trip USA: Phoenix to Albuquerque
Road Trip USA - A Breaking Bad Pilgrimage to Albuquerque
Road Trip USA - Quirky Albuquerque, New Mexico
USA Road Trip: New Mexico to San Antonio, Texas
NQN stayed at the Hotel Contessa as their guest and dined as La Gloria as a guest of San Antonio Tourism but the rest of the meals were independently paid for.
Hotel Contessa
306 W Market St, San Antonio, TX 78205, United States
Phone:+1 210-229-9222
www.thehotelcontessa.com/
The Original Donut Shop
3307 Fredericksburg Rd, San Antonio, TX 78201, United States
Phone:+1 210-734-5661
Monday-Friday 6 am - 8 pm
Weekends 7 am - 8 pm
La Gloria
100 E Grayson St, San Antonio, TX 78215, United States
Phone:+1 210-267-9040
Sunday to Thursday 11:00 am – 10:00 pm
Friday & Saturday 11:00 am – 12:00 am
Chris Madrid's
1900 Blanco Rd, San Antonio, TX 78201, United States
Phone:+1 210-735-3552
Sunday Closed Monday to Saturday 11:00 am – 10:00 pm
Rosario's Mexican Cafe Y Cantina
910 S Alamo St, San Antonio, TX 78205, United States
Phone:+1 210-223-1806
Sunday 11:00 am – 9:00 pm Monday to Saturday 11:00 am – 10:00 pm