Despite how well Canadians and Australians generally get along, I think there is one area in which we have vastly different ideas.
The weather.
For Australians, a cold winter is about 8°C whereas for the hardy Canadian, it can get as cold as -45°C. When I told friends that I was headed to Canada in December one Canadian's comment stood out. "It's not so bad, it gets to about -20°C." Yep, it's all relative.
For those that prefer temperatures higher than zero, that's when an area like British Columbia becomes the comparatively mild destination during Winter. I've just landed in Victoria, a short 15 minute plane ride from Vancouver. Snow rarely falls and if it does, it doesn't tend to stick around. Make no mistake though, the temperatures of zero are slightly alarming to an Antipodean like me but I am armed with my warmest Winter woollies.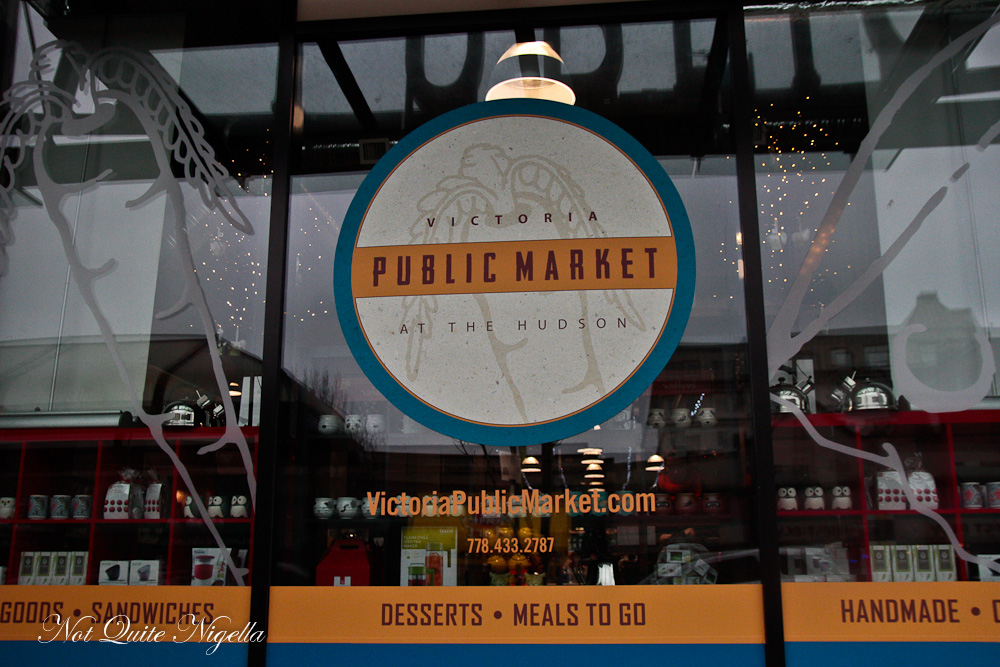 Which brings me to another favourite way to warm up: with food. Here in Victoria the food scene is about microbreweries, teas and seafood. Throw some chocolate in and you've got pretty much all you need. A great place to get acquainted with the Victoria food scene is the Victoria Public Market, particularly on Wednesdays.
Located in a 100 year old building and only open in 2013, the relatively new market is easily navigable with a good range of about a dozen hand picked shops. A dozen isn't a huge number admittedly but what there is is top notch and full of passionate vendors who care about supporting local produce and local industry. Even other businesses that could traditionally be seen as rivals are stocked or carried in many of these stores.
The first stop is for a sample of hot tea at Silk Road Tea. Silk Road is one of Victoria's success stories and the teas encompass black, herbal, Chinese and Japanese teas, the latter two being the most popular. The owner is a qualified tea master for 10 years. I happily sip on a herbal candy cane tea with peppermint.
All of the teas are hand blended and organic teas, directly traded from India, China and Sri Lanka. The one that catches my eye is the "chocolate panda" tea that is a rich, aromatic tea using aromas of mint, chocolate and vanilla. Customers can serve themselves from the tea bar filling metal canisters with the tea of their choice.
Just opposite, Salt Springs cheese is a cheese maker that makes predominantly goat's milk cheese from their farm in nearby Salt Springs. All of the cheeses are able to be sampled here and they also have one sheep's milk hard cheese, three fetas and three camembert style cheeses.
The most popular cheese is the "Ruckles", an aromatic soft cheese flavoured with garlic and herbs which is excellent. I also go for the hot chilli cheese with a bite of heat and the truffle cheese which I could eat all day with crackers. Most of the toppings to the cheeses are local except for the truffles which are Italian.
Another favourite treat is the goat's milk ice cream which I sample in today's flavour - milk coffee. It hits the spot and for those that don't like strong goaty flavours, it's quite mild.
Our next stop is the perfect place for breakfast: La Cocina de Mama Oli where the owner Olympia home makes traditional Mexican food just like back home in Guadelajara. Her most popular dishes are Pozole, hand made tortillas, carne en su jugo, gaucamole and her fried beans and taquitos. Everything is made fresh to order - even the salsa is freshly made so save a little time for this home style Mexican to come to your table as it is worth it.
The agua frescas change daily and today's is a gorgeously sweet pineapple and strawberry agua fresca. Soon after our eggs arrive.
Eggs with chorizo, red rice, quesadilla and fried beans
The scrambled eggs are given a punch of flavour from the chorizo and the red rice. The eggs come with a cheese filled toasted soft centered quesadilla and fried beans that makes for a fantastic way to start the day.
And to finish? A Mexican hot chocolate aromatic with cinnamon, made the traditional way of course!
The Spring Island Spice Company and Vancouver Island Salt Co. are two business that are owned and started by Andrew Shephard. The spice company started as a means to retail some harder to find spices and other interesting items like hand foraged morels and dried porcinis but the story behind the Vancouver Island Salt company is interesting. It started as a bet where a friend bet Andrew that he couldn't make salt for a case of beer. Andrew won the bet and they retail soft flakes of Vancouver Island salt that they gather water from Cowichon Valley.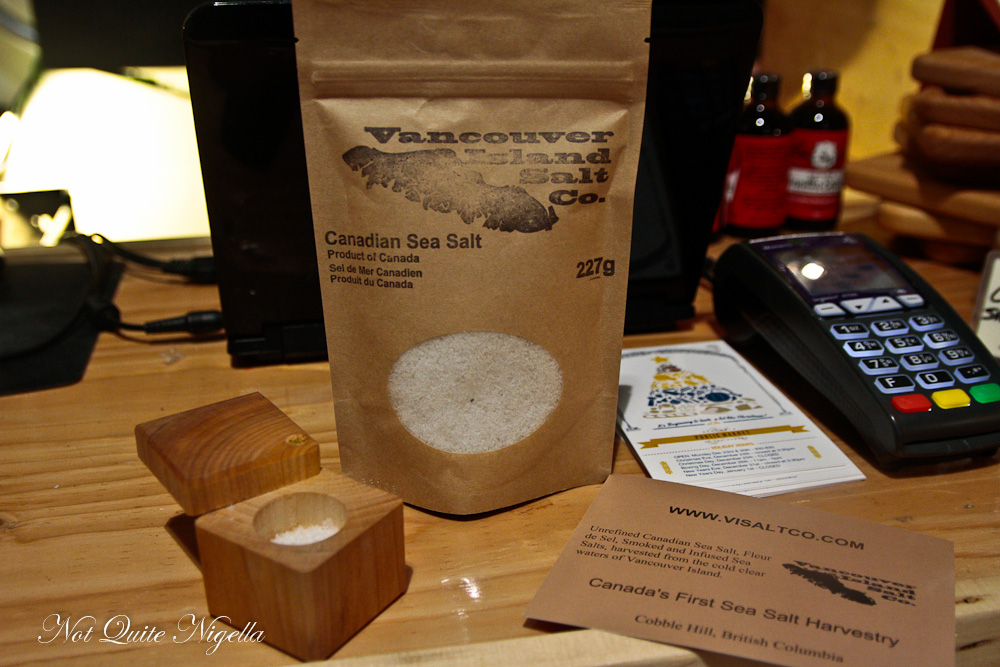 Apart from salt they also harvest Fleur De Sel and infuse salts with flavours like Roasted Garlic, Balsamic, Mustard and Banana Pepper. They also sell this gorgeous little salt box which keeps the salt completely dry and perfect for travel. Perfect for a friend that prefers salty to sweet! All products are also all certified non GMO and made in small batches.
Vancouver's Vikram Vij is a famous name here and a popular stand is Sutra (meaning string without end). Here they sell lunch meals and ready made frozen meals. Some of the items like the naan and rice are made here while others are made in their location in Vancouver.
And look what I spied on the menu - Sutra's Indian poutine! I am crazy for poutine and I just had to try it. Regular poutine is made using potato fries covered with gravy and cheese curds but the Sutra version uses yuca or cassaca fries topped with Punjabi lamb curry sauce, jalapenos and paneer cheese and finished off with pickled ginger.
It's so warm and comforting, especially for this cold weather and I loved the additional spices in the curry. I also try a refreshing lemon and ginger drink which is good in that it isn't too sweet.
Our next stop is Cowichan Bay seafood where I stop and gape at the beautiful red shade of their Sockeye salmon which is hard to find in Australia. Said to taste stronger than other salmons, the sockeye salmon also eats the most shrimp than other types of salmon contributing to its incredible red shade. I try a sample of their seafood chowder which is rich in seafood flavour and thickened with cream and potato.
The wolf marking
Anne and Greg run the Cowichan Bay seafood company and he tells us that they have 5 types of prawns or shrimp here which they catch using their five boats. Live Dungeness crabs with their sweet, plentiful meat are also sold at a price of $19.85 a kilo and they can also cook them for you for an extra $1. And did you know how to tell a dungeness crab? By the telltale wolf-face on the back of the crab's shell!
The spot prawn lives 40 fathoms or 250 feet under in the waters of a rugged cliff face so catching these in their very short season of May-June each year proves a challenge whereas other prawn types are trawled from the mud. And did you that that shrimp or prawns are born male but some change to female? It is all according to what their population requires in a natural self sustaining process.
"Excuse me I'm covered in meatballs" says Roast's George Gzasz (pronounced Sass). Roast specialises in as you guessed it, roasts. Their porchetta is the best seller and one bite into the juicy, moist pork and sensational crackling and you'll see why. The crackling is also sold as Chicharrones and is dry adn crisp, like a pork flavoured chip.
The meatballs are good and meaty rather than being filled with crumbs or filler. I tried a pork and veal meatball covered with grated grana padano, tomato sauce and a fantastic salsa verde. A little older lady comes out to George and whispers, "I told so many about your place!"
It's time for dessert and there are a few options here. The Victoria Pie Company bakes fresh pies on the premises. The Mayan chocolate pie has a hint of cinnamon and is all creamy goodness. They also do sweet or savoury hand pies in a Cornish pastie shape and they also invite people to bring in their bruised and overstock fruit to put in pies.
Towards the back of the market is the French Oven and one should not miss this lovely bakery because dunking one of their incredible pain au chocolats with caramelised sugar bottoms should end off any food tour. Or actually any day.
Sandra's husband is a French pastry chef and every single item is hand made and shaped (if you've made croissant dough, you'll know what a challenge that is). Only the best butter is sourced for this and it is like a taste of France in every bite. The Asagio cheese brioche is for savoury lovers while the chocolate brioche has swirls of chocolate buds folded throughout.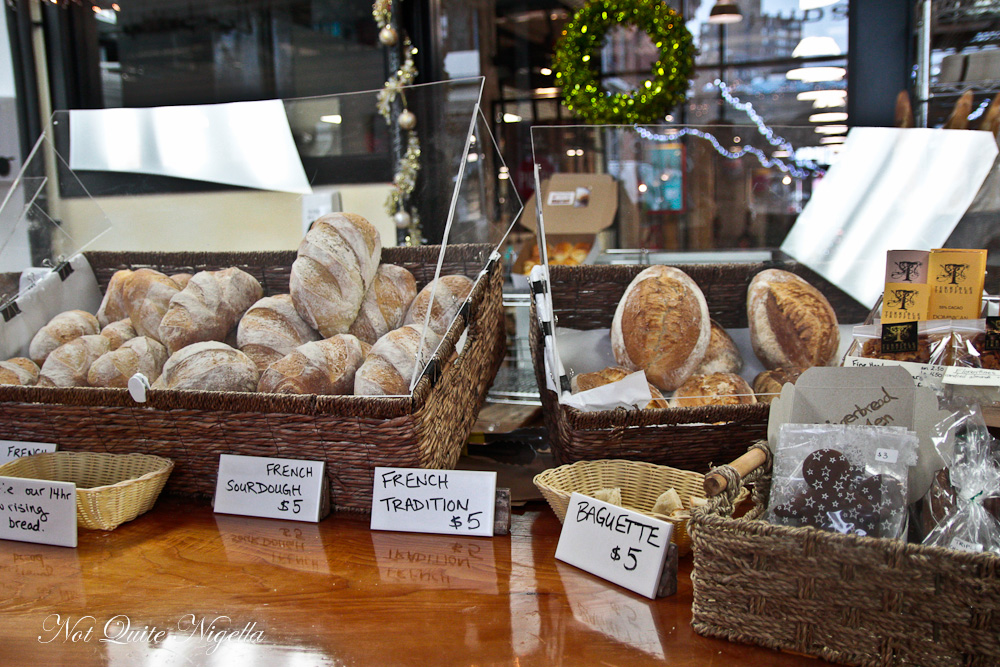 There are also samples of their excellent French sourdough as well as three other types of breads. The business is flourishing although it has only been open since Spring.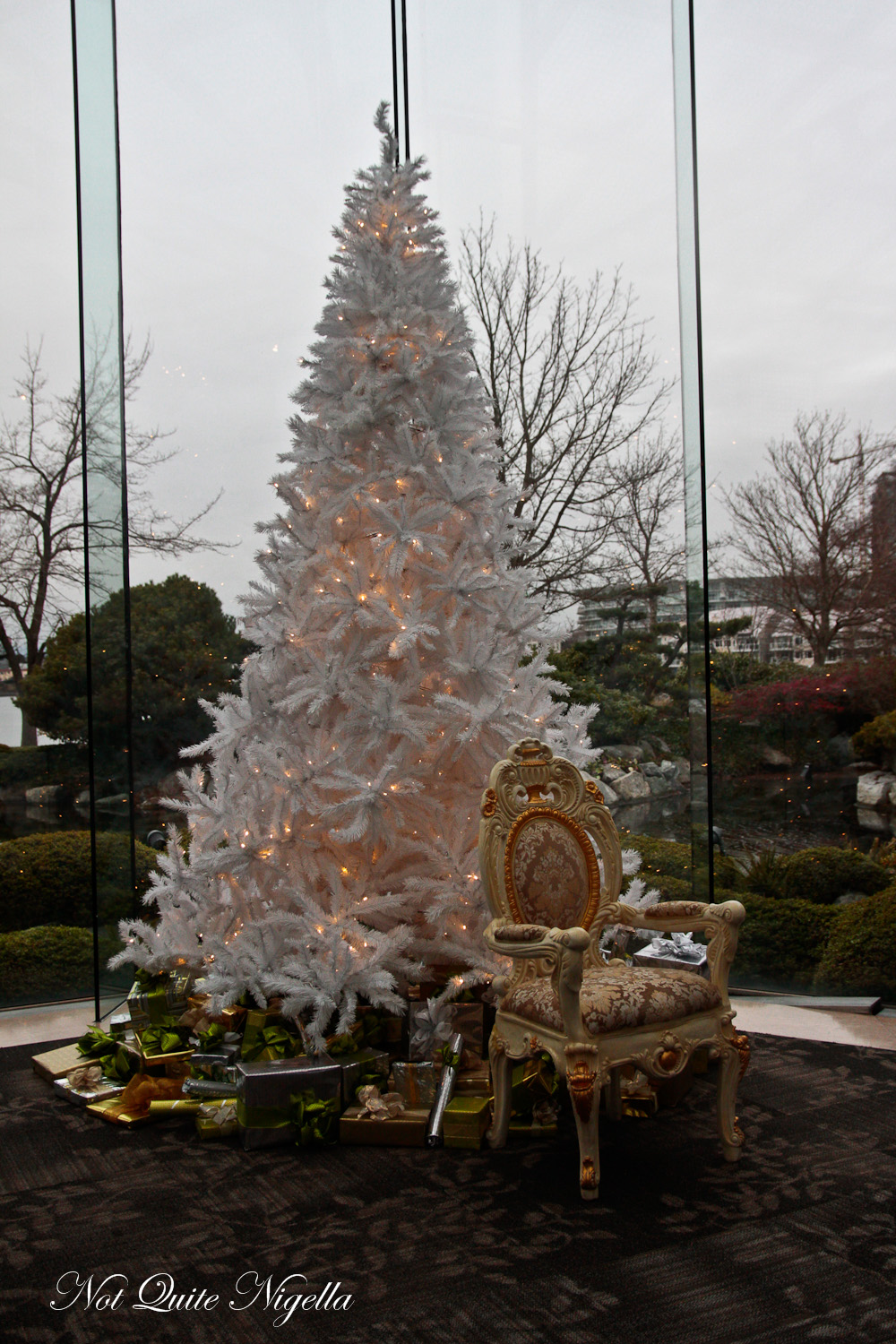 My accommodation while in Victoria is the Inn at Laurel Point.The Inn is contemporary and lots of white with pops of colour. It is also the only carbon neutral hotel in Victoria.
I bypass the gingerbread house exhibition downstairs and they show me to my room 554 in the newer Erickson wing. Service is wonderful and even when I realise one of my worst nightmares when travelling (forgetting the power cable to my computer) they step in and find one for me.
My room is sizeable and all I want is to be in the king sized bed having not slept a wink on the flight. But what draws my attention is the floor to ceiling view of the harbour right outside the well sized veranda.
My room also looks down upon a Japanese pond, slightly frozen during today's cold snap and the room is well appointed with comfortable furnishings and large working desk. And hooray! There's complimentary wifi available and an iPod dock and clock.
The very large marble bathroom sits behind sliding Japanese screens and next to the door is a fabulously plush bathrobe, perfect for the chilly weather. I take the world's longest hot shower using Aveda products. There is shampoo, conditioner, body lotion, soap, face soap, body soap, cotton buds and cotton tips. The enormous bath? Well that's for later.
The only downsides were a lack of mini bar. Due to the transfers when I arrived, I was hungry and wanted something to snack on but the fridge was empty.
We stop at the Spinnakers Brew Pub which is Victoria's oldest brewery pub. Walking into the entrance, we walk past the actual brewery itself. Demand outstrips production and soon the brewery will expand even further.
But dear readers, beer is not the only thing that is made on the premises. There is also chocolate! A display of chocolate, brittles and shortbreads in delectable sounding fillings may include some of their beers and stouts as ingredients. Other flavours include Absinthe, rum & egg nog or goats chevre.
Upstairs is the tap room and you walk past a comprehensive list of beers which include sour plum, Tsarist Imperial Stout, Raspberry ale and Fresh Hopped Sooke Bitter. We take a seat at the festively decorated room and
Beer tasting flight
The beer tasting flight is a sampler of four types of beers chose by the staff. This can vary but we had a kolsch style ale, an original pale ale, a nut brown ale and an extra special bitter. The nut brown ale is reminiscent of nuts and coffee and is the favourite and the pale ale is noticeably sweet although they're all distinctly different. The ESB is hand pulled and served at a slightly higher temperature and there is a much lighter, small carbonation.
Growlers or 3 pints of beer is a popular way to buy beer. A Squealer is half the size
Smoked fish plate $13.50CAD
The menu features a lot of seafood and any sustainable catches are marked with an Ocean Wise logo. This house smoked fish plate was one of them and featured two bacon wrapped cooked oysters, cold smoked Albacore tuna, a smoked wild salmon (that was my favourite as it was smokey and sweet), wasabi aioli and plenty of house made flat bread crackers.
Pulled pork nachos $10.50CAD
I ordered the pulled pork nachos, not just because they sounded like a fabulous idea, but also because they contained Spinnakers ale sweet braised pulled pork, corn chips, malt vinegar pickled cabbage which gave the rich nachos a much needed acidity, red onion, cheddar & monterey cheese, house made tomato salsa and sour cream. And this is apparently an individual serve!
Tuna salad $8.50CAD
They try and source as much local produce as possible and the simple salad of Island grown greens comes with slices of smoked tuna. This is a smoked tuna loin with pea shoots, sesame seed, baked kelp, wasabi vinaigrette. The wasabi vinaigrette is quite light here and the dried sea kelp was a little too salty to have in one bite and perhaps smaller shreds might have been better.
What better dessert than a chocolate and beer matching plate. Here four house made chocolates are paired with four beers. A stout beer is paired with "Just a little stout" chocolate; a kolsch is paired with a "Lemon drop" chocolate; the nut brown ale is paired with the "Aphrodisiac" chocolate (dark chocolate, lavender and peppercorns) and lastly the Cascadia dark ale is paired with the "Salt lick" chocolate made with honey and sea salt. There are preferences although all chocolate do taste great with the beers.
It may be the lack of sleep or the satisfying food but I sleep well that evening. The next morning a seaplane's flutter creeps through the twilight of my dreams and shortly later a ferry fog horn bursts through loud and proud. I wake remember where I am.
So tell me Dear Reader, are you a cold weather or warm weather person? And what temperature is the coldest you've ever experienced?
NQN explored British Columbia as a guest of the Canadian Tourism Commission
Victoria Public Market
1701 Douglas St, Victoria, BC V8W 0C1, Canada
Phone:+1 778-433-2787
Sunday 9:30 am - 5:00 pm
Monday Closed
Tuesday to Saturday 9:30 am - 6:30 pm
http://victoriapublicmarket.com/
Inn At Laurel Point
680 Montreal St, Victoria, BC V8V 1Z8, Canada
+1 250-386-8721
http://www.laurelpoint.com/
Spinnakers Gastro Pub
308 Catherine Street. Victoria, BC V9A 3S8, Canada
Phone number +1-250-386-2739
Open 8am-11pm
http://www.spinnakers.com/