"What's the definition of a Canadian? Someone who can make love in a canoe," I am told. Ottawa is Canada's capital and a city that also used to be the brunt of culinary jokes. There used to be a saying in Ottawa, if you want a good meal, go to Montreal. Certainly things have changed a great deal in Canada's capital. In the 1960's according to food writer Paula Roy it was all steak and potatoes but today the capital that is wedged between Montreal and Toronto in the same way that Australia's capital is, they're making great strides with the food.
The first thing that any city needs are artisan bakeries. At Art Is In, a play on the word artisan, they make fabulous bread that people come from all over the city to buy. It's not located centrally, the best way for a visitor to get here is by bike or by car or taxi (it's just a bit too far for a stroll) and it is housed in what used to be known as Ottawa's ugliest series of buildings (now given a makeover).
Once you enter you will quickly get the drift because there is a cabinet full of golden, glistening pastries. There are Cronuts, donuts, thick slices of buttered bread topped with flaked almonds, twisty layered scrolls and sticky buns. It's the latter that they're known for so I order ones of these along with a breakfast sandwich using their grain buttermilk loaf. To finish it off is an iced latte made with maple syrup.
The sandwich is made with a thin, crispy maple bacon, soft centered egg and cheddar cheese and the bread has a fantastic texture with a light amount of grain in it. The sticky bun is all caramelised stickiness. It's rich, certainly and it is best split with others because of its decadence. The only thing that would improve it is a little warming from the oven.
Another alternative for a Canadian breakfast is Flapjack Shack. Pure Canadiana mixed with a bit of lumberjack you may need a lumberjack sized appetite to devour breakfast here. We slide into a booth and look at the black and white pictures of sugar shacks tapping the maple trees old skool style. Today's sugar shacks use a series of tubes to extract the syrup more efficiently.
The menu is full of options. There are Log Rollers (battered sausages dipped in pancake batter and deep fried) as well as poutine made with pancake strips. But we stick to our original plan and have a panwich, that is a buttermilk pancake sandwich. The "Big Joe Montferrand" is named after a famous French Canadian logger who was a working class hero. The panwich is three fluffy round pancakes with two eggs, two slices of bacon, two slices of medium cheddar, home fries and a serve of maple syrup and tomato jam.
And this is where the lumberjack comes in because it's hard to stop eating this soft, delicious sandwich. We pour a little maple syrup on the pancake and dig in. It's a killer sweet, soft, salty combination. The add some tomato jam to the home fries and onion and pick out the crispy pieces.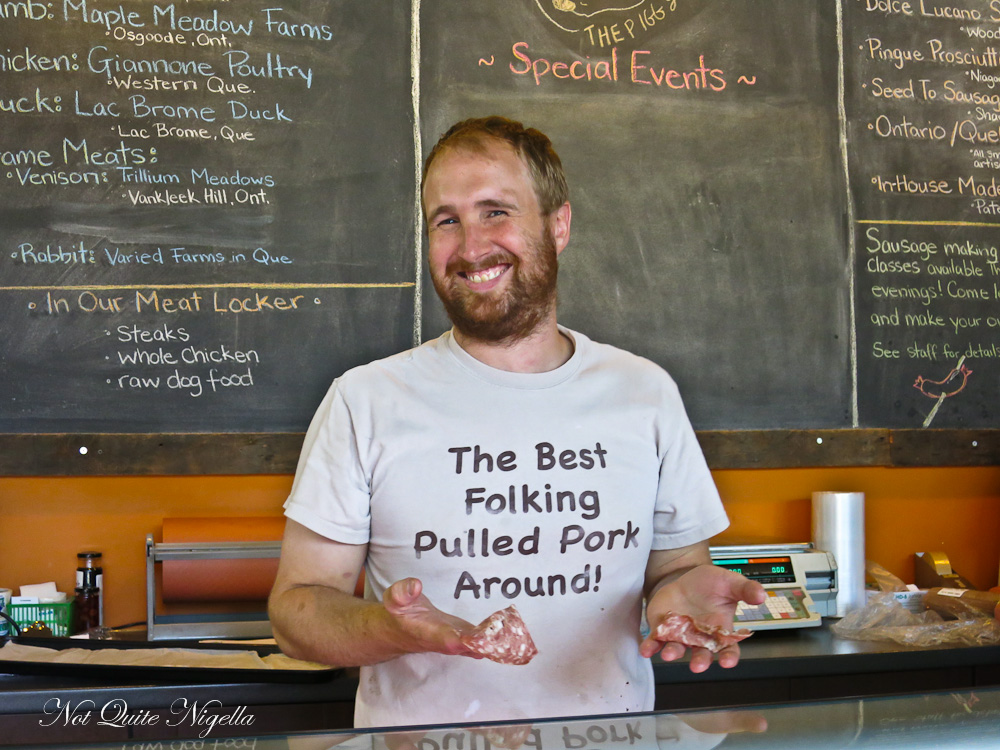 We've just got enough time to stop at the Piggy Market on Winston Street. They are an artisan butcher that only deal with the whole beast. Dave Neil reels off where he gets his produce from. "The beef farm is 45 minutes away, the lamb 30 minutes, the chicken is from Quebec and the Venison is an hour away," he says. The furthest is the pork at six hours away.
This means that not only is it local and fresh, he also stocks plenty of cuts that would otherwise need to be ordered in. "We will cut anything that you want." They also bake their own items in house and everything is nut free.
They're known for their Jamaican patties. I try a beef curry one and it is utterly delicious with a thin, crumbly pastry full of saucy meat. The veneto sausage flavoured with allspice and nutmeg is divine as is the summer sausage-so named as it traditionally contained venison which was normally slaughtered in the summer time.
For those looking for a late night stop and/or Poutine, Ottawans know and love the Elgin Street Diner which is open for 24 hours. It is where they go to come 2am when they need a late night snack of what else but poutine. Although it is originally a Quebecoise dish, what is a river between the two areas? The poutine here has to be seen to be believed. It's enough to feed six people and comes with a variety of toppings from Onion Ring, Smoked Meat, Four Cheese among many others. We are recommended the Philly Steak poutine.
Philly Steak Poutine $11.99
When it comes out I think I am pretty sure my eyes bulged out of my skull. It is mountainous with hand cut fries, plenty of warm, melting cheese curds, gravy and shaved Philly steak. The proof of course is in the eating and it is delicious in the way that chips and gravy can be. Plus who ever says no to extra cheese and extra steak?
Our lunchtime stop is at Fauna (yes all of this eaten before lunch!), located on Elgin street, about a 20 minute walk from the hotel. The main idea behind Fauna is small, seasonally driven plates all at very reasonable prices despite the glamorous surrounds. The lunch menu is a little different from the dinner menu but and has a couple of dishes to satisfy those wanting breakfast food too.
Kimchi Caesar $12
I start with a kimchi Caesar. A caesar is a variation of a Bloody Mary but made with Clamato juice, a clam tomato juice which sounds much more alarming than it is. Here they give it a twist with kim chi, birds eye chilli, soy sauce and black pepper. It works wonderfully and is a refreshing and delicious cocktail with just the right amount of kick to it. The kimchi doesn't ever feel out of place.
Apricot Salad $14
It's almost too pretty to tuck into. The apricot salad features poached, grilled fresh apricots, rosewater, sheeps feta, almond granola, shavings of Lancaster gouda (a local gouda cheese) and a ginger vinaigrette. The sweet ripeness of the soft ripe apricots is fantastic with the salty feta and crunchy, sweet almond granola. It's really a mix of a compote topped granola with some salty elements.
Carbonara $16
The carbonara is made with house made pappardelle, guinea fowl, serrano ham, parmesan, powdered chilli oil and egg yolk. It's a distinctly salty dish especially given the salty elements of parmesan and serrano ham. I would have loved a bit more egg yolk creaminess to it to bring everything together.
Bavette Steak $16
The bavette steak is served sliced and cooked medium rare on a bed of wilted greens. It comes with frites and is wonderfully moreish. Despite all that I have eaten I polish off half of this along with most of the frites. I'm not as taken with the smoked tomato aioli, it has a slightly metallic taste to it but the fries are good on their own.
Cherry Clafoutis $12
There was just enough room to share a dessert so we went for the cherry clafoutis with slices of cherry clafoutis, burnt honey creme fraiche on the bottom, a delicious vanilla gelato, Campari poached cherries and three brandy snap biscuits. This is summer on a plate and the perfect end to a meal (or make that five meals).
During my stay in Ottawa, home is the Fairmont Chateau Laurier, named after Canada's 7th prime minister Wilfrid Laurier and the country's first French Prime Minister. It's fitting as Ottawa is Canada's capital and the centre for all things parliamentary.
The hotel is steeped in history and it was built in 1912 by Grand Trunk Railway president Charles Melville Hays for a cost of CAD$2 million. The rooms at the time were $2 a night. Hays passed away on the infamous Titanic crossing and this delayed the opening of the hotel. The Tiffany stained glass and oak panelling are original.
Photographs from resident photographer Karsh decorate the drawing room. His famous portrait of Winston Churchill is magnificent-said to be the most produced photo in history it will soon be used on the 50pound note in the UK.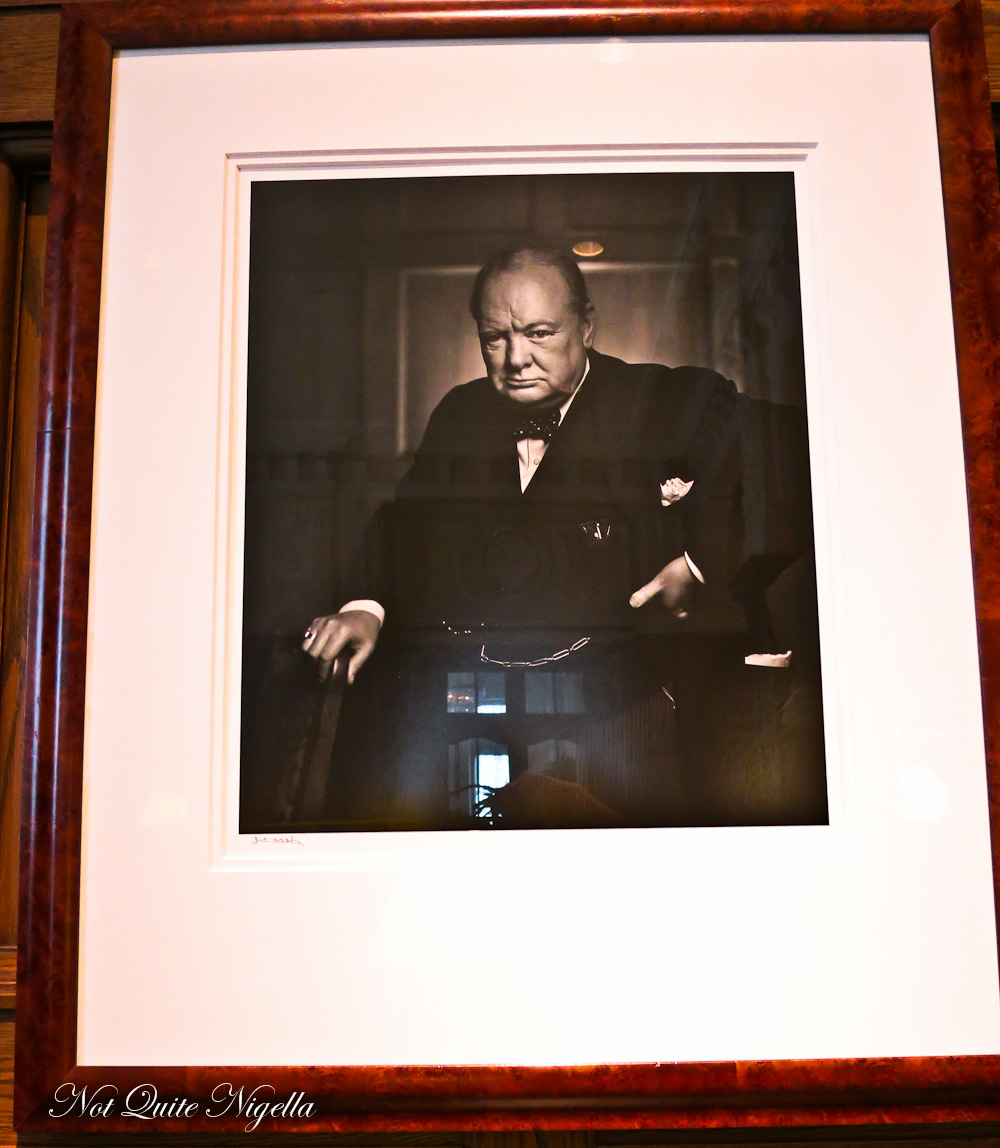 He managed to capture the British Prime Minister with a defiant scowl. The reason for the scowl was that seconds before the photograph was taken, he removed the cigar from Churchill's mouth. His black and white photographs are a wonderful tribute to the art of photography and the use of shade and light.
The Loire Valley chateau style hotel is large with 427 rooms and suites although at the time of my visit the beloved Gold Rooms were under renovation. These are one of my favourite features of Fairmont Hotels-like flying business class but for rooms.
My room is a king with a view of Parliament Hill. These rooms range from 24-52m2 and I think mine (#232) is somewhere between those measurements. It's not huge although I do like the large bed and Fairmont beds are generally comfortable and the view. Oh that view! Internet is free if you are a President's Club member which I am (it's free to join). The bed sheets could be smoother though. I've always found Fairmont beds to be comfortable (I even wanted to buy one) but the sheets here are an anomaly.
The room also has one of those motion activated mini bars which is full to the brim which means that there is no room to put anything like milk. And that evening while trying to sleep because it is so busy I was woken up constantly with doors slamming even loud through the earplugs. So much so that I had to ring downstairs to ask them to look for a quieter floor and I had to move three times during my three night stay. It is a very, very busy hotel.
The bathroom is small but has a bath shower combo and Le Labo products which are also a favourite of mine. The NY brand has delicious scents and great hair products. There's a knock at the door and a maintenance man comes in to drill for 15 minutes while I am itching to have a shower. Then there's another knock and someone comes in to take a bottle of water. Then there's a phone call. I slip the Do Not Disturb on the door and close the door tightly and try to relax ad digest the food. I feel like a snake that just swallowed a walrus.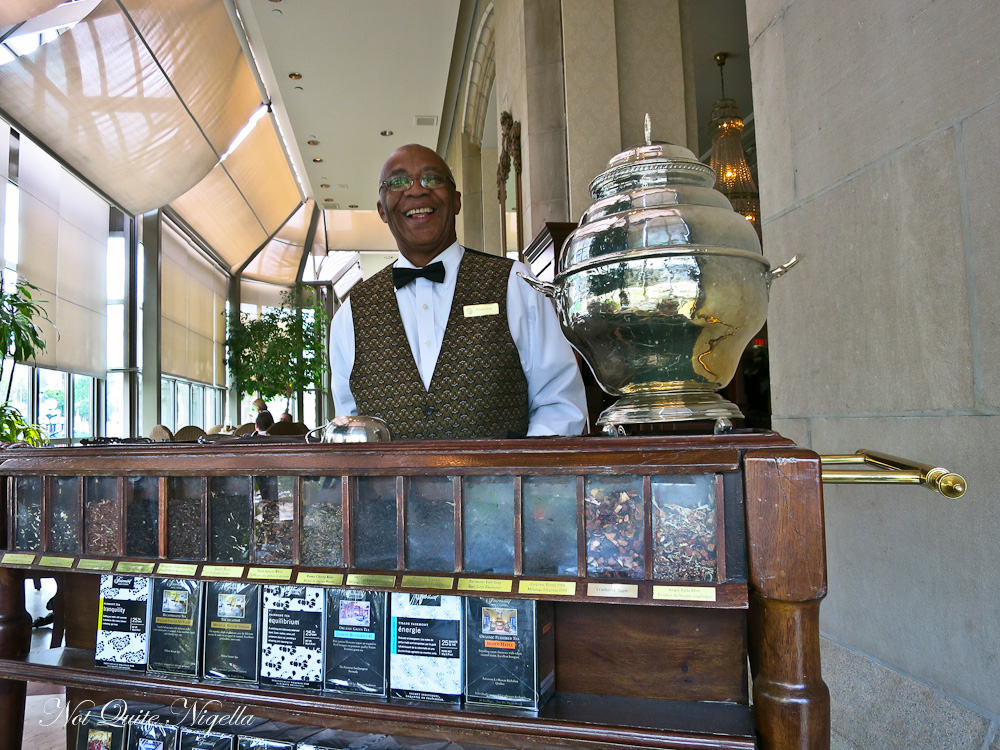 In the afternoon I go downstairs for afternoon tea at Cafe Zoe's. This is named after Wilfrid Laurier's wife Zoe. There are two seatings, 2pm and 4pm available. I take a seat and choose the Canadian afternoon tea-there is also a traditional afternoon tea available.
The first item to come out is a martini glass of strawberries with cream that are marinated in ice wine. They're a nice start to the afternoon tea. Then the tea master comes by with a trolley of tea which you can smell to select the perfect tea. He then makes the tea in the teapot based on your choice. I have had the Fairmont's Maple Maple before-it's noticeably sweet and strong in maple aroma. But I choose the ice wine tea which is also lightly sweet and aromatic.
The food arrives on three tiered stands. There are three crostini, a salmon, roast beef and a curried chicken crostini. They're nice enough although I do prefer pillowy soft sandwiches. The crostini is a bit dry in comparison. There is a cream cheese and cucumber sandwich too which is good.
I ask for the scones to be heated and they heat them up and serve them alongside thick clotted cream and strawberry jam. There is a plain scone as well as a blueberry scone and they're both very good.
There are three cakes on the sweet tier: a maple mousse cake which is light in texture and I would have loved a bit more maple flavour in this. There is also a butter tart and a a fruit custard tart. The shell on the butter tart is very soft.
Tonight's dinner is at Murray Street Kitchen in the Byward Market district about 10 minute's walk from the hotel. Byward Market is the busy centre of Ottawa and features many places to eat and shop. When Ottawa became the capital and George and York Streets were made deliberately wider to accommodate horses and carriages carrying goods.
I Heart Ewe $12
Murray Street Kitchen are charcuterie specialists and their menu reflects a trend for offal and non prime cuts. I'm drawn to the beef heart tartare-not a raw tartare but it is smoked beef heart that is diced up. This is then served with gherkins, lovage, local sheeps milk Allegretto, parsnip chips and a bone marrow vinaigrette. According to our fantastic server John, the chef Steve Mitton loves to use bone marrow in place of butter which is something I can really get behind. The Allegretto is their version of a pecorino-all produce is proudly Canadian here.
Tomato $12CAD
I try some of Kim's tomato salad. The menu wasn't really her style so she went for something a little less offal-y. The Spicolli's heirloom tomatoes are sweet and they are paired with Maggie's halloumi cheese, bacon, green onions, cured egg yolk and a creamy jalapeno pesto dressing.
OxTongue $19
My heart is stolen by the luscious ox tongue which is so unctuous. It sits atop a slice of buttery toast with chanterelle mushrooms, Spicolli's peas, Belle River crab and a sweet corn hollandaise. Make no mistake this is rich but it is utterly divine.
40 carrot cake
I tried a bit of the carrot cake in which 40 carrots go into. It's a dense cake and almost tastes as if syrup was poured on it to Kim but to me it has almost a dry texture to it. It has a thick cream cheese frosting on it and sits on a bed of thick caramel.
Lankaaster Gouda and Rebellion 1827 cheeses $9 each
The cheeses come with various pickles from house made pickled Dutch carrots and onions to commercial cornichons. The two cheese are good but out of the two I prefer the gouda.
So tell me Dear Reader, have you ever asked to switch rooms in a hotel? And do you enjoy eating heart and tongue? And have you ever eaten poutine and what do you think of it? What is your favourite late night food?
NQN visited Canada as a guest of the Canadian Tourism Commission and Ottawa Tourism.
Art Is In
250 City Centre Ave #112, Ottawa, ON K1R 1C7, Canada
Phone:+1 613-695-1226
http://www.artisinbakery.com/
Flapjack Shack
354a Preston St, Ottawa, Canada
+1 613-680-8860
http://www.flapjacks.ca/
The Piggy Market
400 Winston Ave, Ottawa, ON K2A 1Y5, Canada
Phone:+1 613-371-6124
http://www.thepiggymarket.com/
Elgin Street Diner
374 Eligin Street, Ottawa, ON K2P 1N1, Canada
Phone:+1 613-237-9700
http://www.elginstreetdiner.com/
Fairmont Chateau Laurier
1 Rideau St, Ottawa, ON K1N 8S7, Canada
Phone:+1 613-241-1414
http://www.fairmont.com/laurier-ottawa/
Fauna
425 Bank St, Ottawa, ON K2P 1Y7, Canada
Phone:+1 613-563-2862
http://www.faunaottawa.ca/
Murray Street
110 Murray St, Ottawa, ON K1N 5M6, Canada
Phone:+1 613-562-7244
http://murraystreet.ca/