My sense of comfort and happiness is related to food. Although walking is a popular summer activity in Canada's region of Victoria, I think that my combination of poor sense of direction and innate laziness means that for me to orient myself to a new city, food is the carrot that I need to motivate me to walk.
It is my second day in the Victoria during my winter visit there. After getting lost on my way to the Little Cheese Shop ("HOW?" says any Victorian readers, the city is laid out like a grid), I finally meet Alexis Ragan, originator of the popular "Off the Eaten Track" tours in Vancouver.
Alexis, an enthusiastic Victoria local decided to expand the tours to her native Victoria and each tour encompasses several tastes at hand picked locations. Our tour called the "Culinary Christmas on Fort Street" tour follows Fort Street otherwise known as Antiques Row. It is very well priced at $45 per person for the 1 and a half hour tour. I'm the only non local on the tour and the other three people are made up of locals that want to find good places to eat and shop.
Alexis explains that the Little Cheese Shop has a wide variety of cheese and they can also order in cheese for customers. They bring a few cheeses to us including an ash coated Bouq Emissaire from Quebec, a Keen's Cheddar from the U.K. that is sharp and bitey and a Nuits D'or from France.
They're served with crackers and we take our time exploring the shop and sampling cheese. Apart from cheeses, they also reportedly make a good grilled cheese sandwich in two varieties every day.
Our next stop is heaven for charcuterie and meat lovers. Choux Choux Charcuterie makes heavenly sausages both fresh and cured and we're in for a treat. This was one of my favourite stops on the tour and we sampled four different types of meats including a honey mustard and rosemary ham which had a gorgeous sweet spicy aromatic crust, a delectable pork and walnut sausage, a beef & fennel seed and a house pepperoni.
They're also known for a house black mustard made with mustard seeds, roasted garlic and black olives. Their ready meals like three day cassoulets and confits sell well from their fridge and when they have access to pigs, they will butcher one on site and make fresh sausages as well as sell chops and other cuts.
We walk a little down Fort Street, past boutiques and antique stores and arrive at Chorizo & Co where what else but chorizo and other Spanish goodies are sold. Come Saturday night the store turns into a tapas bar where paella is served to the first 25 patrons to order it.
We're here for a taste of their chorizo pan fried with honey which is a taste sensation. The garlicky chorizo with only a tiny amount of spice is made from pork loin and shoudler, lots of sweet and hot pimento, red wine and garlic and is the perfect pairing to the honey.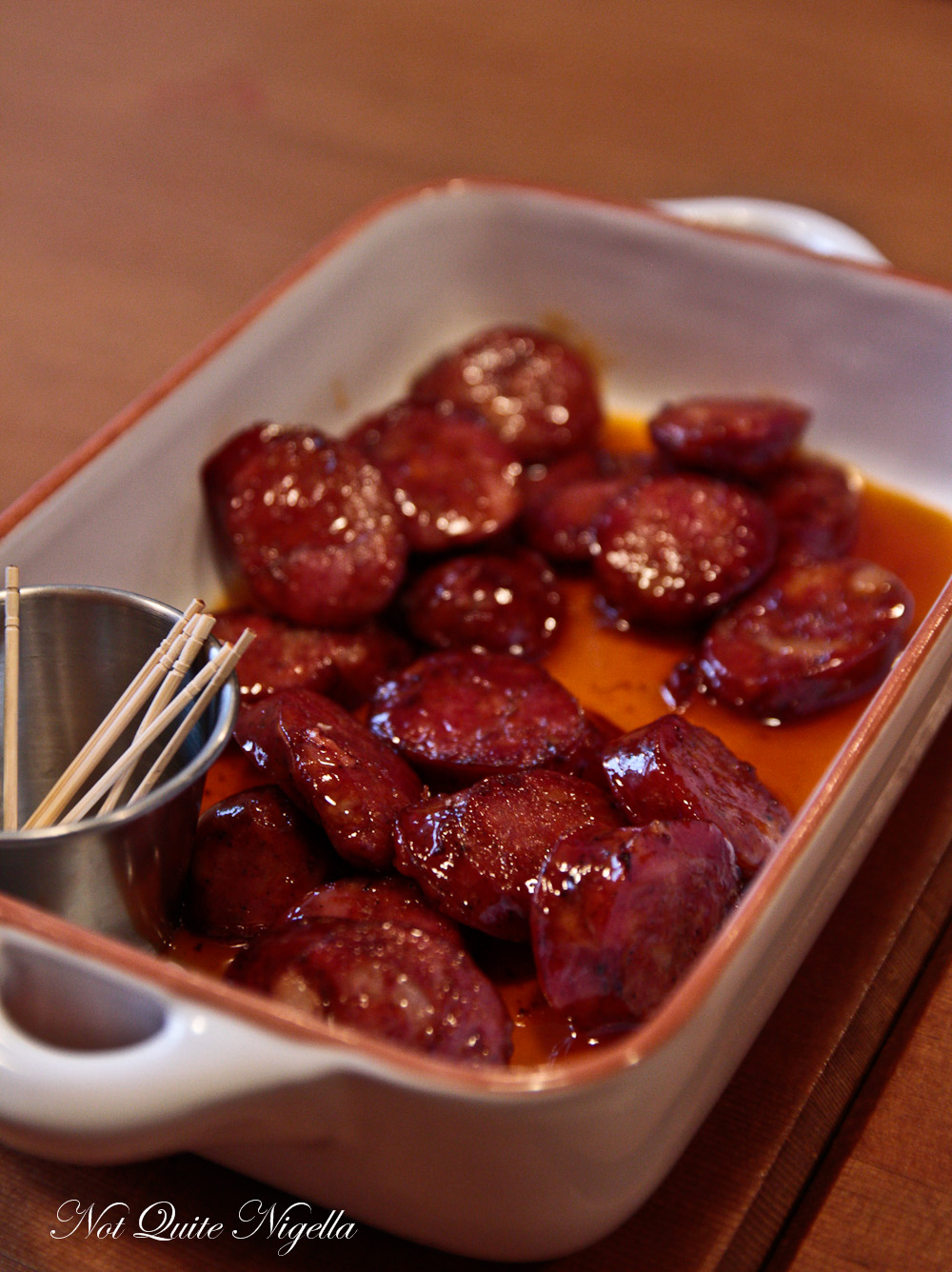 Next door is Hook, a fish store that sells plenty of seafood particularly salmon nuggets that are glazed with either maple syrup, garlic & black pepper or sweet pepper. The maple nugget pieces are delicious, the maple giving the salmon an extra flavour dimension while not over sweetening the fish.
The salmon pate is worth trying too and at $5 a block it is excellent value. Made of just salmon and cream cheese it is moreish. The vibrant red sockeye salmon is served on pieces of pumpernickel rye bread with dill and lemon.
Our very last stop on the tour is Crust Bakery where we're greeted by a window full of pastries, cakes and cronuts! Run by an Australian Canadian couple, the smell of Christmas is in the air.
To end the tour we have some dessert. They offer us an Eccles Cake stuffed with Christmas mince fruit filling, a fabulous chocolate and raspberry mousse tart and an aromatic pumpkin brulee tart which is heady in pumpkin pie spices. Full of tastes and food I bid Alexis goodbye and make my way to my next stop.
Fancy a cooking class and dinner while helping those in need? Soup Sisters and Broth Brothers is the clever idea started by Sherrie Hampton in Calgary in 2009. Her idea was to nourish and nurture women and children whose life has been affected by abuse and violence.
Soup Sisters and Broth Brothers hold soup making workshops where the soup made is distributed to women's shelters. These are held five times a month and volunteers sit down to a bowl of the soup afterwards while the rest are sent directly to the shelters that very evening. There are currently two Soup Sisters in Canada and Victoria's is held at The London Chef a caterer and cafe on Fort Street.
Each volunteer pays a fee to come along and this goes to help purchase the ingredients for the soup and to pay for staff and use of the premises. Our chef for the evening is Nikita who wanted to work with Soup Sisters as she has a direct connection to the shelters as her family received assistance from them. The volunteers this evening are made up of a large group of staff from the University of Victoria. Other work groups, book clubs and friends also join in to help.
The evening starts off with a glass of wine and a demonstration from Chef Nikita who shows us how to make a fantastic salmon tartare. To make fish sashimi grade, it needs to be frozen at -27°C or −18°F as this kills off all the bacteria in the fish.
Nikita adds onion, dill and other goodies before spooning them onto the prepared crostini which are sliced, drizzled with olive oil and baked in a 180C./350F oven and dried out. The crostini is delicious and we eagerly get into our soup making.
We all break up into four groups where each group will be making a soup each. Some of the soups are more complicated than others and ours is the chicken and mushroom soup with wild rice. All of the recipes are chosen by The London Chef (so called because the chef Dan is from London where he met his Canadian wife in a cooking class).
I busy myself chopping two heads of celery. The soup is made in enormous pots involving quantities like sixty cups of chicken stock. At the end of each counter there's a large tray and this is where we put trimmings of celery, onion and carrot to make the mirepoix for the stock base.
The other soups are a Hamburger soup, a parsnip vanilla soup and a potato and bacon soup with cheddar. While our soups simmer in the giant pots we fill in the labels with all of the ingredients, the date that they're made and the name of the soup.
We're the last group to finish and we join everyone at the table where Nikita and her staff have been busy preparing salads for us. There are four salads including a chickpea and tomato salad, two risoni salads and my favourite a roasted beetroot and red cabbage salad with blue cheese and a pear and cranberry chutney. I was so smitten by this that I made a version for Christmas this past year.
We also try the soup - for us, it is the potato, bacon and cheese soup that is warming and delicious. Perfect for a cold winter's night.
A nightcap is taken at the Hotel Fairmont Empress, the grand dame of the inner harbour with its ivy covered walls and resident critters. Apparently there is a marmoset but all we saw one night was a racoon!
Can you spot the racoon?
We walk through the hotel past the Christmas trees decorating the hallways to the Bengal Lounge which is so named after Queen Victoria's role as the Empress of India.
The lounge is beautifully bedecked and evokes the atmosphere of the British Raj era. Indeed there's the smell of curry from the curry buffet on here every evening which is a surprise.
Spice Nog $12CAD (right)
Service is very friendly and Holly and I nestle into two comfortable chairs and choose some cocktails from the menu. I'm tempted by the Spice Nog made with Canadian pumpkin spice whisky (not as strong a hit than Scottish whisky) and egg nog. It's sweet and served with a long cinnamon stick and a sprinkling of egg nog on top.
Planning your next trip? Ensure you have the right coverage with HeyMondo travel insurance that includes COVID-19 protection. Plus, if you use our link, you'll receive 5% off the price. Find the best deals on flights from all airlines in various currencies with SkyScanner and set up alerts to get notified when prices drop. For reliable transportation options, look no further than 12Go Asia, offering train, bus, ferry, and flight transfers worldwide. Book your transportation now and enjoy a stress-free journey.
When you purchase through these links I will get a small commission at no cost to you. Thank you for supporting me! :)
Bengal Madness $12CAD
The Bengal Madness is a chocolate and coconut layer cake served with a pineapple rum side. The chocolate coconut cake is pleasant enough although it is very much on the sweet side, a darker chocolate would have been nice but the pineapple rum is unusual but moreish.
The next morning I venture further into the local residential area. Pedaler tours takes groups of people in bicycle rides stopping at scenic areas and local favourite eateries. The idea of Rose Lee and Paul Rayman there are several types of food tours including "Beans and Bites", the one that I am scheduled to go on. They provide the cycle, lock, helmet and local knowledge.
We start off at their office on Douglas Street in a historic building. Today's tour will encompass three stops instead of the usual four due to time constraints. Passing through the Belmore Park we pass a pond that is frozen over and we watch three fat ducks waddling across the thin ice before plunging into the freezing cold water. We pass Dallas Road which curves around the water providing heart stopping views.
Horse chestnut trees line the area where houses in every style sit next to each other. There's modern, portrait face houses, Tudor and sixties style houses. We pull up at Bubby's Kitchen - Bubby being an affectionate name for a grandmother. We take a seat and I order one of my favourite teas that you can only really get in Canada-a London fog. It is an Earl Grey tea with a shot of vanilla syrup and warm foamy milk.
The start of the tour usually begins with something sustaining and today it is one of their cinnamon buns heated under the grill until soft and aromatic. The enormous cinnamon bun is filled with plump raisins and drizzled with a cream cheese icing on top. And yes it's dangerously easy to eat!
Suitably warmed up, we make our way to the second stop: Fernwood Coffee in the North Park area. Victoria has no shortage of coffee and Fernwood is one of the best known cafes. Barista Tristan competed at a national level for barista of the year and came in at sixth place.
He takes us into the roasting room which smells like toffee and caramel from a recently roasted sample blend. Americanos or Long Blacks are popular here as well as drip filter coffee. Cold brew coffee is a specialist item although there are fans of this type of coffee.
He explains that to test coffee for competition, they tip the black coffee once made and the creme should flow over the black coffee easily and shouldn't break up. You also shouldn't see the black coffee through any holes. The crema is also a bitter part of the coffee so swirling it through helps. I try a cappuccino and it's fantastic - smooth, creamy and naturally sweet without a hint of bitterness.
He takes some coffee beans and grinds them and before explaining "This coffee is not for everyone because it's....(he pauses for a few seconds) strange." He makes the mystery coffee on a scale that helps him control the ratio of coffee to water at a rate of 1:17. The Panama coffee is a natural coffee where they leave the fruit on the branches for longer. This can result in a fermented taste which many may mistake for soured milk.
Rose also tells me that the cafe at Fernwood is also one of the first that produced gluten free goodies. Indeed the owner Ben is a former high end dining chef and we're handed some warm cookies just from the oven. They're crispy gluten free cookies with a warm strawberry jam centre. So good that you just want to scoff the entire thing down with a coffee at once.
We drive back downtown and pass one of the community gardens in North Park and spy a power pole. Rose tells me that the decorated electricity poles are a North Park area signature. We head through Chinatown where a normal tour would stop at Silk Road tea for a tea tasting but as I'm scheduled to do afternoon tea shortly, we give this stop a miss.
Our last tour stop ends on a sweet note. At Bon Macaron David Boetti creates macarons in myriad shades and flavours. For the adventurous or curious, there is a range of savoury macarons including bacon & cream cheese, goats cheese & fig and white truffle & sea salt.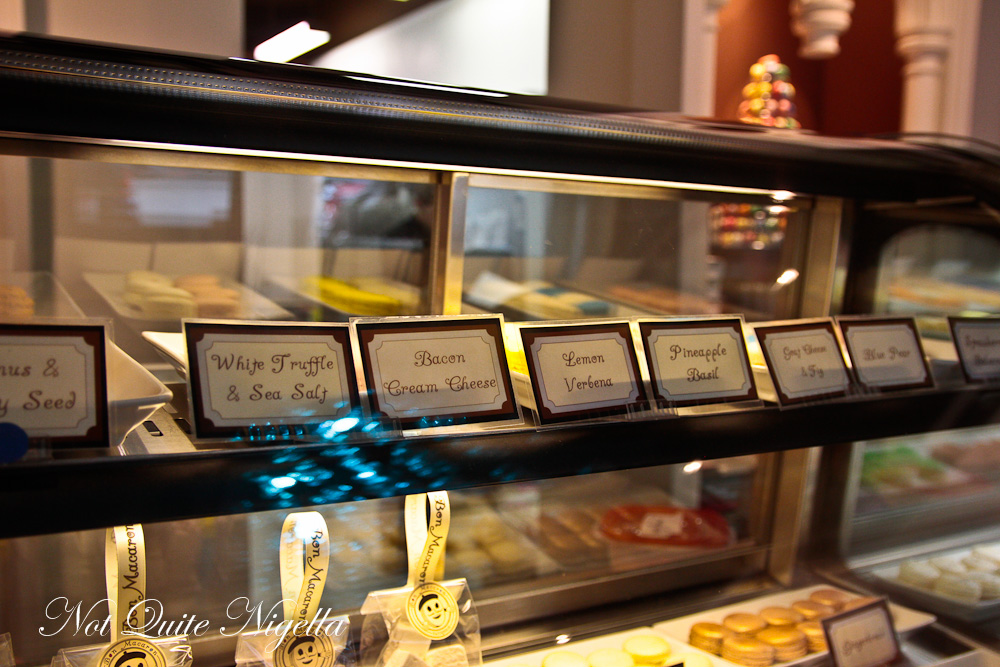 The sweet range is also tempting and includes some seasonal Christmas items. During the tour everyone can choose one savoury and one sweet macaron. I'm lured by the glistening gold sheen of the gingerbread which is so aromatic and strong with a balanced gingerbread spice.
For the savoury choice I pick the blue cheese and pear which is a heavenly balance where the blue cheese dominates at first and then the sweet, true pear flavour comes through. David doesn't use any perfumes, oils or essences. All of the ingredients are made from infused or ground primary ingredients. Once a month a new macaron flavour is created adding to the impressive array.
My final mouthfuls while in Victoria take the form of a West Coast afternoon tea at the Grand Pacific Hotel, an enormous, independently operated, waterfront hotel. Each hotel has a Christmas feature collection - at the Inn at Laurel Point it was a collection of gingerbread take houses and at the Fairmont Empress it was Christmas trees. At the Grand Pacific it is teddy bears.
We go into the main dining room and take a look at the selection for afternoon tea. It starts at 2pm-5pm every day with a good range of savouries as well as sweets. We start with an amuse bouche, a butternut squash soup that is creamy and heady with Indian spices. I'd love an entire bowl of this it's that good.
They take our order for tea and I choose a White Earl which is a white tea flavoured with bergamot. It's traditionally not served with milk as it is a white tea and like all white teas, the aroma and flavour is subtle.
I start on the savouries with a baby shrimp and mango sandwich square. It is small but full of plump prawns and tropical sweet mango. I follow this with a tiny cucumber pinwheel stuffed generously with mint and a crusty brioche round spread with cream cheese, chives and house smoked wild salmon.
After this it's a succulent spoonful of tuna tataki with a sweet, tangy dressing. My two favourite mouthfuls are the dungeness crab cake with Sriracha aioli and the free range egg salad on a mini croissant. Perhaps the only one I didn't go for was the bocconcini, tomato and basil skewer-it wasn't bad but it was quite subtle after all of the other flavoursome bits and pieces.
There are three types of scones - my favourite is a cheese scone which goes very well with the thick clotted cream and jam. There's also a fruit and a plain buttermilk scone.
Onto the top layer of sweets, the lemon meringue tart has a crispy tart shell and a sharp tangy lemon curd filling topped with a swirl of meringue. The carrot and walnut cake jalousie is soft, fresh and sweet-oh if only I hadn't eaten my fill of cinnamon bun, cookie and macaron already! I also nibble on the macarons. The pumpkin spice one is from Bon Macaron and it's light and airy. The house made one is larger and less discernible in flavour and has a crispy shell so it needs to rest longer. The orange cake is moist and strong in orange flavour.
I can't fit in anything else so they give me a box to store my Thomas Haas chocolate truffle and the pate de fruits. Some call it a doggy bag but I call it all part of reliving food memories!
And with that, I'm off to my next stop: Vancouver!
So tell me Dear Reader, what is your sense of happiness and comfort related to? And have you done a food tour in your own town or city?
NQN explored British Columbia as a guest of the Canadian Tourism Commission
Off the Eaten Track
3836 Carey Rd, Victoria, British Columbia V6J 2A1, Canada
+1 250-380-8121
www.offtheeatentracktours.ca
Soup Sisters
At The London Chef: 953 Fort St, Victoria, BC V8V 3K2, Canada
Phone:+1 250-590-1865
http://www.soupsisters.org/victoria.php
Pedaler Tours
719 Douglas St, Victoria, British Columbia V8W 2B4, Canada
+1 778-265-7433
http://www.thepedaler.ca/
Grand Pacific Hotel
463 Belleville St, Victoria, BC V8V 1X3, Canada
+1 250-386-0450
http://hotelgrandpacific.com/
Inn At Laurel Point
680 Montreal St, Victoria, BC V8V 1Z8, Canada
+1 250-386-8721
http://www.laurelpoint.com/