It was just the slightest hint that spring was almost here. While huddled in my wool coat and boots I didn't even notice it but as we walk towards Coogee Pavilion I see him even closer. It's a tanned young dad with tattoos pushing a pram. He also happens to be shirtless. "Is it spring?" I ask Belinda. A woman wearing a bikini top and short shorts passes by a few seconds later and I feel completely overdressed.
It is summer as far as Coogee Pavilion is concerned. The enormous 300 seater restaurant is decked out in a nautical theme and it reminds us of summer holidays past. There are buckets of flowers on sale at the front and even though it opened just over three weeks ago it is absolutely packed this Friday lunchtime. There are stations for Will & Co coffee and the Love Juice stand dispenses fresh coconut juices, mixed juices and raw treats.
We join the crowd that are waiting to be seated and fortunately we have a booking so we aren't waiting long. This is after we weren't able to get a table on the weekend and were told to book two or three weeks in advance for a weekend meal or walk in and try your luck.
There are hordes of families here. The reason being is the enormous games room out the back where people can play ping pong, petanque or play the giant magnetic scrabble or tic tac toe.
There is even an adorable little screening room with floral cushions although there isn't anything playing on the television in there at the time that we poked our head in.
We take a look at the menu and settle in for a long Friday lunch (which I haven't had in years). The menu comprehensive and our waitress explains that there are four kitchens: a sashimi, seafood, pizza and grill kitchen so things are made to share as they may come out at different times. Chefs Jordan Toft and Zac Skyes work the kitchen here and have taken the famous Lotus/Fish Shop burger with them.
Roots Juice $8 and Mangoes Into a Bar $16
We start with drinks-it's a cocktail for Belinda called "Mangoes into a Bar" which has Olmeca Altos Reposado Tequila, mango, ginger and Almondis and is strong in mango, tequila and ginger. For me I am needing nutrients so I choose the "Roots Juice" with beetroot, purple cabbage, carrot, sweet potato, ginger and turmeric. At first it is sweet and then the flavours of purple cabbage hits you and then it changes again on the palate.
Mini lobster roll, celery, lemon mayo, chives $18
The food arrives quickly - very quickly in fact. I can never go past a lobster roll. This is a mini version in a soft, sweet toasted bun filled with small chunks of lobster with celery, lemon mayonnaise, chives and crushed up potato chips on top. Although not the cheapest item for the size it is satisfying and there is just the right amount of lobster in these. And the crushed up potato chips? Great idea and straight from schoolyard memories!
Mini soft shell crab roll, avocado, pickled cucumber, coriander, spicy mayo $17
We could have actually gone for all of the items "in a roll" but we decide on the soft shell crab roll. Sometimes I find soft shell crab can be really greasy but here it is crisp and crunchy without extra grease. It is served in the same sweet, soft brioche type roll with red onion, avocado, pickled cucumber, coriander and a delectable spicy mayonnaise.
Chef's choice of daily sashimi $32
There is a small and a large serve of sashimi and this is the small. There are fresh slices of buttery textured salmon, tuna, kingfish and snapper and is accompanied by organic soy, house pickled ginger and wasabi.
Grilled split prawns, sparkling butter, espelette pepper, tarragon $24
The mains arrive within half an hour of us sitting down so that long lunch will turn into a not as long lunch. The grilled split prawns are tender and flavoursome and are easily removed from the shell. They're finished with a sparkling wine butter, a sprinkling of espelette pepper and finely chopped tarragon.
Roasted rock flathead tail, burnt green garlic salsa, winter purslane (for 2+) $55
The roasted rock flathead tail is an arresting sight and we prise the tender, juicy flesh away from the bone. The flavours are all savoury from the burnt green garlic salsa to the tendrils of winter purslane and it's a wonderfully herby and well seasoned dish.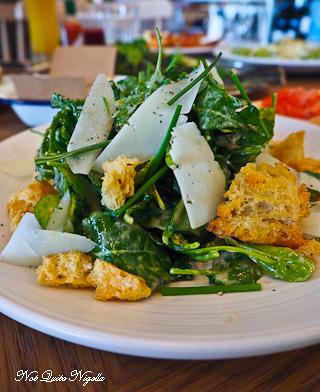 Baby kale, creamy lemon-garlic dressing, shaved manchego, chewy croutons $18
Belinda is on a kale bent and this salad features baby kale, a much finer and softer kale that is ideal for salads. The leaves are dressed in a moreish creamy lemon garlic dressing with a little anchovy in it to boost the flavour. There are also thin shavings of Manchego cheese and crunchy croutons.
Raw Brussels sprouts, avocado, grated egg, shallot chive black pepper dressing $18
Did we over order? Yes we did but we were really curious about this salad. It has chunks of ripe avocado topped with finely shredded raw Brussels sprouts and finely grated boiled egg with a shallot and black pepper dressing. I immediately want to recreate this at home it's such a great idea.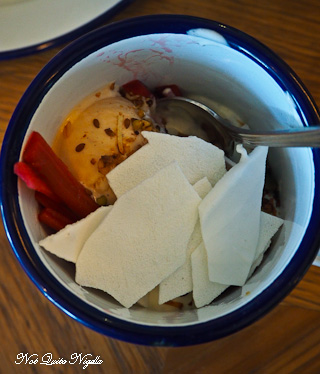 Rhubarb sundae, vanilla sponge, rhubarb swirl ice cream, granola and meringue $12
We need a bit of a pause before dessert. We make one selection each and as I am a big fan of slightly tart and creamy desserts the rhubarb is my pick. The presentation is fine but an enamel tin cup is a bit different to what I was envisaging a sundae to look like. But flavour-wise it hits the spot with a rhubarb swirl ice cream, vanilla sponge, rhubarb sticks and a nutty seedy granole and thin sheets of meringue splinters.
Salted caramel custard pot, mascarpone cream, polenta cookie $12
But if I liked the rhubarb dessert, I find it hard to pull my spoon away from the salted caramel pot topped with feather light mascarpone cream. It's that balance of salty and sweet matched with a voluptuous custard that has me going back for spoonful after spoonful.
Belinda is uncomfortable in her seat so we ask for our bill. On our way out we check out the games room which has now swelled with people as the day has progressed. There are plenty of spaces to hide out or work or play and they tell us that come December there will be an additional space open on the balcony. Yes, everything's looking towards summer here.
So tell me Dear Reader, do you look for family friendly places? And what is your favourite game to play to pass the time? I have recently gotten into "Cards Against Humanity" - so bad but so good!
This meal was independently paid for.
Coogee Pavilion
169 Dolphin Street, Coogee NSW 2034
Tel: +61 (02) 9240 3000
merivale.com.au/coogeepavilion/
Open 7 days 11am until late