The story of Ladurée and Parisian tea rooms or salons du thé dates back to the second empire of France. Parisian cafes existed but it was when Ernest Louis Ladurée's wife Jeanne Souchard thought of combining Ladurée's cake shop with a Parisian cafe that a salon du thé was born. The original opluent tearoom was designed by Jules Cheret, an acclaimed poster designer who based his designs on the pictorial techniques on the Sistine Chapel and Opera Garnier.
There are now 74 Laduree tea outlets around the world in 25 different countries and Australia's first is located at Westfields Sydney. Having visited the Laduree on the Champs Elysee twice where buying a pastry from the counter feels almost counter elegant to the salon du thé (there is jostling, craning of necks and raised voices to be heard) I was curious to see what was on offer at the Sydney branch.
When it first arrived the queues were long to snap up a box of macarons. At that stage there were only macarons. I was waiting for my favourite pastry Laduree's kouign amann or a religieuse to arrive and two years later, the pastries still prove elusive and I am told it could be a couple more years wait.
All macarons are made off site from the salons because of the volume that they sell. All macarons sold in France are made in France and all sold in Japan are likewise made in Japan but as for the rest of the world all of these macarons are made in Switzerland and air freighted over to ensure consistency of product. This caused some to sternly tut about the food miles when they first launched.
The Sydney branch has a small salon du thé in the main area on the third floor. French speaking staff attend to guests in this small area and there is a small selection of four cakes, financiers, madeleines and macarons - there are ten permanent flavours and five seasonal macarons and they are priced at $4.20 each. When I walk in at 2.30pm there are only three tables taken but by the time I leave at 3:30pm it is full of people sipping tea and nibbling on macarons.
Ladurée's Salon du thé also serves afternoon tea for two. This is a departure from English afternoon teas with scones, sandwiches and sweets. Instead it is an entirely sweet affair. There are four fingers of quartered cake to share, four macarons of your choice and three small cakes (financier and madeleines).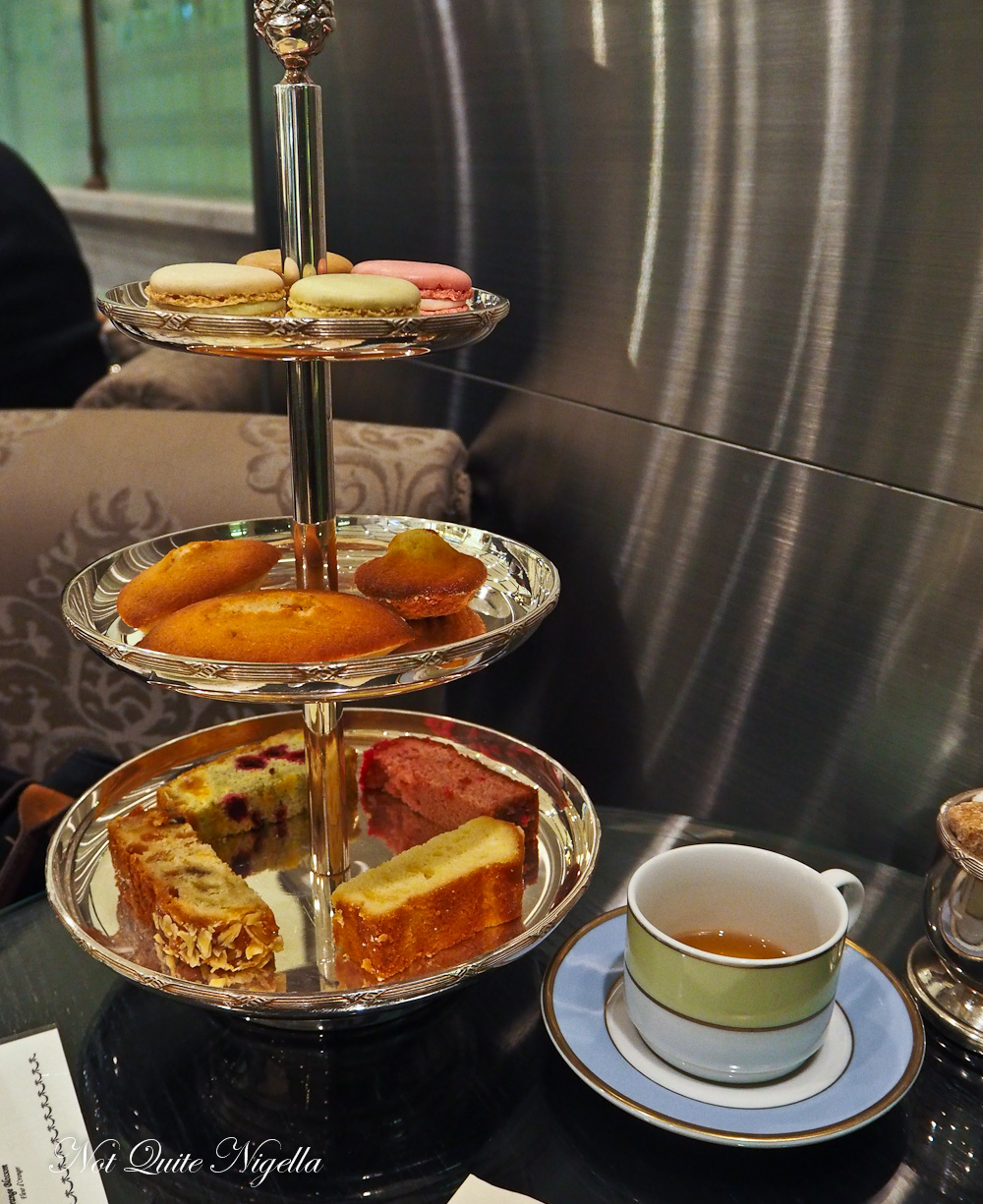 I must admit that I don't really like afternoon teas where you have to share things. Not that I have anything against sharing but one each is better and this is an afternoon tea that is on the expensive side at $39 per person minimum two people. Also purchased separately, the items are less expensive by about $20.
I start with a sip of tea - there are nineteen varieties of tea and I go with the signature blend a "Melange Ladurée" an intoxicating mix of Chinese black tea, citrus fruit, flowers, light spices and vanilla. The floral and fruity aspect of this tea is stronger over the spices.
I then start on the cakes. The sponge cake with lemon zest, soaked in fresh lemon syrup with candied lemon is sweet but a tad dry. The sponge cake with crystalized rose petals, soaked in rose syrup is my pick of the four. The rose is a stunning, uncomplicated flavour with tiny crushed sugar rose petals sprinkled on top. The apricot, pistachio and morello cherry sponge cake is full of plump fruit with the morello cherries dominating while the sponge cake with candied fruit packs a sweet punch with baubles of glistening candied fruit inside.
I try the madeleines and financiers on the next tier and there is an almond financier and a madeleine - normally there is also a pistachio financier but they have run out so they double up. It's unfortunate because all of them are quite similar tasting as they're all almond based and they're also similar textured to the cake slices as well. A bit of variety would have been good.
I try the top layer of macarons. I have chosen salted caramel which is as expected delicious with a perfect balance of salt and caramel. This along with the rose petal are the two most popular flavours. The orange blossom hits me as soon as I nibble on it, it is strong and heady while the lime and basil isn't quite as harmonious or distinct as I had hoped.
Ice cream three scoops $10.50
I have just a bit more room to try the ice creams. My memory of ice creams in Paris is a blissful one as they really represent flavours so well. I choose the pear, chestnut and the salted caramel. I take the long handled spoon and dip it in. The pear sorbet tastes of pure, unadultered pear while the salted caramel hits you with its strong salty sweet kick. But my heart is stolen by the chestnut with nothing but the tempered sweetness of chestnut and unique flavour of that winter nut with small chunks of roasted chestnut interspersed throughout.
As it is Ladurée's second birthday here in Australia, for the month of September there is a special offer of two peach flavoured macarons with a peach Champagne Bellini cocktail for $30.
A trip to Laduree isn't complete without a purchase or two. There is a range of candles, shopping bags, nougats, teas, honey, jams, perfumes and keyrings and I buy some small boxed chocolates for friends in Melbourne while a look at the colourful macaron cabinet yields a latent sugar craving and I pick a pistachio and lemon verbena macaron for myself. Or "pour moi" as the French would say.
So tell me Dear Reader, are you still a fan of macarons? What is your favourite flavour? And do you need savouries in your afternoon tea or is an all sweet affair your sort of thing?
This meal was independently paid for
Laduree
Level 3, Westfield Shopping Centre
Cnr Pitt St Mall and Market St Sydney NSW 2000
Tel: +61 (02) 9231 0491