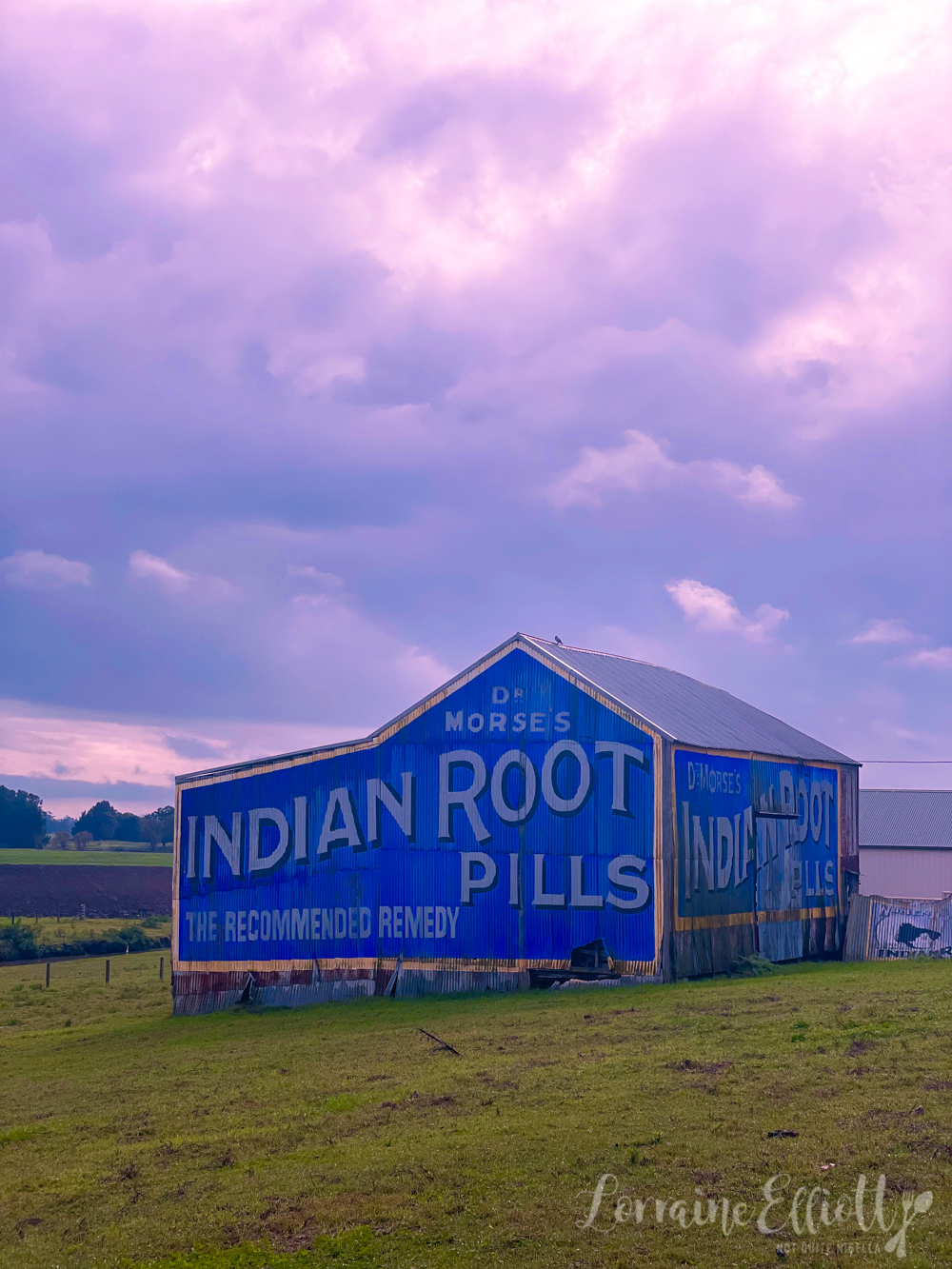 It's off to Maitland and Morpeth in the Hunter Valley for a weekend away! Our last visit to the area was pre-COVID and in that time there has been a hive of activity and new places opening up. We start by visiting the Taste festival and trying all of the new restaurants in the area while staying at one of the newest accommodation in the area.
I couldn't wait to return to Morpeth, one of my favourite country towns with its beautifully preserved main street and village atmosphere. On Friday afternoon I arrive to Morpeth at our accommodation for the weekend. The River Haus is a relatively new accommodation and this beautifully renovated free standing cottage is the perfect base for our trip. Full disclosure Dear Reader, the owner is a friend of mine Sheriden Rhodes who owns it with her property developer husband Tom Szecsodi - he took care of the renovation while she handed the interiors.
The theme of this charming white picket fenced house is nautical - historically Morpeth was Australia's second oldest river port. The house it is beautifully and tastefully decorated with the river port theme - there are prints of ropes adorning a wall, ropes hanging from vintage ladders, a steamship trunk table and other details.
The house was a former miner's cottage and when the couple bought the house in 2020 it needed a great deal of repair and restoration. Nowadays the cottage has dark stained Blackbutt wood floors and white walls and the open plan lounge room and kitchen has stained glass windows sourced from Sydney to give the house character. There's a comfortable leather lounge and a steamship trunk coffee table and fresh, fragrant roses from Lorn Rose Farm. While the Nectre wood fire can keep you toasty warm, so will the ducted heating (and cooling in summer). I start a fire in the fireplace and check out the rest of the house.
Each of the identically sized two bedrooms has a queen bed with quality linen bedding and an AH Beard mattress for a good night's sleep. There's also a study or kid's room with plenty of games and a large desk to work on with another of Sheriden's vintage finds, a typewriter called the "Travel-Riter" that she nabbed at a vintage sale. "They wanted a couple of hundred dollars but when they heard I was a travel writer they said it was fate and sold it to me for $40," says Sheriden.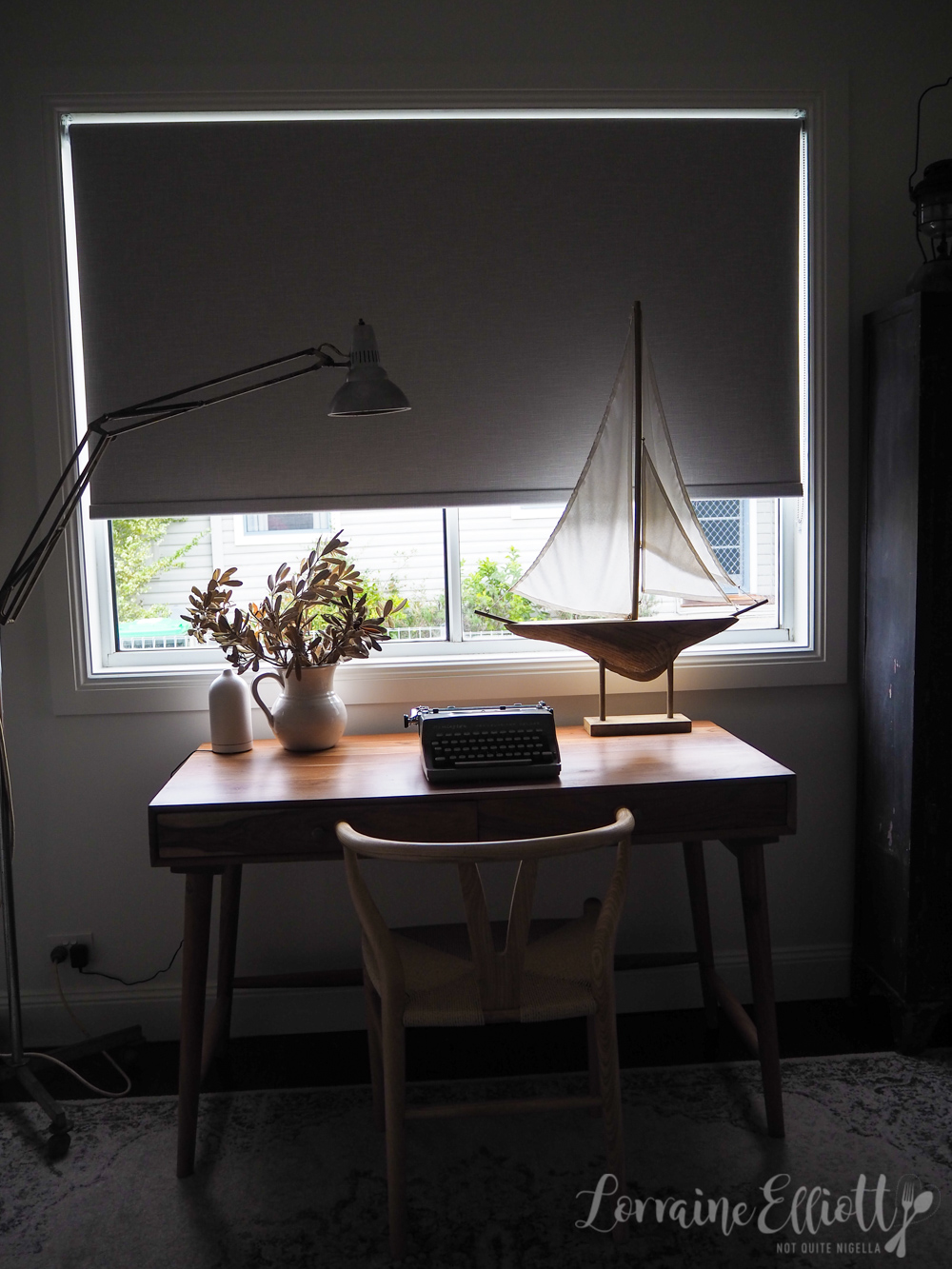 Sheriden makes sure to stock your preference of milk and sparkling or still water and there is a bottle of Boydell's wine for every stay. The kitchen has everything that you will need to cook up a meal although we don't really test this out as we are mostly eating out during our stay. For longer stays there is a washer and dryer in a second bathroom. There's also a large deck outside as well as a garden and free and fast internet. This cottage is designed for couples (although it isn't dog friendly alas) and is priced from $400 per night plus fees.
There's also a covetable bathroom with a herringbone tiled floors and Grown Alchemist amenities with a free standing tub and shower. Everything is done immaculately with an eye for detail. I light the rose candle and add some fragrant bath salts and make myself a bath getting ready for dinner.
My dinner this evening is at Boydell's located around the corner - literally it's about a 1 minute walk from the River Haus. The brand's history is depicted visually on the walls of the cellar door detailing Charles Boydell's journey in 1808 from Wales to Sydney and then onto Gresford where he was granted 640 acres on the Allyn River which he called the Camyr Allyn. He farmed tobacco and corn on the fertile soil of the property before establishing a vineyard in 1833 and pursuing other business and professional interests before being elected the president of the Hunter River Vineyard Association after submitting a highly approved Verdehlo. He passed away in 1869 at age 61 well regarded by all, including the indigenous community who bestowed him the name "Turribly" after a respected elder. In November 2015 Daniel and Jane Maroulis purchased Camyr Allyn and started Boydell's Wines using the grapes that Charles planted so many years ago. Their winemaker Liz Silkman recently won Winemaker of the Year in the Hunter Valley Legends awards.
The restaurant has a fireplace and warm service. Previously Boydell's had a set menu but it has reverted to an a la carte menu with starters, entrees, mains and desserts.
Sashimi tuna, miso, grape, finger lime, betel leaf $28
My pick for a starter is the sashimi tuna, a light and fresh raw tuna dish made with diced raw tuna, miso, sliced black grapes and finger lime in a betel leaf. It's fresh while the miso gives it a broad spectrum of flavours.
Potted kippers, avruga caviar, sauce grinches, potato scones $18
The entree of potted kippers comes as three potato scones, small round pancakes topped with potted kippers, sauce gribiche made with capers and boiled eggs and some avruga caviar on top.
Oxtail, shittake dumpling, water chestnuts, hot & sour broth, asian herbs $45
My favourite course along with the tuna is the oxtail with a plump shiitake dumpling, water chestnuts and a delicious hot and sour broth and a tumble of Asian herbs. The oxtail just melts in the mouth. It is quite a large serving too.
Liquorice parfait, chocolate mousse, citrus, candied peel $19
There are three desserts on the menu and over the last few years I've really come to like liquorice desserts. This is a frozen liquorice parfait topped with chocolate mousse and an array of fresh grapefruit segments. It's rich and aromatic and the liquorice really melds well with the chocolate and citrus.
The next morning we head to nearby Lorn for breakfast at Muse Kitchen Lorn by chef Josh Gregory. Muse serves up breakfast and lunch from Friday to Sunday in a French bistro style setting. Service is absolutely lovely and nothing is too much trouble. Mr NQN and I share a few things and start off with coffee and tea. The chai latte is excellent and I bookmark a stop here tomorrow for the next day's chai latte.
Fraser Isle spanner crab omelette, XO, bisque, toast $26
Holy heavens this spanner crab omelette is everything you want and more. For starters it's filled with so much crab and the XO just gives it a bit of a punch of flavour while the buttery bisque it sits in is perfect for dipping the toast (of your choice).
Spiced avocado smash, wood smoked mozzarella, rye toast, caviar $24
And who knew that I'd have to travel out of Sydney to have a delicious and fancy smashed avocado? The avocado comes on two slices of rye toast and is well seasoned with a lemony flavour to it and it is paired with big clouds of wood smoked mozzarella and two types of caviar. Heaven.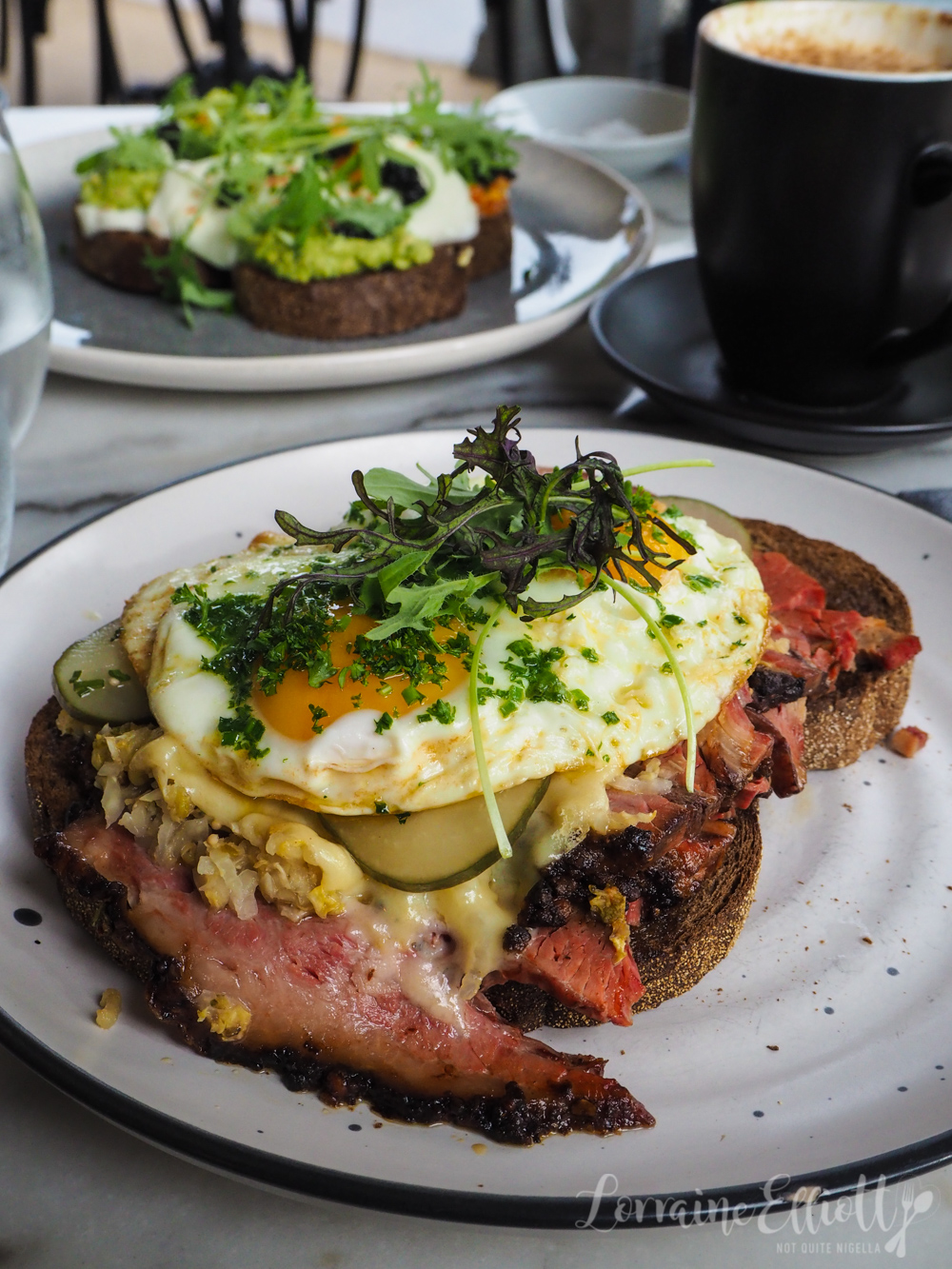 Our hot pastrami, house pickles, swiss cheese, fried eggs, rye $28
While the hot pastrami is for someone that wants more of a brunch or lunch offering. The hot pastrami is sliced and served on rye with melted Swiss cheese, house pickles and a fried egg on top. It's substantial and very tasty with a generous serving of hot pastrami on lightly toasted rye.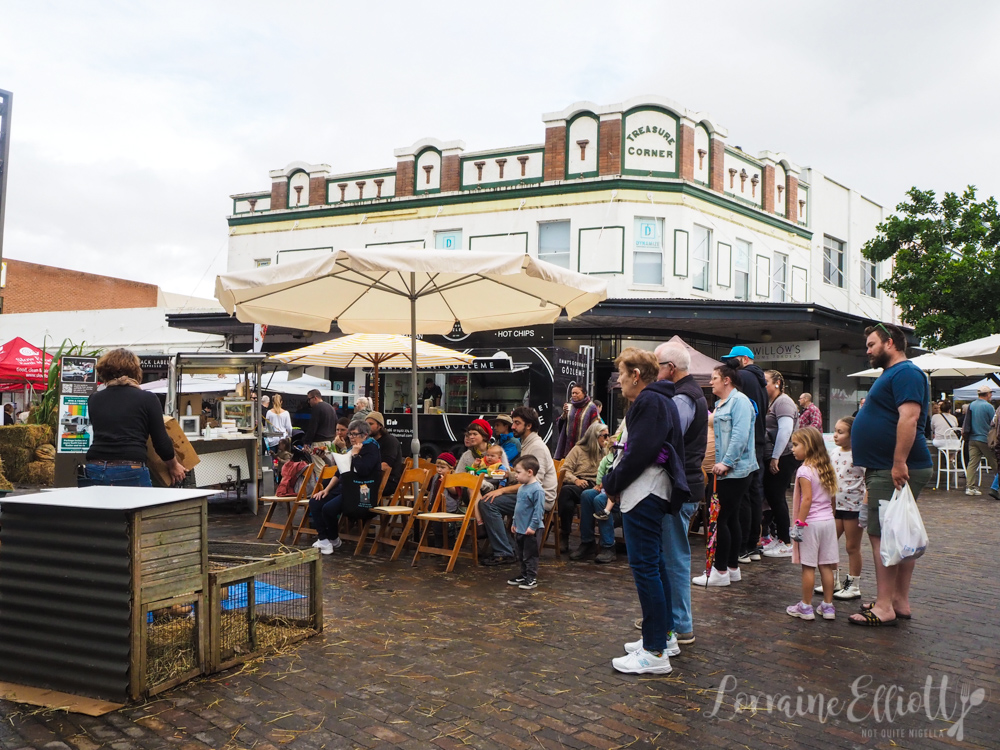 Our visit coincides with the Maitland Taste Festival on the weekend of the 21st and 22nd of May. This festival has outdoor market stalls, cooking demonstrations and events. They block off the main street of Central Maitland for the outdoor market.
Our first stop is the Tranquil Vale Vineyard stand. The winery and cellar door is located in Luskintyre and uses mostly estate-grown grapes in their wines. Connie Kaur Griffiths explains that along with wine they also have accommodation on the premises and do sourdough making classes. We try the Chardonnay has been aged in French oak while I really enjoy the Shiraz, even the 2021 is smooth and easy to drink as befits a medium body shiraz and we buy a bottle of this.
Tranquil Vale also make an interesting dessert wine inspired by Canadian ice wine. While the temperatures don't get cold enough for the grapes to freeze on the vine and concentrate the sugars, they undertake a process where they freeze the grape juice. Freezing splits the juice into two layers - the top is water which is discarded while grape syrup remains at the bottom. They repeat this 5 times and what you get is a concentration of flavours really like traditional ice wine. It's less syrupy than other dessert wines but it still has that ice wine flavour.
We also stop at the Dusty Miner stall. Stuart Duff spend 32 years underground in mines as fitter but 7 years ago he decided to give beer brewing a go. For the last 2 years he has become a full time brewer. Some of the beers are named after his former vocation: the Poppet are named after poppet heads (the framework above a mining shaft) and there is also a stook IPA. He can't keep up stock of his malty ginger beer which is refreshing with 4.8% alcohol.
We check out the other stalls and the nearby Coop which is located near the River and is an event that is part of the festival calendar devoted to fried chicken before heading back to Maitland town centre to The Riverlink Building at The Levee. Coquun (pronounced Coo-karn) is the Wonnarua word for Fresh Water and was also the first name for the Hunter River. The restaurant is set along the banks of the Hunter River. There's an upstairs area that looks down upon the river after which it is named but on a sunny day the best spot is actually ground floor in the expansive outdoor area.
Daniel O'Leary made the move from Sydney where he owned The Deck Bar in Redfern to Maitland four years ago opening up Coquun in late 2018. Coquun is his first food venture and it seamlessly blends indigenous ingredients into a modern Australian menu. Daniel is from the Gringai or Guringay clan of the Wonnarua people and is proud of his heritage bringing indigenous flavours to dishes that diners might recognise.
Bush Tomato Bloody Mary $18, Lemon Aspen Gin Sour $22
But first there are drinks and the drinks menu is a beauty. Nothing excites me more than creative cocktails and house made soft drinks. Mr NQN loves the bush tomato Bloody Mary while I adore the Lemon Aspen gin sour that has the flavour of a lemon lolly but a slightly tangy edge to it. There's also a wine list made up of Hunter Valley wines.
We start with some local Binnorie Dairy triple cream brie with a quandong and Davidson plum relish and this is paired with warm olives and Lady Blackbird wattleseed and turmeric bread. The story behind this bread is that Carolyn Scott the woman behind Lady Blackbird used to bake bread for Maitland gaol but is about to open her own bakery.
Roasted Field Mushrooms $26
We both really enjoy the stuffed field mushrooms that are marinated in Davidson plum balsamic vinegar which really permeates through the mushrooms. On top is Kurzea pumpkin puree, crumbled feta and bush tomato powder on top. On the side is a delicious bunya nut pesto made using local bunya nuts from the property of one of the staff members Mara. They were gifted 85 kilos of these nuts.
Sirloin $42
Planning your next trip? Ensure you have the right coverage with HeyMondo travel insurance that includes COVID-19 protection. Plus, if you use our link, you'll receive 5% off the price. Find the best deals on flights from all airlines in various currencies with SkyScanner and set up alerts to get notified when prices drop. For reliable transportation options, look no further than 12Go Asia, offering train, bus, ferry, and flight transfers worldwide. Book your transportation now and enjoy a stress-free journey.
When you purchase through these links I will get a small commission at no cost to you. Thank you for supporting me! :)
We both really enjoy the sirloin steak served sliced with shoe string French fries. On top is a native spiced compound butter that seasons the steak perfectly and on the side there's also a pepperberry salsa as well as rocket salad on the side.
Sparkling native Davidson plum soda River mint soda $6 each
With our dessert we try two sodas, the sparkling native Davidson plum soda and the native river mint soda using mint that they have foraged just from the river outside. There are plans to make relishes and cordials using indigenous ingredients in the future.
Coconut and quandong panna cotta $16
The dessert is a coconut and quandong panna cotta with a ruby pink hue and creamy coconut flavoured panna cotta. It sits atop a dark chocolate disc with candied quandongs and on top are praline crumbs.
After lunch Mr NQN go for a drive and then relax and enjoy the accommodation for a few hours. A nap is on his agenda while I work and around 5pm he makes a fire and we relax and enjoy some wine in front of the fire before heading out for dinner this evening to Duke's in East Maitland.
Like many of the new restaurants in Maitland and Morpeth, Lindsay Ross and Timothy Duke started Duke's during the pandemic. He had always wanted to have his own restaurant and although Lindsay seems a natural in the front of house role, this is her first venture in hospitality. It's perhaps her work as a trauma therapist that really helps put customers at ease.
Duke's is housed in beautiful, historical Roseneath House which was built in 1837 by former convict Samuel Clift and served as the Queen Victoria Inn for many years. The restaurant is on the bottom floor (accommodation in the upstairs former servant's quarters is a separate business). There are spacious to cosy rooms - the cosiest room is perhaps the library room lined with books with a sort of private club atmosphere.
At dinner there is a choice of two courses or three courses plus snacks and sides to add if you are feeling hungry. Service is very friendly and lovely and we are seated by the fireplace.
House made tortellini with lamb shoulder, labna and rocket
We start with tortellini filled with soft lamb shoulder on a bed of labna with rocket. It's absolutely delicious, there are three pockets of tortellini filled with unctuous soft lamb while the tangy labna helps to balance this.
Seared scallops with watercress puree, apple, radish and pork floss
We also enjoyed the seared scallops with watercress purée, apple, radish and pork floss.
Braised duck leg with potato dumplings, baby corn, snow peas and citrus sauce
It's hard to choose a favourite main because both mains are superb but for me it's the duck. The braised duck leg is served with potato dumplings, baby corn, snow peas and citrus sauce and is so moreish that not a scrap goes back to the kitchen. The duck leg comes off the bone easily and has Asian aromates like star anise. The potato dumplings are like little gnocchi that are panfried until crispy edged. As for the delectable sauce well, the only thing missing is some soft spongey bread to soak up that delicious sauce.
Beef short rib with celeriac puree, witlof and jus
Mr NQN is totally besotted by his beef short ribs, a cut he does not usually order. It's so soft and unctuous and paired with a smooth celeriac puree, charred witlof and plenty of jus.
Dulce de leche with banana, cream and biscuit crumb
And to finish off, dessert is dulce de leche layered with pieces of fresh banana, cream and crunchy biscuit crumbs.
The next morning our stay is coming to an end but not before one last meal and it's afternoon tea at High Tea On The Hunter just a short walk away on Morpeth's main street. "We are teaholics here," says Kez or Kerryl Hiscox. She encourages everybody to try as many teas they would like during their afternoon tea. Everything in here is pre-loved from the furnishings to the crockery and glassware.
Grace
The inspiration behind Kez's teahouse is her grandmother Grace and a photo of the then 19-year-old Grace adorns a wall. Grace used to make Kez afternoon tea (which was really just Milo and milk) but it was the occasion that she fell in love with. High Tea on the Hunter is open from Thursday to Sunday and takes walk ins if they are not fully booked but it is advisable to book. Kez's other job is at an ICU nurse at Newcastle hospital which is a job she still keeps a couple of nights a week.
We order tea first. Mr NQN has the French Earl Grey while I have the Gorgeous Geisha, a green tea with strawberries and cream. Then they bring out the afternoon tea stand.
We start with the savoury layer with sandwiches and some hot bites. There are home-made sausage rolls topped with tomato sauce, little flatbreads with sun dried tomato and squares of zucchini slice. It's nice to have a warm selection but I love the sandwiches which are soft and fresh. There are two types of finger sandwiches: egg salad as well as a cucumber and cream cheese sandwich. Both are excellent with very fresh bread and tasty fillings.
The scones here are very light and fluffy and paired with clotted cream and a locally made strawberry jam.
A couple of the desserts are made by a pastry chef and that includes the pistachio and white chocolate éclair and the passionfruit and meringue tart. The mini pavlovas are served with fresh fruit and cream. Having skipped breakfast this is the perfect amount of food for us although it appears that most of the people dining here today exit with a tray of their sweets to eat at home.
Lastly there are tiny cups of sorbet to finish. Today's flavour is mango topped with a fresh blueberry. And it's over afternoon tea that Mr NQN and I are busy planning our return to the Hunter region and hopefully with a much shorter time in between.
So tell me Dear Reader, have you managed to visit your favourite towns or cities since COVID? Do you have a favourite country town?
NQN and Mr NQN were guests of Maitland City Council but all opinions remain her own.
River Haus
https://www.riverhaus.com.au/
Boydells Cellar Door & Restaurant
2 Green Street, Morpeth
https://boydells.com.au/
Muse Kitchen Lorn
1/27 Belmore Rd, Lorn NSW 2320
https://www.musekitchen.com.au/lorn/
Coquun
396 High St, Maitland NSW 2320
https://www.coquun.com.au/
Duke's
9 Day St, East Maitland NSW 2323
https://www.dukesrestaurantandbar.com.au/
High Tea on the Hunter
119 Swan St, Morpeth NSW 2321
https://www.highteaonthehunter.com/