The dreams start for me around one month before Hallowe'en. That's when I know that I am ready. This year it started with a fantastic dream, discovering a beautiful mansion that had fallen into a state of somewhat disrepair. The mansion's mistress was a tall, thin, kind woman who reminded me of my friend Queen Viv. In my dream she allowed me to hold my annual Halloween party in her mansion.
I don't know who she was but she planted a seed in my mind, a little seed that grew and grew until it became a beast within me. All I could think of was finding a place to hold my Halloween party this year that has outgrown our small apartment. It was difficult to find a house, mainly because people tend to do up their houses and even if it looks gothic from the outside, the inside is often modern which is a mood killer for Halloween. "Gothic disrepair" is so absent from real estate and rental property ads nowadays...sigh
The "Family" portrait wall with changing photos
In my search for an elusive property, Belinda and I even went all the way out to the country but then it wasn't quite suitable and I didn't know if guests would travel all the way out there for the party. Another venue in Sydney said that I could only set up from 5:30pm and I had to be cleaned up and out by midnight which would mean that I would have about two hours for the party.
I had stressed myself into illness and the weeks preceding Halloween was spent in bed confinement. But thankfully during this time I found a space in Surry Hills that was perfect. District 01 is a warehouse space that is perfect for ghoulifying and yet was reasonably priced-plus I could set up my party all day long which is about how long it takes! As always, the props from The Party People lent a spookilicious atmosphere. Halloween is their biggest holiday and they have a huge range of cute to grotesque goodies.
Floating candles a la Harry Potter - idea and candles from Kelley
The day before Miss America called me asking if Mr NQN's brother Manu was coming (he has a well known crush on him). I told him alas that he was working and then we discussed the location. "It's right next to Central station so you can catch a train there" I said. "Oh no dear, I won't be catching a train..." he said ominously. My interest in his costume was piqued most definitely.
The food was already planned. Every year, I start planning the next year's Halloween celebrations after the previous year's party is wrapped up and put away. Let me start you off with a cocktail shall I? This is a spin on the Old Fashioned but made with skull shaped sugar cubes!
Eyeballs in blood
Now that you've had something to drink, may I offer you some eyeballs in blood Dear Ghoul? This is a great savoury idea that can be put together in about 5 minutes! Plus you don't need to keep it warm and it can feed the vegetarians.
Poisoned Toffee Apples
One of my favourite things were these poisoned toffee apples. I was shopping for fruit and vegetables when I came across red ones and thought "Wouldn't black be perfect?". I'll post the recipe for these on Halloween so you can make some too!
Cauldron Cake Pops
With so much cake leftover from the Pigman cake I didn't want this blood red mud cake to go to waste so I set about making some cauldron pops. My inspiration is from here but mine were a bit messier and next time I would perhaps choose a much easier to transport option. My only change was to have the witch falling into the cauldron along with the skulls and bits of bones, a last minute find at a candy shop that proved to be perfect for the purpose.
Blood clot and finger pie
In a slightly somewhat related note, how exciting is it that Twin Peaks will be back? As someone that watched every single episode, I adore David Lynch and I can't wait to see what he comes up with. Anyway I always think of Twin Peaks when I think of Cherry Pie. Now I'll think of fingers in the cherry pie. And those are fake cockroaches by the way...
Pennywise Chocolate Pops
Honestly, is there anything really much creepier than a clown? I don't know at what age they go from being fun to being freaky but most adults I know find them creepy while children find them fun!
Gummy Worms in Dirt
"Ewwww!!" was the most common reaction to seeing these gummy worms in dirt which I must say delighted me considerably. These are gummy worms made at home with bendy straws! I watched the tutorial for these - they're surprisingly easy!
Severed finger dogs
Hot dogs are better hot so my trusty co conspirator Maleficent aka Belinda heated these severed finger dogs and served them theatre usherette style. As she was cooking them she told me that the cheese kranskys that we bought were especially gross because they squirted pus-like cheese out to which I replied, "Faaabulous!". It's all backwards in Halloween-land.
Snow White Pies
I know I made these Snow White Evil Stepmother pies in a single mirror shaped frypan but I also know that people are reluctant to cut into whole pies and they are difficult to serve. While this is more fiddly than a whole pie it is much easier for guests grab them to eat in one hand.
Giant Haunted House Cookie
I think this is a fail. I almost didn't put it in because it didn't turn out very well at all. But because people are encouraging about these things, I put it in. This is a giant haunted house scene rendered in a cookie. I shan't give out the recipe because quite honestly, I was quite sad at how it turned out.
Frankenstein Sandwiches
I knew that we would have little visitors this year so I made these to also upp the savoury content of the food. Halloween has no shortage of sweets but you do need something vaguely healthy and nutritious as well. Or so they tell me...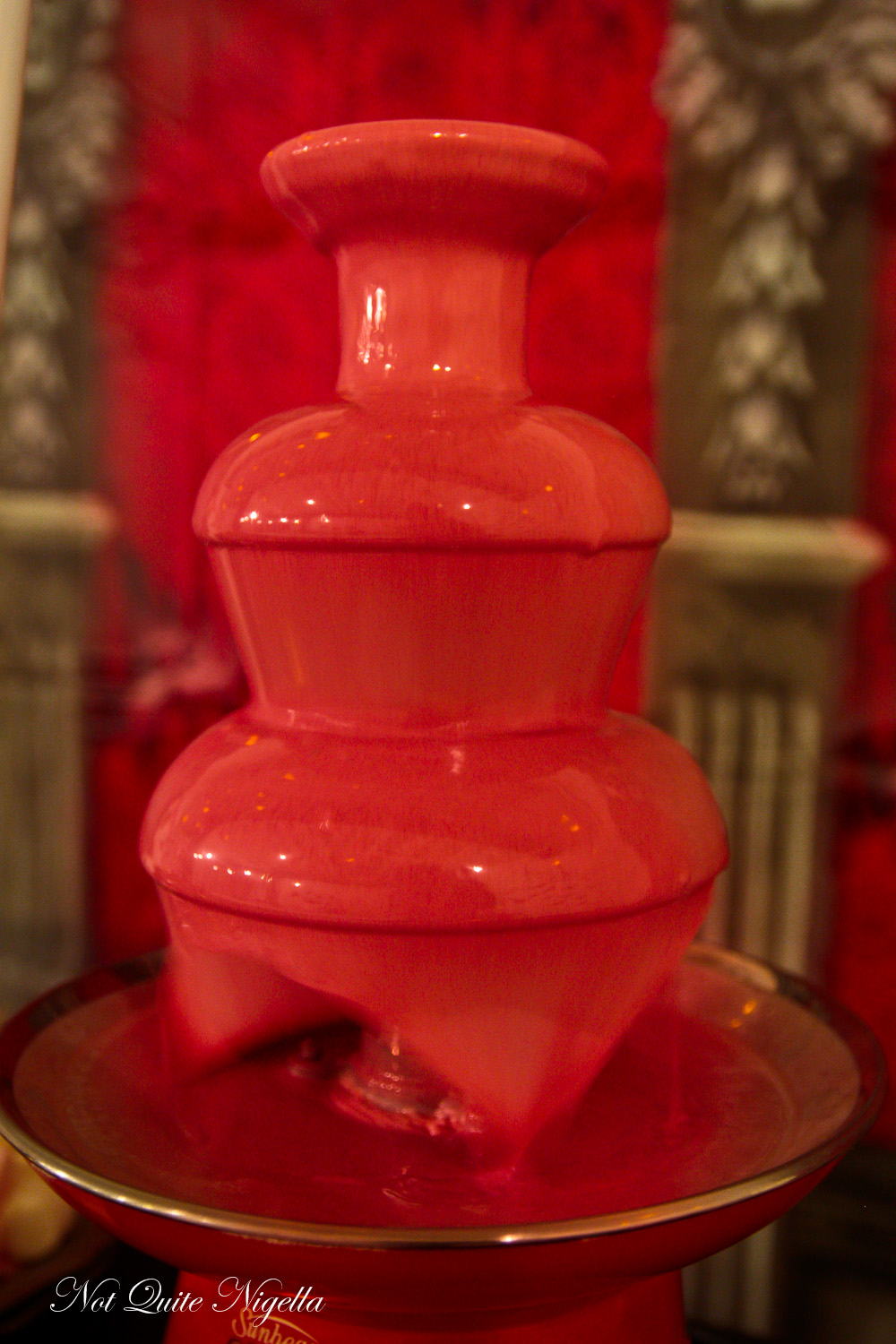 Bloody Chocolate Fountain
Well they do say that you shouldn't test out new ideas and can I say that they're quite right with this. They recommend using chocolate melts which is all very fine but I wanted better quality chocolate. Celia's husband Pete dropped off a kilo of Callebaut one night and we thought that we would mix the red food powder with the oil and melt it all together.
Well...this is better in theory than practice because the colouring was not oil soluble and cast it this murky sort of shade. But in a surprise twist, Lou's husband Andrew pulled me aside with a calm but concerned voice. Apparently Audrey had eaten a marshmallow dipped in the murky chocolate but her mouth was all red. It seems that the dye's colours came out once you ate it and once I explained that I hadn't poisoned his daughter, the whole family got into the bloody chocolate fountain!
Pigman Cake
Ahh Pigman...you were meant to be Ray Liotta until I realised that I don't really know the first thing about making a human head out of cake. Then you turned into a half pig half man. Let's just pretend you were meant to be like that all along...
Bloody Brownies
Ahh there's nothing quite like when you sink your teeth into a fudgy brownie only to snag your tooth on a squishy blood clot or in this case, a dried cranberry! The recipes for these "lovely" brownies and the instructions are here.
Moldy Dip and Chips
I brought these blue corn chips from our trip to Hawaii only to find of course you can buy them in Australia. Well if you are willing to pay four times the price ;) The moldy dip was a basil pesto mixed with a thick home made labne dip.
As for my guests, I made sure that I was dressed properly and by properly I mean ghoulishly. Halloween is no time for sexy or pretty, it's time for grotesque! I bought some theatrical pancake makeup and set about making myself up as a half dead zombie. Oh how I had fun driving from our place back to the warehouse especially at the traffic lights!
And here I am, half dead half undead with everyone's favourite serial killer.
And a huge thanks must go to Belinda aka Maleficent who spent all day setting this up with Mr NQN and I! When she was walking in the street, many called out Maleficent to which she responded with a wave. She was so swept up ins the Halloween spirit that after she went home, she watched the latest Halloween movie! The next week she returned to her regular job which is a stressful one where she deals with dire family situations. I suggested that she go into work the next day in her Maleficent outfit.
Our first guests for the evening included two of the youngest! Luckily the witch from Hansel and Gretel wasn't around! Here is Audrey and her dad Andrew. This smile didn't leave Audrey's face for the whole evening and I must say that watching her have fun the whole night absolutely delighted me! She's kin folk you see!
And her is her little sister Evie and her mum Lou. Evie is my god-daughterand Lou is a long time friend from high school. A couple of days before Lou texted me to ask me if the party would be too scary for the girls and if they would have nightmares. I thought about it really hard. It's a hard thing to predict because one person's delight may be another person's horror (hello me!) but Lou brought them along anyway and they had a great time. Evie, usually a chatterbox was quite taken with the bobbing moaning head and Lou reports that there were no nightmares and that the girls are busy playing with their spoils from the night and can talk about little else!
Next to arrive were Natalie and Rowan who came as...you guessed it! Walter White as Heisenberg and Jesse Pinkman! Natalie is of course the Community Channel vlogger although you wouldn't recognise her from the outfit. And as for Rowan, he even shaved his head for the occasion which I was so impressed by! He also offered many a "Yo b&*(h!" as Jesse would.
Our next ghoul was Amanda who never fails to wear a fun outfit. Her outfit was Little Dead Riding Hood! See, even fairy tales aren't safe around our crowd (and really, how grisly are most fairytales?!).
Mr NQN's mother arrived next. She explained her costume in great detail. "I came as Crustacea, a fairy godmother. She comes from the sea and when the princess was born Crustacea gave her a gift that she will be always ordinary. Crustacea is a fairy godmother from the fairy tale "Ordinary Princess." Even though the princess was only ordinary and not as pretty as princesses generally, she still found her prince." Uh-huh! Of course...I guessed sea or swamp monster but there you go. I have no imagination.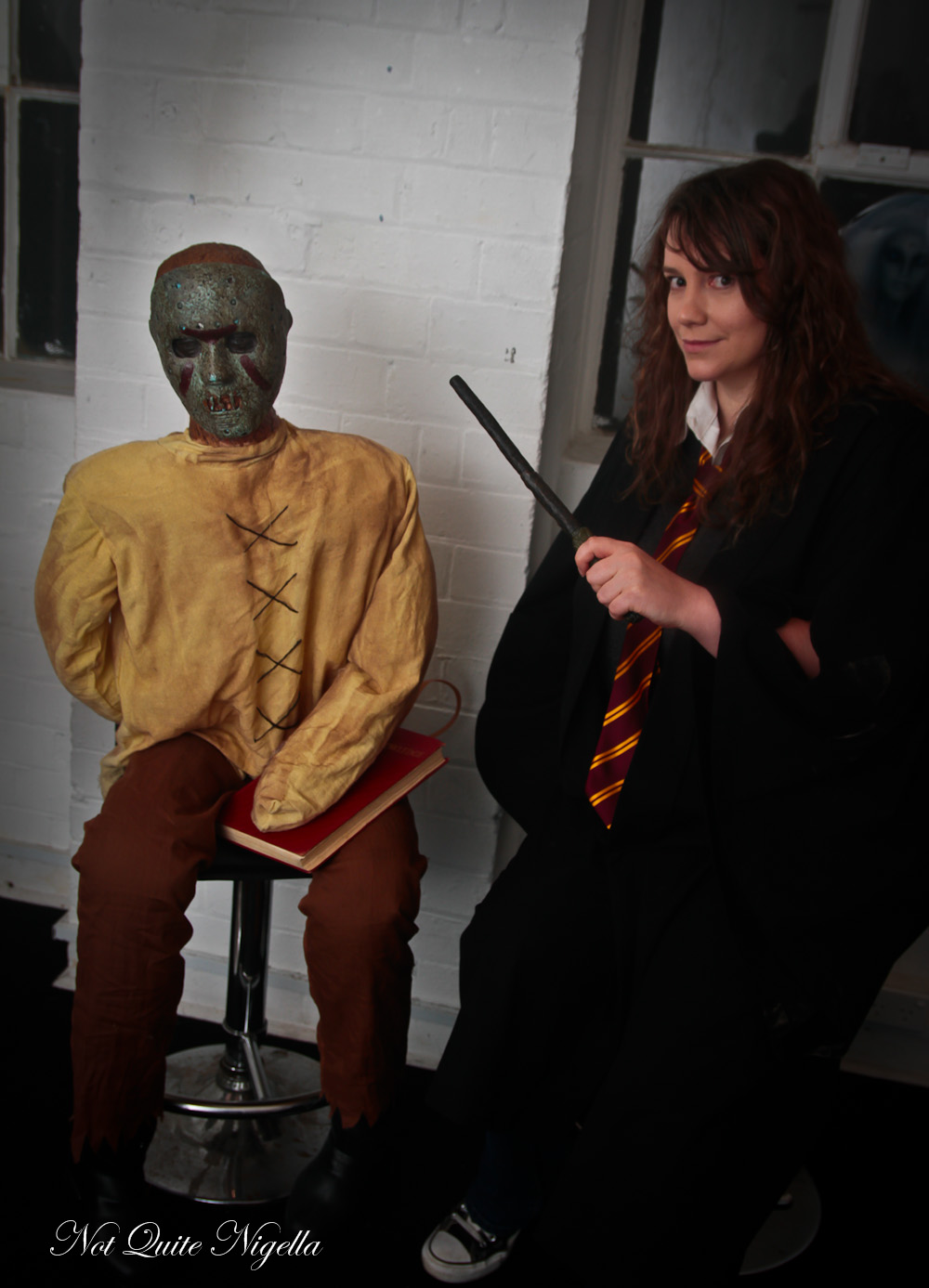 Next was Julie as Hermione from the wizarding world of Harry Potter complete with wand! I think she was trying to bring our serial killer to life with a spell.
Louise and Viggo arrived next. She came as Jackie Brown or a random 70's disco queen. Most people picked her as Jackie. She gifted me with a glittery skull candle.
While Viggo was our hero Indiana Jones - complete with working whip! Considering we did have a few dubious people popping their head in during the night, we needed all the reinforcements we could get.
Freaky Flier's obsession with planes and airlines means that of course a pilot's costume already hung in his wardrobe. His original plan to come as a zombie pilot was nixed after he thought of all of the recent air disasters...
And his friend Slade arrived as a bloody school boy. He looks almost innocent and studious here, except for the blood of course...
And then Rebecca and Jason arrived as Duck Dynasty! I could barely recognise them and it took me a minute to realise that it was them! They came bearing gifts of "tears of terror" vodka in a crystal skull and dark-as-night squid ink.
Girl Next Door sent me a cryptic text a few hours before with some dots on her face. And she came as a girl by pop artist Roy Lichtenstein. Picture her saying "Oh Brad!" in this photo.
Tania was a rather fetching corpse bride! The poor dear got lost trying to find the location and I wondered what other people thought of her as she wandered the streets. Luckily she found two kindred souls...
The palace would rather we didn't publish these photos of Queen Viv as Courtney Love but what can I say, it's probably in the public interests. Especially when she gives the camera gestures like this!
And when Queen Viv walked in she whispered to Mr NQN. "I have someone that is going to make a grand entrance. It was our last party guest Miss America. Coming as what else but...
Miss America!! With a pre prepared speech about world peace of course. She shimmied, she pouted, she posed and she wobbled on her heels.
Throughout the night, Lou and Andrew made several trips to the chocolate fountain and enjoyed the bloody red mouths that ensued. Audrey raced from food to food trying everything and she and Evie had their own conversation about Miss America.
"There's a boy dressed as a lady!" seven year old Audrey whispered.
"That's Miss America," explained Lou.
"You mean Mr America!" said five year old Evie. Yup you cannot fool them...
Round about mid way through the night, as little Audrey and Evie needed to go back to their home in the Blue Mountains, we decided to bust open the pinata. Maleficent volunteered the use of her staff for the task and each girl had a quick turn. It was a tough pinata and even her stick broke while we tried to whack it.
The idea for this pinata came from Belinda's daughters Mia and Ruby who delighted in coming up with ideas for Halloween this year. They saw a coffin pinata at the Party People and said that it would be a great idea to put little fake spiders in it so when it showered down with candy there would be little creatures. Don't you love the way that their mind works? I'm afraid that you can't adopt them!
But it wasn't until Miss America, donning high heels and a dangerously blindfold teetered up to the pinata and gave it several good whacks. Down rained the lollies as well as...dozens of tiny fake spiders that we had stuffed in there!
Photo credit: Natalie Tran
Call Olivia Benson (the detective, not the cat). Because this definitely looks like a crime scene photo...
Photo credit: Natalie Tran
All of my guests were too polite (or scared) to cut up the Pigman cake so I cut it out and handed it around to guests).
Maleficent passed around more severed finger hot dogs to guests.
And at the end of the night, guests were treated to a spooky riddle. It was a murder mystery where guests had to solve the question of "Who killed Maggie" in the side room? Maleficent and I had devised and set up the mystery game in the spare room that afternoon.
Guests had to follow clues to ascertain who the killer was. There were red herrings and complicated clues and guests were left scratching their heads.
Maleficent watched on and laughed at their confusion. "Poor souls!" she intoned raising her wings.
But with a bit of mercy from Maleficent, they got the answers. The killer was... Mr NQN's mother! Remember last year's Halloween? ;)
"Oh no!" exclaimed Tuulikki! "Not me again!"
And without further ado, here is this year's Halloween recipes...happy eating my dearest ghouls!
Love,
Morticia xxx
So tell me Dear Reader, who would you get dressed up as if you could get any sort of costume made up? And have you ever rented a house or a space to hold an event? Any tips for next years?
DID YOU MAKE THIS RECIPE? Share your creations by tagging @notquitenigella on Instagram with the hashtag #notquitenigella
Old Fashioned Witch Cocktail
2 parts vodka
4-5 drops of bitters
1-2 teaspoons brown sugar
Ice Cubes
A piece of orange rind
Step 1 - Mix the vodka, bitters and brown sugar together and shake. Serve over ice with orange rind and the skull sugar cube.
IT Pennywise Chocolate Pops
To make 18 clown pops
300g/10.6ozs white chocolate
1 egg white
2 cups pure icing sugar, sifted
Red and black food colouring gel
A small amount of red fondant for the nose
Pop sticks
Skull mold
Step 1 - Melt the chocolate in a microwave or a double boiler. Pour into the skeleton chocolate mold and place the pop sticks in the cavity (you may need to trim the sticks if they are too long). Gently tap the mold against the counter to remove any small air bubbles - if there are any, they will rise to the surface. Allow to set completely.
Step 2 - Make the royal icing by mixing the egg white with the icing sugar. Add a tiny amount of lemon juice or water to get the consistency that you want (one that holds a line). Take about 5 tablespoons of the icing and colour that black and take another 5 tablespoons and colour it red and leave the rest white. Fill a small piping with the red royal icing and do the same for the black and white.
*Step 3 *- Remove the chocolate pops from the mold. Draw hair on the sides of the skull - Pennywise has a little hair around the back too so draw a little royal icing there too. Draw mouth so that it is open. Take the black royal icing pen and draw eyebrows and the outline of the eyes and fill in the middle of the mouth. Once the red and black icing has set, take the white royal icing pen and draw teeth but keep gaps between the teeth so that they look a bit rotting. And they say that Halloween isn't a nice time! Fancy that! ;)
Gummy worms in dirt
1 packet raspberry jelly
3 teaspoons powdered gelatine
1/4 cup cherry juice (or dark coloured juice)
1/4 cup cream
Handful of bendy straws
10 Oreo cookies
Step 1 - Extend the bendy straws so that they are stretched out. Place a rubber band on top and the bottom to secure them together. Wrap a ziplock bag around them and secure with another couple of rubber bands. Place with the bendy half pointing down in a tall, flat bottomed glass.
Step 2 - Place the jelly powder and gelatine in a bowl and add 1 cup of boiling water. Whisk to combine completely. Add the cherry juice and cream and whisk. Place in a jug and pour into the holes. Refrigerate for 3 hours until set.
Step 3 - Blend up the Oreos until they look like dirt and then place on a serving plate.
Step 4 - Remove the bag from the bottom of the bundle of straws wiping off any excess. It is best to do this near the sink as it gets messy. Take a container and pinching your fingers together, squeeze out the jelly worms on the dirt until you get a gross mixture of worms.
Severed Finger Dogs
Makes 12 hot dog fingers
Packet of 12 hot dog frankfurts or cheese kranskys (go for the flesh coloured hot dogs rather than the red ones)
Packet of 12 hot dog buns
Tomato sauce or ketchup
12 flaked almonds
*Step 1 - *Cook the hot dog frankfurts according to directions (in a microwave or if you boil, bring to a boil from cold water and then remove from the water to prevent them bursting). Make a couple of light slashes with a knife to approximate knuckles. Squeeze some tomato sauce in a hot dog bun and wedge the frankfurt inside. Place a flaked almond as the fingernail on top.
Halloween Eye Balls in Blood
1/2 jar tomato passata
1/2 cup sliced sun dried tomatoes
2 x 375g tubs bocconcini
Sliced olives
Step 1 - Place the tomato passata and sun dried tomatoes in a pie plate or dish. Slice off the tops of the bocconcini and place in the sauce. Add a sliced olive on top of the bocconcini.
Blood Clot Severed Finger Pie
For crust
1.5 teaspoons salt
150g/5ozs. butter, cold and cut into pieces
150/5ozs. solid vegetable shortening, cold and cut into pieces
3/4 cup iced water
For filling
1.36kgs morello or sour cherries (2x680g jars)
1 1/4 cups sugar
3 tablespoons tapioca flour or cornstarch
2 teaspoons vanilla extract
zest of half a lemon
1 egg yolk, for glazing
Fake fingers and faux cockroaches for decoration
Step 1 - Place the flour and salt in a food processor and pulse for 10 seconds. Add the butter and shortening and pulse again until the mixture resembles cornmeal. Add the iced water slowly until it starts to come together. Empty out onto a clean bench and knead for a minute or two. Divide dough into two balls, one slightly bigger than the other and wrap in cling film. Refrigerate for 2 hours.
Step 2 - While you are waiting, drain the cherries well (reserve the juice to make gummy worms above!) and place in a bowl with the sugar, half of the tapioca flour or cornstarch, the vanilla and the lemon zest and mix until flour is distributed.
Step 3 - Take a pie dish and roll out the larger disc into large circle big enough to line the dish. Sprinkle the other half of the tapioca flour or cornstarch on the base of the pastry and fill with the cherry filling. Roll out the other portion of pastry and cut strips and place in a lattice pattern. I use a ruler to be more precise (although you can't really tell). Using the tines of a fork to give the crust edge a pattern. Brush with egg yolk and place in the fridge for 30 minutes.
Step 4 - Preheat oven to 190C/380F. Place the pie on a tray in case of overflow and then bake for 45-55 minutes. When cool, insert fingers into the lattice holes.
Cauldron Cake Pops
Makes 15-20 pops
2 cups leftover cake trim, discard the hard parts (or you can always make a cookie pop mixture like the one here)
3 tablespoons chocolate ganache
300g/10ozs. dark chocolate
1 teaspoon copha
Orange, yellow and green royal icing pens
Black fondant
Red food colouring dye
Skeleton and bone decorations
Step 1 - Line two trays with parchment. Shape the cake pops into small around, about the shape of walnuts. Melt the chocolate in a microwave or a double boiler. Dip a pop stick into the melted chocolate and push through the cake pop making sure not to go all the way through the ball. Refrigerate.
Step 2 - Once the chocolate has set, add the copha to the chocolate mix to make it a little runnier. Spoon the chocolate on top and around the ball and place back onto the paper to dry and set. When it has set, draw squiggles of flames in orange and yellow icing on the bottom side of the cauldron. Set.
Step 3 - Make the legs by cutting up some of the cake pop sticks and draw stripes with red colouring and a fine paintbrush. Shape small shoes at the end and allow to dry and set hard.
Step 4 - Place the pops in the display stand. Place the legs into the top of the cauldron and then pipe a little green royal icing and attach the skeleton bits.
Bloody Chocolate Fountain
750g/1.5lbs. red chocolate melts
3/4 cup canola oil
Step 1 - Melt the chocolate in a double boiler or microwave. Serve with strawberries or marshmallows.