This colourful, delightful funfetti cake is like sunshine and sprinkles in cake form. The colourful sprinkles create a pretty pattern inside a four layer vanilla chiffon cake that is tall and proud. It's a cake that is a tribute to all things celebratory. If you want to put a smile on someone's face, this is the cake to do it with!
What kind of childhood did you have in relation to birthdays Dear Reader? For us, it was always a fun celebration where we would get to eat things that were off limits to us for the rest of the year. Hence why I was the kid that was caught every year standing by the upright oven cramming lukewarm party pies and sausage rolls into my mouth once the guests had started leaving.
I was at a friend Joanne's house during our Oscars viewing party and it came time for her two year old Xavier to eat. A ziplock bag of candles was brought out and his godmother Belinda and aunty Cheryl sprang into action. "Happy Birthday to yooouuu!" they sang to him. You see little Xavier gets a happy birthday song every time cake comes out because that day is his birthday. Talk about a lucky kid!
He's the cutest little dictator around and when his posse of gals stopped singing he pointed at us and directed "Sing!" and of course we obliged happily. I asked Joanne what happens on his birthday and she explained that it is just like every other day to him, because of course every day is his birthday! "Even a banana we have to put candles on it and sing. He blows it out, takes off the candles himself then eats it!" she laughs.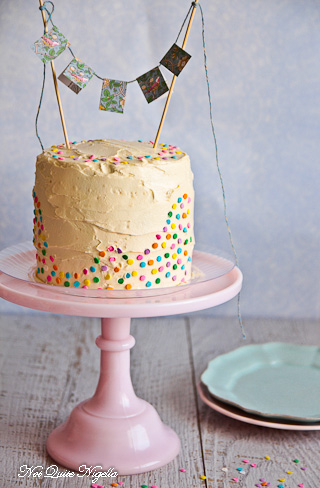 This funfetti cake is a real celebration cake and designed for pretty much any fun occasion be it birthday, anniversary, bon voyage, new years or additional birthdays! Funfetti cakes are an American thing. I've never seen them much in Australia but they're essentially a white cake with lots of little sprinkles inside them. Truthfully, this was my second go at it. I tried to make a vegan funfetti cake for Tuulikki's birthday but while it tasted good, the batter was too liquid so the sprinkles got wet and melted in the batter so there was no funfetti effect.
I decided to do a chiffon funfetti cake instead, a tall, light, fluffy thing iced with buttercream and decorated with confetti sprinkles - these are larger round sprinkle and different from the ones that you use for the inside of the cake. The cake is feather light and not overly sweet - this is where the buttercream icing comes in. I won't lie and tell you that the decorations aren't laborious and time consuming. A smarter person would simply sprinkle them over and be done with it which I wholeheartedly recommend unless you have 30 minutes and a pair of tweezers to place the confetti sprinkles on top.
If you want to bring a happy cake to an occasion then this is the one to bring. The inside effect is very pretty indeed and it was like a rainbow in cake form. Every time I would have a forkful or see these pictures a smile would play on my face. Because you know cake equals happiness right? ;)
So tell me Dear Reader, what makes you smile? And what was your favourite childhood party treat? Have you ever tried funfetti cake?
Did you make this recipe?
Share your creations by tagging @notquitenigella on Instagram with the hashtag #notquitenigella
Chiffon Funfetti Cake
An Original Recipe by Lorraine Elliott/Not Quite Nigella
Preparation time: 40 minutes
Cooking time: 40 minutes
2 cups cake flour*
1/2 cup caster or superfine sugar
1 tablespoon baking powder
1 teaspoon fine salt
100ml/3.5 fl ozs. canola or mild flavoured oil
100ml/3.5 fl ozs. water
4 egg yolks
6 egg whites
1/2 teaspoon cream of tartar
100g/3.5 ozs. caster or superfine sugar
1 cup sprinkles
For icing/decoration
200g/7ozs. butter
440g/14.1 ozs. icing sugar, sifted
2 teaspoons vanilla extract
1/2 cup confetti sprinkles* to decorate
***To make 1 cup of cake flour yourself, place 2 tablespoons cornflour/cornstarch into a measuring jug and fill to the 1 cup mark with plain flour.
Buyer's tip: I bought my confetti sprinkles on ebay. Not all sprinkles are alike and some don't come up as brightly as others. I used sprinkles by a brand called Dollar Sweets that I bought at Woolworths. A reader used ones from another brand and they didn't come up as brightly.*
Step 1 - Preheat oven to 160C/320F. Line 2 x 18cms/7.2inch cake tins with parchment on the base and sides. In a bowl sift the flour, sugar, baking powder and salt at a height. In a jug whisk the oil, water and egg yolks. Make a well in the centre of the flour and add the liquid mixture and mix together. It will seem quite stiff a dough.
Step 2 - Add the egg whites and cream of tartar to a very clean mixer bowl (make sure that there is no grease in the bowl) and whisk until foamy. Add the sugar and whisk until soft peaks form - you don't want firm peaks but you do want all the egg white to be beaten. If you can tip it upside down without moving it is too firm (but don't worry, your cake will still work). If it slowly moves then it is fine. Take 2 large tablespoons of the egg white mixture and add to the flour mixture to loosen it. You want to gently fold this in. Add the rest of the egg whites in 2-3 batches making sure to incorporate it well but with a gentle folding action. When on the last lot of whites, add the sprinkles and distribute well.
Step 3 - Divide into the two tins and bake for 35-40 minutes or until the a skewer inserted comes out clean. Cool completely in the tins and then you can wrap these in a couple of layers of cling film in an airtight container. They can keep for a couple of days.
Step 4 - Make the icing by beating the butter until smooth and then adding the sifted icing sugar and vanilla extract. Split each cake in half - I use a length of dental floss to do it and place one layer on a serving plate. Place two heaped tablespoons of frosting on top and spread with a palette knife and repeat. Then do a light "crumb coat" with some of the icing. This is to pick up any stray crumbs and you should still be able to see the cake through the crumb coat. Place the cake in the fridge for the crumb coat to set.
Step 5 - Cover the rest of the cake with the remainder of the icing on the top and sides. Then if you want to make the wave effect, take some tweezers and apply each confetti sprinkle individually (sorry, but this is the only way to do it). Add some on top too. Refrigerate until set.
Crumb coat of icing