Love coconut? Try this beautifully light as air chiffon cake made with coconut cream and glazed with coconut frosting and toasted coconut flakes! This gloriously tall cake has a gorgeous crumb to it and a tropical vibe. I called her Coco!
All About Chiffon Cakes: Chiffon cakes are light, tall cakes baked in a special two part aluminium chiffon tin where the inner tube is removable from the tapered sides. It is important to use a specific chiffon or angel food cake tin for this as the tin must not be non stick. A chiffon cake tin's sides and tube centre allow the mixture to "cling" when baking to maintain a light and fluffy texture. Chiffon cake tins usually have small metal "feet" that allow you to easily turn the cake upside down with a gap for cooling. You can also bake these cakes in a regular tin but make sure to not grease the sides, only the base and do not use non stick tins for chiffon cakes.
The rising agent in chiffon cakes is eggs, particularly the egg whites that are whipped up to create an airy batter. Make sure that you beaters and bowl are spotlessly clean as any grease will prevent your eggs from whipping up stiff. Also make sure that your eggs are at room temperature as these whip up better than cold eggs. I like to separate my eggs while cold which is easier and then bring them to room temperature.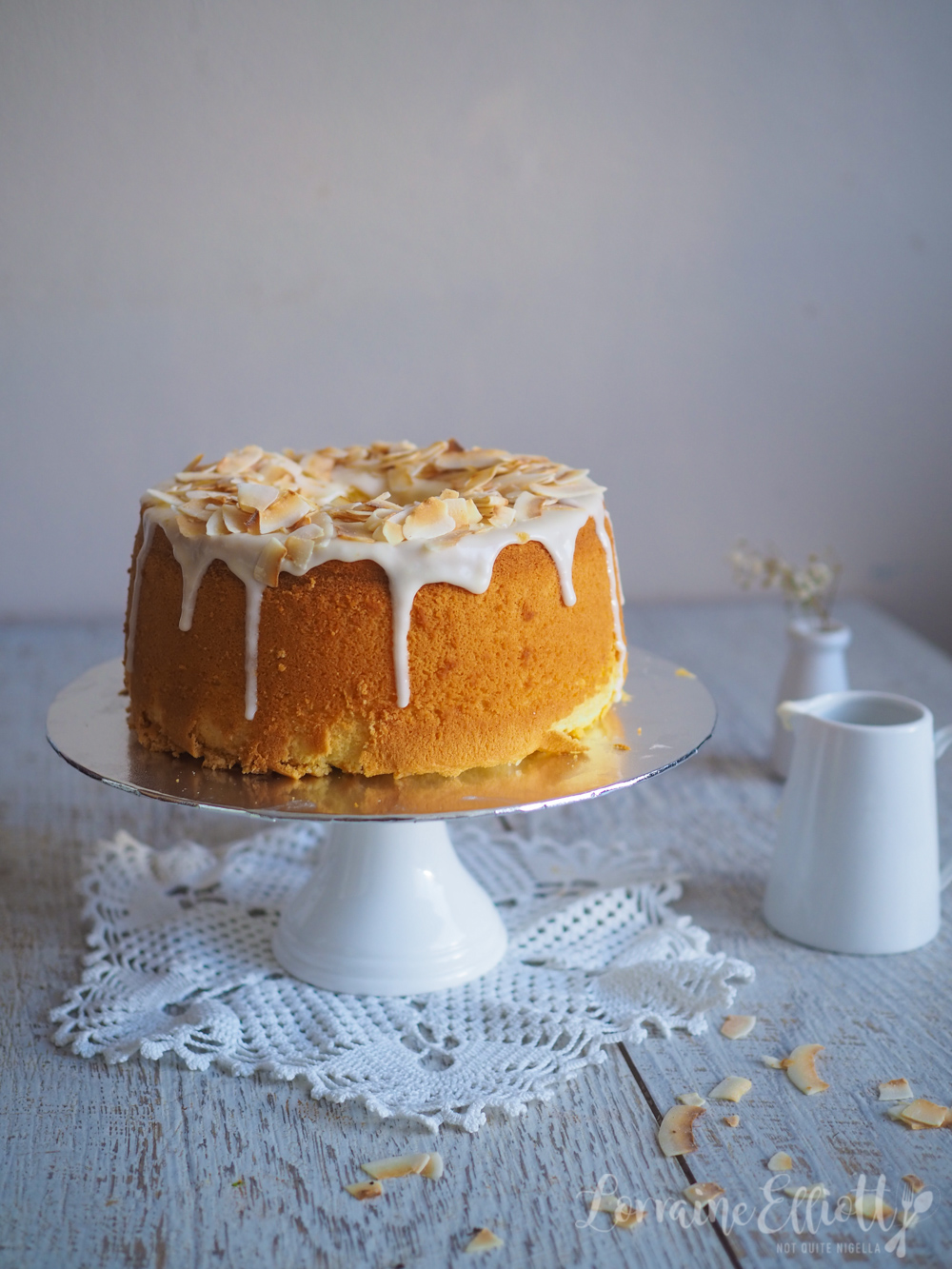 The key to chiffon cake is having a light and fluffy texture. To ensure that there aren't any lumps in your mixture I sift the flour three times. Even though I loathe sifting, chiffon cakes really need it. I sift it twice at first and then a third time into the egg mixture. Then you need to fold the mixture carefully, making sure that you don't deflate the mixture. Once a chiffon cake is baked it is turned upside down where it will cool and this allows the cake to maintain that cell structure.
Every night after walking Teddy we sit down to dinner and we usually eat it with the television on. We've been going back to classics that we like like Schitt's Creek which took me a few tries to get into but now I am in love with. At first I wasn't sure how Mr NQN would react to it as the Rose family is so outlandish. It turns out that I needn't have worried. Mr NQN absolutely loves Schitt's Creek and their famous "fold in the cheese" scene.
"Who is your favourite character?" I asked him. I figured it would be either Alexis or David. His answer however was a surprise.
It turns out loves Stevie, the deadpan, sarcastic character who reacts with sardonic amusement at the crazy antics of the Rose family. She is the straight person to their madness. I had to laugh as it all became crystal clear why he loves Schitt's Creek so much. "Oh my god, you're Stevie aren't you?" I said awareness spreading across my face, "And who am I from the Rose family?" I asked him. "You're everyone from that family," he said, deadpan, Stevie style.
So tell me Dear Reader, is there a television character that you most resemble either from Schitt's Creek or from another tv show? Have you ever made a chiffon cake?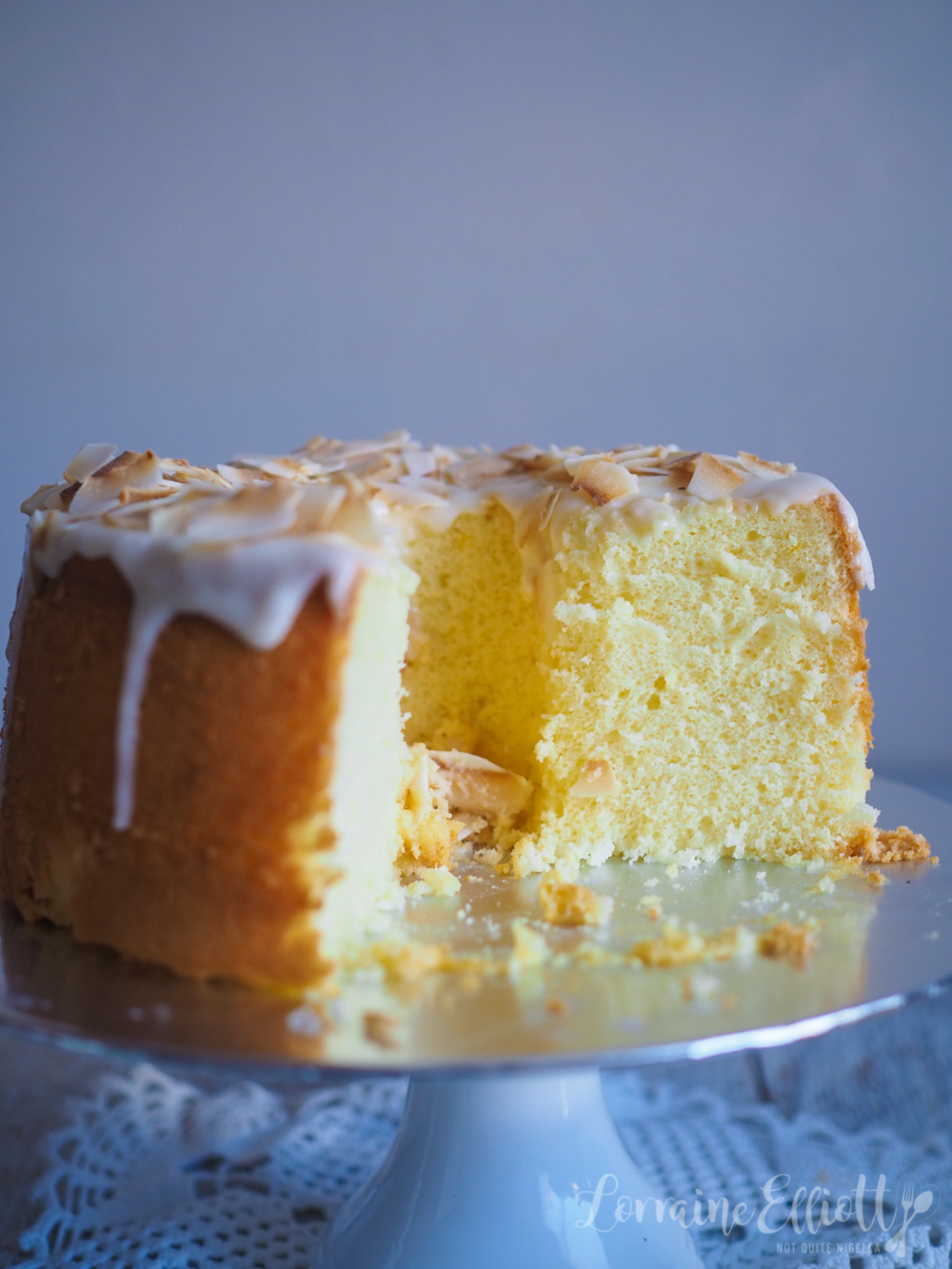 DID YOU MAKE THIS RECIPE? Share your creations by tagging @notquitenigella on Instagram with the hashtag #notquitenigella
Coconut Chiffon Cake
An Original Recipe by Lorraine Elliott
Preparation time: 25 minutes
Cooking time:
Serves:
6 egg whites (around 240g/8.8ozs)
1/2 teaspoon cream of tartar
1 cup/210g caster or superfine sugar
6 egg yolks (around 110g/3.9ozs.)
1/2 cup/105g caster or superfine sugar
180ml/6flozs. coconut cream
120ml/4flozs. oil
A few drops of coconut flavouring
1.5 cups/225g/7.9ozs. cake flour, sifted twice
Coconut Frosting
1.5 cups/195g/6.9 ozs. icing or powdered sugar
3 tablespoons coconut cream (not milk)
30g/1oz butter, room temperature
Pinch of salt
Toasted coconut chips to decorate
Step 1 - Preheat oven to 160C/320F and have a 21cm/8.2inch chiffon cake tin ready. Do not grease the tin. Whisk the egg whites and cream of tartar in a very clean mixer bowl until soft peaks form. Then add the first lot of sugar in a steady stream and whisk until stiff peaks form. Scoop out of the mixer bowl into another bowl and set aside. Then in the same mixer bowl (I don't bother washing it after the whites) add the egg yolks and the second lot of sugar. Add the coconut cream, oil and coconut flavouring and mix until smooth.
Sifting in the flour into the mixture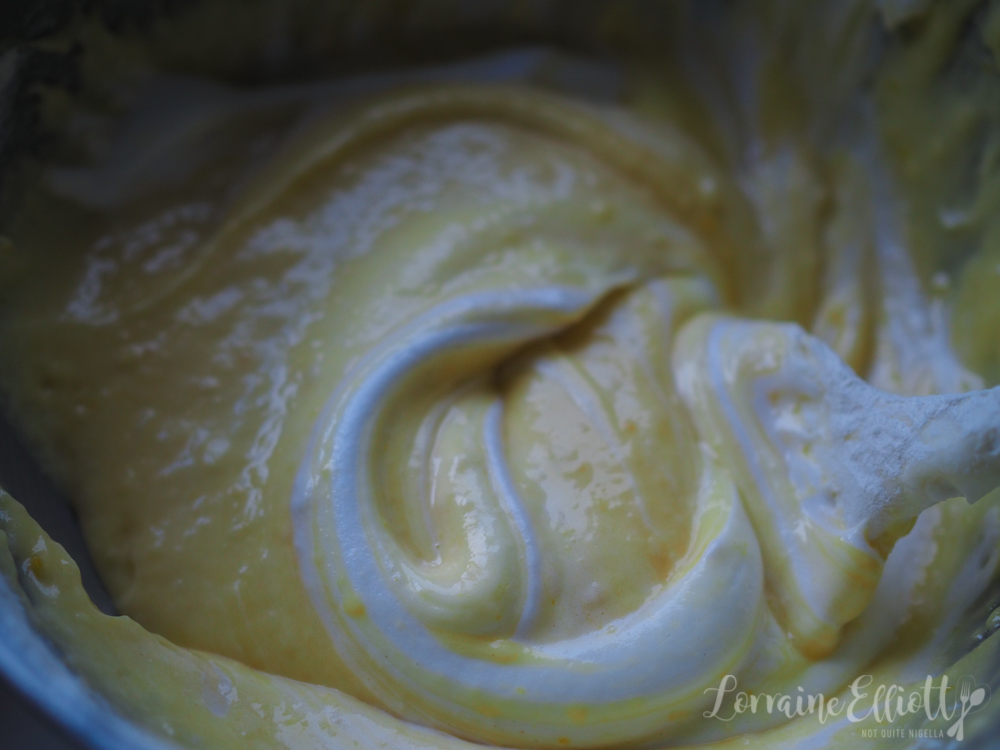 Then folding in the meringue. Ensure that there are no streaks (as shown)
Step 2 - Sift in the cake flour into the egg mixture in batches until you get a smooth mixture without any lumps. Then add the meringue mixture in several lots making sure to fold it through in a circular motion. The key is to not deflate the mixture so be gentle with folding the whites in while making sure there are no streaks. Scoop into the tin and ensure that there is a gap of 1 inch from the top of the tin. Bake for 50 minutes or until the top springs back. As soon as you take the cake out of the oven, turn it upside down onto a plate and allow to cool completely.
Step 3 - Using a palette knife, loosen the cake on the sides and the base of of the tin scraping against the tin as much as possible and place on a serving plate. In a food processor whizz the icing sugar so that there are no lumps and then add in the coconut cream, butter and salt and whizz to create a frosting. Spoon over the icing and then sprinkle with coconut chips. Uniced, well wrapped chiffon cakes can be frozen for up to 3 months.