There's probably no need to explain the address for 169 Darlinghurst, for it sits at that number on that street in plain view of Kings Cross's Coca Cola sign. 169 Darlinghurst has been open for two years but only last week changed the direction of their menu with acclaimed head chef Chui Lee Luk.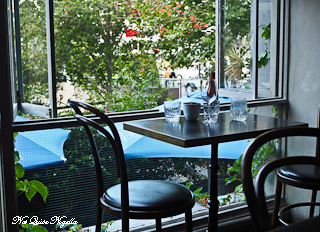 Most chefs talk about flavour but she is one that talks about nutrition in the same sentence. And the menu here at 169 Darlinghurst has changed to one with a distinctly healthy bent. But tasters are not robbed of flavour, it's a deft skill needed to ensure that vegan dishes have as much flavour as their meaty counterparts. Having a vegan friendly menu or doing only vegan seems to be a trend for many chefs.
The bar style menu doesn't actually mention the words vegan at all, it's just that at least half of the menu has vegan dishes on it. There are also a number of dairy free and gluten free items although these too aren't marked. Service is lovely from the waitress although there is a bit of a false start at the beginning as the barman seems to almost not believe that we have a booking and takes a long time to pull it up making things a little weird.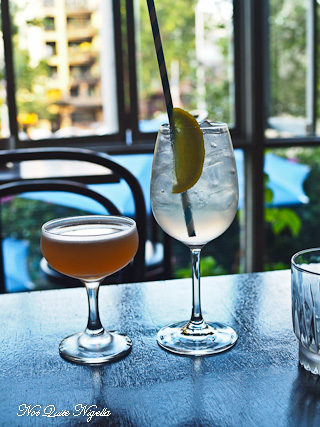 It's a Friday night so we start with cocktails. I go for an 169 Spritz with Tanquerey gin, ginger and lemongrass shrub, sparkling wine and soda while Mr NQN orders an "off tropic" with coconut washed rum, agave syrup, lime juice and bitters. They're both terrific cocktails.
Normally I'd say that breads should come with oil or butter but there are so many items on the menu that you could have with the baguette and focaccia that it is a moot point. The house made charcuterie is not like a charcuterie plate that you might expect, this is more like Angus brisket rillettes crossed with rendang. Redolent in spices, coriander, coconut and lime it's packed with Asian flavours and we eagerly spread it onto the breads for a cross cultural treat.
The cashew cheese is fermented with probiotics and served with a spread of preserved button mushrooms and halved slices of grilled okra. It's ideal to spread on the bread and comes as a generous serve. The cashew cheese is mild and creamy and the mushrooms and okra give it flavour.
I didn't quite know what this dish would be made up of but it's a bowl with broad beans, zucchini, mint, parsley, eschalots served tabouleh style on a bed of creamed tofu and confit lemon. And it's perhaps my favourite dish. I love the lemon and the olive oil and although the chunks are a bit big to spoon onto the crisp, thin wafer it's so delicious you don't care. I ate most of this straight from the bowl mopping up the delicious lemon oil with the bread.
A slightly bigger dish is the globe artichoke. With three artichoke hearts to a serve it comes with a delicious burnt bread sauce and sprouted legumes. It occurs to both of us that all of the vegetarian or vegan dishes are so full of flavour that an omnivore could happily eat them.
Having said that, I do love lardo that paper thin cured pork fat delicacy originating from Tuscany (although we are told that here it is house made). It is served with some tender grilled octopus with a spicy tomato relish and slices of lardo. I could easily eat three plates of this and I scooped up the last of the relish with the bread.
There are two desserts on the menu and while I loved the savouries a lot I wasn't as taken with the desserts. The blood orange granita is very refreshing and perfect for this warm spring evening. It comes with kefir curds, cacao meringue and blueberries. This is a dessert for a fruit lover or someone that likes tart desserts.
I preferred the apple tart with a rye crust, apple butter and a little pot of cream. The tart base is crumbly and strong in rye and it reminds me of a Scandinavian dessert (actually both do).
Come daytime the space will revert to becoming a regular cafe with a typical cafe style of menu but for now, the hour that it transforms to this menu is 4pm-just in time for cocktails under the Coca Cola sign.
So tell me Dear Reader, are you a vegan or vegetarian? If not, do you sometimes order vegan dishes to try them out? And I'm curious, do you want pictures of menus too in the post? Which dish did you like the look of?
This meal was independently paid for.
169 Darlinghurst
169 Darlinghurst Road, Darlinghurst (corner of William Street)
Tel: +61 (02) 9331 8811
Sunday - Tuesday 7am - 4pm
Wednesday - Saturday 7am -10pm
www.169darlinghurst.com.au/