Is there no better comfort food that a cheese toastie? Especially when it is cold outside and you want something simple. This version is a vegetable rich "bread" made out of cauliflower similar to the cauliflower pizza base. Here we fill it with barbecue sauce (because saucy is good in both food and person) as well as bacon because life is better with bacon.
Twice a week I will stop my work day in the late afternoon. It's to do something that I dislike but I know is good for me. And that is work out with my trainer Nina. Despite me hiding her kettle bells and trying to break the exercise balls (tough little buggers!) we still manage to pass the time usually by talking food and men. Nina is a paleo, gluten free vegetarian and always asks what I am making.
I told her about a recipe that involved a microwave. "I'm confused, is a microwave paleo?" I said, jokingly. I like to tease her about her diet because well I don't really understand what is paleo. Like I only realised recently that cheese wasn't paleo but bacon was. And how can you base an eating regime on separating one of earth's most glorious combinations? I mean that's a deal breaker right there. I know that paleo has taken a hiding recently in the press particularly with Pete Evans's recently shelved cookbook (that went straight to #1 on iTunes apparently so there are supporters as well as detractors).
Bacon is life
This is a recipe that is not paleo although a component of it is - the cauliflower bread is a paleo, grain free and dairy free bread. And it is pretty damn amazingly good. It's based on a cauliflower crust pizza but instead of a pizza, one cauliflower will give you about a third of a loaf or 8 slices of "bread".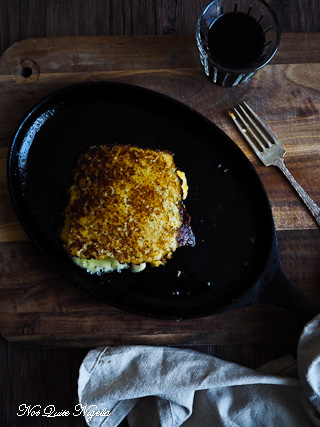 What I did to the bread was sandwich it with bacon, barbecue sauce and cheese and then lightly fried it in a skillet. You can leave the bacon out and make it vegetarian if you want but we both loved the salty kick from the bacon and the aromatic smokiness of the home made barbecue sauce.
So tell me Dear Reader, what are you thoughts on paleo eating? Do you do it? Do you eat grain free or have a special diet? And do you have any favourite food combos? Peanut butter and honey comes to mind for me!
Did you make this recipe?
Share your creations by tagging @notquitenigella on Instagram with the hashtag #notquitenigella
Cauliflower Cheese Toasted Sandwich
An Original Recipe by Lorraine Elliott/Not Quite Nigella
Makes 4 cheese toasties with 8 slices of bread
Preparation time: 20 minutes
Cooking time: 40 minutes
1.3kg cauliflower (before trimming)
2 eggs
4-5 tablespoons ground almonds
Butter for frying
Tallegio, Gryuere or Comte cheese (2 slices or so per toastie)
4 tablespoons barbecue sauce
4 rashers cooked bacon
4 tablespoon finely chopped chives
A cauliflower. But you knew that.
Step 1 - Trim the cauliflower and break into small florets. Process in a food processor until you get a fine texture, like snow. Place in a microwave proof bowl without any water and cover with cling film. Microwave for 6-7 minutes. Carefully remove cling film (the steam will be very hot) and allow to cool for 15 minutes.
Step 2 - Preheat oven to 220C/440F and line two baking trays with parchment. Place the cooked cauliflower in a clean teatowel and squeeze to get rid of all of the water. There is a surprising amount. I usually put on dishwashing gloves to do this as the cauliflower is still quite hot. Place back in the bowl and mix with the eggs and almonds adding four tablespoons. If it is still wet add another tablespoon.
Step 3 - Shape the cauliflower mixture into bread squares - you can make them as small or large as you want but too large makes it a bit more delicate. Bake for 12-14 minutes (depending on how large you've made them). The top will be lightly toasted and the base slightly toasted too (the more toasted the pieces are, the more sturdy they will be, especially if you refrigerate any leftover pieces).
Step 4 - Take a slice of the cauliflower bread and fill with cheese, bacon and chives - I put the untoasted side on the outside so that it gets a chance to toast properly. Heat a skillet on medium heat and add a little butter (optional and not needed if it is a non stick skillet, mine isn't). Flip over and serve.