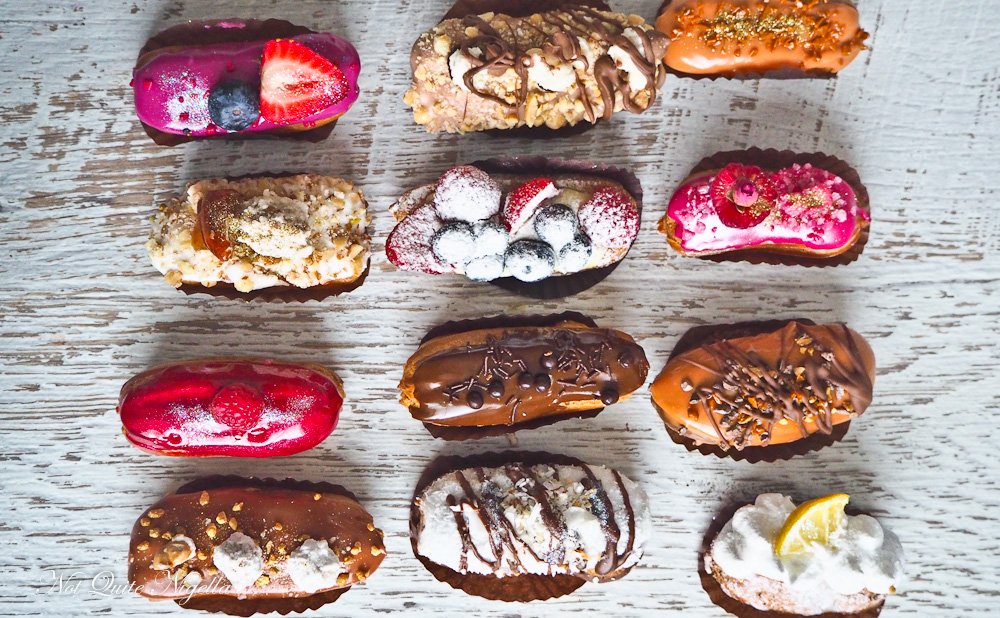 A few years ago Malcolm Gladwell wrote about the "10,000-Hour Rule". It's a theory that if anyone practices the same thing for 10,000 hours they will become an expert in it. You can apply the same rule to all aspects of life but especially business. Concentrating on one single food can be a risk but these six establishments show that life can be very sweet.
Come and take a look at six of the most intriguing sweet specialists in Sydney. From crazy topped donuts delivered straight to your home or office, to a place that makes delicious steamed muffins with a surprise inside to Greek style gelato (hello watermelon & feta!) to colourful bejewelled eclairs and caramel, toffee or chocolate covered apples this guide will have you swooning over Sydney's sweet scene. Send this sweet guide to your favourite sweet-tooth!
Grumpy Donuts
Elise Honeybrook and Scott Clark finish each other's sentences. That's the sort of thing that happens when a couple go into business together. Grumpy Donuts is a relatively new venture only a few weeks old but already it has found quick success with a four week wait for orders. "We thought that we'd have to seek (customers) out but they have found us," Elise says before adding that the pair were nervous because, "We didn't know how they would be received because they are really American style."
The Sydney born pair travelled around America and Canada from Portland, Seattle, Vancouver, Toronto, New York and Los Angeles. The Donut Pub in New York and Voodoo Donuts in Portland proved big inspirations but since then they've waited and tested their donuts for 8 months all the while holding down full time jobs. They make their donuts on Fridays only and deliver them on the same day starting at 1:30am. The donuts are sold out four weeks in advance. And while they are stocked in a handful of cafes, their main trade is donut deliveries to your door. Prices range from $5-$6 per donut.
The name Grumpy came from their new dog Abby whose brussels griffon breed is said to look "grumpy" (google this breed, it's so cute!). The donuts come in come hither flavours like S'mores (dark chocolate glaze with biscuit crumbs and torched marshmallow fluff), Peanut Butter Pretzel (peanut butter icing with crushed pretzel pieces and a dulce de leche caramel drizzle), Caramel Potato Chips (salted caramel icing with crushed Ruffles potato chips and a dulce de leche caramel drizzle) and a large bar of Maple Bacon (100% pure maple syrup and brown sugar icing with maple candied American style streaky bacon that is really the size of two donuts). Their dream is to eventually open a small store but are keen to keep the growth organic.
La Maison De L'Eclair, Bondi
A food festival kicked off the idea for an eclair only shop for French couple Laurence and Frederic Caillon. They already had a successful patisserie in Croquembouche but tried out the idea of a range of eclairs at this festival thinking that it might lead to something else in the future.
Then, "A couple of years ago I was at home watching the French news and I saw the story about Christopher Adam's eclairs and I said to my husband are you kidding me we did this five years ago (at the festival) and they are doing it in France and it's huge and we're going to miss the train and someone else is going to do it!" says Laurence, her expression determined. And La Maison De L'Eclair on Bondi Road was born.
The most popular flavour by far is salted caramel as well as flavours like Bounty and Mars Bar (the Bounty is a coconut ganache cream filling topped with milk chocolate and dry coconut). They come in two sizes: mini and full size. The display glistens with colour and sparkle - they're all layered with lots of components.
Tiny macarons rest atop the eclairs and come in a dizzying array of bold colours. And although this is all about sweets, gluten free eaters appreciate the savoury eclairs that are made using buckwheat. They're filled with prosciutto or goat's cheese and even foie gras. And with notice they can make the sweet ones gluten free using buckwheat too.
Sweet eclairs start at $6.50 each and savoury ones $8.50. Weekends has a fast trade and she sells out of the 350 hand piped and filled eclairs. They're made early in the morning and displayed just for the day to help ensure that the pastry stays crisp. While tasting them it's hard to find a favourite eclair as they're all strong and true to flavour which we always like and there isn't one that didn't have us in raptures. "I love glitter..." Belinda says raising a tiny eclair dusted in edible gold glitter to her mouth.
Love Dem Apples, Surry Hills
A little boy points in several directions at the display while his mother gently repeats, "Only one..." to him. Clearly he finds it hard to choose just one apple from the window display of Love Dem Apples on Cleveland Street in Surry Hills.
From hearing about Love Dem Apples you'd wear owner Joe Dunn was North American (he isn't, he's from Auckland, New Zealand and has lived here for 9 years). From the enormous toffee, caramel and chocolate coated apples to the Canadian Nanaimo Bars, his small but colourful shop is a tribute to North American sweet things. A trip to Miami and California cemented the idea - caramel apples are big in the States but not so commonplace here.
Just behind the front display is the copper pot in which he dips his apples - all Granny Smiths in a range of coatings from sprinkles, coconut, rocky road, Tim Tam, honeycomb and chocolate pretzel. When you purchase one Joe asks if you would like it cut up into eighths - this makes for easier eating on the go.
There are three types of coating on his apples: toffee (in some vivid shades), caramel and Belgian chocolate. They sell between 40-50 apples a day and make a batch of 90 apples every two days. He also appear at markets and custom orders are popular - Joe mentions a Spiderman patterned apple and holidays are a big time for them. And these apples are often given as birthday presents. The apples range in price from $7 to $11 for the limited edition coatings and a serendipitous surprise is the late night hours - they close at 10pm.
Ragamuffin, Leichhardt
Spare a thought for the muffin. Often overshadowed by its showier cousin the cupcake, a muffin is often overlooked. But the muffin is no Jan Brady to Marcia. I have been meaning to visit Ragamuffin for the longest time, ever since they got on my radar on twitter. You see this adorably cute muffin shop on Norton Street in Leichhardt makes muffins, just muffins (as well as coffee too, more on that in a bit).
Before Ragamuffin, owner Danielle Knott and her partner Jack Rex sold muffins at markets and baked them fresh on site, a logistical challenge if ever there was one. The key to her muffins is down to how they are cooked. "They are completely cooked in steam, the bake at the end is more like a toasting (and takes in average around 6 minutes, so we constantly bake fresh through out the day, definitely one of the key benefits to steaming). The muffins have a higher protein content then a standard recipe, which I've done to try and counteract that heaviness that comes with steaming a dough with a higher flour ratio," says Danielle. It means that the muffins are never dry and crusty and that you will love both the top and the bottom! No muffin top dramas here.
The other thing that makes these that much more special is that in most of them, there is a little surprise in the centre, whether it be lemon curd, tomato relish or blueberry cheesecake. All of the sauces and custards are made in house from scratch.
We try four: a "Pink Lemonade" with raspberry jam, lemon curd, rolled in sherbet and lemon curd; a "Blueberry Cheesecake" with a filling of blueberry cream, a bacon and zucchini savoury muffin with a centre of tomato relish and a "Spotted Dick" with sultanas and a centre of vanilla custard. All are $4.60 each and can be eaten in or taken away.
Devil's chord $4 and aracino $4
The coffees are intriguing and I can imagine on an Italian dominated street in Sydney like Norton Street, you have to play hard or go home. The Devil's Chord is an absolutely delectable mix of espresso, chocolate and steamed cream. The Aracino is a mix of orange slices, sugar and salt over which espresso is poured. You muddle it at the table with the spoon and the bittersweet aroma of the orange imparts flavour into the coffee. Mr NQN likes this while Belinda and I made a deal with the devil's chord.
Danielle actually has a little tie to this blog that I didn't realise until we were paying and almost out the door. The savoury base for her muffins is based on one of my savoury muffin recipes!
Pagoto, Marrickville
Pagoto is Greek for ice cream and this gelateria and waffle shop definitely loves things Greek style. So much so that their gelato selection is a mix of classic (pistachio, chocolate, lemon), intriguing (burnt caramel slice, smashed pavlova, red velvet and white chocolate, watermelon and feta) and Greek (melolacarona, baklava, diples and kataifi).
For something a little out of the ordinary we try the mastiha and the mastiha with cinnamon. They're made using mastic which gives the gelato a distinct flavour, like a green pine tree type of flavour. We decide to go all Greek for our scoops of ice cream and three scoops will set you back $8.
For the first cup we have Melomacarona, Galactobureko which is quite grainy and kataifi with tiny crispy pastry bits.
The second cup has watermelon and feta, a pink refreshing combination with tiny dots of feta cheese saltiness. "I think I'm going to be addicted to this," says Belinda. There is also our favourite creamy gelato: diplo which is similar to Italian crostini. It has tiny little crunchy pastry bits. Along with this is baklava ice cream for the sweet tooths. Who me? ;)
Woah Nelly Bakes
In January 2015 Wisconsin born Janell Smith was making donuts for friends when a friend of hers who worked at Broadsheet was urged to interview her for the online publication. She was surprised and told her, "There's nothing to tell you...You know I just make them for my friends out of a pot in my kitchen." It encouraged her to put in motion a plan. When the article went up her phone and emails went crazy, "By this stage we weren't even a company and I had never made anything more than 40 donuts at a time."
The idea for donuts first came when she and her Australian born husband went travelling in America in 2013 and they spotted a donut shop in their hotel lobby, "We literally ate donuts every day. We were sitting there one day eating donuts and said "No-one makes these in Sydney. I bet they're the next thing." 6 months later she revisited the idea intensely testing and deep frying donuts made in their small granny flat. 5-6 months later she arrived at her go-to donut recipe.
She has now quit her job as a P.A. and she and her three staff work out of a rented kitchen in Castle Hill and deliver around several areas around Sydney. The minimum order is 9 donuts and they come in a range of flavours from Salted Caramel with Pretzel, Oreo Peanut Butter, Buttered Popcorn and Coffee Cake as well as the classic "Homer Simpson" donut - you know the donut that resembles the cartoon classic donut with sprinkles? These sprinkles are imported from America via Janell's mum. She finds that the clientele has definite preferences. In areas like Ultimo unusual flavours like maple and bacon are popular while the North side prefers classic flavours.
It's hard to pick a favourite - certainly the Homer Simpson with strawberry icing topped with coloured sprinkles appeals for its classic looks and taste but the maple bacon (Maple flavoured icing topped with bacon) and the Orange and Toasted Pistachio (orange zest infused glazed topped with crushed toasted pistachio) are my favourites on flavour alone. But don't worry you can pick your own dozen or get a lucky dip of flavours all delivered to your door with a smile. For the moment Janell is toying with the idea of opening up a store. "We've done a few pop ups and I love standing there and talking to people. I love it when a little kid goes up and picks the one that he wants and eats it."
So tell me Dear Reader, do you have a sweet tooth? And if you had to pick one item which would you go for? Do you believe in the 10,000 hour rule and if so, what are you expert in?
All of the food in this post was independently paid for.
Grumpy Donuts
Order online. Minimum order of 9 donuts at $5 each. Friday only delivery. Order four weeks in advance.
La Maison De L'Eclair
91 Bondi Rd, Bondi NSW 2026
Phone:(02) 9386 1265
Monday Closed
Tuesday to Thursday 8:00 am – 4:00 pm
Friday & Saturday 8:00 am – 6:00 pm
Sunday 8:00 am – 5:00 pm
http://lamaisondeleclair.com.au/
Love Dem Apples
454 Cleveland St, Surry Hills, NSW 2010
Tel: +61 (02) 9698 7110 Closed Monday
Tuesday - Friday 2pm 'til 10pm
Saturday - Sunday 12pm 'til 11pm
http://lovedemapplez.com/
Pagoto Gelato & Waffle House
301 Victoria Rd, Marrickville NSW 2204
Tel: +61 (0) 416 574 656
Sunday to Thursday 12 Noon to 10:30 pm
Friday 12 Noon to 12 Midnight
Saturday 12 Noon to 1:30 am
http://www.pagotogelato.com.au/
Ragamuffin
157 Norton St, Leichhardt NSW 2040
Open 7 days 7am-3pm
Tel: +61 (02) 7903 2227
https://www.facebook.com/steamedmuffins
Woah Nelly Bakes
Order online. Minimum order of 9 donuts at $5 each. Deliveries every day but Monday. Order one to two weeks in advance. email: hello@woahnellybakes.com