So tell me Dear Reader, what does it take to go on a burger hunting spree? May I offer that it requires the following:
Intestinal Fortitude
Foolhardiness
A sense of adventure
Pre and post event training
A "never say quit" attitude
And a good dash of nuttiness and aplomb
The ability to demonstrate fitness routine moves in a high end restaurant (more on that later ;) )
After all, twelve hours of burger eating is not for the faint-hearted. For this task I had my constant companion on these adventures Belinda. Alas Mr NQN was unwell and busy working but I also had Louise, Viggo and Nick who have each participated in one other eating challenge. One sunny Saturday afternoon two cars headed out in search for burgers. In one car was Belinda, Nick and I in one car with Louise and Viggo in another. We were armed with a list of 11 of the latest burger places to try.
One should ever underestimate the Australian public's love for a good hamburger. It was difficult to narrow it down to just eleven considering the number of establishments that serve burgers. To make things a bit more manageable we omitted the places that had already been blogged. The rules were simple and along the lines of our other food crawls:
Burger Hunt Rules: 1. Keep each visit short 2. Order one cheeseburger and one alternate burger and fries. Because fries are very important. Do not order dessert because that's just crazy talk. 3. Ratings are out of 30 for the burger. Within this score, there would be equal weighting for the bun, patty and filling. Chips would be rated separately out of 10.
And so without further ado, here is our burger hunt!
Rubber Duckie, Manly
The original reason I was lured here was twofold. When it was a microbrewery called Murray's, they had a burger that looked fantastic and had a thick layer of smoked cheese. I actually photographed it for them for their website and spent the whole time drooling. The second reason was that Viggo was quite enamoured of their burgers. I then found out that Murray's is now called Rubber Duckie (after the Surf Life Saving water vessels rather than the bathtub friend).
The restaurant is full this Saturday lunch time and after a battle for a spot in the car park we're in great spirits as we approach our first stop. The sun is shining and there really isn't a better place to be today. Louise and Viggo order two burgers: a wagyu beef burger and a soft shell crab burger and both come with fries.
All of us agreed that buns are very important for the burger as well as the ratio of the bun to the patty. Too much of either, particularly the former and the burger isn't as enjoyable. We were happy to see that there were lovely butter brioche buns with the wagyu beef burger. There was also beetroot, tomato relish, smoked cheese and zucchini pickles. It's a good burger and the fries are crisp and thin although Louise did note that it was on the expensive side.
This isn't a cheap burger at all but the flavour of the freshly deep fried and battered soft shell crab, red slaw and yellow tomatoes are excellent. Everyone but Viggo who can't eat shellfish enjoyed this unexpected burger filling and the filling from the crunchy crab to the soft bun was very good. We also enjoyed the relish that came with the fries.
Average cheeseburger score: 24.3/30 Average alternate burger score: 25.4/30 Fries score: 6.5/10
The Ivanhoe
Ever optimistic and curious, we decided to give a pub around the corner from Rubber Duckie a go. We hadn't actually read any reviews on it but the Ivanhoe Pub on Manly's corso had just undergone a revamp and their ground level serves a good range of burgers and pizzas so we decided to pop our heads in to take a peek. It was the idea of a Peking Duck burger that had us taking a seat. Ordering is done at the bar and you can also watch the chefs preparing the food behind a glass partition.
The Ivanhoe burger is a beef pattie with iceberg lettuce, cheddar cheese, tomato, onion, tomato sauce and is the simplest of the burgers. On first bite Nick remarks something that I was thinking - that it had a real "Old school burger takeaway place" taste to it which is quite nostalgic for us. Alas the fries didn't fare too well. Louise note that they were undercooked. They were thick and floury numbers.
The one that we were very curious about was the Chinese roast duck which had iceberg lettuce, cucumber, spring onion and plum & orange sauce. We were surprised to see actual pieces of roast duck rather than a patty. However it was difficult to eat as it was slippery in texture due to the amount of sauce on it and the large pieces of iceberg lettuce. Viggo did note that it would have made a great jaffle filling which is a good point (although presumably without the lettuce) and Nick thought that it would have been "cool as a slider." To me it wasn't so much a burger as a sandwich in a bun.
Average cheeseburger score: 17.2/30 Average alternate burger score: 15.6/30 Fries score: 2.4/10
Batch Burger, Kirribilli
It was from a suggestion by Louise that we try a new place in Kirribilli called Batch Burgers. Kirribilli markets is in full swing and it's a busy suburb this Saturday lunchtime. It is charmingly decked out in full retro style mode with wait staff in diner outfits and the decor is distinctly 50's in red and whites. We are lucky enough to find a table free before the rush and we take a seat on the outside table which is replete with sunshine.
The burger menu is extensive as befitting a burger specialist and there is also a breakfast menu with non burger items as well as snacks, salads, mac and cheese and desserts as well as serving drip filter coffee and single origin coffee. We order the burgers and Belinda also goes for a Cherry Ripe chocolate thickshake. Everything comes out very quickly and our fries are ordered separately as they don't come with the burgers.
The cheeseburger has a beef patty with onion, pickles, cheese, American mustard and ketchup on a seeded brioche bun. Viggo notes that the patty seemed like it has "Hamburger Helper" or something similar in it to upp the flavour in it so that it is almost sausagey in taste. Louise remarks that the burger patty is more homogenised in texture and less coarsely ground than others while Nick notes the "nice crust" on the beef patty.
The Californian is right up my alley. It's a layered beef burger with white cheese, tomato, lime avocado, Spanish onion, pickled Jalapeno pepper and watercress and it's described on the menu as "A humdinger of a burger." I have to agree and I confess that I love avocado, pickles and jalapenos on a burger so this was always going to be the pick for me.
Which brings me to the fries. This was the first time that any fries were scored 10. The chilli fries were topped with a finely ground chilli spiced mince and melted cheese. The chilli had a great spicy bite to it and we make impromptu chopsticks with two chips and pick up the chilli mince and stringy cheese with them.
Average cheeseburger score: 23.8/30 Average alternate burger score: 23.2/30 Fries score: 9.2/10
Chur Burger, Surry Hills
It was a quick trip across the bridge to Surry Hills for our next stop. Chur Burger ('chur' being NZ slang for cheers or thank you) was recently reopened and sees the former Assiette site packed even at 3pm on a Saturday afternoon. We're greeted and offered a table towards the back next to the open kitchen and amongst the boxes of sweet potatoes. Ordering is done at the front counter and there's a bit of confusion as to whether there are sweet potato fries available. They are also out of the pulled pork filling. I take my number and return to our table.
The menu is simple with six burger fillings all at the same price of $10, three extras, potato and sweet potato chips and four types of milkshakes. For good measure, we order a salted caramel milkshake. We watch as a chef drags a large box of sweet potatoes from under our table to make more fries. There are a couple of interesting New Zealand chilli sauces on the table including a kiwifruit and habanero chilli sauce which tastes sweet at first only to hit you with a punch of chilli.
The beef burger is a simple, classic cheeseburger although I did like the quality of the patty. Nick also liked the texture of the patty and Louise finds the texture "rough" although I like the coarse grind of the meat.
I was smitten by the lamb burger from the first bite-I love mint sauce and lamb together and this also had feta, pickled red onion and aioli. Nick's remarks were simply "Lamb was sick, bro" and Belinda's comment was that the mint and aioli was "yummo".
We have to admit that despite everyone's apparent love of sweet potato fries, these were a bit too thickly cut for us. They were more like a baked sweet potato than a crunchy, crispy fry although the outer edge was thinly crisp. It is also an enormous serve and I can't imagine anyone but the two footballers that walked in after us finishing it.
Average cheeseburger score: 22.6/30 Average alternate burger score: 23.2/30 Fries score: 4.5/10
Mary's, Newtown
The dead giveaway for Mary's location is the single red lightbulb that hangs in front of the building on Mary Street in Newtown that looks as though it could have been a community centre in a past life. Inside is a revamped two story building where ex Bodega chefs serve up a neat menu of burgers or fried chicken. The greeting is friendly when we walk in with a cheery "Welcome!" from the tattooed bartenders and the ground floor is busy this late Saturday afternoon.
We head upstairs to the dining level as the ground level is full and take a seat. One corner looks to be a shrine to Willie Nelson and we ask who is a fan. Apparently it is just one of those random things that makes Mary's so quirky. The menu is painted on the bricks and consists of three types of burgers, a beef burger, a Mary's burger and a mushroom burger and there are four sizes of chicken from a half bird, whole bird to a Larry Bird (two whole chickens).
There's one thing that strikes us all at the same time when we pick up the burger. Belinda says it first with a "Go Maccas!" and it is eerily just like a plumped up McDonalds cheeseburger although it looks nothing like it. I'm sure it's better, fresher quality but it's a bit odd eating something just like a McDonalds cheeseburger in such a quirky location. Even the chips are slightly thicker versions of the McDonalds French Fries.
I prefer the Mary's burger because I am a sauce freak and this was lovely and saucy. In fact my only note was "You saucy minx" next to this burger. We ordered an extra of their their trash can bacon which is their way of cooking bacon but there wasn't a lot of it on the burger which was a bit disappointing for a $4 added item. Louise remarks "If I was a guy this wouldn't fill me up" and then asks "Where was the bacon?" The bun is actually very soft indeed and because of this, it compresses easily so that it does feel like a smaller burger.
Average cheeseburger score: 19.6/30 Average alternate burger score: 20.2/30 Fries score: 5.2/10
Burger Fuel, Newtown
It is a little walk down King Street to Burger Fuel. The atmosphere is different - it's a takeaway shop and there was an element of slight chaos when we walk in. It seems as though they might have been understaffed as the girl taking orders looks frantic, tables remain uncleared and there is the smell of burning bread.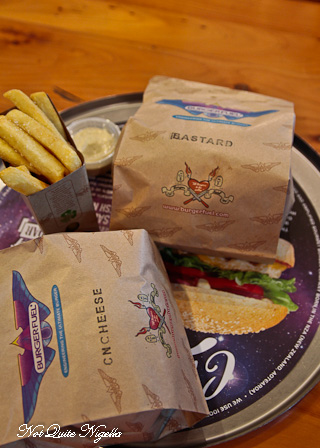 We take a seat and watch the video of a grandmother drumming and other quirky things. Burger Fuel is a New Zealand chain of burgers and it is decorated ever so slightly with a car theme (think spark plus lighting fixture). There is also a dispenser of "doofers" at the counter which are cardboard wraps that you slide your burger into so that the filling doesn't fall out the other end. Our tray of burgers is brought out to us.
It wasn't readily apparent what C N means and the staff look too busy to ask but this has a 1/3 pound 100% pure NZ grass fed beef patty, melted cheddar, grated parmesan, salad, relish and aioli. The patties have a sausagey flavour to them and Louise says that she finds it "quite ordinary."
Admittedly lured by the name, we were curious to see what a bastard was like, particularly as it had mango on it. It has a 1/3 pound 100% pure NZ grass fed beef patty, melted cheddar, bacon, beetroot, juicy mango, avocado, salad, relish and aioli. Most of this burger is left behind and the general consensus is that mango doesn't really go with beef on a burger.
The fries are thick and crispy although by this point, the smell of cigarette smoke from the nearby pub and noisy kids around us are urging us to leave. We realise that it's a different proposition to the rest but the prices aren't actually that different to the places making better quality burgers.
Average cheeseburger score: 10.6/30 Average alternate burger score: 10.8/30 Fries score: 3.9/10
The Fish Shop, Potts Point
We jump into the car and head over towards Potts Point. It is around 5:50pm which is about the perfect time because come 7.30pm on Saturday night, parking is impossible to find in this suburb. We both find parks easily and enter The Fish Shop. I think everyone in the group thought that I was mad to include a fish place on the list but I explained that the location was formerly Lotus where Dan Hong reportedly made the best burger in Sydney. Lotus is no more and it has changed names. However as is still owned by the Merivale group, it still serves his burger.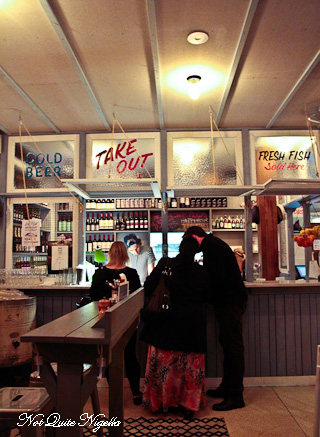 Although early, it is quite busy and the whole back section is booked out. We ask if we can sit by the kitchen which is where Girl Next Door and I sat when we visited. It's a bird's eye view and Nick particularly enjoys hearing all of the comings and goings of the kitchen and he chats to the friendly chef there.
There are two burgers on offer and we start with the one that we came all the way to try. Nick starts scissoring away at it using the steak knives that they've provided us with. The staff are really quite delightful and curious about our burger hunt so asking for a steak knife isn't an issue at all.
The famous cheeseburger doesn't disappoint and three of us give it a 29 out of 30. The patty is beautifully rare in the centre lending it a creamy texture and there are comments from "The rarer the better!" from Belinda to "The patty of the night" from Viggo. Louise calls it "Well rounded and tasty" although she prefers less pink inside her burger while Nick loves the "great bun." It comes with a cup of crunchy, freshly cooked fries which had a good lightness to them but to be honest we were all about that burger.
The crumbed fish burger wasn't too far behind. It had a nice fillet of barramundi inside with bacon and chilli and although I wouldn't have originally thought to put bacon on a fish burger it adds lots of flavour and the chilli adds heat. "Come back and tell us where you find the best burger!" one staff member asks us a few times-he seems genuinely interested.
Average cheeseburger score: 28.4/30 Average alternate burger score: 27.6/30 Fries score: 8.4/10
The Burger Joint, Kings Cross/Potts Point
A few streets away is The Burger Joint in Llankelly Place. It's quite grungy looking with plenty of graffiti and most of the staff appear to be backpackers. We order at the left hand room (it is cash only) and sit down at a table in front of the right hand room. We're the only ones here at this time although the driver does dash away on his bike to do a home delivery order.
Salad can be added for $1 extra and perhaps that's where we went wrong because we all do like some salad in our burgers. Louise finds that the patty tastes like "Hamburger Helper" while her husband Viggo remarks that it tastes like a sausage patty. It was also quite cold and the cheese wasn't fully melted on the patty.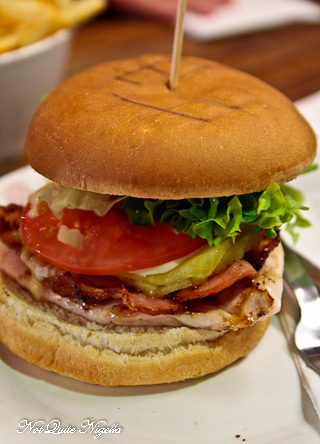 I took the counter staff's recommendation for a Hawaiian burger and it is actually much nicer than the beef burger. In fact I end up finishing most of my portion of this. It has grilled chicken breast fillet, crispy bacon, pineapple, melted cheese and mayonnaise and a good mix of flavours and textures without being dry.
The fries divide everyone. Viggo finds them undercooked while Belinda loves the sweet chicken salt on them. As a chicken salt fiend I didn't mind them at all although I do like them cooked a bit more. Scores varied from 1 and 2 from Viggo and Louise respectively to 6 and 7 from me and Belinda.
Average cheeseburger score: 8.8/30 Average alternate burger score: 14.4/30 Fries score: 4.2/10
Hinky Dinks, Darlinghurst
Belinda throws a suggestion into the ring and offers up Hinky Dinks, a short walk away on Darlinghurst Road. By now Dear Reader, I will tell you that it is entirely possible to be burger drunk. We felt a little burger tipsy and it wasn't just the cocktails. We were so "happy" that when we saw a red light in the entranceway of an unmarked doorway we couldn't help but satisfy our curiosity. "It smells like sex!" I exclaim and instead we hustle ourselves to Hinky Dinks.
Hinky Dinks is one of those places that I've always wondered what it looks like inside and it turns out it's entirely retro looking! The bar is charmingly decked out in an old diner style with turquoise and white benches and doors. The cocktail menu beckons and we take a look at the food menu. There is just one burger here so we order this along with some cocktails.
We all love chilli and the polenta fries also piqued our interest. The burger is the smallest one that we've had thus far but the bun is soft and easy to slice. The patty has a range of spices including cumin although Nick find "the patty a touch over done." There's more onion in this burger which is a point as onion hasn't really heavily featured on any of the burgers that we've had and Louise remarks that it is "well spiced but not a normal cheeseburger." As for the fries? They are crispy and perfectly seasoned and are a firm favourite with everyone at the table. On the way back to the car, Belinda photobombs a tourist's photos and we contemplate some of Kings Cross's less salubrious establishments.
Average cheeseburger score: 20.9/30 Average alternate burger score: NA Fries score: 8.9/10
Lord of the Fries, Sydney
Just a few days old, Lord of the Fries is a Melbourne based chain. It's probably not entirely fair to visit during the first few days but we had a burning curiosity about the fries so we made our way to George Street just near the cinemas. It's a busy area and we lose Viggo and Louise here as they can't find a park. We park at a nearby parking station and Belinda, Nick and I make our way to Lord of the Fries.
It's a tiny space, as in seriously small without room for a bench to quickly eat a burger or fries. Glass frontage offers views of the staff cooking and there's a long queue already lining up. Choosing is hard, it's mainly the sauces for our fries that we are dithering over and in the end we go with a regular sauce and a deluxe sauce as well as mini burgers. There's a sign apologising for the long waits as they get up and running.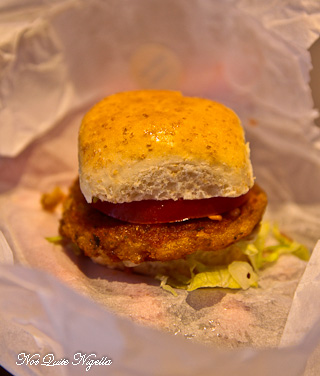 Belinda's reaction to the Guru Burger or vegetarian burger is telling. "It's cold!" she cries and refuses to have another bite. She's right, it's absolutely stone cold and we would have gotten back in line except that it was so long that we just thought that we'd be done with it.
The original burger fares a bit better. It's warmer for starters and has potential to be a decent burger but it is still quite cold with a thick texture that clings to the palate. Belinda rated both burgers a zero. Hopefully it's just a sign of teething problems.
Thank goodness for the fries. Unable to decide on a topping we have the Vietnamese mayonnaise on the side in a tub but all eyes and mouths are on their version of poutine with lashings of gravy and melted cheese strings. I know they're not the most photogenic item but they were fantastic. Belinda's only comment? "Stick to the fries!" and I nod in agreement while wolfing down these saucy, cheesy fries.
Average cheeseburger score: 3.33/30 Average alternate burger score: 2.33/30 Fries score: 9.33/10
Rockpool Bar, Sydney
We are on the home stretch and Nick decides to walk to Rockpool while Belinda and I drive. We reach Rockpool Bar around 10:15pm which is fortuitous for parking. As Viggo and Louise have missed the Lord of the Fries stop, they are already here having secured a table in the bar area in the corner and even Nick has beat us walking there. Everyone is in great spirits especially now that we can sit down and relax. A round of cocktails is ordered including a Winter bellini for me which is a gorgeous cocktail with quince, vanilla and champagne.
All night Nick has been talking about a friend's recommendation to get the gratin with the Rockpool burger-I don't think that it was even on the bar menu but service at Rockpool is excellent and nothing is too much trouble. "Do you know burpees?" Nick asks our waitress who he has a newfound crush on and Belinda stands in the corner doing leg lift squats and demonstrating her fitness routine to much amusement.
Our food arrives and we start with the wagyu burger which is excellent. The patty is made up of David Blackmore's full blood wagyu mince and is topped with bacon, gruyere cheese and slices of Zuni pickle (as in San Francisco's Zuni Cafe). The bun is soft as they all have been (most establishments seem to have done away with the crusty bun).
The crumbed po-boy is freshly made and crunchy and paired with lettuce, tomato and chilli mayonnaise. It's good but it needs a bit more chilli mayonnaise or moisture as the crumbed prawn is a little dry without it.
Although this is said to be a small potato gratin, it's actually a very good size to go with the burger. It's incredibly rich with potato and fine strands of cabbage and tastes as if it has a hit of brandy or sherry in it. The top coating of fine, golden breadcrumbs is incredibly buttery and crispy.
*Hand Cut Chips $12 *
The chips are somewhat of a miracle. Although they're squat and fat they're incredibly soft and light on the inside with the thinnest batter giving the outside crunch. The house made tomato sauce comes in a gravy boat.
*Average cheeseburger score: 22.8/30 Average alternate burger score: 20.25/30 Fries score: 8.4/10
Rockpool's menu states at the beginning that good manners are expected at all times. Our excuse? We were burger drunk officer... ;)
About our burger hunters:
Belinda
What I like in a burger: Sliced tinned beetroot is a must, it reminds me of my step-mothers homemade burgers.
What I thought about the day: My highlight was the camaraderie of a group that never gave in to burger fatigue. Surprised that my favourite burger was from the Fish Shop. My lowlight - a red light, the number 69 that kept showing up wherever we went, the smell of sex and Nick still didn't get lucky!
Lorraine
What I like in a burger: real mince, not sausage meat, a soft bun (brioche, sesame) and just the right amount of sauce. A sad burger is a dry burger with a crusty, hard bun that cuts your top palate.
What I thought about the day: I loved the whole day and how everyone still had enthusiasm and vigour even at the last stop. It was a great group of people and I think some of us even craved burgers the next day (although I ate a mushroom burger as I figured I'd had enough meat). Lowlight? None except for when I calculated how many calories I ate (big mistake, huge!) :P.
Louise
What I like in a burger: I'm not usually one to have a burger for a meal. It's usually a road trip stopover and I get a steak sandwich with onion only, but if i do I'm usually a burger with the lot kind of girl (but no avocado, yuck) or a chicken schnitzel type.
What I thought about the day: Well the crawl kind of cured me of any want of a hamburger the next day, I was actually craving a salad. I was surprised at how many places had burgers on the menu and how different each one was. I had great fun, probably the low light was parking, but that's a given. If you're talking food, the use of hamburger helper to smooth out the patties do your really need to add it?
Nick
What I like in a burger: I used to love a hamburger with the lot from a classic old school milkbar with a sesame bun, egg bacon cheese beetroot and salad. But the PlanB burger changed all that for me. Nothing beats a tasty brioche bun, juicy coarse beef patty, a slice of cheese, beetroot and some caramelised onion. That's what I like these days :)
What I thought about the day: the whole day was a highlight and so much fun (I had burger withdrawals this weekend). Other highlights include the conversations in the car, the walk down to that dungeon that smelt like sex, a visit to Rockpool with my education on a burpee and Belinda's crab demo. As for surprises, Hinky Dinks had a cool food & vibe and the lamb burger at Chur Burger was so good. I've had Dan's famous cheeseburger before, so I was not totally surprised, but it rocked! Ohh and the Rockpool gratin was awesome!!
The lowlights were parking in Manly at 12.30 pm (not recommended), how disappointing Mary's burger joint was - they could get that burger better and slightly less Maccas in taste as it's a nice spot with potential. Also how crap the Lord of the Fries burgers were and how good the chips were!
Viggo
What I like in a burger: Good quality meat, (without burger helper or other crap), and a toasted bun - hold the green stuff. It doesn't need to have a lot of fancy items on it, fruit and beetroot belong in salads on the side.
What I thought about the day: It was great fun, and very enjoyable to go hang out in so many different places that I'd not normally go to - I particularly liked some of the hidden places, eg: Marys, and Hinky Dinks was kind of fun, I was half expecting Clarence (the chef) from Happy days to pop out and encourage us to try the fish! Luckily the burger was much better than I can imagine they were in Happy Days. Overall, a great day, would do it again.
My lowlight: Missing out on Lord of the fries, but parking is a difficult thing on a Saturday night near George st.
**Hints if you're planning your own burger crawl: **
Don't eat breakfast or lunch. Don't eat dessert and avoid thickshakes.
Wear flat shoes as there is walking between places.
Share a car! It's better for the environment, it's more fun being with your friends and it also makes parking easier.
Bring wet wipes!
Send around a burger hit list with addresses for people to print out. It helps if people have each other's mobile phone numbers in case they get lost or find it difficult to find a park.
Ask for a steak knife when cutting up burgers. Quarters is probably the ideal size but fifths was entirely possible for our group, especially with a steak knife.
Some areas are best visited at certain times if you're driving and parking although most burger places are open all day, usually from noon until late. The only exception was Rockpool Bar which opens at 5:30pm.
Spread your burger hunt out over as long a time as possible. We weren't rushing and covered the 11 places easily without ever feeling rushed. Hey we even had time to photobomb a group and pop into a dodgy looking bar!
Rather than carrying lots of change, one person would just pay at each place. It all sort of balanced in the end and if there were excess cocktails, we'd pay for those separately.
Try sharing one burger instead of two. If you visit say eight places and have a quarter of a burger each then it's really only two burgers. To be fair on each establishment, we always ordered plenty of drinks and we never stayed more than half an hour at each place.
So tell me Dear Reader, describe your ideal burger! What sort of filling do you like and what sort of bun? Are fries important and do you always order them?
For posts on other Burger places:
Rubber Duckie
49-53 N Steyne, Manly NSW 2095 Tel: +61 (02) 9977 0999 Open Monday to Friday 12pm-11pm, Friday and Saturday 12pm-1am
The Ivanhoe
27 The Corso, Manly NSW 2095 Tel:+61 (02) 9976 3955 Open 7 days 12pm-12am
Batch Burgers
2/3a Broughton St, Kirribilli, NSW 2061 Tel: +61 (02) 9929 8883 Open 7 day 7am-10pm
Chur Burger
48 Albion St, Surry Hills NSW 2010 Tel:+61 (02) 9212 3602 Sunday Closed Monday 11:30 am - 5:00 pm Tuesday to Saturday 11:30-10pm
Mary's Newtown
6 Mary Street Newtown, NSW Tel: +61 (02) 4995 9550 Monday-Friday 4pm-midnight Saturday 12pm-12am Sunday 12pm-10pm
Burger Fuel
172 King St, Newtown NSW 2042 Tel: +61(02) 9519 4700 Open Mon-Fri 11am-10pm Friday and Saturday 11am-11pm
Fish Shop
22 Challis Ave, Potts Point NSW 2011 Tel: +61 (02) 9326 9000 Sunday 12:00-9:00 pm Monday to Saturday 12:00-11:00 pm
Burger Joint
393 Liverpool St, Darlinghurst NSW 2010 Tel: +61 (02) 9380 2575 Open 11am-10pm 7 days a week
Hinky Dinks
85 Darlinghurst Rd, Darlinghurst NSW 2010 Tel: +61 (02) 8084 6379 Open Sunday 1:00-10:00 pm Monday to Saturday 5:00 pm - 12:00 am
Lord of the Fries
537 George Street, Sydney Open 10am til late
Rockpool Bar & Grill
66 Hunter St, Sydney NSW 2000 Tel:(02) 8078 1900 Sunday Closed Monday to Saturday 12:00-3:00 pm, 5:30-11:00 pm