The meat pie is one of the most familiar and well known Australian foods. Gone are the days where gristly mince meat filled a carapace of hard pastry. Today's pies can be spectacular specimens filled with flavoursome mince spiked with rosemary or chunky, soft beef brisket or red wine soused lamb shank. Read on to see what we found on our meat pie challenge across Sydney (and there's some non meat options too!).
Picture this: it's a beautiful sunny Winter's Day in Sydney. Not a single cloud in the sky, you'd swear it was Spring and there are five of us driving to Collaroy on the Northern Beaches early one morning. There's an Esky in the back of the car, a chopping board, wipes and greaseproof paper. Which means one thing my friends: a food challenge!
It was Viggo's choice. The schnitzel challenge was Belinda's, the banh mi one was mine and burgers was everyone's (Mr NQN's idea of a fruit salad challenge alas got shut swiftly down). Viggo is a keen fan of the meat pie, that quintessentially Aussie snack or meal.
Are all meat pies the same? I have to say that if anything, this challenge has made me even more fussy about the humble meat pie than ever once I realised how delicious some can be and conversely how bad some can be. "This challenge has one of my greatest fears," Belinda says as we are driving North. "I got food poisoning from a meat pie when I was eight and I never ate one again until my adulthood," she says grimly.
Our challenge this gorgeous Saturday was to try a mince beef pie, a chunky beef and another non beef pie. Pies are available all over Sydney and actually some of the most well known pie shops are in regional areas outside of Sydney but for the sake of being able to get to all the places, we concentrated within metropolitan Sydney with some choices further out.
Unfortunately the flu had taken away one of our group, The Wizard and work travel had eliminated Nick. As always these results are non scientific, they're really just a group of friends having fun eating during one day. Pie shops tend to be open early (like from 7-8am) to cater for tradespeople who seem to keenly love pies and some either weren't open on the weekend or closed early. But since it was a gorgeous day there was no excuse to stay in bed. We had pies to eat!
Upper Crust Pies
As Viggo and Louise live in Manly the drive for them is short and they're in their car waiting for us to get there. "You wouldn't believe who is here!" Viggo says excitedly as we pull up to Upper Crust Pies in Collaroy. Quay and Bennelong chef Peter Gilmore is outside Upper Crust in his luxury sportscar having just purchased some pies. He's not the only celebrity to have made the pilgrimage to Upper Crust which has been open since 1948. An autograph wall has Kelly Slater and countless other famous signatures as well as people from overseas who have come to eat the pies.
Service is very friendly and we look longingly at a display of old skool tarts and slices before taking our pies outside to the tree stump tables and crack open the esky. We carve them open and take a look at the pie filling. Usually the mince meat is a bit of a mystery, the kind of filling that you tend to avoid but this mince pie takes me back to primary school days and suddenly I'm 7 again and eating one from the school canteen.
The chunky beef is full of soft meat and is very satisfying with Belinda saying, "Chunky had good spice to the gravy". I wasn't really taken with the chicken, avocado and brie one finding it very mild in comparison to the others. We watch as Peter Gilmore drives away and discuss the pie that he ordered: a butter chicken. "Should we get one?" I ask and before I can even think about it, Belinda turns on her heel and says "Yes!". She buys one along with a vanilla slice.
The butter chicken pie is fantastic. Filled with chunks of real, tender butter chicken I can see why he makes the trip to buy it. And you can bet I'm making a butter chicken pie soon! ;) The one thing we noticed with all of their pies is that the pastry was perfectly thin at the bottom and crisp and the perfect vehicle for holding in sauces without risking being undercooked or breaking. "I think we may have started on the best one," says Viggo ominously. Oh no, was it all downhill from here?
Mince Beef pie average score: 37.25/50
Chunky beef pie average score: 38.75/50
Chicken, avocado and brie pie average score: 34.25/50
Butter chicken pie average score: 40.5/50
Secret stop
We make our way down south and drive for an hour. Belinda puts on her 80's Australian music and we drive to Cold Chisel and other Australian artists. One hour later we arrive at a pie shop whose reviews seem to divide people. Some seem to rate it highly while others don't at all. We want to decide for ourselves. Certainly there's a big queue with plenty of pies being sold here. We take our pies to the table outside and cut them up. The mince pie was nothing short of awful and its not long before we realise that pie quality varies wildy. The mince tastes like freezered meat with a tinge of seasoning and my brain immediately tells me to put my piece down. There's nothing nice to say about these pies so we pack them up leaving most behind and leave stopping for petrol and a pack of cheese and bacon Twisties on the way ( a palate cleanser ;)).
Mince Beef pie average score: 15.5/50
Chunky beef pie average score: 15.5/50
Chicken pie average score: 20.5/50
Bourke Street Bakery, Marrickville
We drive back towards Marrickville to Bourke Street Bakery. There are several locations but for the sake of speed and tables we visit the Marrickville one. I order here and have a lot of trouble deciding on three to choose because once they mention a special one with potato on top I can't help but order that too as I love potato topped pies. There is no mince available here, all the meat is chunky style and I get sauce on the regular beef pie while leaving the other sauceless (and sauce here is free).
I realise that I shouldn't have asked for sauce on the beef pie because they sauced the entire top of the pie which made the pie taste mostly of tomato sauce so I can't really comment on that except that it tasted sweet and tomatoey as a result. The soft beef brisket is a favourite with everyone as is the intriguing sounding mix of chicken, sweet potato, pea and lime pickle. The special pie with beef, bacon and beef topped with potato "potato pie was tops!" according to Belinda. Louise says that there was "no hunting for filling, good flavour, good quality meat" while Viggo "Liked them all - excellent pastry, brisket was superb." Even Mr NQN who doesn't like brisket said, "Surprisingly the brisket was better than expected." We down our iced coffee and chai and relax a little here before realising that we need to leave.
Chunky Beef pie average score: 37.5/50
Beef brisket beef pie average score: 39/50
Beer, beef and bacon potato pie average score: 36.25/50
Chicken, sweet potato, pea and lime pickle pie average score: 38/50
Black Star Pastry, Newtown
Driving through the streets of Marrickville to Newtown with our Aussie music in the car we drive past "Elvis Man", a local character who plays his Elvis tunes loudly on his motorised scooter. He has an Australian flag on the back of the scooter. I suspect he might like a meat pie...
The next stop is at Black Star Pastry. They also have a few locations but we visit the original one in Australia Street in Newtown because there's an Australian theme going on with our day. Because it is such a tiny location, people perch on every corner they can and the line extends out the store. There are two pies on offer: an award winning lamb shank and red wine pie and a beef and beer pie currently made using Young Henry's beer but set to change to another soon.
With nowhere to eat them we take them to Louise's car where she opens up the Esky and we slice them up. The pies look totally different to the others with a pretty crown pattern and the pastry is an entirely different affair with an all butter puff that rains crumbs everywhere. I adore the buttery pastry but these pies are rich so I don't know if I could finish an entire one. Belinda remarks, "Pretty pies and gorgeous pastry. A firm favourite" while Mr NQN says, "Flavour in beef one was awesome". Viggo is the only one that isn't as smitten, "pastry a little too buttery, like eating a "croissant pie" which is probably what the rest of us like about it!
Beef pie average score: 39.5/50
Lamb pie average score: 38.25/50
The Pie Tin, Newtown
I think pie specialists are always going to have a natural advantage (although the secret stop proved that theory wrong) and at The Pie Tin business is absolutely booming this Saturday afternoon. For me I particularly like their sweet pies but we have to ignore the tempting display of sweet pies (thank goodness there was no coconut cream pie or I would have had to have ordered some). They bring out trays of pies from the kitchen.
We try three pies: a chunky beef, mince and a pulled pork pie with chunks of apple. I never really expected to love the mince pie beyond the nostalgia factor but this one is delicious as it has a touch of rosemary. Belinda says, it "Reminds me of my nanna's cooking" and I concur, it's just like a home made meat pie. For Louise, she liked that the "Pastry was cooked on all sides, it was nice and flaky but don't like the vinegar taste of the brisket, good presence of meat".
We like the chunky beef with the tomatoes and mushrooms which add a lot of flavour to the beef while I think I'm the only one that didn't love the pulled pork as it was a bit to sweet and cinnamony for me. Everyone else loved it, especially the big chunky apples. Mr NQN said, "Loved the apple in the pork for a nice sweet change," before adding, "Should have got the giant apple pie."
Mince Beef pie average score: 38.25/50
Chunky beef pie average score: 37.25/50
Pulled pork pie average score: 37.25/50
Hannahs Pies, Ultimo
We stop by La Bannette in Glebe but they've sold out of pies and only have cold ones left so we skip it and go onto our next stop: Hannah's Pies in Ultimo. Hannah's is famous for making the pies for the iconic Harry's Cafe de Wheels and I'm surprised to see that there isn't a mince pie, just chunky meat. We studiously avoid the tiger pie saving that for our later visit to Harry's. There are quite a few pies that aren't available but we settle for three and take them to the steps of the nearby Powerhouse Museum.
I don't know if I have mentioned this before but Belinda is the pigeon queen. Pigeons flock to her - alas, she is really quite repulsed by them. And it turns out that the pigeons on the steps are large specimens no doubt fattened by the crumbs from people that have bought Hannah's pies. One even has mashed potato covering its beak. Anyway, enough about pigeons. What about the pies?
The beef pie has a strong black pepper flavour (which is what I remember from the pie at Harry's Cafe de Wheels) and I would have liked more meat than sauce which seems to be what it's made up of mostly. The curry pie is more curry powder than a creamy curry but many of us like the chicken pie which is flavoursome and tastes of barbecued chicken with large chunks of meat. The pastry on the bottom is quite thick though. Both Belinda and Viggo called them "stock standard" pies while Louise said, "After the other good pies, these leant heavily on spices and pepper."
"Maybe we should leave them (the pigeons) the crumbs?" says Belinda as we leave. No wonder they flock to her! ;)
Curry Beef Beef pie average score: 26.5/50
Chunky beef pie average score: 28.5/50
Chicken pie average score: 28.5/50
Pie Face, Kings Cross
It's just after 4pm and we're headed toward Woolloomooloo and alas have missed Flour & Stone as they close at 4pm and Infinity Bakery have sold out so we decide to give Pie Face a try. We had heard that they were in administration but there are still a few stores around so we take a seat and watch two dogs playing and unwrap our pies. This is the first time for most of us to try their pies and I have to admit we didn't expect much but are pleasantly surprised. We have a mince, chunky beef and a butter chicken pie (from now on I'm just going to order butter chicken pies if I see them as they're all so good).
The top pastry is very different from other pie shops as it has lots of horizontal layers. The butter chicken is delicious with chunks of carrot while the mince and the chunky are actually very good too. Louise says, "Surprised was expecting heaps of spices to cover up the mass produced flavour but it actually tasted quite good" while Belinda found it, "very surprising I loved the flaky pastry. Chunky pie my fave." It was surprises all around with Viggo commenting, "surprisingly good, had a bad pie from this chain a while ago, but these pies were good!" and Mr NQN "quite surprised that this chain was producing good pies".
Mince Beef pie average score: 36.5/50
Chunky beef pie average score: 35.75/50
Butter chicken pie average score: 36.5/50
New Hampton, Kings Cross
It is around 5:30pm it's about now that we feel the need to have a bit of a rest, a drink and a seat so we stop by the New Hampton Hotel around the corner (full disclosure Dear Reader: it is owned by a good friend of Belinda's). There are normally two pies here but today the chicken has run out and there is only lamb. Service is friendly and the pie is a bit more expensive at $18 as it isn't a takeaway venue.
Nevetherless the pie is good value given its size and sides. The aroma of lamb wafts out as soon as you cut open the pie which is a pot pie with a pastry crust. The lamb aroma is one of those things that can divide people. Louise comes from a farming family so the aroma of lamb isn't too much for her whereas it can be for some like Mr NQN. Nevertheless he says, "if you like lamb it'd be good. I'm not a fan of strong lamb flavour." For me the flavours are good and there is plenty of soft meat inside and it's a generously portioned, filling and satisfying pie.
Lamb pie average score: 35.5/50
Funky Pies, Bondi
Just for something different we make our way to Bondi where Funky Pies serves all vegetarian pies. Their pies have a huge following and although the shop is small (and located right next to a burger place with some parties eating the vege pies while their friends eat burgers) it's quite busy this Saturday night.
Funky chunky pie
Along with vegetarian pies there are all sorts of healthy drinks and a lot of vegan offerings. We try the Funky Chunky (their version of a chunky beef), No Wurry Curry and a Butterish Chicken. Even if you want to try a pie and they've run out they will bake it fresh for you which is really nice service.
Butterish Chicken pie
The pies are a surprise, especially the butterish chicken which is my favourite and has tandoori pumpkin and soy nuggets along with the Funky Chunky made with shiitake mushrooms chunks in a rich gravy with a touch of creamy mash. Belinda surprises herself by loving the No Wurry Curry with organic lentils & chickpeas in a coconut curry sauce. So much so that she gives it her only 10 of the day and even buys two to take away. She says, "Maybe I'm vegetarian on the inside? #scream" while for me and Louise the sauce is too sweet. Mr NQN who grew up vegetarian thought that the "chunky had a bit too much garlic," but was "impressed with purely vegetarian flavours".
No Wurry Curry Pie
Funky Chunky pie average score: 34.5/50
No Wurry Curry pie average score: 36/50
Butterish Chicken pie average score: 33.5/50
Harrys Cafe de Wheels, Kings Cross
It would be remiss to not try the "Tiger" pie at Harry's Cafe de Wheels named after the founder Harry "Tiger" Edwards. It is a chunky grass fed lean beef pie served with mushy peas, mash & gravy. Louise and Viggo are unable to find a park so she drops him off and circles around while we order.
The famous pie van is situated on Cowper wharf in Woolloomooloo. The history of this pie van goes as far back as the 1930's depression era Sydney and has hosted and fed a huge list of celebrities from all around the world. Apparently Colonel Sanders loved the pies so much that he ate three of them and Elton John conducted a press conference from inside the van!
The pie is like the pie at Hannah's - strong in black pepper and topped with mushy peas, mashed potato and gravy. Basically like a meal in a pie Mr NQN loves the potato and peas and Belinda sums it up with "Iconic. You're unAustralian if you don't like this one."
Tiger Beef pie average score: 33.25/50
Boathouse, Blackwattle Bay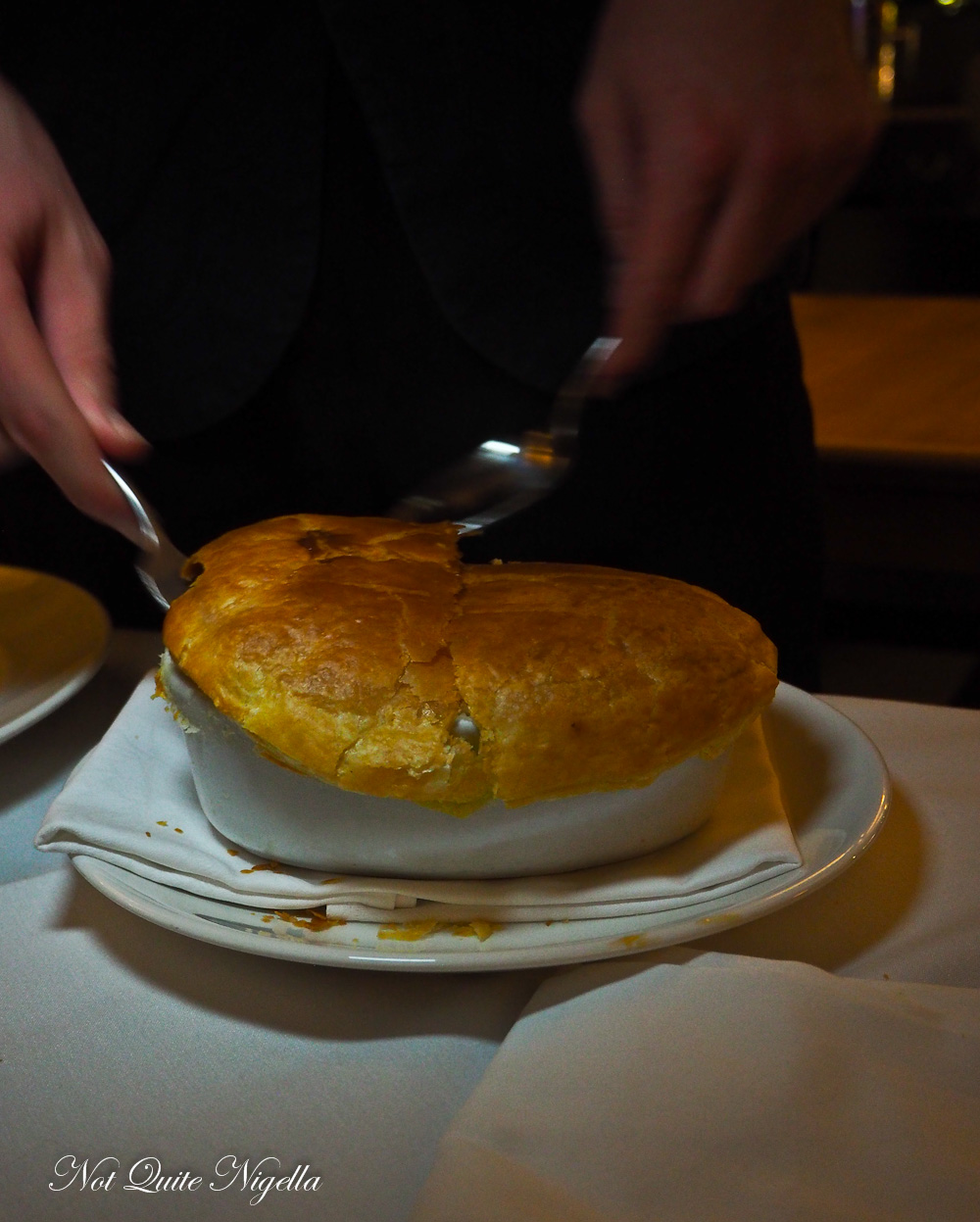 Usually with our challenges we try and make our last stops something of a reward and a rest and our last stop is at the Boathouse at Blackwattle Bay where we order the famous snapper pie (as well as other mains). It's a bit difficult to pit this pie against the rest given that it is served in a waterfront restaurant setting at a cost of $48. It's a dish served with ceremony as they wheel a trolley over and slice through the pie's pastry top. The fragrance of the filling wafting out like a perfume. They serve half of it alongside some mash and smoked whole tomato while the other half remains in the dish.
Viggo pronounces, "fantastic fish pie - so creamy and fluffy - but I don't think it is fair to compare this to a meat pie" and gives the filling a 10. Belinda boasts, "Have to have this pie once in your life. I've had it several times because I'm so fancy #livinglarge". Even Louise who avoids eating fish says, "I'm not a big fan of fish but this was very tasty." It is an excellent specimen of pie with a good amount of creamy, tender snapper encased in a golden, buttery puff lid. It's also large enough to feed two and that's not just because we had eaten so many pies!
For dessert we giggle when we see the pumpkin pie on the menu and after a day full of savoury pies we feel like we should order this. It's divine - a deconstructed pie with creamy spiced ice cream, crunchy deep fried pie crust chips, a dulce de leche and pumpkin base and a spiced nutty crumbs on the bottom.
And we have to have a bit of a giggle (there was lots of giggling here, call it a combination of cocktails and being pie drunk) when the petit fours come out. They're mini pies! Lemon meringue ones to be exact. You couldn't dream up a better end to the day...
So tell me Dear Reader, what is your favourite kind of pie? Is it a savoury one or a sweet one? Do you like mince or chunky pies? And do you like your pastry buttery? How often do you eat meat pies?
Snapper pie average score: 40.5/50
So what did our pie adventurers think?
Belinda:
My fear of the humble meat pie is equal to my fear of swimming in the ocean. I'm terrified of what lies beneath. That and a childhood food poisoning experience with a roadside diner four n twenty really scarred me for life. So with trepidation I braved our meat pie challenge.
We were blessed with a spectacular sunny Sydney day and with room in our stomachs made the trek around this fine city to find the king of Aussie pies. I was pleasantly surprised to find that the quality of pies available nowadays is far superior to the ones from my schooldays. I used to cringe at the other kids during lunch time when they would peel back the pie lid and splurt tomato sauce into the gristly muddy meat innards. The stuff of culinary nightmares. #shudder
My firm favourite from our adventure was the pie with mash from Bourke Street Bakery, this was so delicious and kept me going back for more.
I'm a long time fan of the dessert pies at Newtown's Pie Tin and their original mince version really took me back to visits with my nanna and her home made version. Loved their Pulled Pork and apple version as well, the sweetness against the crisp pastry was heavenly.
The biggest surprise of the day was how good the Pie Face versions were. Never eating pies from here I found myself enamoured with the layers of flaky pastry. Definitely a good all rounder.
Funky Pies in Bondi really spoke to my unknown inner hippy. The No Worry Curry won my heart as I'm a chickpea addict. So earthy and hearty I bought two to take away with me.
So unAustralian of me but I've never had a 'tiger' from Harry's Cafe De Wheels. A tourist haunt for an eternity, there were plenty of punters eager to sample this Sydney icon. At least I can say I've 'been there done that' now.
Im glad we did take on the humble meat pie and am happy to report that my meat pie aversion has been a abated. I'm definitely a meat pie convert now. Who'd of thunk it?
P.S Have you heard of a bike race somewhere in France? Naaahhhh me neither. #condescendingmuch?
Louise:
Pies, by definition, are fillings encased in a crust and boy did we have enough filling encased in a crust to last us well at least to midday the next day.
Pies for me have been something that I have made and eaten since I was young, growing up on the farm and using cuts which are only now becoming fashionable. I have an abhorrence for over spicing food, which for me is used to mask, and I think in the case with mass made pies, it covers the quality of the meat and makes each batch consistent with the next, and also it gives me hiccups.
So I went into this with a little bit of trepidation, would I spend the next few hours fending off hiccups and heartburn only to be pleasantly surprised.
Mince pies (not the fruit style) was the start. I remember taking $1.50 to school once a week and having a chocolate milk (in a cube) and a meat pie from the corner store, and it turns out we were hankering for a good quality meat pie with the perfect ratio of meat to thick gravy, and best one for me is only just up the road at the Upper crust.
Chunky meat pies are my pie of choice, nothing beats having a thick winter stew encased in flaky pastry, though I do think that those Pub pies which only have pastry on the top are a little bit of a cheat as it's the bottom layer of piecrust which is hard to perfect. How do you get it cooked through without burning the top? The best overall chunky pie is the Bourke Street Bakery brisket pie, which has a wonderful pastry and well cooked meat pieces.
Last on the list is the specialty pie, I had a macaroni and cheese pie when growing up so I suppose you can put anything you like into the pie. Again, for me the best pie was the Butter Chicken pie from Upper Crust, it tastes like real butter chicken and the gravy was nice and thick.
So it seems that a fitting task to undertake on the next day after overeating my share of Sydney's pies is to bake, you guessed it, a pie and be thankful that there is no one there judging me on my pastry crust and filling to gravy ratio..
Lorraine:
Because our group are always so enthusiastic about our challenges, I was really happy to take their suggestions as to which food to do next. I normally wouldn't think of meat pies, I am a sausage roll freak from way back but since Viggo loves them we were only too happy to give this a go. This was such a fun experience because we weren't stressed for time at all and we managed to find some really spectacular pies (except for one place, that was terrible - ugh!).
The meat pie is such an Australian food icon and while other countries like America have plenty of sweet pies, we tend towards savoury ones. Practically anything can be put into a pie (and has been I'm sure). For me pastry is just as important as the filling because I love good pastry. What really struck me was how much pies vary from the pastry to the filling. There are so many good pies out there and the humble pie has really moved on from the minced meat version (although give me a party pie and I'll be happy) to lovely slow cooked cuts where a lot of care is taken. On the whole I love buttery puff pastry and creamy, saucy fillings but not too much sauce. The place that we all disliked was just this cornflour enriched thick gravy inside a pie with very little meat.
It may sound strange but every time we do these challenges everything works out so well, the weather gods shine on us and nobody ever chucks a tantrum, it's just lots of fun and fate seems to work for us. Except we had me, Mr NQN and Belinda in one car and they two of them fight like siblings, especially when it comes to directions. I just crank up the music or snapchat their arguments.
The biggest thing for me today was that I also developed a rather strong obsession with butter chicken pies. And if we hadn't gotten to Upper Crust at that time then I would never had experienced the joy of this type of pie! Not only are these challenges fun but you really get to try new and interesting things!
Mr NQN:
There is a bike race which has been taking place in France recently. I have enjoyed watching the race this year and in particular the latter stages had some great action. Unfortunately the broadcast hours kind of suck for viewing in Australia. The stage on Friday night was a short one at 138km though for some reason finished later than normal (around 2am). During the French Open there is another bike race in France called the Critérium du Dauphiné. The clashing of schedules with the French Open (tennis) means that the organisers of the cycling race run it earlier in the day. This is great for Australian viewing as you can watch the race, go to bed and get up for a ride the next morning.
Anyway, I was discussing the hardships of watching a cycling race in France with Belinda and Lorraine while we were driving north to our first stop in Collaroy. And was quite surprised at the amount of sympathy I received from them (zero). I did however manage to discuss a cycling race in France for a lot longer than I have ever discussed cycling with them in the past. I consider this a win.
I mention these hardships for a couple of reasons:
How else am I going to get Lorraine to publish more than a sentence about cycling and the Tour de France?
I know there are at least 2 NQN readers who also have this same self inflicted sleep deprivation across the the last 3 weeks.
Anyway, onto another first world hardship of mine. You see today I went on a pie eating challenge where we drove around Sydney eating lots of pies and giving them ratings. I'm not exactly sure why as I don't like savoury pies. Apple pies on the other hand. They are delicious.
It took me half a day of pie eating until I finally figured out the type of pies that I like. Do I like brown gooey soup? No. I like awesome flavours which can be either meat or vegetarian. The meat should have great curry flavours or plenty of vegetables (fruit should also be used more often). Many pie places had some Indian inspired flavours. While they were nice I think I'd still rather just eat a curry. There is room for some Indian chefs to raise the bar in making pies that I like.
Viggo:
Meat pies - is there anything more Australian? We started at an Australian institution - the Upper crust in Collaroy - this place has been around for decades, and it's easy to see why. Louise and I got there a little earlier than the others, so we waited outside for a while. We saw all sorts of people come by and eat pies, mates on their way to work, cyclists having a quick bite, an old lady with a trolley, kids on bikes, and as the others are arriving. A Jaguar with a hatted chef arrives, and we watch as he gleefully purchases a bunch of pies. People from all walks of life, all coming to this tiny shop located on the side of the highway. Pies bring people together, especially when they are this good.
As we drive all over Sydney, we experience a variety of pies, some are good, some are decidedly below average, and few are excellent.
If I could describe the perfect pie, I would take the filling from upper crust, and put it into the pastry from the Bourke Street Bakery.
Overall it was a very enjoyable day, great to drive around town and test pies with our friends. As the day is winding up, we finish at the Boathouse - we are here to sample the Snapper Pie. People have been raving about it, and it's easy to see why. The waiter rolls in a trolley with the pie, and ceremoniously cracks the pastry, and spoons up piping hot Snapper onto the plate, it looks and smells delicious, a perfect way to end the day.
My favorite pie of the day was the brisket pie from Bourke Street Bakery, succulent meat in a light gravy, encrusted perfectly in crispy pastry, baked to perfection.
Upper Crust Pies
1003 Pittwater Rd, Collaroy NSW
Phone:(02) 9971 5558
https://www.facebook.com/uppercrustpies
Bourke Street Bakery
2 Mitchell St Marrickville NSW 2204 (and other locations)
Phone:(02) 9569 3225
http://bourkestreetbakery.com.au/
Black Star Pastry
277 Australia St, Newtown NSW 2042 (and other locations)
Phone:(02) 9557 8656
http://blackstarpastry.com.au/
The Pie Tin
1-1a Brown st, Newton NSW 2042
Phone:(02) 9519 7880
http://thepietin.com.au/
Hannah's Pies
562 Harris Street, Ultimo NSW 2007
Phone:(02) 8346 4100
Pie Face
82-94 Darlinghurst Rd, Potts Point NSW (and other locations)
Phone: (02) 9360 9461
http://pieface.com.au/
New Hampton Hotel
9 Bayswater Rd, Sydney NSW 2011
Phone:(02) 9331 1188
http://newhampton.com.au/
Funky Pies
2/144-148 Glenayr Ave, Bondi Beach NSW 2026
Phone:0451 944 404
http://funkypies.com.au/
Harrys Cafe de Wheels
Corner Cowper Wharf Roadway & Brougham Road, Woolloomooloo, NSW 2011 (and other locations) Phone: (02) 9357 3074 http://www.harryscafedewheels.com.au/
The Boathouse on Blackwattle Bay
123 Ferry Rd, Glebe NSW 2037
Phone:(02) 9518 9011
http://www.boathouse.net.au/