The Yukon or the wild North West of Canada bordering Alaska has long been one of the places I have always wanted to visit. Not only are the views sublime and the town replete with quirky charm and full of the friendliest characters you will ever meet but it plays host for the third year to the Yukon Culinary Festival flying in chefs from all over the world to cook Yukon produce. Elk heart anyone?
In the Yukon, the word sourdough means more than bread. It is also a term of pride and affection for someone that has stayed for an entire winter in the Yukon, such are the cold and rugged conditions of this area of Canada so far North that it sits almost at the Arctic Circle.
The name sourdough comes from how people hung their sourdough starters above the wood stove in a cabin. The only way and the rite of passage to become a sourdough is to watch the Yukon River freeze and then break up again in the Spring. The opposite of a sourdough is a Cheechako or a newcomer.
Downtown Whitehorse is just 10 minutes away from the airport but a scenic drive is in order once I arrive in Whitehorse. To get here it is a 2 hour flight from Vancouver on Air North, a charming little airline with friendly service and big luggage allowances.
The first stop is a lookout where we watch the view below of the Yukon River, all shimmery aquamarine jewel colours. There are trees as far as the eye can see and the name Whitehorse comes from people claiming the river's rapids resemble a white horse's mane. We drive along the Alaska Highway, past seaplanes and the SS Klondike Paddle Steamer.
I've been travelling for 25 hours and I just need to stay awake until 9pm to help combat jetlag. So I take the cue from the sunshine and walk around the town. It's small but with gorgeous painted buildings. There's also a log cabin church built in the 1920s called the Old Log Church Museum. People are incredibly friendly here in the Yukon and it is full of characters - I can see how shows like Northern Exposure and Men in Trees came about.
Pork chop the coolest dog in town
People stop their cars if they see you are taking photos so as not to get in the way and I meet Pork Chop the coolest dog in town and his friendly owner. Even a trip to the post office to buy a stamp for a postcard takes a while as they have a good chat with everyone and they ask about where I am from and wish me a great time here. I dip in and out of shops. Some sell a lot of proudly Yukon produce like Fireweed and Sprucetip jelly and Birch syrup. You can also place your name on a peg and hang it up on a clothesline for free.
I stop for a drink and to rest my feet. At Klondike Rib and Salmon BBQ the best time to visit is before 5pm because come then it will be packed with customers. I try a peppermint tea with a shot of Baileys - it's not bad, not strange at all.
I wonder aloud about the woman in the framed photo. A friendly diner explains that it is Klondike Kate, a dancer and vaudeville star who found fame in the Yukon before moving onto other cities.
The salmon is deliciously buttery. Every morning at 5:30am they smoked wild salmon in their smoker and it is served that day. It's wonderfully fresh and served here with raincoast crackers, herb cream cheese, thinly sliced red onion and capers.
The River Runner $14.95
Dinner is scheduled for 6pm. I usually try to stay up until 9pm and that allows me to get into the regular sleeping pattern again. Summer in the Yukon means that there are only a few hours of darkness at night. Even at 6pm it is bright as we make our way to Wheelhouse, a restaurant serving plenty of local ingredients just a few minutes drive away.
There are some tools on the wall and there is also a description of the history of the Wheelhouse on the placemats. We aren't particularly hungry so we decide to share a couple of entrees and then have a main each. Plus dessert of course ;)
Local Arctic Char Dip $18
I go for the Arctic Char, a locally caught fish made into a creamy and lemony dip. It comes with a diced red pepper dip, crispy breadsticks and little toasts. The dip has the perfect amount of lemon to creaminess and I could easily eat this all up. Prices are higher here in the Yukon due to the remote nature of the area although they aren't that different from Sydney prices.
Beef short rib $31
I was intrigued by the addition of birch syrup to beef short rib. It's a very Canadian item and whilst this was delicious and the beef very soft, I actually forgot that there was birch syrup in this so the flavour wasn't very strong at all. It comes with red capsicum, carrots and sauteed kale.
Lemon meringue cheesecake $13
I have to order this because there's something about digging your fork into a slice of cheesecake. The cheesecake is like a cross between a lemon meringue pie and a cheesecake. It's a rich, creamy vanilla cheesecake with a buttery crumb base. It sits in a pool of lemon curd and there is burnished meringue on top. I could not stop eating this - oops!
Bourbon Chocolate torte $12
The chocolate torta is one of those deceptive dishes where you say you'll only have a bite but then half of it is gone. If you love rich chocolate ganache (and I do!) this is the tart for you.
It's 8:30pm and as I've been up for 27 hours it's time to go to bed. After the world's longest shower I pull the curtains tightly shut (it's still bright outside like it's 3pm in the afternoon) and go to sleep. I get 9 hours of sleep with just one 2am wakeup.
The purple flower is fireweed, the Yukon's floral emblem
The next morning after meeting the other writers who flew in later last night, we set off in the car for Kluane National Park, about one and a half hours away. We watch the mountains closely - the thick fog surrounding them is like cotton wool and that isn't a good sign. For Yukon the weather often plays a part in whether outdoor things go ahead or not.
When we arrive at Whitehorse Air they've got some good news for us. We are going up for a glacier sightseeing ride in a Cessna! Our pilot Easton gives us a choice of seats. Everyone jumps in leaving the back seat free so I take that. It turns out the back seat is actually one of the better seats as they have windows that open up for photos. There also tends to be more views on the left hand side.
He explains that most of the turbulence is in the first three minutes of the flight and he points out the various glaciers and mountains. The views are spectacular and we cover a lot of ground. We pass by occluded glaciers and round pools that are such an intense blue shade that they almost draw you in to take a closer look.
The national park below has no roads or allows hunting and you may fly over a moose (tip: you'll be most likely to find them in the streams and lakes). We pass Canada's highest peak Mount Logan, Dezadeash River Trail and the amusingly titled Disappointment Mountain (not actually disappointing). I take a video of the Lowell Glacier which I post to Instagram. Snow capped peaks contrast against green covered mountains. It's an exhilarating feeling seeing the park this way and its various terrains.
Coming back to earth and once back in Whitehorse, we make a stop at the Yukon Brewing, a microbrewery whose slogan is "Beer worth freezin' for". Here they make a range of beers and single malt whisky, the latter aged for 6 years and to be released in Fall 2015.
Their most popular beer is the Yukon Gold but the most award winning beer is the Yukon Red. They produce 875,000 litres of beer a year and they reuse all the brown Canadian beer bottles and their six pack rings are made of recycled material that can also be recycled. All of the spent grain is also given to a local farmer who feeds it to his horses rather than it being discarded.
For $10 a person you can book one of their thrice daily 45 minute tours that gives you a 25 minute back tour and a tasting of all of their beers and spirits. The proceeds from this tour is given to a local charity. The vodka is scented with raspberry, rosehip and sage with the sage being the strongest presence.
Whitehorse also plays host every Thursday afternoon from 3pm-7pm to a farmers and craft market along the Yukon River. It's a picturesque setting and you can get to and from the major parts of town by waterfront trolley ($3 one way). There is a lot of local vegetables sold here as well as some snacks and foods. We try a beaver tail, a deep fried bread shaped like a beaver tail and sprinkled with sugar and cinnamon. It's quick thick, dense and sweet.
There are all sorts of things like butter tarts, cakes and all manner of poutine - Klondiker poutine is like a cross between nachos and poutine while the Yukon one has bacon bits.
A friendly stall owner offers up a smell of Lineria, an ambrosial scented flower that is also pretty to boot. Another soap vendor sells Thieves Oil soap-the mixture of clove, lemon, cinnamon, eucalyptus and rosemary was said to be worn by thieves in the Middle Ages when they wanted to enter homes during the period of the black plague. Yukon beer is also used in this soap range, the distinctive hops aroma imparting a mild scent.
That evening after checking into our hotel (the Westmark Hotel, really the main hotel in town and we will be checking in here a total of three times). We make our way to the SS Klondike for a "picnic", a dry docked sternwheeler shop that sits alongside the smoothly rapid waters of the Yukon River.
This event signals the start of the Yukon Culinary Festival, a four day festival in its third year. The SS Klondike was built in 1929 and transported freight between Whitehorse and Dawson City. In 1936 it had its first accident as they took the inside corner around a bend and hit a reef damaging its hull. They retained the top half of the ship but the entire hull had to be rebuilt. The old hull destroyed in the accident still remains at the bottom of the Yukon River.
You can walk through and see displays of what the stores would have been like. There are tins of reindeer milk and powdered eggs. The crew accommodation is also for view - they sleep four to a cabin. There is also a formal dining room which we can only see from a distance and a mess hall for crew.
Upstairs is a replica of the formal dining room and the tables for the crew to eat at. There is also the meat store which was located near the stern of the boat so that the spray from the paddles in the water would keep the meat cool.
For tonight, it's the site for the SS Klondike picnic or at least the grassy area in front of it is. Chefs Chris Irving (originally from the Yukon and visiting home after a stint in Sydney at The Gantry) and Edible Canada's Eric Pateman have created a "picnic" menu. It's not so much a picnic as a marquee with tables and chairs inside - probably a good thing as the weather in Whitehorse and Yukon can be very changeable.
Although it starts at 7pm we are the only ones there and people amble in around 7:30pm where we help ourselves to the buffet. The main event is the leg of elk that the chefs have cooked on a spit in an old water tower. One side was wrapped in bacon to keep it moist. Chef Chris Irving has a connection to Australia as he is the Executive Chef at The Gantry at Pier One but originally is from the Yukon. The other chef Eric Pateman is from Edible Canada, an organisation that promotes Canadian cuisine.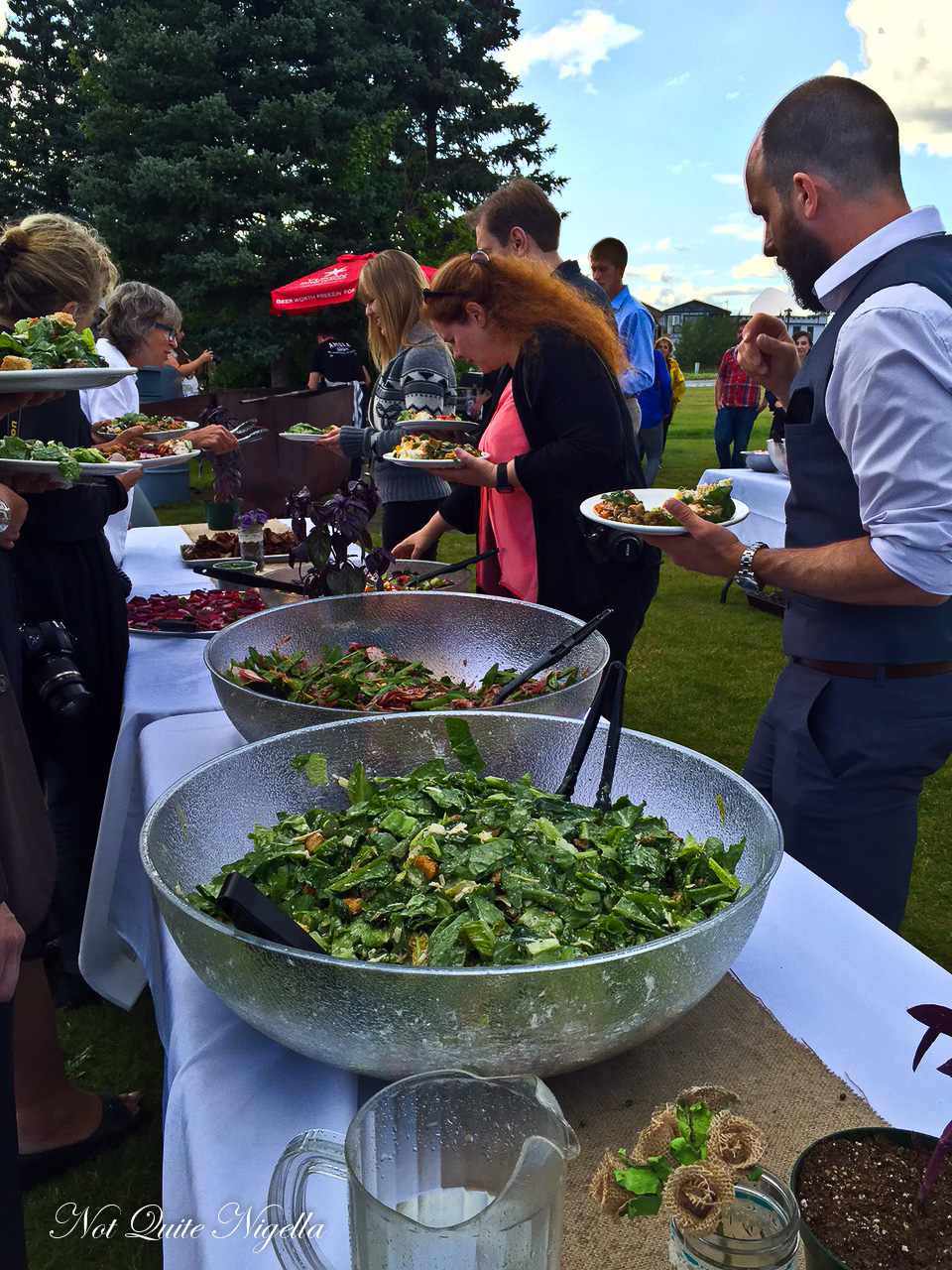 Some people are dressed in period costume. There's a huge range of salads as well as cheese and beetroot slices, bread and they serve elk depending on how you like it. It's a lean meat but I choose the caramelised bits as well as some of all of the salads. And just as the weather likes to do in the Yukon, it starts sprinkling!
Before dessert they have a little treat for us. They are cooking up the elk heart. Last night the chefs had the elk tongue and tonight they thought that they'd cut up the heart. The entire heart weighs about 3 pounds or 1.5 kilos.
Here they are simply sauteeing it lightly in butter and sprinkling over it with salt. I take a strip of it. Perfectly tender and juicy it reminds me of highly marbled beef because it is so succulent. Who knew that I was a fan of elk heart?
Tempted by the large trays of chocolate bread and butter pudding, we try some with fresh whipped cream and raspberries. It's dense and not overly sweet. And of course all of this is eaten by the light of the midnight sun which shines brightly until the clock strikes twelve.
So tell me Dear Reader, did you ever watch Northern Exposure or Men in Trees? And do you think you could live through a Winter in the Yukon? Have you ever visited anywhere this far north?
NQN visited Canada as a guest of the Canadian Tourism Commission and Tourism Yukon. Meals at Klondike Rib and Salmon and the markets were independently paid for.
Klondike Rib and Salmon BBQ
2116 2nd Ave, Whitehorse, YT Y1A 2A8, Canada
Phone:+1 867-667-7554
http://www.klondikerib.com/
Wheelhouse
2237 2nd Avenue Waterfront Station, Whitehorse, YT Y1A 5W1, Canada
Phone:+1 867-456-2982
http://wheelhouserestaurant.ca/information/
Kluane Glacier Air Tours
http://www.kluaneglacierairtours.com/
Yukon Brewing
102 Copper Rd, Whitehorse, YT Y1A 2Z6, Canada
Phone:+1 867-668-4183
http://yukonbeer.com/
Westmark Whitehorse Hotel
201 Wood St, Whitehorse, YT Y1A 2E4, Canada
Phone:+1 867-393-9700
http://www.westmarkhotels.com/
Yukon Culinary Festival
http://yukonculinary.ca/