There's a common saying about Las Vegas, what happens in Vegas stays in Vegas. Yet it's a phrase that we find ourselves saying about Dawson City. It doesn't help or hurt that the town's resemblance to a gold mining town movie set makes it a little surreal. Yet the modern day inhabitants are friendly and welcoming and if anything they remind me of Sydney's Newtown with an unexpected diversity of people. As for me I am hoping to catch a glimpse of Caveman Bill, a real life modern day caveman who lives in a cave across the Yukon River. I mean when am I going to ever meet a real life caveman again? "Just stand in one spot for a while and he'll turn up," is the local's advice on how to find him. "Can we meet Caveman Bill?" I ask our host Jim. He gives me a wary look, one that says, "I'm nodding but this won't happen."
With food never far away from my mind, we take a seat at Alchemy Cafe, located on Third Avenue right next to the Kissing Houses so named because they are tilting so much that they almost touch or kiss.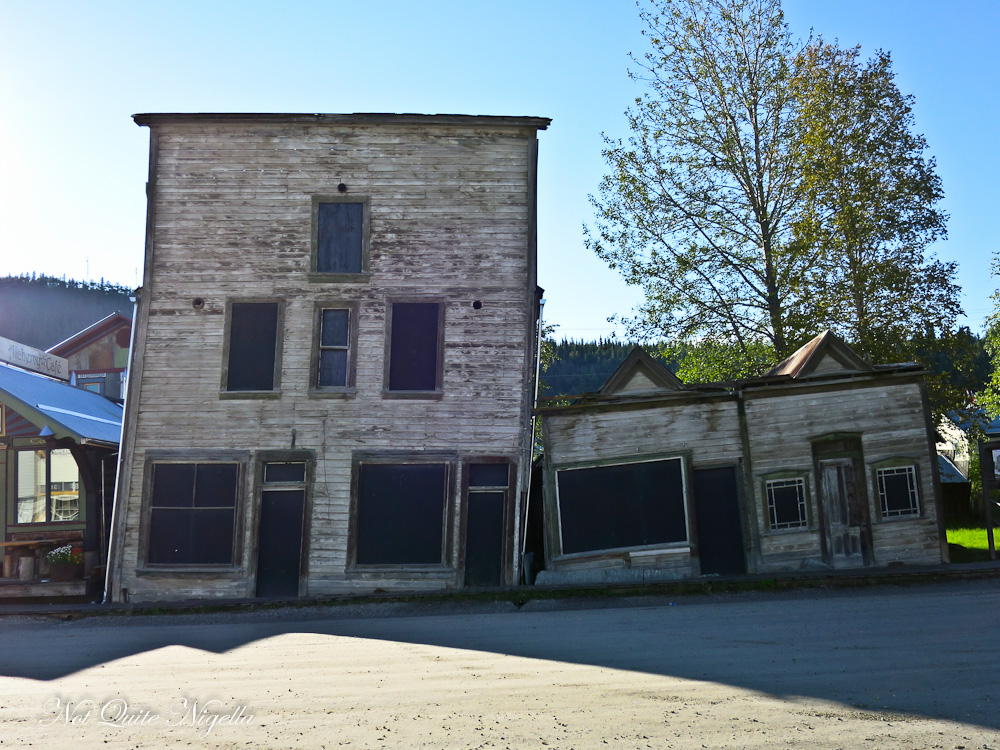 The kissing houses
At Alchemy there are a range of raw treats, milk alternatives and a good range of vegetarian and non vegetarian items on the menu. I order a matcha milkshake, all thick and creamy made with ice cream, almond milk and matcha and perfectly sweetened and creamy.
French Toast $14.90
My main is something to behold. We didn't get to try the Cheechakos bakery and this savoury French toast is made with thick slices of their bread with marinated artichokes, local zucchini, ricotta bechamel, local greens and is topped with Swiss cheese with a balsamic reduction. It just needs a little salt and it's wonderfully warming. I immediately make plans to recreate this at home.
Just nearby at the Ninth Avenue trail chef Michele Genet shows us how to find some of nature's wild bounty. She has written two cookbooks called the Boreal Kitchen and she moved here from Toronto several years ago. She first shows us pineapple weed or wild chamomile. The flowers have a sweet scent, oddly like faux pineapple lollies and it is said to make a lovely tea. There are also medicinal plants like Yarrow that can help stem bleeding. Michele collaborates with local Beverly Gray who has written a book about medicinal plants called "The Boreal Herbal".
High bush cranberries
Then she comes across high bush cranberries with their distinctive tart flavour and large pip. Unlike the other more common variety these aren't suitable to make jam out of because of these large seeds but they are plentiful here. She recently managed to pick two 4 litre bags of them from this location and there are still plenty of them here.
Wild strawberries
She points out the fireweed plant whose leaves turn from green to red. There is also cucumber leaf related to borage or lung wort. Cailin point out a wild strawberry and we taste these tiny little berries. They're beautifully sweet-what you'd hope a strawberry tastes like but rarely does. Then there is clover, the cow's favourite that tastes like grape skins with an element of sweetness.
Labrador tea leaves
There are plenty of mushrooms and labrador tea the latter she calls, "The quintessential North item". But there are also items that foragers should be aware of like the horse tails plant - if the spikes turn down it is ok to eat it but if they point upwards you shouldn't. Bane berry is a lethal berry and one tiny red berry can kill a small child.
After all this foraging we are getting hungry so it's time to stop by Klondike Kate's. The cabins also have a restaurant attached and in honour of the culinary festival and Canada's Food Day a range of participating restaurants have created a special menu. It's an easy choice with an entree and main offered and we go for one of each.
Cream of roasted broccoli soup $6
Prices in the Yukon are mostly on par or slightly less than in Australia whereas they may be considered expensive for Americans. I'm not sure what to expect with the soup, perhaps a small cup but it's enormous. The soup is creamy and rich and warming, the broccoli adding plenty of flavour. It comes with a frico or a baked cheese crisp as well as saltines.
Charr Chard Quesadilla $14
Somewhat oddly, the mains come out at the same time as the entrees. The Arctic char quesadilla is locally smoked and comes with cheese, rainbow chard, roasted red pepper, salsa, guacamole and tri colour tortilla chips. The size of this too is enormous and I can barely make headway into this.
Tin Roof Pie $8
But you know of course that dessert is a separate stomach (we've established that early on in our relationship right Dear Reader?). They show us the regular dessert menu and there is one pie that calls my name. It's Jean Shepherd's of Good Hope's Famous Tin Roof Pie. The pie is popular here not just because there are lots of tin roofs! It has a nutty crust filled with a vanilla ice cream filling, hot chocolate fudge sauce and roasted peanuts. And like the rest of the food, the serve is huge.
There was one thing that Cailin, Rosalind and I were particularly keen to try. At Peabody's Photo Parlour, customers can get dressed up in costume and have their photographs taken. It's a fun way to spend an hour and they show us the boxes and racks of clothing to choose from. There's a choice of proper lady outfits and then the less ladylike outfits. We gravitate towards the can can skirts and take about 20 minutes to get transformed.
Hair and makeup is your own responsibility so I wish I had brought my curling iron along. And while everything looks a bit uncoordinated they assure us that the sepia version will look suitably aged and appropriate. A few minutes later they show us the proofs and they're fantastic. There's a mixture of group and single shots - the only thing is that I would have loved a few more single shots to choose from.
It's a quick stop at the weekly artist's market where I buy some gifts and pat Bobo the gorgeous black pug before we walk along the dyke back across to the visitor's centre.
Suddenly there is a cacophony of horn blasts. It's two Dawson City weddings! The wedding party sit in the back of a pick up tied with tin cans at the back and are followed by their wedding party of several cars each blasting their own horn. They pull close when they see my camera and invite us to the wedding party afterwards!
We are scheduled for a guided tour with the local tourist office. It's a large tour helmed by tour guide Fred who loves to spin a story. The intro is quite long and starts at the First Nations cultural centre along the Yukon River before we head off to the old post office and what used to be Paradise Alley or what is currently known as Second Avenue. Ladies of the night would display their certificates of health in the window and it was home to characters such as Kate the Greaser or One Eyed Olga.
Outside the bank I take a photo while a bearded man walks past and he warmly calls out, "Hi!". It takes me a minute to register that it may have been Caveman Bill. I call Rosalind over who saw Bill the day before and all thumbs and fumbling with eagerness I show her the picture of the bearded man.
"I think that's him!" she says. Desperate to meet Caveman Bill and talk to him we look at each other. "Let's find him!" I say excitedly. I realise quickly that this the only chance I have of meeting him so in a flash we run towards the direction in which I saw him walking leaving the tour behind.
"Excuse me have you seen Caveman Bill anywhere?" we ask a local man sitting in his pickup who looks like he could be a cast member of Northern Exposure. "He went that-a-way" he says pointing his finger towards the Downtown Hotel. We look at the direction that he is pointing but he is nowhere to be seen. He's a fast walker and searching around in all directions I see two women. "Should we ask them?" I say, determined to find Bill.
One of them Laura, is his friend. "Let me message him on facebook, she says but warns us that he can often be slow to respond because he doesn't have internet or a phone. She tells us that he often has tea at the Downtown Hotel in the afternoons.
"Is that him?" I ask spotting the familiar long striding silhouette wearing the hat in the distance. "Oh yeah I think so!" she says and off we run towards him. Again he disappears without a trace and then we spot our host Jim from Tourism Yukon. Breathless we tell him, "We're looking for Caveman Bill!" hoping that he hasn't noticed that we are no longer on the tour. He has some ideas and we head towards one cafe and then Jim stops. "That's him!" he says and scoots across the road quickly. We're at the shoreline at the marina and sure enough, it's Caveman Bill! If we were two minutes too late he would be across the river on his boat. I cannot believe our luck. But would he talk to us?
Thankfully, he is very friendly and amenable. When I ask him where he lives, he points out a cave across the water, next to a wooden raft. I ask him how long it will take to get there and he cocks his head and smiles. "Do you want to see for yourself?" he asks and delightedly, we nod yes. Donning our life jackets we climb into his boat and make our way across the water to his cave for the three minute boat ride.
His name is Bill Donaldson and he is 51 years old although his skin is remarkably smooth and looks like that of a 30 year old under the greying beard. He moved here to the cave almost 20 years ago from near Toronto. Bill makes money by helping out with odd jobs, mushroom picking, renovation, construction and with his carpentry skills. There are chairs outside that are beautifully designed, looking almost fairytale like with their curves and proportions.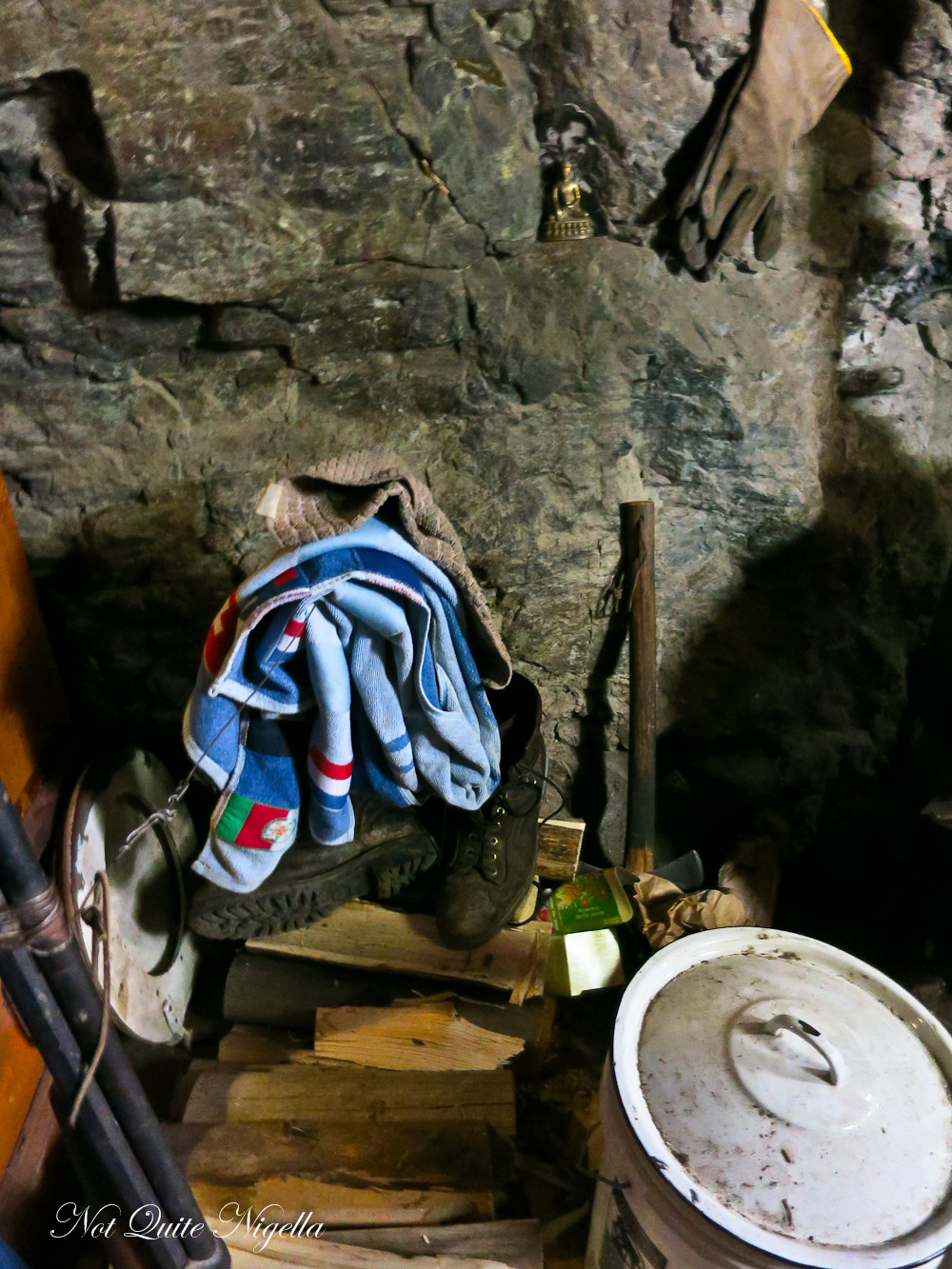 "That's the chicken coop," he says pointing out an area that used to house chickens. He used to sell their eggs but now the chickens are no longer there. Bill now makes money from selling the chicken manure which is piled high.
His dog Tiger makes an appearance. Tiger is shy and moves away quickly. There's a pad pinned to the door with a pen - that's for friends to leave him a message and his cave has also hosted cave parties with friends. "There were 12 of us in here once," he says. Everyone in town knows Caveman Bill and he seems to be held in great affection. And speaking of the cave, he invites us in.
At the opening is the kitchen with a two burner gas stove. To keep the cave warm he has a wood burning stove and solar panels which keeps it toasty and warm even in -56°C/-68.8°F weather which is how cold the Yukon can get. During Winter the Yukon River can freeze over and he can walk across on the ice bridge. There are plenty of books and DVD's -he is partial to Game of Thrones, Boardwalk Empire, Sons of Anarchy and Dexter.
And has he had any women here? "A few," he admits, "But they don't stay long. Women tend to like indoor plumbing," he says. Speaking of plumbing, he pees off the side and "sh*s in a bucket". He was once caught with his "dck in my hand," by a tourist paddle steamer that went past. He now keeps track of their schedule to avoid any similar encounters.
He visits the downtown Dawson City every day making use of free internet and email and to buy food. He grows a little like cabbage and wild berries. For tonight's dinner he will have beef with Brussels sprouts. And should anything go wrong, he has an Family Radio Service radio and a gong to call to his friends across the river. He is gentle and fascinating to talk to and we lament that we have to leave him. We climb back into the boat and take the ride back across the river excited that we finally got to meet Caveman Bill!
Bill's hand carved chairs
Rushing like mad women we realise that we are going to be late to dinner. Part of the Yukon Culinary festival, the Commissioner's Residence dinner is held at the historic house that now serves as a museum where visitors can receive guided tours. For events, guests are encouraged to wear whatever they like but we feel that a visit to the mansion requires a bit more fancy dress. The lovely ladies at the tourist office loan us some outfits and hats and we rush to get ready for the evening.
When we arrive the mansion is beautifully decked out. On the front lawn are the chefs that are cooking at all of the culinary festival events. There is Georgia Fraser and Blake Cameron from Aloha Food and Events, Marco Desmond from Starfire Thai Skagway in Alaska, Eric Pateman from Edible Canada, Chris Irving from Whitehorse and who is finishing up his stint at The Gantry in Sydney soon and Michele Genest from The Boreal Gourmet.
All drinks are paid for separately and people can buy a pass for all of the events at the festival for $300 or pay for each separately. This dinner is $75 per person and is good value.
Smoked char on sourdough blinis
The first bite comes around on a platter and it is smoked char on sourdough blinis with local radish and dill by Georgia Fraser and Blake Cameron. It's a delicious mouthful and when they come around again we help ourselves to seconds.
Quail egg, char roe and pickled local beet canape
My favorite canape is the quail egg, topped with char roe and pickled local beetroot. It's simple but perfectly balanced.
Tom Kha Soup
The tom kha soup by Marco Desmond has two seared scallops on the bottom and plenty of mushroom slices. It's a little sour but it's a warming soup. Apparently because there is no Thai restaurant in Whitehorse, people drive two hours to Skagway Alaska to eat at his restaurant!
Caribou Tenderloin
The Caribou tenderloin is Eric Pateman's dish and is served with cannellini beans, grilled zucchini, pesto and balsamic. The caribou is tender and is similar to a venison in flavour.
Alaskan Halibut
The Alaskan halibut is a fillet of the whitefish served with a divine smoked potato mash, wild horseradish, garlic scapes and the most melicious morels. It's Chris Irving's dish and I have to ask him how he gets the morels (although I also wanted to ask him about the smoked potato mash but he was obviously busy). Paul makes the joke that the morels resemble sourtoes!
Chocolate Hazelnut Torte
I watch Michele and Chris picking flowers from the bushes at the front of the garden. They're using these to decorate the chocolate hazelnut torte which is a rich flourless cake served with whipped creme fraiche and scattered with flowers. It starts a bit of a fight as I (randomly) get the biggest piece but it's worth fighting for!
Although we love the costumes, they're a little cumbersome so we quickly get changed and then take a walk to Diamond Gerties for the quintessential Dawson City experience. Nights in Dawson City start with one of the three shows there and then end up at a place called The Pit. As it is late we make the midnight show but it's still bright because of the Midnight Sun which causes reality to seem a little deceptive and surreal.
We take a seat at one of the middle tables in front of the stage. The show goes for about half an hour and it's not bad with singers and dancers. There are two groups of dancers that perform the shows and just one cue, as soon as the show finishes, everyone gets up to go to The Pit.
As Cailin and Paul have just ordered drinks we stay for a bit which is a bit of a rookie move because the Pit has swelled beyond capacity by the time we line up in the freezing cold. We wait shivering until they let us in.
There are two pits: the armpit and the snake pit. The latter is open from 9am-11pm whereas around 1am the Arm Pit is roaring with trade. Some of the locals are starting to look quite familiar. Some rather interesting paintings hang on the walls!
The throng is thick around the bar and a band plays Neil Young while people dance. We stay for a while, it's only the early hour of 3am that makes us think that we perhaps need to go home (there's an early start tomorrow). As we leave three men barge their way in run through the Arm Pit. I'm grabbed in a bear hug and it's all a little wild and surreal. A bit like Dawson City really.
So tell me Dear Reader, what is the most surreal place that you've ever visited? And what did you think of Caveman Bill? Would you have wanted to meet him too? Have you ever experienced the Midnight Sun?
NQN visited Canada as a guest of the Canadian Tourism Commission and Tourism Yukon.
Bombay Peggy's
Corner Second Ave and Princess Street, Dawson, YT, Canada
Phone:+1 867-993-6969
http://www.bombaypeggys.com/
Alchemy Cafe
878, 3 Third Ave, Dawson, YT Y0B 1G0, Canada
Phone:+1 867-993-6880
http://alchemycafe.ca/
Klondike Kate's
1102 3rd Ave, Dawson, YT, Canada
Phone:+1 867-993-6527
https://klondikekates.ca/
Yukon Culinary Festival
http://yukonculinary.ca/