Just today I saw some pics of The Yukon. It was frozen over and blanketed in snow. I realised that any sort of lulling into chilly weather just isn't done in this part of the world and things go straight to zero. Yet it feels like only a few months ago that I was in Marsh Lake where the weather was warm and everything was bathed in sunshine.
It's about an hour long trip to Marsh Lake, Carcross and the Southern Lakes district from Whitehorse. Most of us nap on drive to our destination for the evening: Inn at The Lake. Marsh Lake is the headwater to the Yukon River. The Inn is owned by Carlson Schiffkorn who has had it for 20 years. It is a log building that is beautifully put together. Carlson bought it when the outside log structure was in place and finished the inside. The looks belie its age as it doesn't look its age at all.
In Winter the hotel is an ideal location for Northern lights of Aurora Borealis viewing, snowshoeing and dog sledding. You simply pull up a lawn chair on the side of the lake and wait. But during summer people stay to hike, canoe, golf (complimentary) and these activities are accompanied by Carlson's food.
When we arrive Megan greets us and gives us a tour. There is the main homestead with the Duck Room and the Jacuzzi room as well as the cottage just a few metres away. I like the look of the jacuzzi room that Jane also has her eye on. She is extremely vocal and I end up taking the smaller duck room just to avoid any sort of fight. Yup this is what happens when you have different room types and a group of writers with one determined to fight at every juncture sigh...
The Duck room is cute and it's cosy. There is a queen sized bed and a single bed next to it. It's warm and comfortable (in the Yukon central heating is a must). The bed is a bit springy and squeaky though.
The bathroom is small with the sink outside next to the door as there isn't much room in there and the only light in the bathroom casts a strong red colour. I do a bit of work before we are expected for dinner at 7pm at the communal table with the inn's other guests. Internet is complimentary although Instagram and Youtube are blocked for bandwidth reasons.
Outside raspberry bushes hold a bounty of sweet fruit - you pick these at your leisure. Downstairs is a small gym and pool table with a shop full of Canadian produce.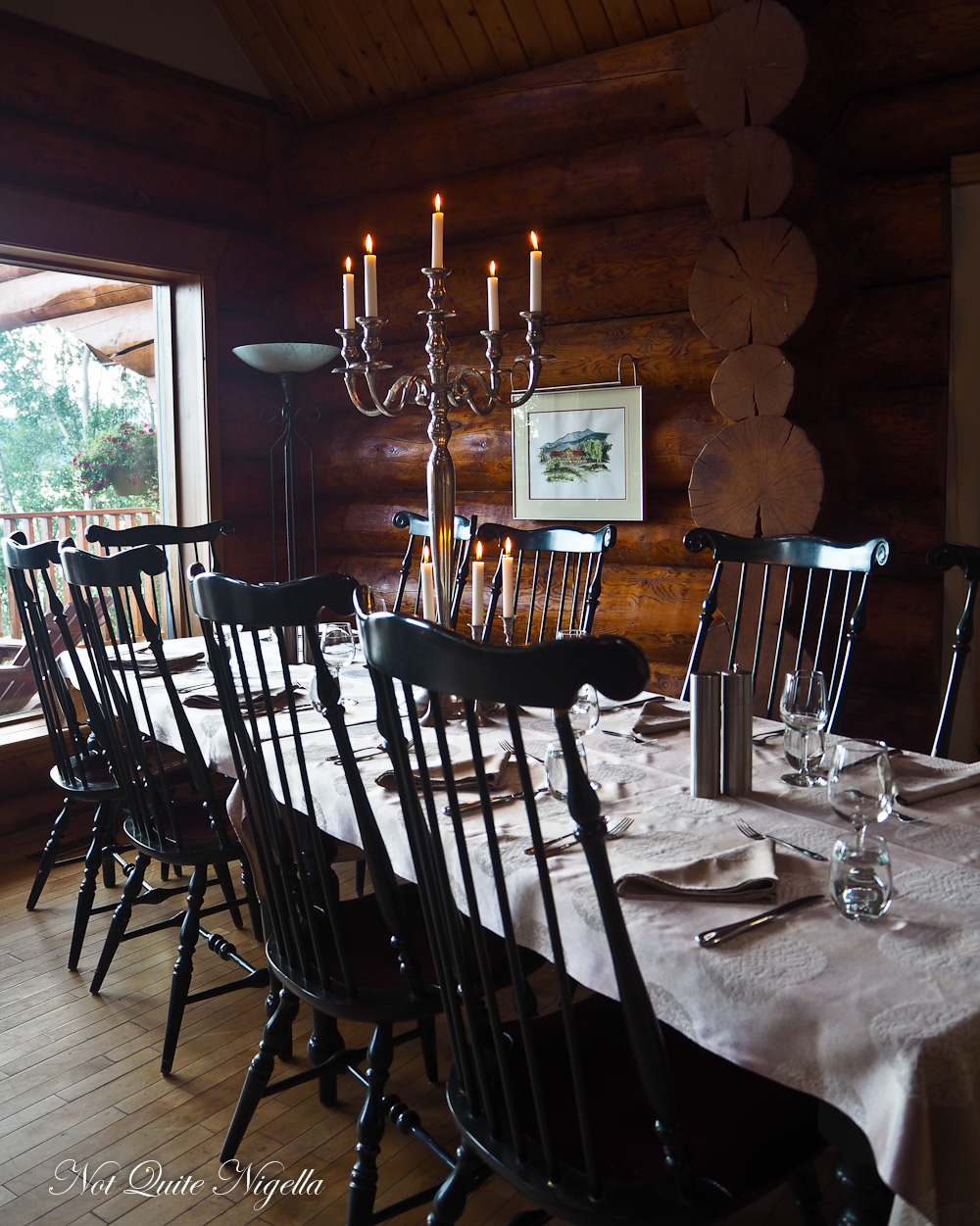 At 7pm I make my way to the Great Room which has a stunning view of the lake outside. Wine is included with dinner and they feature Canadian wines mainly from the Okanagan region. I have a glass of Pinot Blanc which is fantastic and chat to Carlson and Megan as they put the last steps in place for dinner.
Carson Schiffkorn
We take a seat with another couple who are there celebrating their 10th anniversary and who honeymooned at the Inn. The first course is just what I feel like: soup. It's a yam and ginger soup with grated pieces of ginger at the bottom. It's comforting and warming.
The main course is a vol au vent filled with Alaskan sockeye salmon, scallops with an apple cider cream reduction, beet greens, truffle salt and flash fried red peppers. I particularly like the scallops and the crispy vol au vent case. The Yukon is so close to Alaska so supplies of fresh seafood are plentiful.
Dessert is a New York style cheesecake topped with local rhubarb marinated in gin and cooked with garam masala. The Indian spice mix gives an aroma like mulled wine or star anise while the rhubarb retain its tartness. It's a nice contrast to the light, creamy cheesecake. I have a glass of Inniskillin ice wine with it.
Again the bright sunlight takes a little getting used to. Certainly by the time we finish it's 9:45pm but still bright so I force myself to close the blinds instead of watching the view outside and go to sleep.
The next morning starts with the blueberry sausages that we bought from the store the night previously as well as a continental style breakfast buffet. Today's itinerary involves a scenic drive towards the Southern Lakes region back to Whitehorse past shimmering other wordly lakes and a stop at Carcross, a small town settlement whose name is a contraction of the original name Caribou Crossing.
The forests are thick with pine, spruce and fir trees and we cross a bridge to Tagish Lake where many people have holiday homes. People sit outside their homes fishing and loading boats.
We reach Chootia Lake and Carcross. It's a small community of less than 300 people but it is has a unique small town charm mixed with many crafts from First Nations people from clothing to jewellery. The general store sells many of these items including some beautiful porcelain dolls and animal skulls.
Other stores sell metal work and animal skins. One rather cute idea is that some stores will stamp your passport with the Carcross stamp for free. The houses are a hodgepodge of styles with one front of a house not matching the back. The town's post office is the oldest operating post office that has remained in the one place in the Yukon (by the way postcards here are a bargain at 3 for $1).
The tourist board is friendly and the stores rely on visitors with some shops closing down in Winter as tourist numbers dwindle due to the cold.
Clockwise from top pic: front of the house not matching the log structure behind, town church and post office
Our next stop is nearby - Carcross desert is said to be the world's smallest desert at one square mile. It is in fact not a desert but what remains of an ancient lake. Some of the species of insects are rare and it has unique fauna not often found in many places.
Our final stop before we get back to Whitehorse is the stunning Emerald Lake located on the South Klondike Highway. I almost rubbed my eyes in disbelief at the stunning turquoise shade of the lake. The light comes from the reflection off the marl in shallow waters.
And the next stop: Toronto!!
So tell me Dear Reader, what's the smallest populated town that you've visited? Mine was probably Peggy's Cove, also in Canada. Have you ever seen the Northern Lights?
NQN visited Canada as a guest of the Canadian Tourism Commission and Tourism Yukon
The Inn On The Lake
http://www.innonthelake.ca/hotel-overview.html
+1(867) 660-5253