For the past few years I've started giving edible Christmas gifts as an accompaniment to the larger Christmas gifts. I was surprised at how well the items would be received. Home made edibles don't stint on ingredients or time, they're replete with that secret touch too: love! Here are 12 inspired Christmas edibles plus the Rocky Road is back!
Dear Reader, how are you coping with Christmas? Yesterday I almost had a meltdown as about half a dozen well placed plans became unravelled due to clashing schedules and the general Christmas madness. I wanted to sneak back under the covers and wish the silly season away. But the kitchen beckoned as Christmas food gifts needed to be made. Are you looking for some delicious and easy Christmas gift ideas? Look no further than these 12 edible Christmas gifts like the 12 days of Christmas!
DID YOU MAKE THIS RECIPE? Share your creations by tagging @notquitenigella on Instagram with the hashtag #notquitenigella
Do you love crunchy toffee and that salty sweet contrast? This recipe is genius because it has salt flecked pretzels, dark chocolate, macadamias and toffee. It's also kinda brilliant in the way that it is made because it is simple. It can be made in about 15 minutes too which means that you never need fear toffee, just eat it. Just a word of warning: it is addictive.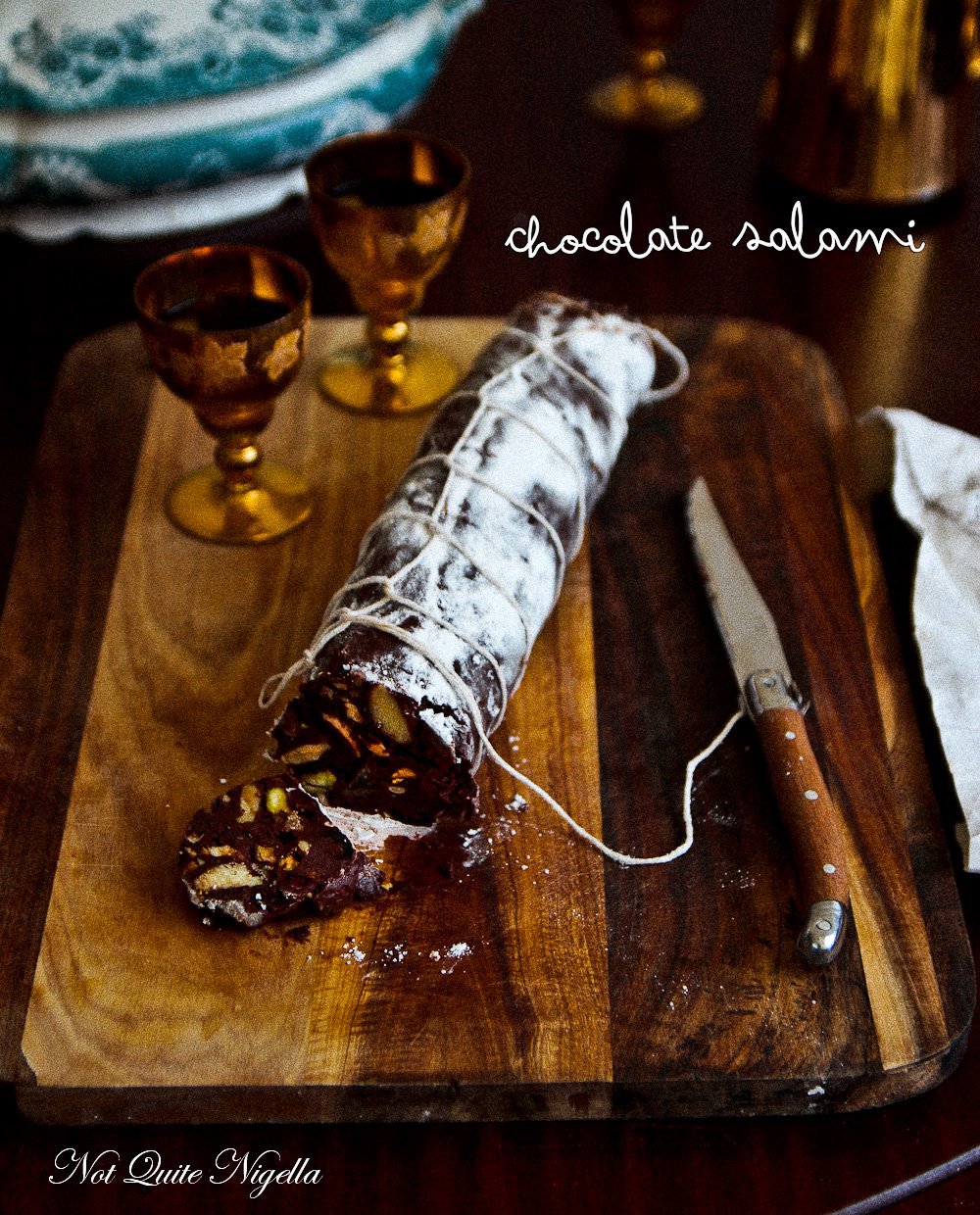 Quiz question: how do you improve salami? Answer: add chocolate. No I haven't lost my mind and I haven't made a pork and chocolate sausage. This chocolate salami resembles a sausage but is made all out of chocolate! This isn't new for Italians or Portuguese who have been making this for a long time. It is made up of dark chocolate, nuts, ginger, cranberries and a touch of Frangelico. We have ditched the eggs that it traditionally calls for just so that transports better. Boxed up it makes a beautiful and much appreciated gift.
I see you there. Giving me that look. Like who the hell turns up with a bottle of ketchup or tomato sauce when you can buy it for $2 a bottle at the supermarket? Well I do (and perhaps that's why I don't have many friends). But if you've ever tried home made ketchup you'll probably understand what I mean. A lot of love goes into this and 'tis the season for tomatoes in Australia at the moment.
Wreaths are gorgeous but how about one that is edible? This wreath is sturdy enough to hang up because of the cardboard backing but once Christmas is over, you can pull it to bits and eat it. The cookies are scented with cinnamon which smells wonderful when it is baking and the aroma even lasts when you hang it up (P.S. if you hang it on your door I can't guarantee that people won't start trying to eat it).
Well what is Christmas if you're not drinking something? I mean who can spend that much time with family and not turn to a glass of something? This Christmas pudding vodka is flavoured with fruit and spices and steeped for a week. What results is a truly sublime Christmas gift!
So what happens every Christmas break? Everyone is home and they want something special for breakfast. But who has the energy right? Give them a gift that they'll be thankful for when it comes to breakfast time. You can make your very own buttermilk pancakes just by adding an egg and some milk. The buttermilk and aromatic pumpkin spices are all in there.
Okay this is going to sound really sexist but men love these. Like seriously love these beer onions. Just make these and watch them swoon. Oh the fun!
Okay so you want to make some Christmas food gifts but you don't have time. Or really the inclination if you are the be honest. Well this is your recipe. Herb infused honeys are possibly the easiest recipe that I've put up on the blog but they're always so well received. You can infuse (code word for stick in there and leave) honey with sage, rosemary or lemon thyme and it makes the most gorgeous honey gift.
There are all sorts of sweet edible Christmas presents but how about a recipe for the people that love savoury things? The first is like a cheddar cheese shortbread-it's crumbly, rich and savoury. The second is like a cheese plate in one: Blue Cheese, Cranberry & Pistachio Biscuits! The only issue you will have is not eating them yourself (or was that just me?).
We tend to eat a lot of shortbread and gingerbread around Christmas time because it really is the season. But have you tried a combination of the two? Yep, that's right! It presses into any shortbread molds perfectly but has the additional flavour of ginger in it. Two birds, one stone (or one stomach :)).
Got healthy eaters around you? Another edible Christmas gift are these Naughty or Nice chocolate chip cookies. One side is made up of buttery shortbread with the best quality dark chocolate. The other side is a paleo, gluten free number. Both are chocolate chip cookies but both speak to a different audience!
12. Rocky Road Christmas Wreaths
And last but not least are these rocky road wreaths. A reader (who didn't leave me their name!) gave me the idea for these when she left a comment on a story and every year my friends ask me for the white chocolate rocky road and I have to tell them that I need to make new things each year. But these are really easy because the shape is from a donut tin! What I particularly liked about these is the combination of flavours and textures. The marshmallow is soft and squishy while you get crunch from the nuts and a slight tartness from the dried sour cherries!
And here's a super quick video of how to make these-in about a minute! xxx
So tell me Dear Reader, do you make edible Christmas gifts? And how are you going with your Christmas preparations?Are you almost homidical like me? And what do YOU want for Christmas the most this year?
Rocky Road Wreaths
Preparation time: 15 minutes
Cooking time: 5 minutes
Makes 12 wreaths
Degree of difficulty: easy
Oil spray
500g/7.66ozs. white chocolate (you can of course use dark or milk chocolate) plus 75g/2.6ozs. extra
75g/2.65ozs. pistachios, toasted (I used half pepitas)
4 musk sticks, sliced
1/3 cup dried sour cherries, chopped
2 cups marshmallows, chopped
24 spearmint leaves
Cachous or snowflake edible decorations
You will also need a donut baking tray (metal or silicon, silicon is easier but I only have a metal one)
Step 1 - Spray the donut mold with non stick oil spray and set aside (no need to do this with a silicon mold). Have all of the other ingredients ready and chopped. Melt the chocolate in a double boiler or in a microwave until liquid and then spoon in the pistachios, 3/4 of the musk sticks (you will reserve some for decoration), sour cherries and marshmallows. Stir until well combined.
Step 2 - Using two teaspoons, spoon into the prepared molds and then tap onto a surface to get ride of any air bubbles. You have to do this quite a bit to get rid of the bubbles. Refrigerate to set (unless it is cold where you live, there was no chance of it setting in our air condition-less apartment during Summer). Using a palette knife, slide it between the chocolate and the tin to prise them out.
Step 3 - Melt the remaining 75g of chocolate. Dip the spearmint leaves into them and place two of them next to each other on the wreath. I used them to cover up any gaps. Then stick the musk stick stars onto the top as well as cachous or snowflakes.