It's tomato season in Australia and at the moment they're juicy, sweet and cheap. What's the best thing to do with all of these tomatoes? If you have a glut of them or can't resist a bargain you can put almost a kilo of the summer sweet kissed fruit into a Chicago deep dish pizza! And for those who are freezing through a cold winter, use tinned tomatoes and sample some of the best comfort food ever!
This pizza is the polar opposite of a Neapolitan style pizza (which I admittedly adore). The Chicago style pizza was one that I first tried over 10 years ago but never forgot. It defines pizza pie. With a pizza dough crust and an inch thick filling bursting with tomato, pepperoni and sausage, this is comfort food.
Stories about how it came about differ but many say that it was first served by Neapolitan immigrants at Pizzeria Uno which is now a chain of Chicago pizza restaurants. The crust for a Chicago deep dish pizza is thinner although not as thin as a Neapolitan style pizza as it needs to hold up the inch of filling. The other unique thing about this pizza is that everything is laid down in the reverse - the cheese layer is the first laid down on top of the dough and then the sausage and then the sauce. This is because a Chicago Deep Dish pizza takes half an hour to cook, rather than the few minutes a Neapolitan pizza needs.
Quite a few years ago, pre blog, I had the brilliant idea of visiting my sister Blythe in Chicago one winter. And can I just say that when they call Chicago the "Windy City" they are putting on a whole lot of restraint there. That is probably the coldest I've been in my life, mainly because of the windchill factor. I think sensing this and my complete inability to cope with cold, Blythe would make sure that we sampled some of Chicago's finest deep dish pizzas. And now they're the thing I remember most from the trip.
I've wanted to make it for years but I had always assumed that it was hard. It actually isn't and for those of you curious, it's well worth making, not just because it is almost impossible to find in Australia. My recipe is a slight variation on it as while I loved it, I preferred a slightly more thicker, more caramelised sauce and since we had a glut of fresh tomatoes, I cooked the sauce down although I've been told that they usually use uncooked tinned tomatoes. No matter what the weather is like outside though, I urge you to try this delicious version of pizza!
So tell me Dear Reader, have you ever had a Chicago Deep Dish pizza? Have you been enjoying the tomatoes this season? What sort of pizza do you like the best?
DID YOU MAKE THIS RECIPE? Share your creations by tagging @notquitenigella on Instagram with the hashtag #notquitenigella
Chicago Deep Dish Pizza
An Original Recipe by Lorraine Elliott/Not Quite Nigella
Makes one 9inch/22.5cm deep dish pizza
Preparation time:
Cooking time:
1 1/4 cup bread flour
1/2 cup cup cornmeal
2 teaspoons sugar
1 teaspoon active dried yeast
1/4 cup finely grated parmesan
3/4 cup lukewarm water
1/4 cup oil
1 teaspoon salt
1/4 cup cornmeal (coarse grain) to roll
For filling
900g/1.9lbs tomatoes (fresh or 825g/29oz. tinned)
Oil for frying plus extra for brushing
2 large onions
3 cloves garlic, peeled
1/4 cup red or white wine
1-2 tablespoons sugar
Salt and pepper to taste
3 cups mozzarella cheese
200g/7ozs. pepperoni, sliced, divided into two
Optional: you can add crumbled truffle Italian pork sausage or mushrooms (add in step 3)
*Step 1 - *Mix the flour, cornmeal, sugar, yeast and parmesan together until combined. Add the water and oil in lots and knead until elastic. Place in a bowl in a warm, draught free area and allow to double in size, around 1-2 hours (it was a 40C/104F day so it rose unusually quickly taking just 45 minutes).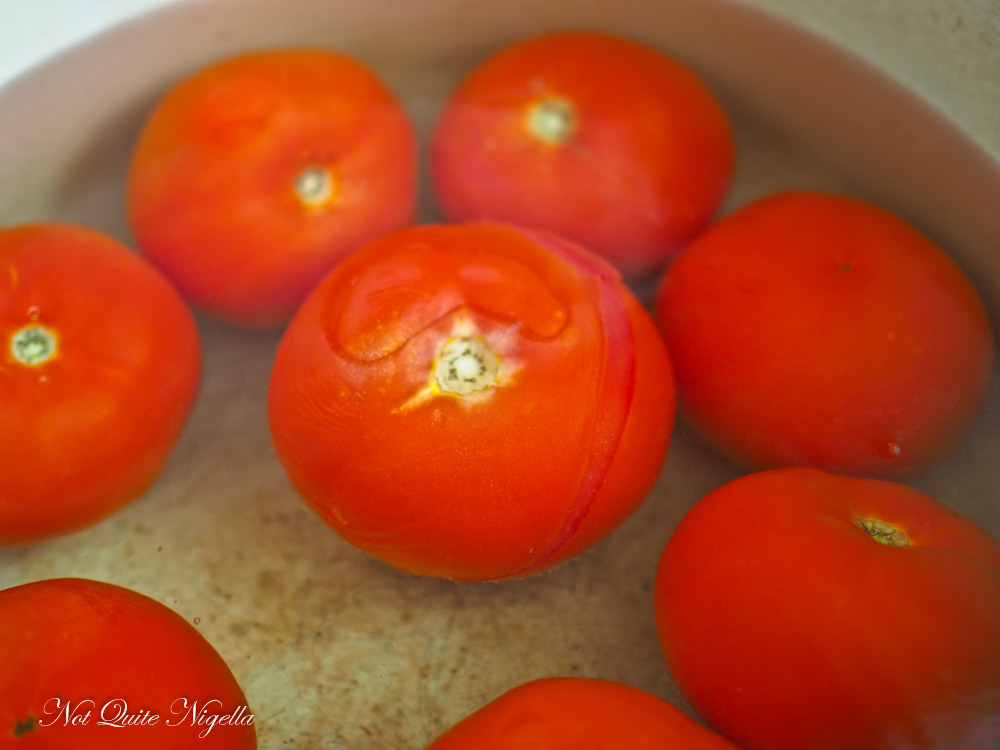 Step 2 - While the dough is rising, make the filling. If you are using fresh tomatoes, score around the tomato with a sharp knife and place into a pot of boiling water until the skin starts to peel back. Have a sinkful of cold water ready to put them and lift them out with tongs and place them in the water to cool and then peel off the skins.
Step 3 - Finely chop the onions and garlic. Removing the stem end and chop or blend the tomatoes. Add oil to the pot and then saute the onions and garlic until fragrant. Add the tomatoes and cook for 10 minutes without a lid reducing the water content so that it is nice and thick. Season with sugar, salt and pepper to taste.
Step 4 - Preheat oven to 250C/482F. Oil a 9 inch springform tin. Sprinkle cornmeal on a clean surface and roll out the dough to a large circle that can fit your tin and then an additional 1.5 inches. Place the dough into the tin pressing down on the sides. Place the cheese on the base of the tin and then place the pepperoni. Then layer with the tomato filling. Brush the visible pastry with oil.
Step 5 - Bake for 10 minutes. Cover with foil and then bake for another 20 minutes. Stand for 10 minutes before slicing.