This post is brought to you by Nutella
They say that breakfast is the most important meal of the meal. Despite the fact that I tend to eat it a little later than everyone else, I do happen to love breakfast foods. Mr NQN is crazy for them because the best thing about it is that you can have sweet things for breakfast and pancakes, French toast, jams, nut butters and Nutella with fruit salad is how he wants to start the day every single day.
Guess what is coming up Dear Reader? Pancake Day! The annual day is on tomorrow, February 9th. Pancake Day or Shrove Tuesday is a day that falls 47 days before Easter Sunday every year. It's the last day of feasting before Lent that starts on Ash Wednesday where people have their last chance to use up eggs, butter, sugar and milk. It is also a really great reason to eat pancakes for breakfast no? ;)
I know some people are addicted to Nutella, the chocolate hazelnut spread. A friend keeps a jar in her desk at work and when she arrives at work in the morning she has a little ritual where she makes toast or heats a pikelet and spreads it with Nutella. She swears that this start to the day helps her deal with her colleagues and the general public in a much nicer way. Her colleagues believe it too because they bought her a personalised jar for Christmas (do you guys have one, it's so cute).
To celebrate Pancake Day the people at Nutella asked me to find five places that are doing great pancakes of all kinds (or hot cakes, pikelets, crepes etc). So off I went on a week of eating pancakes around Sydney. Needless to say, a pancake eating beast was unleashed. Let the Pancake Day fun begin!
Blaq Piq, Sydney
Located in a side street just on the border of the CBD and Surry Hills on Alberta Street (or matcha alley ;)) is Blaq Piq, a cafe that serves pancakes with a difference. These buttermilk beauties are flavoured with pandan, that unique South Asian leaf that is impossible to describe but along the lines of vanilla and coconut.
The two fluffy green pancakes are served with a scoop of coconut ice cream, nata de coco (cubes of fibre rich jelly that are popular in Asian desserts) as well as strawberries, berries and mango and a salted palm sugar syrup on the side. Oh and if you are a green tea fan, try one of their matcha lattes-they're strong though!
Harrys, Bondi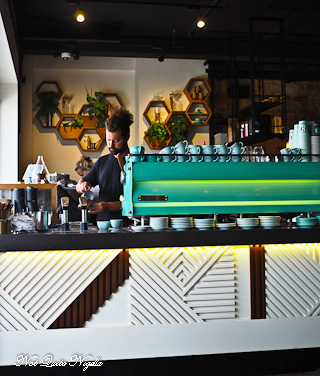 If a suburb specialised in colourful, Instagrammable breakfasts, Bondi Beach would surely win that title. At Harry's the focus is on fresh and healthy. Chef Bryan O'Callaghan is ex The Tilbury and the menu is full of tempting items like Holmbrae chicken Dutch carrot, spicy harissa, hazelnut dukkah and coconut kaffir dressing.
But the house favourites include a ricotta hotcake with bluerberries, organic maple and double cream. The hotcake is puffy and almost souffle-like and dotted with fluffy clouds of ricotta. The maple comes already poured and there's a quennelle of rich double cream on top. It's eggy, soft and incredibly moist and fluffy. Wash it down with a super smoothie made with fresh mango cheeks, turmeric, activated cashews, banana, spices and coconut water (dairy, gluten and added sugar free).
Hugonette's, Kings Cross
The first time I tried a crepe in Paris was from a little shop where crepes were designed to take away and served in white cardboard cones. That's how they serve them here from the little shopfront on Darlinghurst Road (literally underneath the Coca Cola sign).
There are no tables, just stools but they make your crepes fresh to order from a range of classic fillings. For sweet, Nutella is very popular while the La Complete with cheese, free range egg and ham is weighty and positively bursting with filling. The cones make the crepes the perfect food to eat on the go. Just tear at the perforated cardboard when you're done. Staff are French, the customers when we visited were all French and it was a bit like Paris albeit underneath a Coca Cola sign. Oh and they also do Nutella hot chocolates too ;)
Madang, Haymarket
I'm going to throw it to somewhere a bit different in terms of pancakes. Have you ever had a Korean pancake or pajeon/pajun? This savoury pancake is filled with seafood and is delivered piping hot and crispy with a salty, chilli based dipping sauce.
Madang, hidden away down a back lane way in Koreatown on Pitt Street is a place that you can expect to queue at if you arrive during peak hour. Service is very friendly, there's a Korean greeting yelled by staff when you enter and there are the bonus side dishes (note: the potato and tofu are fantastic, you get a total of three complimentary refills).
There are three pancakes on the menu here: Haemul Pajun (seafood pancake), Burseot Jun (mushroom or vegetarian) and a Dweji Kimchijun (pork and kimchi). The haemul pajen is our favourite - crispy without being overly oily. The Dweji Kimnchijun is a thinner pancake filled with pork, kimchi and ginger. All three can be ordered in a small (for 2 people) or large size (for 4). And a little word of warning: wear something that you can throw in the washing machine because you will smell like grilled meat afterwards!
Pancakes On The Rocks, North Strathfield
There are two places that are widely known to serve pancakes in Sydney: Bill's and Pancakes at the Rocks. I'd hazard a guess that almost every person that has grown up in Sydney has at one stage visited a Pancakes on the Rocks that is celebrating their 41st year in Australia. The location at The Rocks is open 24 hours and was a haunt in my teenage years. Then I visited a few years ago and I was surprised to see that it was still busy!
We go for a classic stack of their fluffy buttermilk American style pancakes that can be ordered in sizes from one to four rounds. They are simple pancakes and come with a choice of ice cream, whipped butter and cream and maple syrup made from a maple extract. The Black Forest pancakes actually taste like a rich chocolate cake and are served with cherries in cherry brandy sauce, cream, chocolate ice cream, chocolate chips and chocolate sauce. Servings are huge, service is friendly and it's like sitting down at an American style breakfast place.
Other pancake places with full reviews and great pancakes:
So tell me Dear Reader, do you celebrate pancake day? Do you prefer pancakes, hot cakes, crepes or pikelets? What is your favourite topping?
Want to make your own pancakes for pancake day tomorrow? Try this recipe for Nutella pancakes with strawberries and banana!
These meals were all independently paid for.
Blaq Pig
11 Alberta St, Sydney NSW 2000
Phone:(02) 9283 8852
Monday to Friday 7am–4pm
Saturday 8am–2pm
Sunday Closed
Harry's
2/136 Wairoa Ave, Bondi Beach NSW 2026
Phone:(02) 9130 2180
Open 7 days 7am-4pm
http://harrysbondi.com.au/
Hugonette's
82 Darlinghurst Rd, Potts Point NSW 2011
Phone: 0416 449 410
Monday to Friday: 7am-5pm
Weekends: 9am-7pm
Madang
371A Pitt St, Sydney NSW 2000
Phone:(02) 9264 7010
Open 7 days from 11:30am-1am
Pancakes On the Rocks
3 George St, North Strathfield NSW 2137
Phone:(02) 9746 9949
Also other locations http://www.pancakesontherocks.com.au/location/