I've really got to stop making sponge cakes but I feel as though my sponge cake obsession hasn't even peaked. I think perhaps my favourite sponge cake, after a classic jam and cream is the passionfruit sponge. But I seem to want to make up variations of a sponge. This passionfruit cream cheese sponge is really something of a cross between a sponge and a cheesecake. Not only is the cake light and airy but it has a slight tang from cream cheese. Added to this is a gorgeous passionfruit cream cheese frosting with lots of passionfruit and a lemon zest to create a creamy, zesty cake. Let's call her Flora.
Now Flora is delicate but not a pushover. She's tall but not out of proportion and she's sweet but not sickly so. I think the reason why I love passionfruit sponges is because there is a tangy fruit element to them to counteract the sweetness and all the sugar. This cake does use up a lot of eggs so perhaps save it for a special occasion and for that she is perfect. You only need to cut thin slices of this to serve everyone as it is a double layered cake and you could easily cut this into 12 pieces.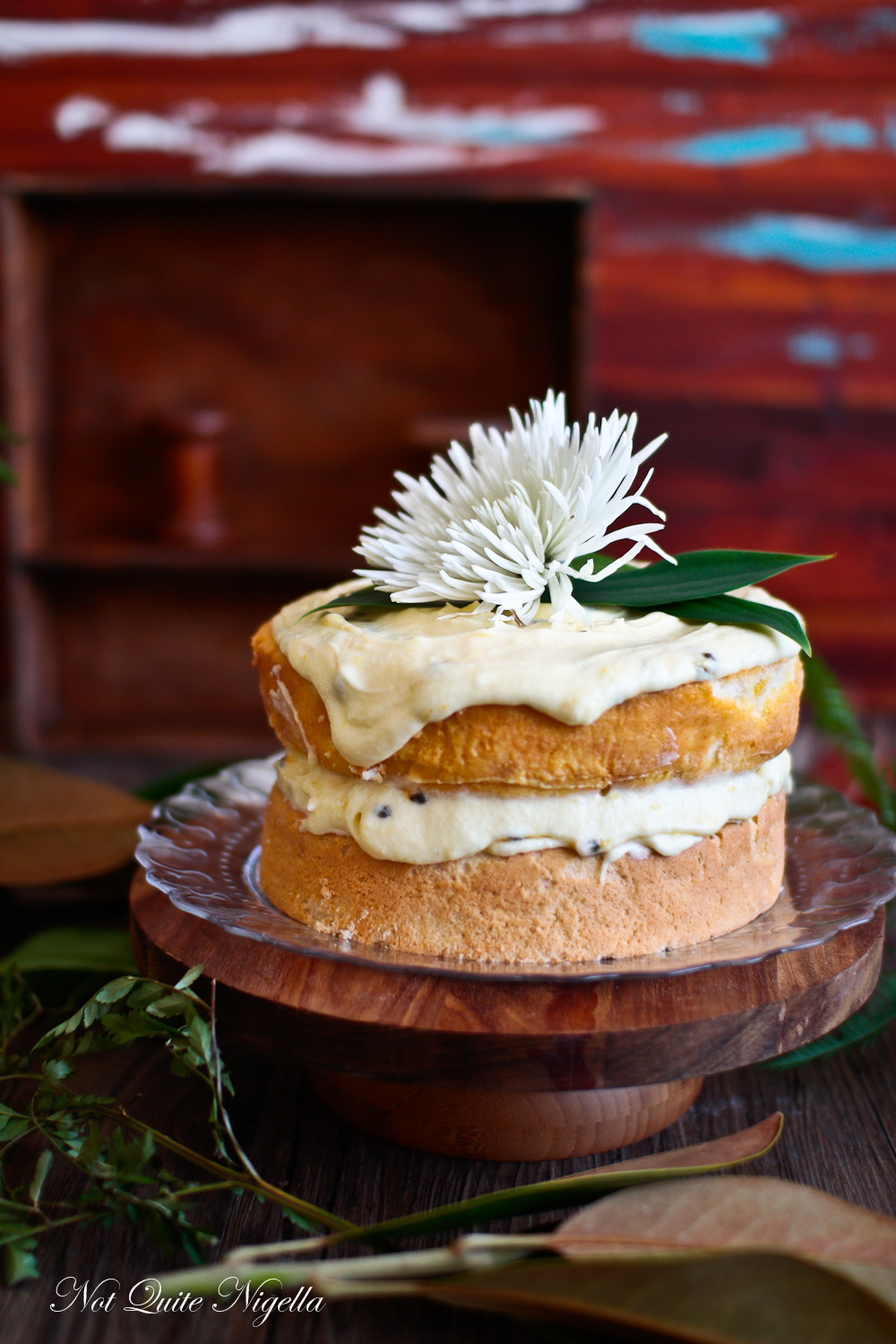 I must apologise that there are no process photos for this recipe apart from one icing photo. It doesn't happen often (touch wood!!) but I seem to have lost these photos. It was a particularly busy week for me when I made Flora and I was rushing here and there. When I baked the cake part I was expected that night at a restaurant with Belinda, Alyson, Cheryl and Alyson's friend Deborah.
It was a French restaurant in Sans Souci called Chez Pascal. I was putting my shoes on in the car (I drive barefoot, a habit I picked up from Mr NQN ;)) when I saw Cheryl walk in. I walked in a few minutes later but I couldn't see her anywhere. "What is your booking under?" the maître d' asked me. "Um Belinda? I think?". Alas there is no booking.
"Are you Lorraine?" they ask. I answer in the affirmative but I am confused as I didn't book it so I'm not sure how they know my name. I start to wonder if I actually booked it and why I can't remember doing so at all. Was I that busy?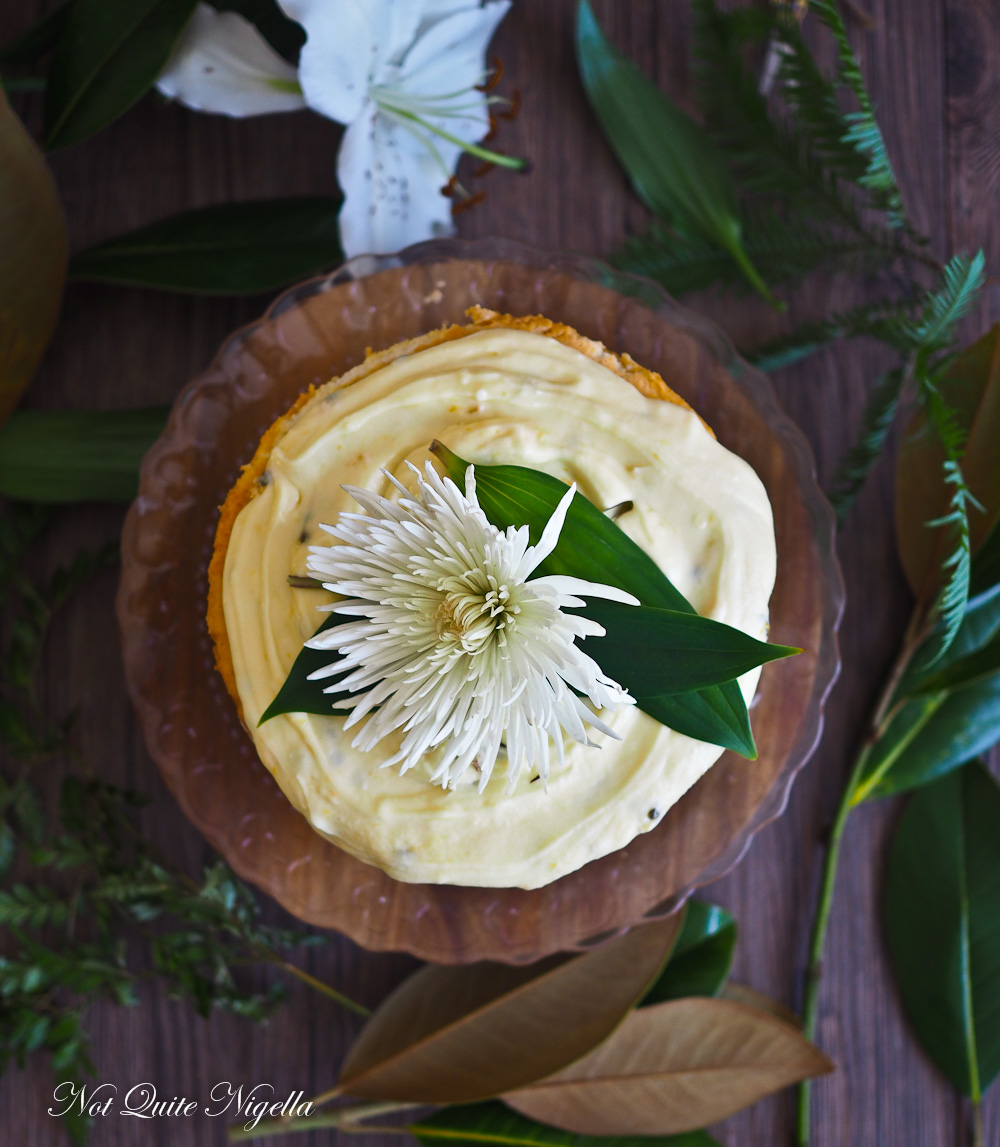 "Is your booking under Cheryl?" they ask. "Oh yes!" I say. "She's upstairs!" they say and indeed she is. Cheryl and I wait upstairs perusing the menu before Cheryl gets a text from Belinda. "Are you ok?" she asks. It turned out that Belinda, Alyson and Deborah were sitting downstairs at the Lorraine table.
"What are the chances of there being a Lorraine table?" Cheryl asked. I guess quite high for a French restaurant! And when I'm busy you can pretty much confuse me on anything!
So tell me Dear Reader, when you are busy do you forget things or get easily confused? Do you have a favourite sponge type? And do you drive barefoot?
DID YOU MAKE THIS RECIPE? Share your creations by tagging @notquitenigella on Instagram with the hashtag #notquitenigella
Passionfruit Cream Cheese Sponge
An Original Recipe by Lorraine Elliott
Preparation time: 30 minutes
Cooking time: 1 hour 20 minutes
75g/2.65 ozs butter
375g/13.25 ozs cream cheese
150 ml/5 fl ozs milk
90g/3 ozs plain flour
30g/1 oz cornflour
1/4 teaspoon salt
2 teaspoons vanilla bean paste
225g/8ozs fine granulated sugar
9 eggs separated
1/2 tsp. cream of tartar
Passionfruit cream cheese
250g/8.83ozs. cream cheese, softened
113g/1 stick butter, softened
3 cups icing sugar, sifted
4 tablespoons fresh Passionfruit
Finely grated zest of 1 small lemon
Step 1 - Preheat oven to 160C/325F and line the base and sides of 2x20cm/8inch round tins. Have a tray with high sides ready that will fit the two tins in it to act as a water bath. Place a kettle full of water to boil. Mix cream cheese, butter and milk over a double boiler. Cool the mixture. Fold in the flour, the cornflour, egg yolks, vanilla and mix well. Whisk the egg whites with cream of tartar until foamy. Add in the sugar and whisk until soft peaks form.
Step 2 - Add one third of the whites to the mix and fold in gently and then repeat in two more lots folding until no streaks remain. Divide the mixture among the two tins. If you are using springform tins then wrap them in two layers of foil to prevent water getting through. Bake for 1 hour and 15 minutes and then cool completely.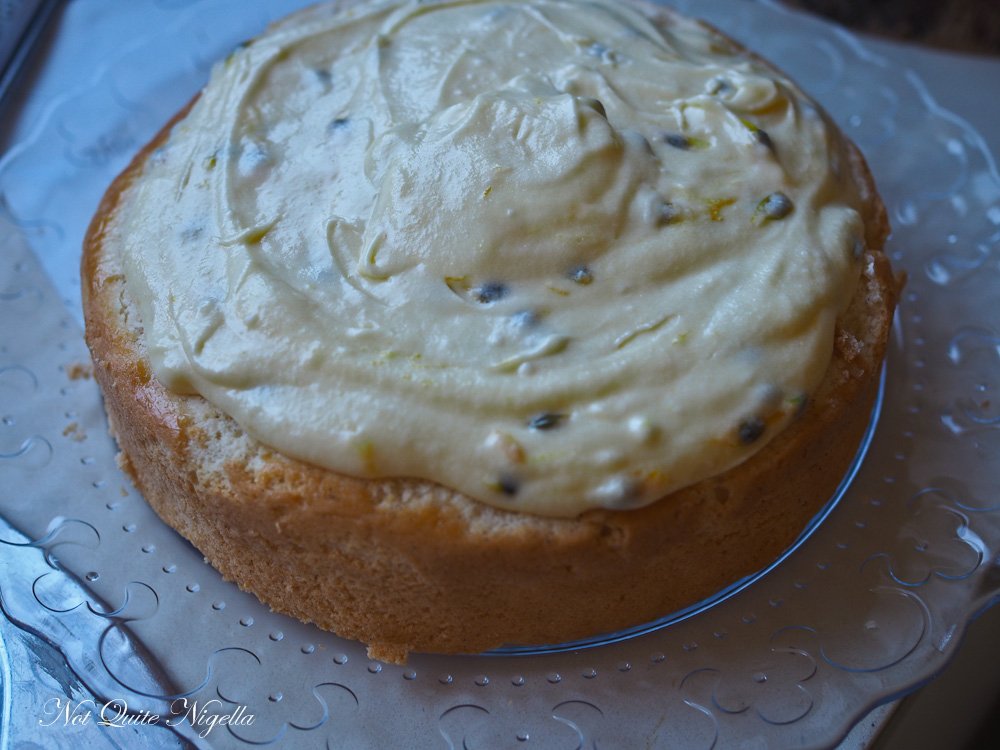 Step 3 - Beat the cream cheese and butter together. I do it really quickly in a food processor by adding the icing sugar there (instead of sifting which I hate doing) and then blending in the cream cheese and butter. Then I transfer it to a bowl and then mix in the passionfruit and lemon (I don't do it in the processor because I didn't want to break up the passionfruit seeds). Spread it on half of the cake and then refrigerate to set. Then add the other layer once the middle icing has set and then spread it over the top layer.