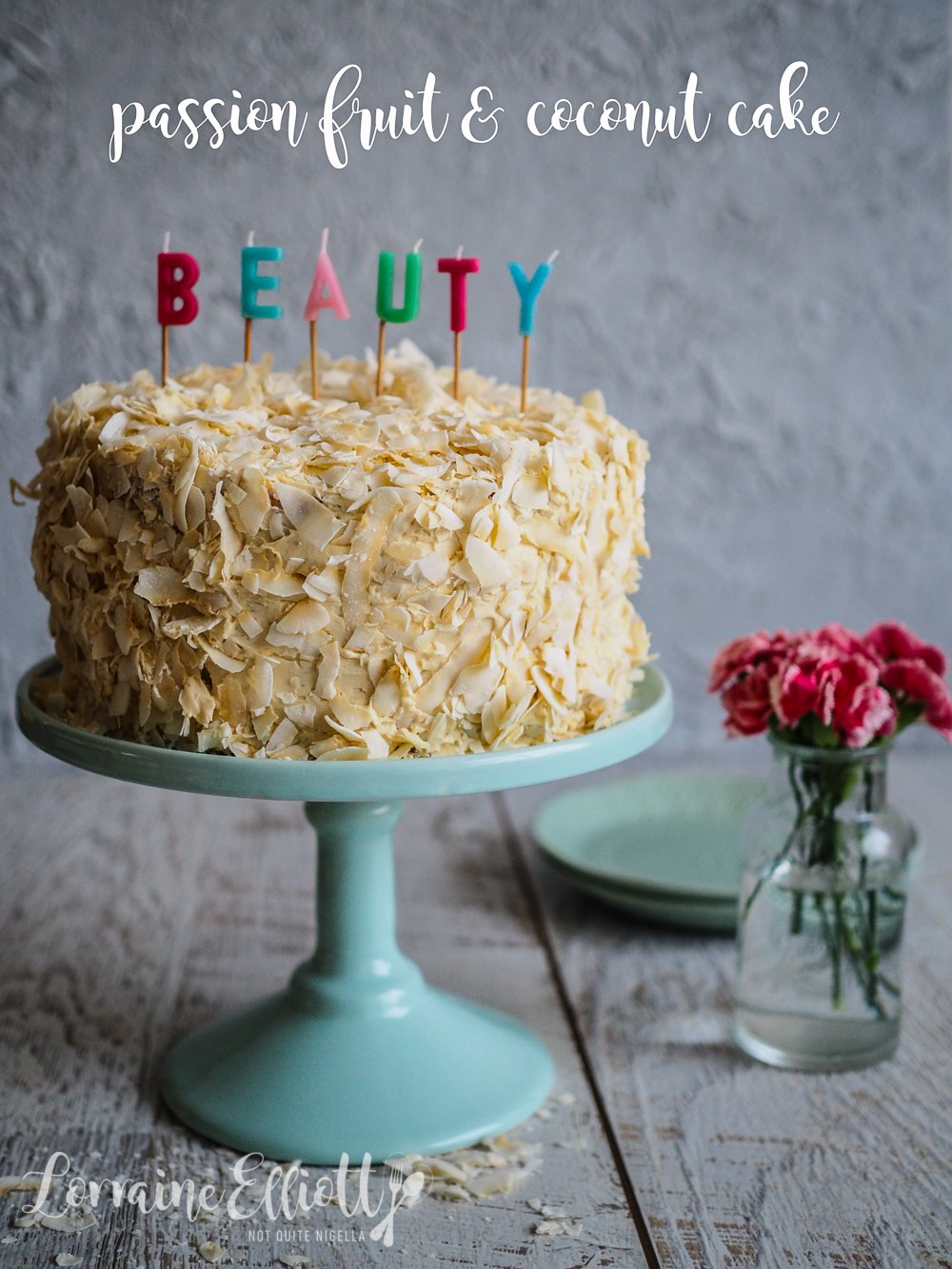 There are some things that I'm absolutely passionate about and one of them is passion fruit. The other is coconut so I created this softer than soft Passionfruit and Coconut cake to merge two of my favourite flavours together. The cake itself is downy soft and layered generously with a passionfruit and lemon buttercream and lashings of passionfruit curd. It is then given a final coat of toasted coconut flakes! This is a pushy recipe Dear Reader! I called her Peyton.
If you love these two flavours as much as I do then please make this cake with the understanding that even the plainest version sans passionfruit curd and passionfruit buttercream is still absolutely delicious. This cake does not rely on the frosting or curd to make it soft or moist. Even if you halved the recipe and just baked a plain loaf tin cake this is absolutely worth making. The coconut gives this cake a wonderful delicate crispy layer on the outside while inside is all soft, buttery passion fruit cake.
I love passion fruit so much that I had to check that I hadn't made this cake before. There have been a few times where I have accidentally made the same or a similar recipe because it's something that I love eating so much. My list of passionfruit recipes is long Dear Reader and my love of this fruit is deep.
The following list is just some of my favourite other passion fruit cakes (there are actually more!):
Passion fruit and cream cheese sponge cake; Raspberry Passion fruit cake; Hawaiian Butter Mochi Passionfruit Cake; Passion Fruit Sponge Cake; Mango & Passion Fruit Vegan Cake and Yogurt Passionfruit Syrup Cake.
Options: If you don't have passion fruit this can easily be replaced with lemons, limes or oranges!
Fast Fruit Curd or Butter: I know you may not want to make so many components for one cake but please give this passion fruit curd a try. It's made in the microwave and only takes a few minutes to cook with no tedious stirring. It will look and feel like it won't come together and then by the magic of cooking you'll end up with a divine fruit curd.
I made this passion fruit cake for Nina's birthday. Every year we bake each other cakes. I asked her what flavour of cake she wanted and she simply said passion fruit. She also wanted a sloth cake so I asked her if she would mind if I made the frosting chocolate but she said that she doesn't like passionfruit and chocolate together. I thought of colouring the frosting brown but keeping it vanilla but you know what? I couldn't do it. I was in the middle of a lot of work and making novelty cakes is hard. "I'll make you one next year!"
Then it came to my birthday. It came and went and Nina remained silent re my cake. "It's coming...one day," Nina would say and it was almost a year before my next birthday on March 31st 2020 that my 2019 birthday cake arrived. Nina wouldn't tell me what the flavour of cake she was making which worried me somewhat as she loves making unusual cakes like parsley cakes. "Is it a sardine cake?" I asked her. "No, but if I had known that you liked them then I would have made you a sardine cake," she replied. All I knew is that she had made it as per my theme request Stranger Things. I thought that that could cover any cake disasters as well as the tv show.
Nina had made me a demogorgon cake made out of a banana cake base, watermelon "petals", port wine jelly and almonds for teeth! I was blown away at the genius of this cake. Nina has a great talent for creating cakes. Sure she hates making them but she did an amazing job and it looked just like a demogorgon.
I tried a bite getting a bit of cake and a bit of jelly on my fork. It was at the same time familiar yet odd. The combination of these two items confused me and I found myself veering from cake to jelly and back and forth. And in the background there was the aroma of watermelon. There was nothing like this cake.
It was as though I had gone to a Pizza Hut or Sizzler buffet and helped myself to the dessert selection putting a bit of everything on a plate. You know how buffet dessert plates are small so you end up cramming together a scoop or square of everything and then the fruit gets a bit of icing on it and the custard or jelly melts onto everything and they're all touching each other? We are now calling it a "Dessert buffet cake!"
So tell me Dear Reader, is there a flavour you're crazy about? Do you make cakes for people's birthdays?
DID YOU MAKE THIS RECIPE? Share your creations by tagging @notquitenigella on Instagram with the hashtag #notquitenigella
Passionfruit Coconut Cake
Rated 5.0 out of 5 by 1 readers
An Original Recipe by Lorraine Elliott
Preparation time: 45 minutes plus cooling time
Cooking time: 1 hour
3 cups cake flour
2 cups caster or superfine sugar
4 teaspoons baking powder
1.5 cups desiccated coconut
375g butter, softened, cubed
5 eggs, room temperature
1 cup coconut milk
2 tablespoons lemon juice
Pulp of 3 passion fruit
Passionfruit flavouring
For passion fruit curd
4 egg yolks
3/4 cup sugar
100g butter, melted
3/4 cup passionfruit pulp
For passion fruit and lemon buttercream
200g butter, softened
6 cups icing sugar
80-100ml lemon juice
Passionfruit flavouring
Step 1 - Preheat oven to 150C/300F and line 2x 20cm/8inch round tins on the base and sides. Whisk the flour, sugar, baking powder and coconut in the bowl of a mixer fitted with a paddle attachment. Turn on low speed and add the pieces of butter one at a time. In a jug measure the coconut milk, add the lemon juice and then beat in the eggs with a whisk. Add the passionfruit pulp and flavouring to the jug too.
Step 2 - Add the wet mixture to the dry mixture on low speed until just combined (do not overbeat). Divide among two tins and bake for 1 hour or until the centre springs back when touched. Cool completely.
Step 3 - Make the passion fruit curd allowing it time to cool and thicken. The quickest way is in the microwave and it's a bit of a leap of faith. Add all ingredients into a large bowl and whisk together. Heat in 1 minute intervals whisking between each minute. Mine took 4 minutes to come together and honestly it may look like it will never come together and then it does. If you're in a hurry place in metal jelly tins or pie plates and place in the fridge or freezer.
Step 4 - Then make the passion fruit buttercream. Beat the butter until smooth. Add the icing sugar, lemon juice and passion fruit flavouring and beat until fluffy.
Step 5 - Slice each cake in half horizontally. Place one on a serving plate and spread some buttercream on top. Then top with some passion fruit curd. Repeat with other layers and then spread buttercream around the cake. Press flaked coconut against butter cream. Store in fridge.