It's almost mid Winter in Sydney and are you tiring of the cold yet? The culinary solace is that Winter food is a great excuse to eat out especially if you are a cheese lover! Does the sound of oozy, gooey cheese make you melt? Or does a slice of stiff cheddar drive you wild? This Winter try these five fabulous cheese dishes!
1. Raclette at Handpicked Wines, Chippendale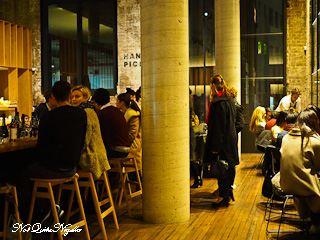 Hand Picked Wines is an urban cellar door on Kensington Street in Chippendale that boasts a welcoming, stunning interior. A bit of a cellar door, a bit of a wine bar and a bit of a yoga studio (on Saturdays there is yoga and wine) it has something for everyone.
We wasted no time booking a table once we had heard that Handpicked Wines were having raclette nights on Tuesdays. The Swiss cheese dish made using halved wheels of aromatic cow's milk raclette that are heated until blistering, the melted cheese is then scraped onto a plate of goodies. Raclette is from the French word racler which means "to scrape".
On raclette night you can pair your plate of raclette with boiled chat potatoes, crisp pancetta, cornichons and rocket salad (there's also a vegetarian option for $20) with a wine flight. The wine flights are excellent-the Chardonnay and Heathcote Shiraz go beautifully with the pungent cheese. Get in quick though as the raclette nights finish at the end of August!
2. Fondue at GPO Wine and Cheese Room, Sydney CBD
In the lower ground level of the Westin Hotel is the GPO Wine and Cheese Room. On the permanent menu is fondue, specifically three types of cheese fondue: truffle, goat's cheese and blue cheese fondue.
Each fondue serves two people and comes with a choice of meat or vegetarian accompaniments. The meat platter includes salami, prosciutto, garlic and black pepper prawns, candied figs, rocket wrapped prosciutto and pieces of bread to dip in them. Proper fondue etiquette says that you dip with the fondue fork but then use a regular fork to remove the cheese dipped morsel from the fondue fork.
Psst! I know we're talking about cheese here but there's also milk and dark chocolate fondue available for dessert too.
3. "Lucio" Calzone at Lucio Pizzeria, Darlinghurst
The calzone at Lucio's is a thing of beauty. Essentially a folded over Napoletana style pizza, the Lucio is full to the brim with soft, oozy ricotta cheese. It's actually two pizzas in one: a margarita pizza on one side and a completely stuffed ricotta, mozzarella and ham on the other. Be careful not to spill any of the overflowing cheese on you as I almost did!
4. Bul Dak at Madang, Koreatown
Cheese is not an exclusively European venture. At Madang on Pitt Street in Koreatown the Korean BBQ restaurant serves up a melted cheese extravaganza in the form of a dish called "Bul Dak". This has chicken, pineapple, chewy tteokbokki rice cakes, super hot chilli and lots of melted cheese. It's super spicy and super cheesy!
5. Poutine at Hartsyard, Enmore
For some serious winter carb on carb loading visit Hartsyard in Enmore. It's a skillet filled with soft, melting beef shin, crispy fried potatoes, onions and beer cheese. Beer cheese? Yup. Beer cheese is a mixture of cheddar for bite, Kraft singles for body, pale ale, beef fat, onion and milk aerated in a whipped cream canister and served warm. And if fries, beer and cheese doesn't delight you I don't know what will!
So tell me Dear Reader, which cheese dish appealed to you the most? Are you a cheese fanatic? What is your favourite cheese?
Handpicked Wines
50 Kensington St, Sydney NSW 2008
Phone: (02) 9392 9190
www.handpickedwines.com.au/
GPO Cheese and Wine Room
Lower Ground Floor, Sydney GPO Building, No, 1 Martin Place, Sydney NSW 2000
Phone: (02) 9229 7701
www.gpogrand.com
Lucio Pizzeria
248 Palmer St, Darlinghurst NSW 2010
Phone: (02) 9332 3766
www.luciopizzeria.com.au
Sydney Madang
371A Pitt St, Sydney NSW 2000
Phone: (02) 9264 7010
Hartsyard
33 Enmore Rd, Newtown NSW 2042
Phone: (02) 8068 1473
www.hartsyard.com.au