A question that I'm often asked is how Mr NQN feels when I go away travelling. The truth is that he is absolutely fine although there are destinations that he wishes that he could tag along to. He is wholly besotted with exploring South America so it was with more than a whisper of wistfulness that he piped up with a "I wish I could come along," when he found out I was visiting Chile. But given that he has a full time job, alas that was not to be. He drove me to the airport, gave me a big hug and kiss and wished me a wonderful trip. The next time I heard from him was 20 hours later when I arrived he was sick in bed.
"I'm sick" he said gravely. "Dying..." he added just in case his illness wasn't more apparent. And it was true, this wasn't just a case of the man-flu, this was a full on virus that struck my usually healthy husband down for almost a week. He did nothing but sleep and my parents had to take him to the doctor as he wasn't able to drive himself.
"Are you sure that it's not because you just miss me?" I asked.
Crickets...
I was half joking. My friends who were convinced that he had landed himself in his sickbed because he hadn't looked after himself properly as he often skips dinner and eats odd things when I am away (I mean raw potatoes, not worms from the bottom of tequila bottles or human toe cocktails - don't look at the link unless you have a strong constitution). But alas I cannot take any credit for going away and making him sick, it was a work bug that he picked up and even when I came back, the poor thing was still on the mend.
Another recipe that I can't take the credit for is this Ottolenghi Krantz cake that I first saw on Jo's fabulous blog Jo The Tart Queen. I was transfixed by the chocolate layers in it and the swirls. I'm a bit of a looksist that way - if it has colours or patterns, my eyes are drawn to it.
You may also know krantz also as a babka. Seinfeld dedicated a whole episode to the pursuit of a chocolate babka. But did you know that for all of its spectacular presentation, it's actually not that hard to make? The dough is very much like a sweet, soft brioche dough and an ode to the goodness of butter. You can make it all in the mixer the night before and just assemble it the morning after. If chocolate isn't your thing, you could make a cinnamon version or even play with savoury versions too. The recipe below makes enough for two loaves that make for wonderful gifts. If you can part with one. I only had one spare as Mr NQN wolfed down one as soon as I made it, gaining his strength again.
So tell me Dear Reader, what catches your eye with recipes? Is it the look? Is it simplicity or ingredients that you like? And do you cook recipes without pictures? And did you know about the sour toe cocktail in the link?
DID YOU MAKE THIS RECIPE? Share your creations by tagging @notquitenigella on Instagram with the hashtag #notquitenigella
Chocolate and Hazelnut Krantz
Adapted from Jerusalem by Yotam Ottolenghi and Jo from Jothetartqueen
Makes 2 Krantz
For the dough
530g/18.72ozs. plain flour, plus extra for dusting
100g/3.5ozs. granulated sugar
2 teaspoons fast-rising active dry yeast
3 large eggs
120ml.4 fl ozs. water
1/4 teaspoon salt
150g/5.3 fl ozs. unsalted butter, at room temperature, cut into small cubes
For the chocolate filling
50g/1.7ozs. confectioners' sugar
30g/1oz. best-quality cocoa powder
130g/4.59ozs. good-quality dark chocolate, melted
1/2 cup / 120 g unsalted butter, melted
1 cup / 100 g hazelnuts, coarsely chopped
1 egg, whisked for glaze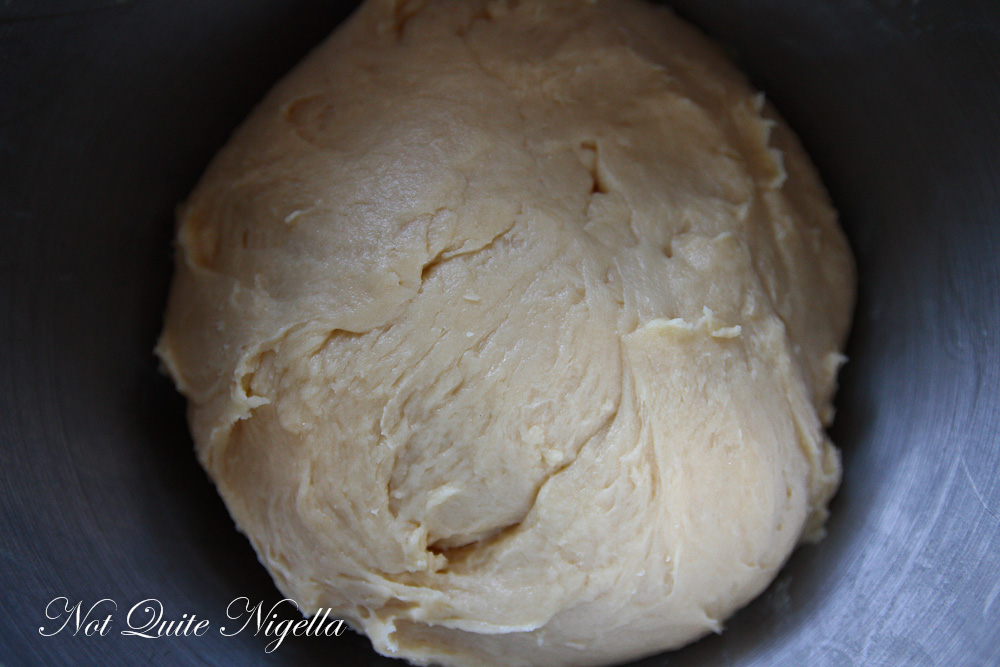 Step 1 - Make the dough. Place the flour, sugar and yeast in the bowl of an electric mixer fitted with a dough hook and combine on lowest speed for 1 minute. Add the eggs and water and knead on the lowest speed for 4 minutes until it comes together. It will be a little dry. Then add salt and the butter, a cube or two at a time and knead for 10 minutes until elastic. You will need to scrape down the sides of the bowl a few times during this process and reposition the dough so that all of it is kneaded properly. Scrape the sides of the bowl and shape into a round and cover with cling wrap. Place in the fridge overnight or place in a warm area for 2 hours (depending on how much time you have).
Step 2 - About 10 minutes before the dough is ready, mix together all of the chocolate filling ingredients except for the nuts and extra egg. Grease two large loaf pans and line with baking parchment.
Rolled up into a log
Step 3 - Divide the dough in half and lightly flour a clean surface. Roll it out into a large rectangle about 38x30cms/15x12inches. Spread half of the filling on the dough and then sprinkle with half the nuts. Brush a little water on one of the shorter ends. Roll up starting from the opposite shorter end to the other side finishing off at the end with the water and press to seal. Slice off both ends and set aside (you can bake those separately).
Slicing in half lengthways
Step 4 - Take a large knife and slice the roll length ways exposing the layers. Plait the two halves simply by crossing them over each other with the chocolate pattern facing upwards. Gently lift into one of the prepared loaf pans. Cover and leave in a warm place for an hour. Repeat with the second lot of dough.
Step 5 - Preheat oven to 190C/380F. Brush the top of the loaves with egg wash. Cover the loaf tin with foil and bake for 20 minutes. Remove the foil and bake for another 10 minutes.