Bondi Beach is a destination for many overseas tourists but it also has a great food culture of its own. One weekend my friend Mrs Skarsgard and I stayed at the Adina Bondi Beach, in the heart of one of Bondi's best dining precincts to see what there was to eat and drink. We were doing research for a series I am writing for Adina hotels about the restaurants around their hotels. It's a hard life but someone's got to eat it all ;)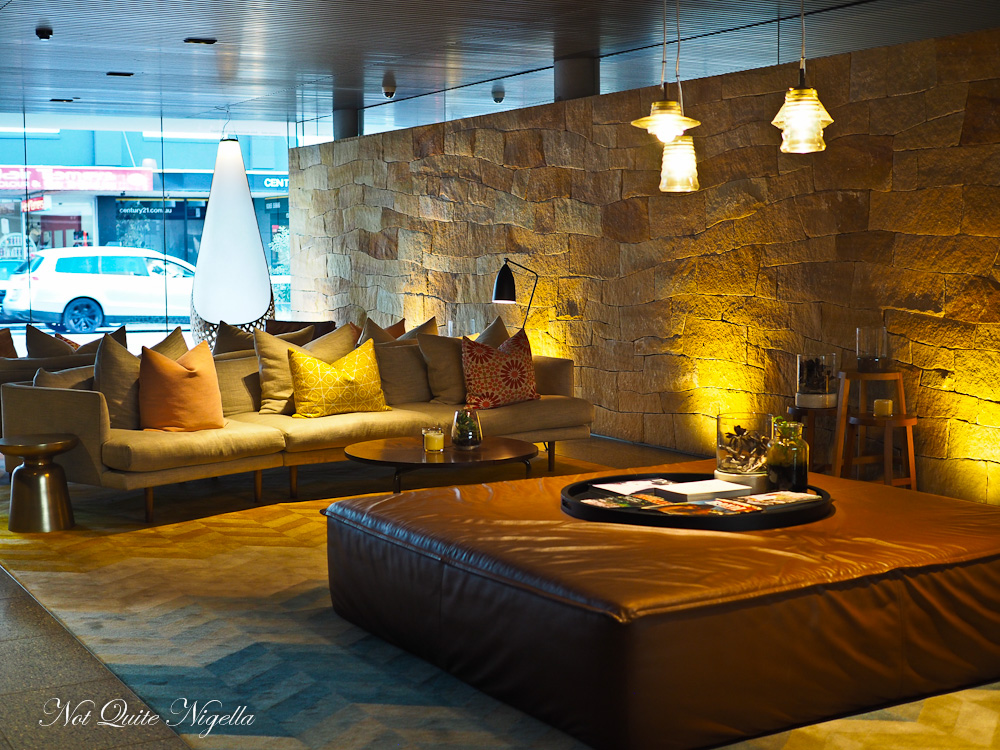 It's 3pm and I have driven the 20 minutes from my home to arrive at Bondi Beach-even a staycation in your own city creates a sense of excitement. The Adina Bondi Beach is located on Hall Street, a few minutes walk from the famous Bondi Beach. The location is right smack bang in the middle of endless dining options (check out the list of eateries here). Apart from cafes and restaurants there is also a Harris Farm supermarket and grocer as well as shops and services galore packed in this one block.
The new Adina Bondi hotel is an apartment only hotel with spacious 1, 2 and 3 bedroom apartments and is one of the most popular hotels in the Adina portfolio. Even in Winter the hotel is highly booked. The lobby has an inviting and striking modern design with smooth woods and curves as well as splashes of colour. Service is fast and before long I'm headed to my 1 bedroom apartment room #235.
To the immediate right, once I open the door, there is a bathroom with a spacious shower, single sink and a toilet hidden behind the door. There is shampoo, conditioner, shower gel and a shower cap provided.
After this is a kitchen with a hot plate, oven and microwave and a large full sized fridge with mini bar supplies. Tea is by La Maison du The and coffee is instant coffee sachets which is a bit of a surprise given that the other Adinas have coffee machines.
The kitchenette opens out to a dining and lounge area with a table for four and a comfortable lounge and large flat screen television. Large sliding doors open to a balcony area with two chairs and a small table.
The bedroom is partitioned with a sliding door keeping the room dark which is good for sleep ins. The bed is comfortable and affords a decent night's sleep although the lights from the clocks under the television do glow and I had to prop something up in front of them to block the glare and unplug the clock.
On the ground floor is a 50 metre pool, spa, steam room and there are also bicycles available for people to use. Parking downstairs is $33 a day but internet is free for 2 devices and a 500MB limit. Any more is $9.95.
I meet Mrs Skarsgard around the corner where we are going to start off the night with drinks and snacks at Blanca, the Mediterranean restaurant. We start with a Blanca Sour and a Gaijin, a gin and tonic made with Blanca's own brand of gin where only 250 bottles are made per year.
The Blanca Sour is delicious with yuzu sake, Maker's Mark, lemon and egg white. Mrs Skarsgard tastes her Gaijin gin and tonic - at $30 it's a bit more expensive than your usual G&T. "It tastes like...a gin and tonic" she laughs.
Scallop and rainbow trout rice cracker $7 each
Our snacks are the scallop and rainbow trout rice cracker with trout tartar, anchovy mayo, anchovy cream and bottarga which are absolutely delicious. We also order two manchego brioche sandwiches with jamon serrano, truffled cabbage and manchego cheese. Perfect winter food.
Manchego brioche sandwich $7 each
Our dinner is a few metres away at China Diner which is located to the left of the Adina entrance. We requested a booth which we are given-I'm relieved as there is booth and high table bar seating and both of us are not quite tall enough to sit comfortably on bar stools. The booths are also comfortable and private. Adina guests also get free delivery from China Diner to the reception. The Adina's reception staff will then drop the food to their room (7 nights a week from 5.30pm to 9.30pm + Saturday and Sunday from 12pm to 9.30pm).
Steamed Qld scallops $18 for 4
The first items to arrive are the steamed Queensland scallops with a Vietnamese shallot dressing. These are perfectly steamed and the shallot dressing has a nice crunch and seasoning to it. These are a great appetiser.
Crispy Dumpling Platter $26
Last time I visited I ordered the steamed dumpling platter and it was fine but I didn't love it. I much prefer the crispy dumpling platter. These dumplings are enormous and ideally serve two because there are two of each dumpling. There's a chicken sesame "chiko" spring roll with blood plum sauce, a prawn and balmain bug dragonball with crispy strands and a sweet chilli sauce and a duck parcel. They're all rather delicious not to mention enormous.
Alaskan King Crab Noodles with XO Sauce $36
The Alaskan king crab noodles with XO sauce are our favourite dish. The noodles have just the right chewy texture to them and they're replete with XO sauce and dried prawns. There's at least half a dozen or more Alaskan king crab legs which are full of meat that is easy to coax out.
Crispy okra with black vinegar, garlic and sesame $12
We don't mind the okra which isn't exactly crispy but it is stir fried with black vinegar, garlic and sesame. By now we're too fixated on the crab noodles and too full to pay it any attention though. Sorry okra.
Black sticky rice with caramelised bananas and salted peanut praline $12 Coconut and vanilla sago with spiced cherries $12
We decide on Asian style desserts bypassing the Asian flavoured pavlova. The coconut and vanilla sago with spiced cherries is mild and creamy and the spiced cherries aren't overly sweet which we like. Admittedly we prefer the black sticky rice, the nubbly bits of rice topped with caramelised bananas and a wonderfully crunchy salted peanut praline. It's the kind of dessert that you go back for again and again. Dessert comes with a little treat, a glass of Hum Goy made with pear liqueur and yuzu sake which is dangerously moreish and drinkable.
The next morning I'm awoken by the sun streaming through-my room faces east and the sun is strong in this direction. That's why they have the sliding doors between the bedroom and the living room to block it out. The sun also keeps the room toasty warm which always makes me happy.
We go downstairs for breakfast at Bill's. The Bill Granger cafe chain shows no signs of flagging popularity. People still queue and there's more than a dozen people waiting for an inside table. The day however is gloriously sunny so Mrs Skarsgard and I take an outside table where there is no wait.
Juices are ordered-Bill's Beets for me and a green juice for Mrs Skarsgard. I have a pot of masala chai (normally made with almond milk but I asked for regular).
Chilli fried egg and bacon roll, spiced mango chutney and rocket $16.50 plus avocado salsa $6.50
We all know and love the hot cakes and scrambled eggs but we thought that we'd choose something different. I go for a chilli fried egg and bacon roll with spiced mango chutney and rocket and take their suggestion of avocado salsa. It's so good I eat it all even though I don't even consider myself a breakfast person.
Crab, chorizo and house kimchi fried brown rice $24.50 + poached egg $3.50
Mrs Skarsgard goes for the crab with chorizo and house kimchi with fried brown rice with the additional egg on top. It's tasty but there's so little crab she actually forgot it was there. We order a coffee to take away with us and get the bill. I had almost forgotten how expensive it is to have breakfast at Bills-the bill (no pun intended) is almost $90 for breakfast for two but you can have it all charged back to your room at the Adina Hotel.
Armed with coffee we walk off some of the breakfast with a stroll down to Bondi Markets located at the Bondi Beach Primary School. The Saturday markets are primarily made up of food vendors. There's an area covered in rugs where chai customers can take a seat and relax.
There are fresh produce stalls as well as vendors with international food. There are also plenty of health related stores with everything a Bondi hipster could wish for!
So tell me Dear Reader, do you often do staycations? And do you prefer booth or bar stool seating? How often do you visit Bondi Beach?
NQN stayed as a guest of Adina hotels but all food in this post was independently paid for.
Adina Bondi Beach
69-73 Hall St, Bondi Beach NSW 2026
Phone: (02) 9300 4800
https://www.adinahotels.com/hotel/bondi-beach-sydney/