Lasagne is a labour of love. Whenever someone serves me one, I know that they've made a big effort. You have to make each component in large quantities and it can end up taking over your kitchen. But I promise that this lasagne is worth every minute of effort. It's not that much more time intensive than another but the key is in each component's flavour. We start with homemade spicy Italian sausage, fragrant with spices and fennel seeds and mix it with a thick, intense tomato base. This is then layered with a browned butter parmesan bechamel and fresh pasta sheets.
I made this lasagne in parts. One night, while Mr NQN was tinkering with technology I made the rich tomato based sauce and the sausage. Please don't let the idea of making your own sausage put you off. In this case it's really a matter of mixing pork and beef mince with some spices and that's about it. The flavour of the mince is what is important here. I love the fennel seeds and chilli in this and it really imparts a wonderful flavour and aroma to the lasagne.
The next morning I woke early and finished it off making a bechamel sauce that started with browned butter to add a nutty smell to it. I could not wait for it to cool (the important bit to make sure that it cuts well) and to eat it. At the risk of sounding immodest, it was so delicious I couldn't believe it came from my own hand.
"Come and try the lasagne!" I told Mr NQN. He was sniffing around, the aroma beckoning to him. He was also trying to avoid technological tasks. In the space of a week he had broken our google home device (a glorified weather station), then the dishwasher had stopped working two weeks before and he was tasked with finding a replacement and the internet was down. So needless to say he was a prime candidate for a distraction.
By the time we had polished off a couple of serves of this lasagne, he had managed to fix the google home device and then he had remembered that he had forgotten to switch the dishwasher back on after he had replaced the tap that had blown in the kitchen (this was despite me specifically asking him if this was the issue with the dishwasher!). I actually said, "Did you turn it back on after you changed the tap?" and he said yes. A very sheepish Mr NQN admitted that he hadn't. But I was in such a great mood after this lasagne because food makes me happy that all I did was raise an eyebrow at him. And then I went back for another slice.
So tell me Dear Reader, do you often make lasagne? And what makes you truly happy?
Did you make this recipe?
Share your creations by tagging @notquitenigella on Instagram with the hashtag #notquitenigella
The Best Lasagne
An Original Recipe by Lorraine Elliott
Preparation time: 60 minutes
Cooking time: 80 minutes
Serves 10-12 people
For the mince
1kg/2.2lbs pork and veal mince
3 teaspoons fennel seeds
2 teaspoons salt
2 teaspoons garlic powder
2 teaspoons smoked paprika
2 teaspoons dried oregano
1 teaspoon ground coriander
1-2 teaspoons cayenne pepper (depending on how hot you want it)
1 teaspoon black pepper
For the tomato sauce
3 tablespoons olive oil
3 onions, peeled and diced
8 garlic cloves, sliced
4x400g/14oz. tins diced tomatoes
1/2 cup tomato paste
1 teaspoon smoked paprika
Salt, sugar and pepper to taste
For the bechamel sauce
150g/5ozs. butter
1/2 cup plain all purpose flour
6 cups milk, hot
3/4 cup grated parmesan cheese
1/2 teaspoon fresh nutmeg
salt and pepper
For the lasagne
Oil for greasing
1.5 cup grated mozzarella cheese
1/2 cup grated parmesan cheese
6 lasagna sheets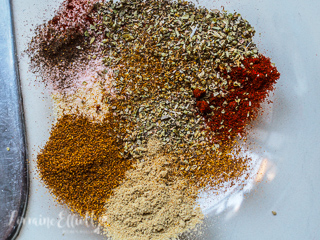 Step 1 - First season the mince. You can use Italian sausage but it's easy to make your own and this tends to have less fat. Not that I care about fat but hopefully you know what I mean. Mix all of the ingredients together in a bowl and set aside.
Step 2 - Then make the tomato sauce. Heat some oil in a very large cast iron pot on medium heat and add the onions and cook until soft and fragrant. Add the garlic and cook for a minute. Then add the tomatoes and tomato paste and cook for 5 minutes. Then add the mince and cook in the tomato sauce until the sauce has reduced and is more concentrated (20-30 minutes).
Step 3 - Meanwhile make the bechamel sauce. Brown the butter in a saucepan so cook it on medium high heat until it smells nutty and sweet. Add the flour and stir well. Then add the milk one cup at a time mixing well between each addition. Add the cheese and then season with nutmeg, salt and pepper to taste.
Step 4 - Preheat oven to 170C/340F. Grease a large lasagne tray and spread some bechamel on the base. Place a layer of lasagne sheets on top and then layer with the mince and the bechamel repeating until you get three layers. End off with mince and bechamel and then add mozzarella and more parmesan on top. Bake for 30 minutes or until pasta is done.