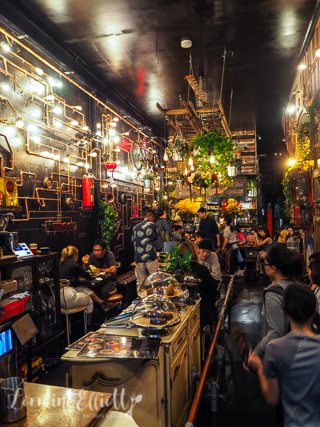 Hot days calls for cooling food and there's nothing more cooling than a Bing Soo. A bing soo is a bowl full of flavoured shaved ice with different toppings and add ins. And at the brand new Old School Kafey on Pitt Street in Sydney's CBD there are a dozen Bing Soos to choose from including mango and cheesecake pie, bannoffee, chocolate monster and the most popular Thai milk tea.
"I think your new Southern persona should be called Bing Soo instead of Peggy Sue" I tell Ivy. It's Valentine's day and Mr NQN and I are having Bing Soo with her while her husband Ryan is overseas. Mr NQN works nearby so he had scouted out the situation at Old School Kafey because it's so new that their opening hours don't appear anywhere.
Appearance wise, the cafe is better inside than outside. From the outside, it doesn't look appealing at all but step inside and take a look at the quirky, mismatched decor.
Old School Kafey's owner Oaky Mayu also owns Satang Thai nearby but he is adamant that Old School Kafey is a sweet only affair outside of breakfast and lunch. He wants people to visit Satang and then come for dessert to Old School Kafey (although the link between the two isn't that apparent). After 3pm, apart from drinks there are just a dozen bing soos to choose from and four brick toasts.
He helps us narrow down the choices because it's hard to choose. And because Ivy has never tried a brick toast we order one of those too. We order and pay at the counter and take a number.
Strawberry Cheese Pie $14.90
The first bing soo to arrive is the strawberry cheese pie. The syrups are a mix of commercial ones and ones that they've added things to to customise them. Confession time: my favourite sundae at McDonalds was strawberry and this is giving me McDonalds strawberry sundae vibes. There's a pretty pattern of whipped cream on top while the shaved ice has cream cheese in it to make it creamy and it comes with a small shot glass of extra strawberry syrup. The texture of the ice is light and melts on the tongue like snow. And dig right down to the bottom and there's bits of chocolate biscuit too (the pie crust part we presume).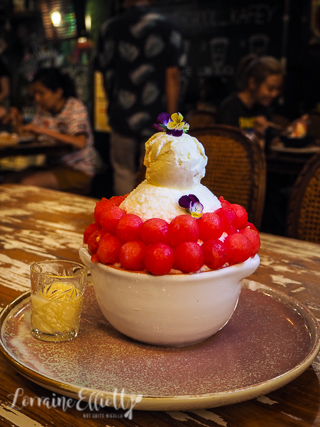 Watermelon Bing Soo $16.90
The second bing soo is the watermelon one. They're quite large and to give you a size reference, the honeydew melon one is served in half a honeydew melon. This one hasn't got layers underneath like the other two. It's the same cream cheese snow and it has a scoop of vanilla ice cream on top and watermelon balls all around it. We all prefer the strawberry one to this.
Old School Milk Tea $14.90
The third bing soo we ordered is the popular Thai milk tea one. The ice for this is actually made with sweet Thai milk tea (one of my favourite drinks) and comes with an extra cup of sweetened condensed milk. We hold off on adding this as it is so sweet already. There are also cornflakes, grass jelly pieces and syrupy palm seeds hidden at the bottom.
Ferrero Nutella Brick Toast $15.90
And while I like the bing soos I have to admit that I went hot and heavy on the brick toast. We ordered the Nutella one with Nutella ice cream, halved Ferrero Rochers and lashings of buttery maple syrup. The key to this is the toasted edge and the generous amount of maple syrup butter that soaks in everywhere, calories be damned. Ivy and I are so in love with it that we polish off most of this. "I wish you hadn't introduced me to this," she says cutting off another piece.
By now Mr NQN is shivering and cold. Ivy and I have abandoned the bing soos in favour of the brick toast leaving him to scoop to his heart's delight. But he has eaten too much bing soo too fast and he is feeling the after effects. And when he gets in the car, during the middle of summer, he turns on the seat warmers!
So tell me Dear Reader, do you like bing soos? How about brick toast? And what is your favourite sundae flavour? Strawberry, chocolate or caramel?
This meal was independently paid for.
Old School Kafey
382 Pitt St, Sydney NSW 2000
Open 7 days, 8am-10pm