This carrot, ginger & spice cake is a come back cake. I thought I'd lost my love for baking cakes as I channelled my baking into bread. But one morning I woke up and knew that I had to bake a cake.
With layers of richly spiced carrot cake with sultanas and crystallised ginger, a layer of Biscoff spread, a coating of cream cheese and nutty browned butter frosting and an adornment of carrot fronds, gerbera petals and carrot tops, I called this cake Holiday.
The frosting: this cream cheese, browned butter frosting is amazing and one of my favourite ever frostings. My favourite kitchen ingredient is probably butter, followed by brown butter. You may have eaten ravioli in brown butter with some sage leaves but it's also divine in baking and so easy to make. I always have browned butter in my fridge and add it to my baked goods where it imparts an incredible nutty, delicious aroma and flavour. See this recipe here on how to brown butter.
Cake leveller
How to get perfectly even cake layers: First of all it helps to start with cake layers of the same weight. I use a scale to ensure that the cake layers start off with the same weight of batter in each tin. Once they're baked there might be a little variation based on where the cake is positioned and the random-less of life. That when a cake leveller comes in handy. Mine isn't a pro one, it was an inexpensive one I bought overseas in a kitchenware store but the metal string cuts through cakes with surprising ease. It also trims the top off the cakes. This cake didn't have much of a dome so I just trimmed it with a serrated knife.
Surprise tip for layer cake bakers, the fridge or freezer is your best friend When it comes to icing or frosting cakes. Frosting is easiest to use when it's spreadable but you need it to set firm otherwise your cakes will slip off each other. Most icing sets firm in the fridge and definitely in the freezer so pop the cake in there between layers so that everything freezes up firmly. A semi frozen cake also ices a lot easier.
Do not bake your cake and ice it on the same day. On the bake day, your cake will be too delicate and your icing will melt. Even when you think it's cold there is still a residual pocket of heat right in the middle of the damn cake!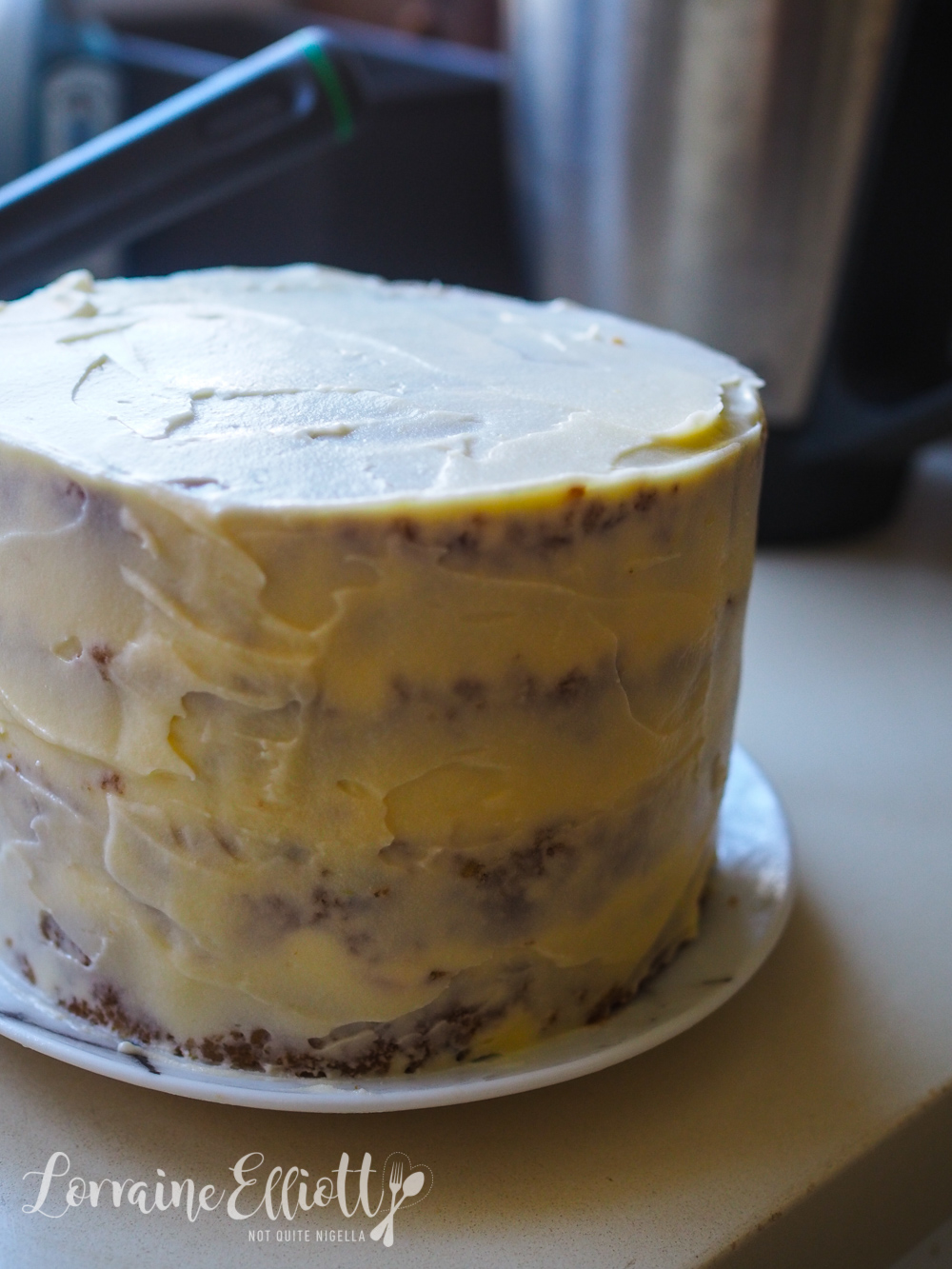 Crumb coat
Two layer step for frosting cakes To ice cakes, you will do a rough "crumb coat" of icing. This is a thin coat just to catch all the crumbs. You should be able to see the cake through the frosting. Then freeze or refrigerate and then apply a thicker coat before using a cake smoother. You may have to reapply the coat a few times alternating with smoothing and coating where any gaps exist.
Final coat
Check your spice freshness: I go through some spices really quickly (cinnamon, nutmeg) while others hardly at all (oregano). Try and look for Ceylon Cinnamon from Sri Lanka which is more delicate and sweeter smelling and is considered "true cinnamon". Cassia Cinnamon or Chinese Cinnamon is a lower quality cinnamon and is commonly found and chances are unless it says Ceylon cinnamon, it's probably Cassia or Chinese Cinnamon.
I had the cake ingredients in my fridge for a few days. You see I had done another food swap with Laura. I traded her some prawn rolls, tomato pasta sauce, Anzac biscuits and gingerbread for a bunch of gerberas, Dutch carrots and cucumber melons. On the weekends she goes to gather her shopping from the local markets and she face times me from the market to see if I would like anything.
"I need Dutch carrots but the fronds must be erect!" I said.
"Got it, no FLACCID FRONDS!" she said. She's incredibly efficient at these things as she works in PR and is probably used to crazy clients with similar requests.
She panned around the store to show me the display of Dutch carrots. "Fronds are erect!" she confirmed. I had everything that I needed for this cake plus cake baking mojo!
So tell me Dear Reader, have you lost the mojo for anything during this time?
DID YOU MAKE THIS RECIPE? Share your creations by tagging @notquitenigella on Instagram with the hashtag #notquitenigella
Carrot, Ginger and Spice Cake
Rated 5.0 out of 5 by 4 readers
An Original Recipe by Lorraine Elliott
Preparation time: 45 minutes plus cooling time
Cooking time: 45 minutes
The cake component is best made a day ahead
250g/8.8ozs cake flour
1.5 cups/300g/10.6ozs. brown sugar
2 teaspoons/9g/0.31oz. baking powder
1 teaspoon/5g/0.17oz. bicarb
1 teaspoon/3g/0.10oz. salt
1.5 teaspoons/4g/0.14oz. ground cinnamon
1 teaspoon/2g/0.07oz. ground ginger
1/2 teaspoon/1g/0.30oz. ground nutmeg
200g/7ozs. grated carrot
1/2 cup/75g/2.6ozs. pineapple (drained well) or sultanas or raisins
60g/2ozs. crystallised ginger, finely chopped
150ml/5flozs oil
1/2 cup/125ml/4flozs. water
3 tablespoons/60nl/2flozs white vinegar
200g/7ozs. Biscoff spread
Cream Cheese Frosting
250g/8.8ozs. cream cheese
100g/3.5ozs. butter, softened
80g/2.8ozs. browned butter, softened
300g/10.6ozs. icing sugar, sifted
1 teaspoon vanilla extract
To decorate
Top inch of Dutch carrots (I used the same carrots for the cake) including fronds
Petals of 1 orange gerbera flower
Chopping off the tops but using the rest of the carrot for the cake
Step 1 - These cakes are best baked the day before you ice them. Preheat oven to 180C/350F and line 2x 15cm/6inch (3 inch or 10cm height) round baking tins with parchment on the base and sides.
Step 2 - Whisk the dry ingredients together in a large bowl (flour, sugar, bicarb, baking powder, salt and spices,). Add the carrot, pineapple (or sultanas/raisins) and ginger and mix together5m. In a large jug or bowl whisk the oil, water and vinegar together.
Step 3 - Add the wet mixture into the flour mixture and mix until just combined. Scoop into the two lined tins (I weigh them just to make sure that they're even). Bake for 45 minutes or until the centre springs back when gently pressed down. Cool completely and wrap up and leave these to rest and firm up until the next day.
Step 4 - To make the frosting, beat the cream cheese and butters for a minute until smooth. Then add the icing sugar and vanilla and beat on low speed at first and then increase to a higher speed and beat until fluffy.
Step 5 - Trim each cake with a serrated knife and then slice each cake in half and then spread with a third of the Biscoff spread and then some of the cream cheese icing. Repeat with the other three layers but don't ice the top one.
Biscoff spread
Step 6 - Make a crumb coat of frosting - this is a thin coat that you'll put around the top and sides of the cake to catch any crumbs. It should be thin enough to see the cake through. Place the cake in the fridge or freezer for 30 minutes to firm up the frosting.
Step 7 - Ice the top and sides with a thicker layer of icing. Then use a cake scraper to make the icing smooth. Place carrot fronds and flower petals around the sides. Then using a Loyal X Large Sultane #796 piping tip, pipe rosettes around the top.
Step 8 - Peel and trim each carrot top (I made them different heights) and place inside the piped rosette.