This Barmbrack or Irish fruit bread is as simple as it is delicious. Tea or whisky soaked dried fruit is mixed into a simple unyeasted spiced bread to create an aromatic, moist and dense fruit bread. All you need is a spread of butter. Oh and this bread has a special link to Halloween! If you love spiced fruit bread or fruit cake, this is a really pushy recipe Dear Reader!
I don't know if you all know this but Halloween has its roots in Ireland originating in County Meath at The Hill of the Ward. The Celtic festival Samhain falls on the last day of October and was a celebration of fire, feast and a productive farming season before the cold sets in for winter.
It was during the turning of the seasons and weather than the Druids believed that there was an interaction between the world of the living and dead and that spirits could move between these two worlds. For this reason people would get dressed up to disguise themselves to prevent them being pulled into this other world.
The practice of carving pumpkins also originated in Ireland. While pumpkins are associated with Halloween, the Irish first carved turnips and large potatoes as Jack O' Lanterns. The Jack O' Lantern comes from an Irish folktale about a man called Stingy Jack who after tricking the devil several times was banished to wander eternity carrying a burning ember from the ever lasting fires of hell inside a turnip to light his path. Irish immigrants would eventually bring the Halloween traditions of pumpkin carving and trick or treating to America.
In the weeks leading up to Halloween, loaves of Barmbrack bread are made. The word comes from the Gaelic báirín breac which means "speckled loaf". The dried fruit is soaked in tea or whiskey to enhance the flavour. For this version I kept the single malt until the end so that we wouldn't lose the potency but feel free to soak the fruit in the whisky if you want the alcohol to cook off.
While barmbrack bread is available all year round, there is one difference with barmbrack at Halloween. People bake tokens in their barmbrack to give them their fortune for the following year. All members of the family get a slice of the barmbrack bread and anyone with a token in their slice can see their year ahead. A ring signifies finding true love in the future while a coin fortells riches. Other tokens include a pea, thimble, button or stick for never marrying and a rag or cloth for poverty or becoming a nun.
My barmbrack bread uses dark brown sugar that has a more intense anise flavour. I also add more spices because I love the aroma of intense spices baking. I also bake my barmbrack bread at a lower temperature so that the dried fruit remains plump and doesn't burn on top. This does mean a bit longer in the oven but I like the texture better. If you don't have time I'd suggest covering it with foil to prevent it burning once the fruit starts to get dark.
You can eat this barmbrack bread toasted or untoasted - I prefer it untoasted and it really comes into its own after a day or two. On day 2 it became highly addictive when slathered with butter and I had to freeze the rest lest I finish the remainder of the loaf! It's really a wonderful bread, truthfully more fruit than bread (I mean just look at that ratio below), perfect as a fruit toast in the morning, an afternoon tea snack or just something to eat before trick or treating.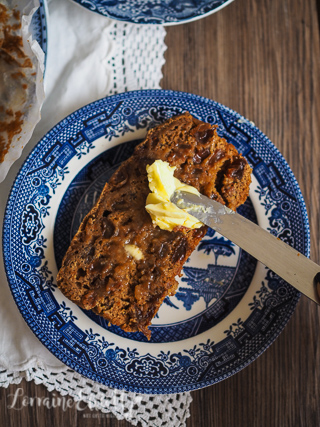 As for us, on Halloween night, since we don't have kids and have had our Halloween party already, we'll be having Korean BBQ with friends. But of course I'll be wearing the skeleton jacket that Queen Viv passed onto me!
So tell me Dear Reader, have you ever tried barmbrack bread? Do you believe in spirits? And what are you doing tomorrow night?
Did you make this recipe?
Share your creations by tagging @notquitenigella on Instagram with the hashtag #notquitenigella
Barmbrack Irish Bread
An Original Recipe by Lorraine Elliott
Preparation time: 15 minutes
Cooking time: 1 hour 40 minutes to 2 hours
400g/14ozs. sultanas, raisins or mixed fruit
300ml/10.6flozs. tea
235g/8.3ozs. plain all purpose flour
2 teaspoons baking powder
125g/4ozs. dark brown sugar
1.5 teaspoons mixed spice
1.5 teaspoons ground cinnamon
Finely grated zest of 1 orange
Finely grated zest of 1 lemon
1 egg, lightly beaten
A token (pea, coin, thimble or stick*)
60ml/2flozs. whiskey
*You can wrap these objects in a little parchment (not the pea)
Step 1 - Place the dried fruit and tea in a small saucepan and bring to a gentle simmer for 5 or so minutes until fruit plumps up. Cool completely (alternatively, you can steep the fruit in hot tea and leave on the countertop overnight).
Step 2 - Preheat oven to 130C/260F and line a 23x15 or 9x6inch loaf tin on the base and sides. In a large bowl whisk the flour, baking powder, brown sugar, mixed spice, cinnamon and orange and lemon zests. Add the cooled fruit, tea, beaten egg and tokens and mix.
The freshly baked barmbrack soaking up the whiskey
Step 3 -Scoop into prepared tin and bake for 1 hour and 40 minutes to 2 hours and the centre should spring back when gently touched. I found that the time depended on the shape of your loaf tin ie a deeper loaf tin (19.5cm x 10cm x 11cm) requires 2 hours cooking while a wider, shallower one (22.5cm x 14cm 8.8cm) requires just 1 hour 40 minutes. Pour the whisky over the cake when out of the oven. Cool for 15 minutes and then serve with cold butter. Note: some say to cover the barmbrack bread for 2 days to allow the flavour to develop and the loaf to moisten before eating but it's hard to resist it. But it will become better after a day or two!