These Colombian buñuelos donuts are something special. They are delicious cheese donuts that are dusted in icing sugar and are a Colombian Christmas tradition. They are also sublimely easy to make and gluten free too! Most yeasted donuts take a bit of time to make but these take around 5 minutes prep!
Bunuelos are said to originate from Spain and the Moriscos (they were Muslims Spain's Moorish population that converted to Christianity). Bunuelos appear in Latin American cuisine, each with their own recipe. In Spain they are made with wheat flour, lots of eggs and baking powder and are either round or discs.
In Mexico they are served as syrupy flat fritters while in Cuba they are shaped into a figure 8. In Uruguay they are made with banana while in Colombia their main ingredient is cheese and tapioca flour is the flour used which makes them gluten free. Bunuelos are usually made with baking powder over yeast which cuts down their preparation time as they can be fried straight away.
The buñuelos Christmas tradition in Colombia starts on the 7th of December where they are considered good luck and are also eaten all year round. The 7th of December in Colombia is La Noche del Alumbrado or the Day of the Candles where people light candles inside their home. They are served with Natillas custard and Manjar blanco or with coffee and hot chocolate. Buñuelos are crunchy on the outside and light and soft on the inside with a lovely savoury sweet balance. The cheese used is a Queso Costeño or a salty, firm cheese.
DID YOU MAKE THIS RECIPE? Share your creations by tagging @notquitenigella on Instagram with the hashtag #notquitenigella
Three tips for making Colombian Buñuelos
Rated 5.0 out of 5 by 2 readers
1 - Make sure that the oil is between 140-160C/284F-320F. This allows the Buñuelos to cook inside while remaining golden on the outside. Ideally you will cook these in a temperature controlled deep fryer to keep the temperature constant. Try not to let the temperature drop below 140C/284F as they will turn out a bit heavier-still delicious but heavier.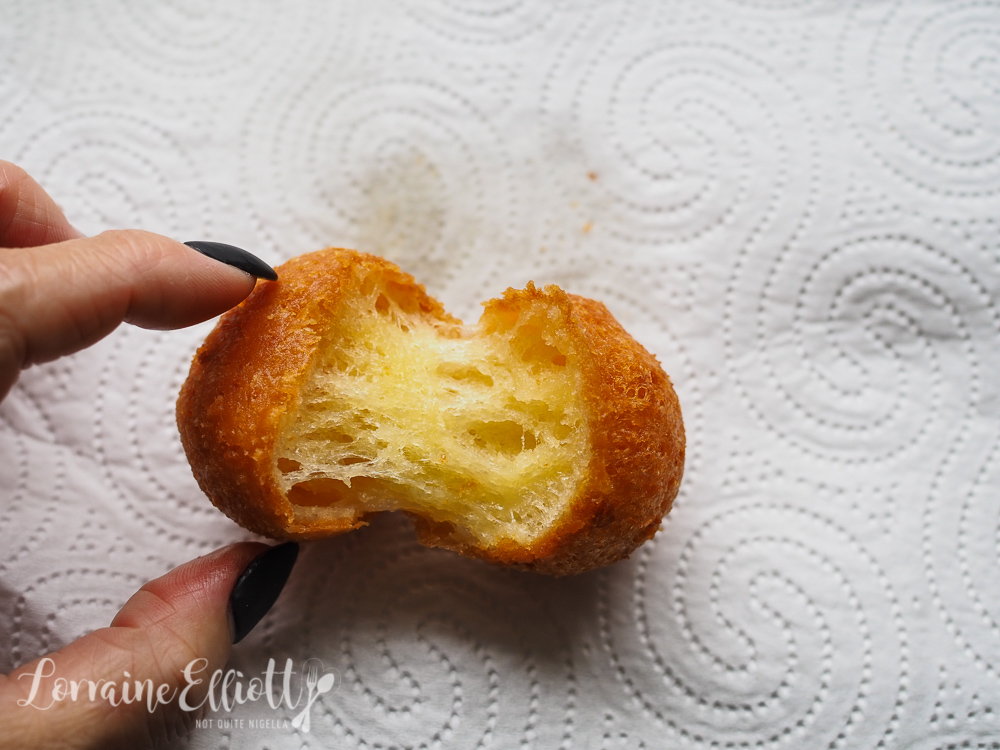 2 - Once you've added your dough to the hot oil, use your slotted spoon to gently sweep under the balls so that they don't catch on the bottom of the pot (which can lead them to becoming misshapen). They're still delicious though!
3 - You can also stuff these Buñuelos with dulce de leche and Nutella. I preferred them plain with just icing sugar on top.
When the dough is baked
I hate deep frying. Can I bake these Buñuelos? I do too! Yes you can although they will flatten out. Once baked Buñuelos will taste like Brazilian cheese bread!
Thermomix Bunuelos: These are a cinch to make in the Thermomix. I've even got a recipe for them here!
I made these Buñuelos on a rainy day, the first day of a whole week of rain which seems like a distant memory now. I picked up the Sri Lankan tradition of making donuts on a rainy day. It probably works better there because it's warmer so the oil smell isn't trapped in the house as you can open all the windows. Nevertheless it makes a dreary day absolutely sunny again.
Speaking of dreary days, we had a bit of a COVID scare recently. One morning Mr NQN emerged from his office saying "I think I'm coming down with something..."
I froze, "What sort of thing? Flu? COVID?" I asked him.
"Yeah flu," he said grimacing. He didn't sound sick and I knew that we had something on that evening that he didn't want to do but I wasn't about to take any chances.
"Ok you're going now to get tested, NOW. Go to the RPA," I said pretty much pushing him out of the door. My friends have had COVID tests and I knew that the RPA returned fast results.
"The Prince of Wales is closer..." he said.
"Nope RPA. We need the results quickly. We have dinner tomorrow night," I told him.
He went for the test which he described as getting a big hit of wasabi. They swabbed his tonsils and both nostrils and then he came home and waited. We live in a tiny 2 bedroom apartment with 1 bathroom and one of the bedrooms is converted to an office so it's hard to avoid each other. He slept on the couch that evening and we let Queen Viv and Miss America know that there was a chance that we may not be able to go out unless we got the test results back.
Queen Viv brought up a good point. "How did he let anyone get close enough to spread it?" she asked, because Mr NQN is a notorious introvert and thinks that social distancing and having to stay 1.5 metres away from others is the best part of 2020.
Luckily in just under 24 hours he got his results back and it was negative! But that didn't change much for the notorious introvert as he said, "I'm just going to stay in tonight anyway...".
So tell me Dear Reader, have you had a COVID test? Have you ever tried Bunuelos from any country? Would you like the sweet and savoury flavour of these?
Colombian Buñuelos
An Original Recipe by Lorraine Elliott
Preparation time: 5 minutes
Cooking time: 10 minutes per batch
Makes 16 Buñuelos
180g/6ozs grated mozzarella cheese or a mozzarella and feta mix
120g/4ozs tapioca flour
1 tablespoon sugar
2 teaspoons baking powder
1/2 teaspoon salt
1 egg, room temperature
40g/1.4 ozs butter, melted
1 litre/34flozs. oil for deep frying
Icing or powdered sugar to dust
Tapioca flour can be found at some supermarkets and is available at Asian and South American food stores
Step 1 - Add the cheeses to a food processor and blitz until fine. Then mix with the tapioca flour, sugar, baking powder, salt, egg and melted butter and knead until you get a dough. It should be shiny and not sticky (it's a dream dough to work with!). Roll out into a log and cut into 16 pieces and roll into balls.
Rolling into a log...
And then balls
Step 2 - Have a tray lined with paper towels ready. Heat oil in a heavy bottomed pot and let it reach 140C-150C/284F-320F. Do not heat to 180C/350F which is the normal temperature for cooking donuts. Add in half of the dough balls and then immediately gently sweep under the bottoms of the donuts with a slotted spoon so that the bottoms don't catch on the pan. Cook for 10 minutes. Often the Buñuelos turn themselves in the oil but you may need to turn some yourself using the spoon or tongs. Remove from the pan and drain on paper towels. Serve with icing sugar.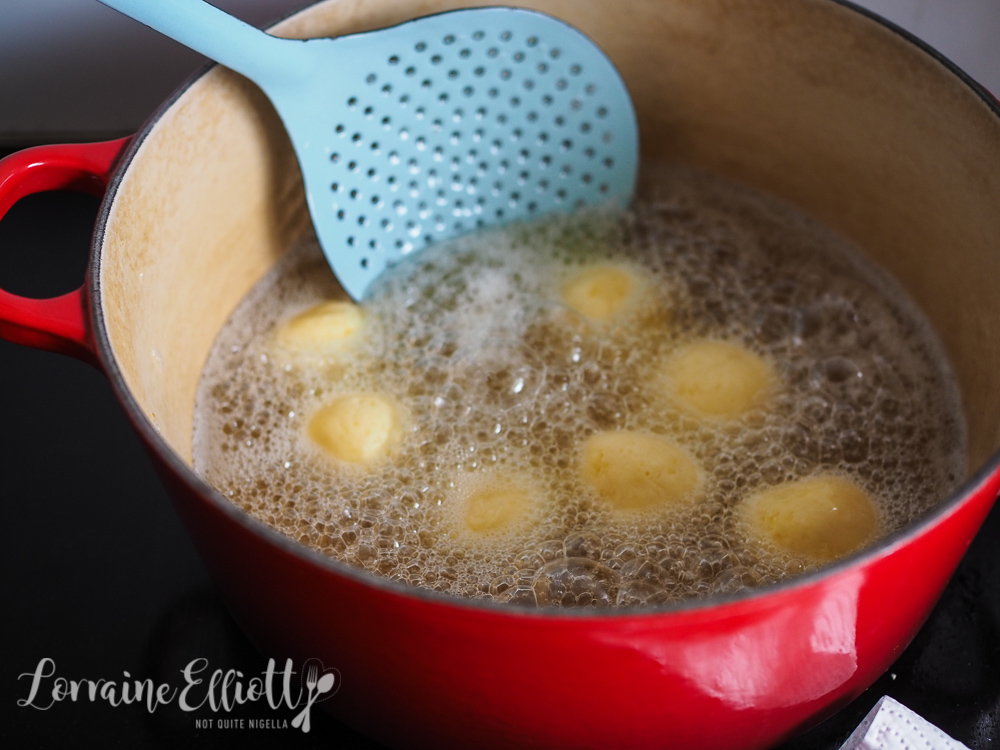 Sweep the spoon under the donuts to make sure that they don't stick to the bottom of the pan