Loukoumades or Greek donuts are moreish little mouthfuls of the softest dough drizzled in a gorgeous spiced honey syrup. Sprinkled with pistachios they make a wonderful treat that are easy to make but hard to stop at just one! This is a pushy recipe Dear Reader!
The key to a great Loukoumdes is a lovely crisp shell and a soft, fluffy interior. I find these bite sized Lokma or Loukoumade donuts balls very addictive, especially with the spiced honey sauce. You can either drizzle the donuts in the honey sauce or soak them in it depending on how sweet you want them.
My magic salted honey butter sauce: The other thing that makes these loukoumades so moreish is the syrup. Usually loukoumades have a cinnamon or citrus infused honey syrup. I also add some butter and salt to my sauce and trust me, it makes a HUGE difference! Also it's important to make sure that the sauce is hot.
Other toppings or flavours for loukoumade: Loukoumades go perfectly a chocolate or Nutella sauce or you can sprinkle these with toasted sesame seeds or walnuts. Or you can add orange blossom water or rose water to your honey syrup!
Can oil used for deep frying be reused? I use the same oil a maximum of two times. Reusing it more often increases exposure to free radicals. Cool the oil and then strain it of any solids.
Quick vs slow rise of dough: two options! you can either knead this dough on the day and then let it rise for an hour or leave the dough overnight. I prefer the overnight rise method as it means less washing up and lower effort (just a stir with a spatula rather than the dough hook). I've given directions for both below. Slow rising your dough is generally better for digestion due to the fermentation of the dough.
Honey butter is my secret food weapon in these loukoumades. I mean it's no huge secret, loads of people do this but I don't know why honey butter as a concept hasn't taken off more because if anyone has ever had honey and butter on top of a crumpet then you'll know more moreish and delicious the combination is.
This recipe was inspired by my friend Valentina's loukoumades and is roughly based on her recipe. She whips up a batch whenever she feels like making something sweet. Seriously, they're that easy.
She ate 28 one night and warned me about their moreishness as she ended up feeling a bit sick afterwards.
"Okay, got it. I'll stop at 27 then," I agreed.
So tell me Dear Reader, how many loukoumades would be your limit? Do you like the honey butter combination?
DID YOU MAKE THIS RECIPE? Share your creations by tagging @notquitenigella on Instagram with the hashtag #notquitenigella
Loukoumades With Spiced Honey Butter Syrup
Rated 5.0 out of 5 by 2 readers
An Original Recipe by Lorraine Elliott
Preparation time: 20 minutes plus time for rising from 1 hour to overnight
Cooking time: 25 minutes
300g/10.6ozs. plain all purpose flour
190ml/6.4flozs water
1/2 teaspoon fine salt
190ml/6.4flozs. milk
2 teaspoons/7g/1packet instant dried yeast
2 teaspoons/8g sugar
1.5 litres oil
For spiced honey syrup
2/3 cup/230g/8ozs. honey
1/2 cup/125ml/4flozs water
2 teaspoons ground cinnamon
4 pieces mandarin or orange zest
40g butter
1/2 teaspoon salt or to taste
2 tablespoons chopped, toasted pistachios to serve
Step 1a- Overnight dough: dissolve the salt in water and then add to a bowl and mix the salt water with the flour, milk, yeast and sugar with a spatula until there are no lumps. Cover and allow to rise overnight.
Step 1b - Quick dough: dissolve the salt in water and then add to a bowl of an electric mixer fitted with a dough hook and mix the salt water with the flour, milk, yeast and sugar until starting to come together. Knead using the dough hook until elastic - 5 minutes or so. Cover and allow to rise in a warm place for 1 hour until triple in size.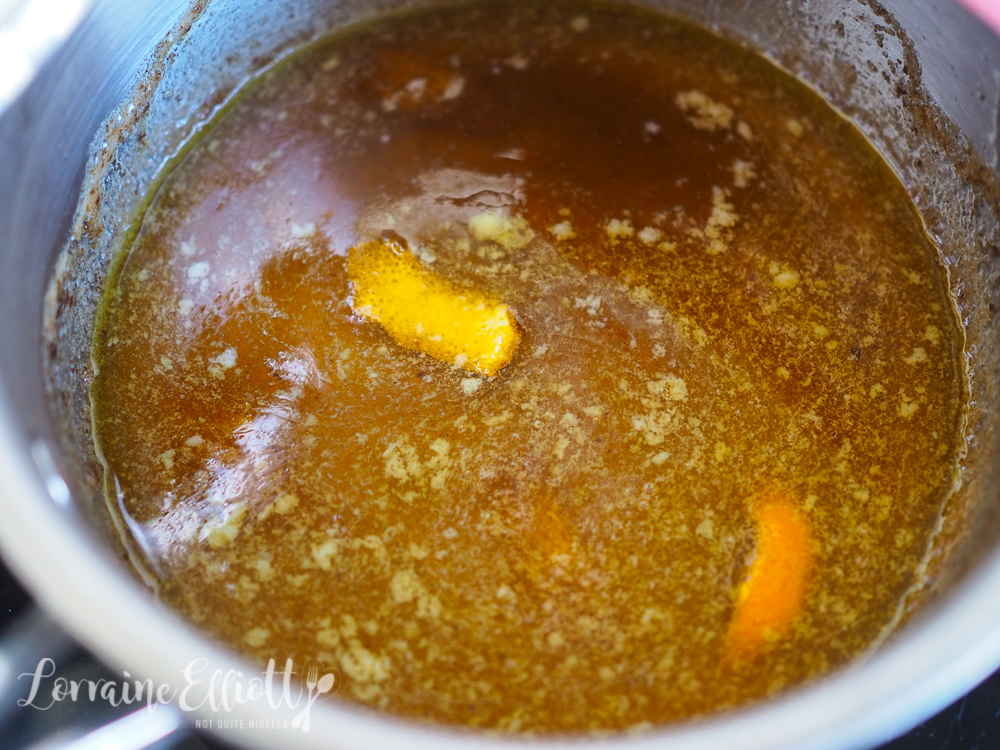 Step 2 - When you want to make these donuts, start the honey syrup so that it is hot when you finish frying the donuts. Heat the honey, water, cinnamon and orange zest in a small saucepan and bring to a boil for around 5 minutes. Add the butter and salt and allow to thicken a little (you still want it to be a good pouring consistency, a bit like warmed honey).
Step 3 - Meanwhile while it is heating away, heat up the oil in a deep fryer or a heavy based pot until it reaches 180C/350F. Using an oiled ice cream scoop (small 3/4 ounce one) scoop out a small round of dough. I brush oil in the scoop between each ball. Repeat until you have half a dozen donut balls in the oil. Avoid cooking too many at once or the oil temperature will drop too low. Cook for 5 minutes turning them so that all sides are cooked. I found that most of the balls rolled around by themselves in the hot oil but a couple got caught at the bottom so make sure they don't catch and that they rise to the top of the oil.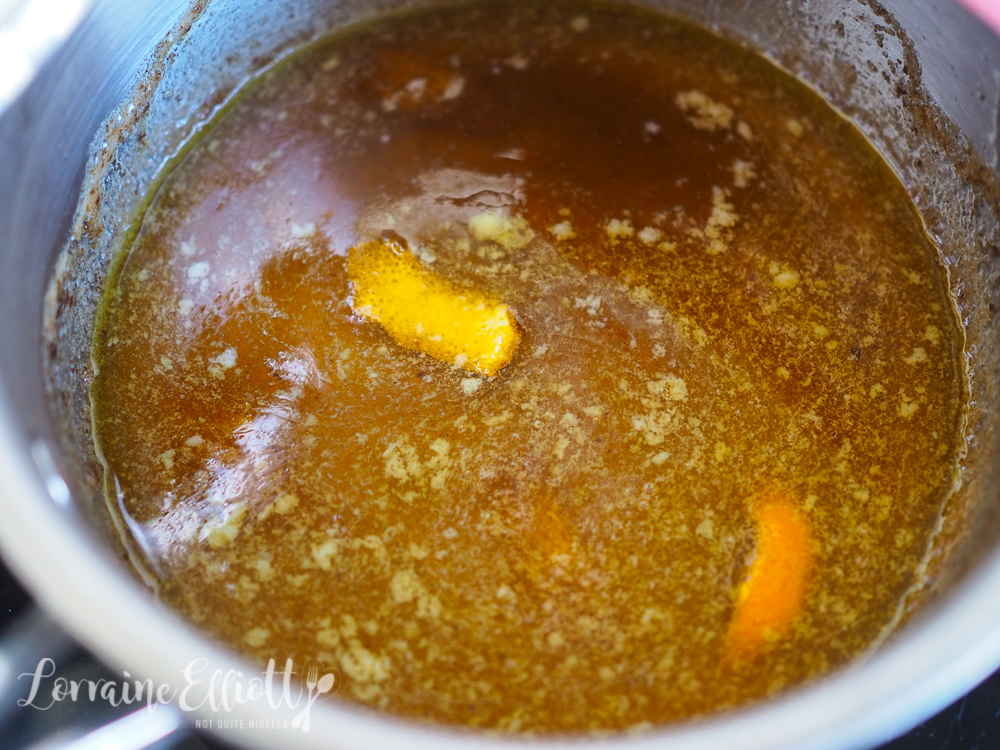 Step 4 - Place cooked donuts on a tray lined with paper towels. Repeat with the rest of the dough.
Step 5 - Place on a serving plate and drizzle with the hot sauce. Or alternatively, you can soak the donuts in the syrup if you like your donuts sweeter. Sprinkle with chopped, toasted pistachios.