This is the creamiest, gooeyest and delicious mac and cheese! I promise you that this will all be done in 20 minutes and all done on the stove top. Made with a divine cheese called stracciatella (think the gorgeous, stringy innards of the burrata) this is paired with prosciutto for a luxe yet simple mac and cheese!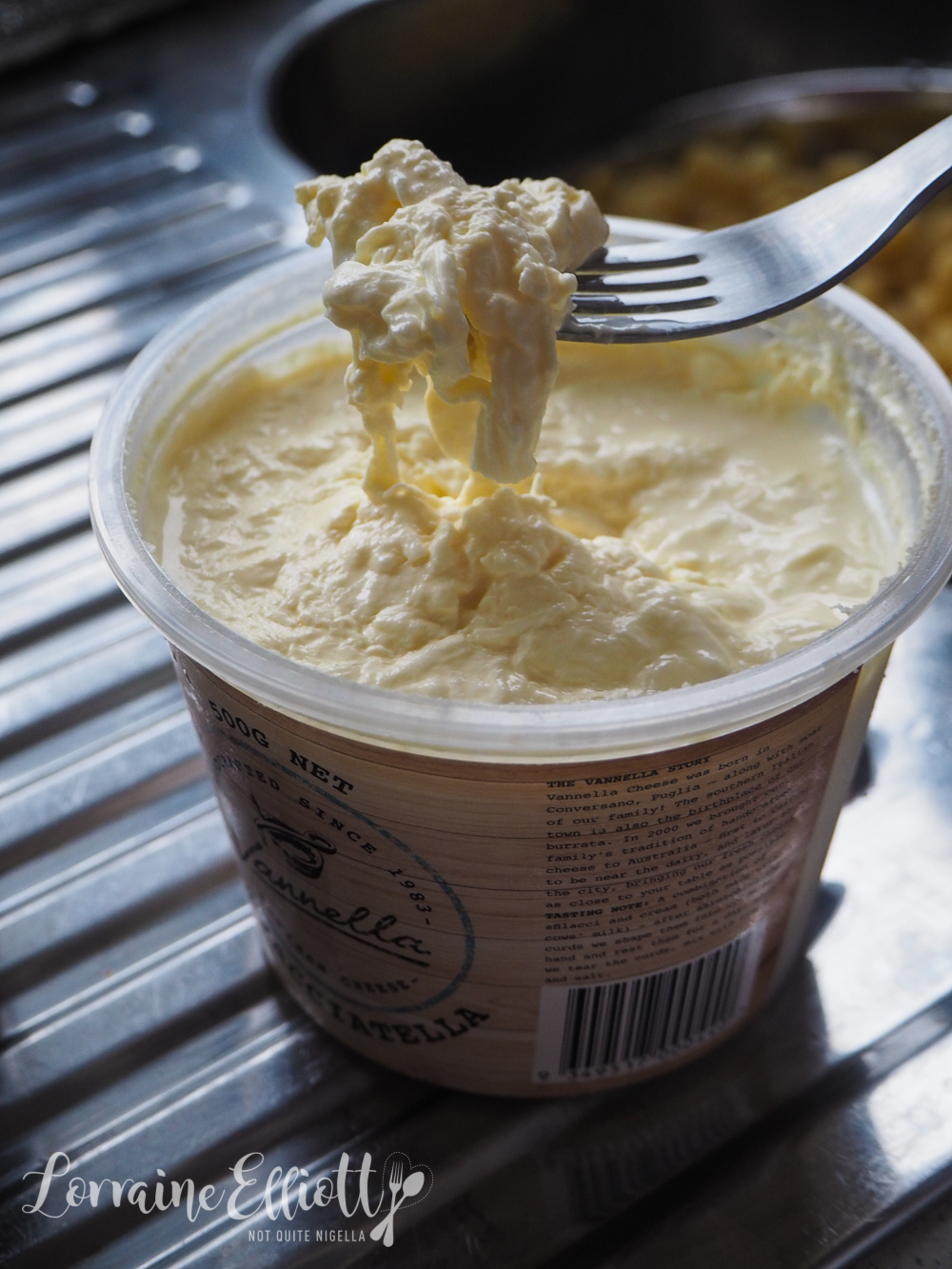 What is Stracciatella? It can be confusing because the word Stracciatella is actually the name for three very different foods in Italian. Stracciatella actually means rag or shredded and it is the name of an ice cream flavour (choc chip), an egg drop soup and it is also the name for a cheese, which we are using today which looks like shreds of cheese.
DID YOU MAKE THIS RECIPE? Share your creations by tagging @notquitenigella on Instagram with the hashtag #notquitenigella
Tips for making a delicious Mac and Cheese:
Rated 5.0 out of 5 by 3 readers
1 - Season, season, season. I don't mean to overemphasise it but I've had so much bland mac and cheese.
2 - I add 2 chicken stock cubes to the creamy sauce to upp the seasoning. You also need to sample this once the pasta is added to check for seasoning.
3 - Don't overcook the macaroni. Stop cooking it 2 minutes before you would normally stop cooking pasta. It will cook for a bit once you had the sauce and the pasta will become softer as the sauce will absorb into the macaroni.
4 - If you want to make the pasta ahead of time just make sure to drain it under lots of cold, running water to wash away the starches that make the pasta pieces stick together.
5 - Want to add vegetables? Peas work well in this. Add them into the last minute of cooking the pasta.
I made this Stracciatella Mac & Cheese on my first day of our 5 day holiday over New Years and we ate it for dinner for the next few nights with different sides like potatoes, tomato salad and Mexican corn salad rotating it for something different.
Way back in September we booked a house and found a home Bell, near Bilpin. It was designed to be a quiet getaway for us. It was 4 nights of solitude and doing absolutely nothing which was actually just what we need at the end of every year, especially one like 2020.
It takes me a while to settle in to relaxing. Within 5 minutes I was bored. The next day I got into trouble for whipping up this Mac and Cheese and photographing it. I promised that that was the last bit of work and I sat on my hands as my mind kept trying to convince me that I needed to make a cake (I hadn't brought any cake, how alarming!).
The one that had the most fun during this holiday however was Teddy. It was his very first holiday away as he gets car sick and doesn't travel well (the poor little thing did vomit on my lap on the drive up).
Teddy loved exploring the property and would eagerly sniff and look for the local wallabies of which there were plenty. The area was devastated by the 2020 bushfires, the blackened trees surrounding the house evidence of this and in the last 6 months the wallabies had returned. Teddy would constantly signal to go outside and then wander off sniffing madly. We'd see his fluffy white head and tail bobbing up and down Mr NQN watching at a close distance in case of snakes.
He could have stayed out there all day if we let him. And when we let him out for his late night bathroom trip he wandered around and returned with yellow mud on his paws and around his mouth. This muddy little pup simply had the time of his life while his parents tried to relax!
So tell me Dear Reader, what did you do over the New Year's break? Are you back at work yet?
Stovetop Stracciatella Mac & Cheese
An Original Recipe by Lorraine Elliott
Preparation time: 5 minutes
Cooking time: 20 minutes
500g/1.1lbs curly macaroni
3 tablespoons butter
3 tablespoons flour
2 chicken stock cubes, crumbled
850ml/28.7flozs. milk, heated
2 garlic cloves, peeled and finely chopped
2 teaspoons onion powder
100g/3.5ozs. prosciutto, cut into pieces with scissors
1/2 cup/60g/2ozs. grated parmesan cheese plus extra for serving
500g/1.1lbs Stracciatella cheese
Chives or parsley
Salt and black pepper
Smoked paprika (optional)
Step 1 - Put a large pot of water onto boil. Place the macaroni in the water and cook for 6 or so minutes (you want it slightly underdone by a couple of minutes).
Step 2 - While it is cooking, melt the butter in a large pot or saucepan on medium heat and add the flour and stir together and allow to cook for 30 seconds or so. Add the crumbled chicken stock cubes and then add the milk gradually so that it doesn't clump - I find using a whisk handy for this if it does start to clump.
Step 3 - Once all the milk is in and the mixture is smooth, add the garlic and onion powder. Then add the prosciutto pieces, parmesan and stracciatella with the liquid and the more solid strands of cheese. Stir to heat through and taste for seasoning.
Step 4 - By now the pasta should be cooked. Drain and rinse well under cold water so that it doesn't stick together. Add into the pot with the sauce and stir to coat the pasta. Serve with chives or parsley and smoked paprika and parmesan. Also check again for seasoning adding more if you need to.