Bar Suze is a new bar with a Scandinavian menu on Foveaux Street in Surry Hills. There you'l find chef Phil Stenvall's creative take on his native Swedish cuisine. The menu has items from raw clams with Cowboy Candy, oysters paired with a crisp Wildflower beer to more substantial dishes like pasta, risotto and steak.
The text came from Laura. She was excited that one of her favourite chefs had just opened up a new bar called Bar Suze and could we go? It took me all of a minute to reply yes as Bar Suze was also on my "to try" list. We set up a date to go for a little birthday celebration.
The name Bar Suze is actually borrowed from another bar. Suze from Bar Vincent in Darlinghurst's is best friends with chef Phil Stenvall's wife. They told her that she should call her bar "Bar Suze" but she wasn't able to and it was crowned Bar Vincent instead. So when this new bar in Surry Hills came about, they asked if they could use the name "Bar Suze".
A word of warning if you're visiting during the colder months, Bar Suze is as cold as Sweden. Ok I'm exaggerating slightly but Bar Suze has flung open the windows so that it feels fresh inside. Also another tip: entry is through the side door not the front door. Which of course I tried to go through before being directed to the right door. There is a long bar area where you can watch the chefs cook in the small open bar kitchen as well as tables surrounding the bar.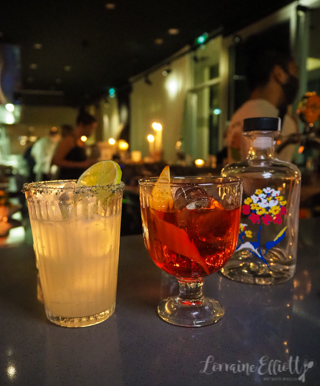 I sit down on a bar stool, drop a fork (always) and wait for Laura while surveying the menu by candlelight. She arrives a minute later and the friendly bartender takes our drink order. At first I ordered a Tequila with mezcal, celery, dill salt and lime which was described as a mojito with a twist but this is too smokey for both of us (I guess we are just not mezcal gals) and seeing this he offers a replacement.
I then order a Vodka with Campari, strawberry, vailla and lemon which is pitch perfect for me. Laura starts with a negroni which they make with a Lantana gin and then progresses to a Rum with smoked pineapple, chartreuse and lemon which is also delightful.
Onto the food. We did order a lot and while the prices are snack sized, when you order most of the menu you end up racking up quite a bill.
This is one of my favourite dishes. The raw clams are succulent and juicy and are topped with Cowboy Candy aka candied jalapeno and red chillis. The overall vibe is that of Thai sweet chilli sauce and we kind of love it.
The smoked prawns are enormous king prawns with the heads on that are paired with garlic aioli and come a finger bowl to clean up afterwards. We love the level of smokiness in the prawns and start dreaming up plans to smoke all our fish which will probably never happen but a girl can dream right?
As soon as I saw this I got excited. It's their version of a Karjalanpiirakka or Karelian rice pie which is my favourite Finnish food. Karelian rice pies are made with a rye flour pastry filled with savoury rice pudding and served with egg butter. Bar Suze's version crosses it with an empanada - so very tasty and served piping hot.
What's a struva? It's a deep fried fritter shaped like a star or flower similar to a Kokis in Sri Lanka. A skagen is a Swedish toast starter. In this case it is deep fried until crispy and topped with crab salad and caviar. It's utterly delicious and crunchy and a bit luxe with all that crab and caviar.
We were going to bypass the oysters in an effort to cut down on the items that we wanted but we thought that we'd give them a go. The Wapengo oysters are paired with sherry glasses of crisp Wildflower beer. I'm not a huge beer drinker but I love the minerality of this wild ale beer that reminds me of a wine, paired with the briney oyster.
Ahh that egg butter again. If you're a fan of egg salad sandwiches you'll definitely be in favour of egg butter (basically boiled eggs mixed with butter, whipped butter in this case). Here it's served on a thin potato flatbread, sort of like a Norwegian lefse with dill and it's rather moreish indeed.
I really wanted to try this tomato salad because I love anything with guanciale and promised Laura that she could pick off the guanciale if she ordered this because she doesn't eat much meat. A little bonus to this means that I get all of the guanciale croutons atop these thinly sliced oxheart tomatoes and shaved Asiago cheese and it's a win for both of us.
The baked sea scallop with bottarga butter and fried capers is nice although I think it's the sort of thing that we'd make at home so while it's good we might bypass it next time in favour of other items.
This wood smoked river trout is one of those dishes you want to recreate for a dinner party. It's a glistening and glorious perfectly cooked fillet of smoked river trout with a range of condiments from capers, red onion, egg butter, chives and roe with crisps on the side. It's crunchy, creamy and you can season the trout as much or as little as you like.
Now you can probably see why our bill skyrocketed because we are just getting onto the mains. We decided on two mains: a risotto and pasta. The only dish that we didn't swoon for was the smoked pork ravioli. It was nice and very homely and was like a home cooked broth and dumplings. Again the sort of thing you might have at home.
We are far more smitten with the cacio e pepe risotto with creamy cheese and black pepper. And although Laura doesn't usually like cacio e pepe she loves this version with a smattering of black pepper and rice with a perfect bite to it.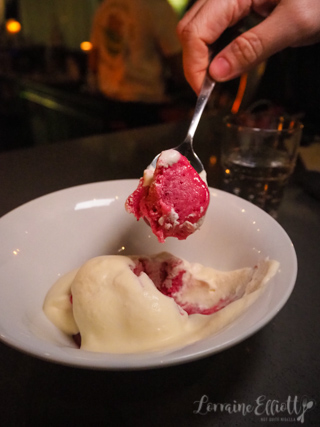 It's time for dessert and there are four to choose from. The lingonberry sorbet comes with a cloud of whipped sour cream and lingonberry sauce. While they are striking in colour, lingonberries are similar to cranberries on that in their raw taste they are sour but here they have been sweetened.
I am all for pastry, especially in colder weather and this has tart but lightly sweetened rhubarb on a butter pastry base with a wonderful white chocolate gelato on top. And despite how much we've ordered and eaten, I can't stop going back for a little bit more.
So tell me Dear Reader, do you sometimes get carried away with ordering or do you do the maths as you go to make sure that your bill doesn't skyrocket?
This meal was independently paid for.
Bar Suze
54 Foveaux St, Surry Hills NSW 2010
Hours: Tuesday to Saturday 5:30pm–12am
Sunday & Monday closed